With most fantasy trade deadlines behind us, the only way you're going to make your team better before the postseason is by scouring the waiver wire. This week we've got some exciting adds due to injured teammates and an increase in volume. I apologize for deviating from The Wolf's regular format, but I'm filling in this week and my aim is to get the information out to you as best as I can.
I'm going to categorize players into one of four categories: "quick checks" — these are must own guys who are owned in only 50% to 70% of leagues. You need to quickly check your waiver wires to make sure they aren't hanging out on yours. "Potential ROS upside" — these are players that I feel have value for at least an extended period of time, if not for the rest of the season. "Speculative adds" — these are guys you may want to add based on a big week or a potential increase in opportunity. "Long shots" — these guys have flashed big play ability and have the potential to win you a week but are in no way consistent.
Here's your Fantasy Football Week 11 Waiver Wire:
Quick Checks
Robert Woods (WR – LAR – 71%)
Unless you live under a rock and don't watch football, you are aware that Robert Woods has exploded over the past two weeks for a total of 12 catches for 241 yards and four touchdowns. You should also note that he's got a pretty easy remaining schedule, only facing one team (MIN) in the top 10 against wide receivers. Somehow, he's available in almost 30% of leagues. If one of those is yours, consider it your lucky day.

Marqise Lee (WR – JAX – 59%)
Take a look at Marqise Lee's last two weeks. Now consider the fact that Allen Hurns has already been ruled out of Week 11 and could miss even more time.
Jamison Crowder (WR – WAS – 54%)
In the last two games that Jamison Crowder has played he's been targeted 24 times and has 199 receiving yards. This is what we thought Crowder was going to be before the season. It looks like he and Captain Kirk are finally on the same page. Kirk also looked Crowder's way multiple time with goal to go. Last year Crowder was a red zone safety net. I expect more good things are coming.
Potential Rest of Season Upside
Dontrelle Inman (WR – CHI – 2%)
This is the meat of the waiver wire. All of these guys are available in over 50% of leagues and have potential for valuable production. Dontrelle Inman has found a new home in Chicago and he got off to a great start with Mitch Trubisky. In his first game as a Bear, he caught six of eight targets for 88 yards. The Bears are dying for a legitimate and consistent receiving threat for their rookie QB and they may have found their guy.
Corey Davis (WR – TEN – 48%)
Corey Davis is going to be the guy in Tennessee. More comfortable in his second game after a five game absence due to injury, Marcus Mariota looked his way 10 times. Davis is a big play waiting to happen and has got a sweet spot in his schedule from Weeks 12 – 15.

Corey Coleman (WR – CLE – 22%)
I was extremely high on Corey Coleman going into the season and he's set to come back from IR this week. He and Deshone Kizer had great chemistry brewing in the preseason and he's easily the Browns' best receiving threat once he returns.
Latavius Murray (RB – MIN – 44%)
Latavius Murray has gotten consistent opportunity since Dalvin Cook went down. Jerick McKinnon has been more flashy, but Murray has gotten at least 15 carries in each of his last four games and managed to find the end zone twice. He has a relatively easy remaining schedule.
Samaje Perine (RB – WAS – 7%)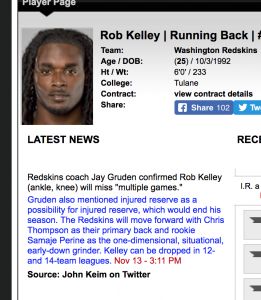 The Washington Redskins have been desperately trying all season to establish a run game, and now rookie Samaje Perine is going to have to be the guy. While Chris Thompson may be called their "primary back," Perine is going to be used on early downs and at the goal line. Thompson is not a three-down back. 
Jamaal Williams (RB – GB – 6%)
Aaron Jones is going to be sidelined 3-6 weeks and Ty Montgomery has a rib injury which may also require him to miss time. These developments have Jamaal Williams looking at a feature back role. As long as Brett Hundley is their quarterback, the Packers are going to be a run first team. Williams had 20 carries after their first two RBs exited with injury.
Speculative Adds
Rex Burkhead (RB – NE – 11%)
Rex Burkhead is a New England Patriot, and as long as Bill Belichick is the Patriots' coach, we'll never be able to trust any of their running backs' consistency. That being said, there was a clear push to get Burkhead involved against the Broncos and he was able to produce. He's certainly worth a pickup now to see if the Pats will continue using him. There's obviously endless scoring opportunity in New England.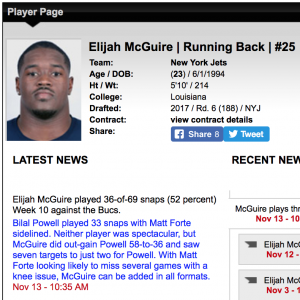 Elijah McGuire (RB – NYJ – 8%)
I love Elijah McGuire as a dynasty stash, and his potential for the remainder of this season is much higher now with Matt Forte set to miss time. Bilal Powell will be there too, though, so it will still be somewhat of a RBBC.
Brandon LaFell (WR – CIN – 3%)
Brandon LaFell had a monster game against the Titans, catching six passes on 10 targets for 95 yards and a touchdown. The 10 targets is what really stands out here. If Dalton has found somewhere to go when he can't find A.J. Green, that could mean big opportunity for LaFell. Cincinnati's offense has been incredibly underwhelming so far this season, putting up the third fewest points per game.
Julius Thomas (TE – MIA – 28%)
I really liked what I saw from the Dolphins' offense last week. Jay Cutler threw for 313 yards and three touchdowns, and I thought having two dynamic running backs in the game really opened things up. Julius Thomas was a big beneficiary of the offensive revival catching six passes for 84 yards and a touchdown on eight targets. I definitely like his upside going forward if that offense can stay hot.
* This was written during Monday Night Football
Long Shots
Chester Rogers (WR – IND – 0%) 
Chester Rogers caught all six of his targets for 104 yards and a score against a tough Pittsburgh Steelers secondary. He could potentially continue to take looks away from Donte Moncrief and Kamar Aiken.
Corey Clement (RB – PHI – 8%)
You have to look at a guy who scored three touchdowns in a game, but Corey Clement finds himself in a crowded backfield that just added Jay Ajayi last week. It's clear the Eagles like their rookie, and he should continue to get some opportunity, but don't count on anything consistent. He's a Hail Mary play.
Austin Ekeler (RB – LAC – 3%)
Austin Ekeler is a similar story. Melvin Gordon ain't goin' anywhere, but Ekeler's 15 touches for 119 total yards and two scores looked a lot nicer that MG's 21 touches for 42 total yards. Ekeler could have just bought himself some more volume.
Benny Cunningham (RB – CHI – 0%)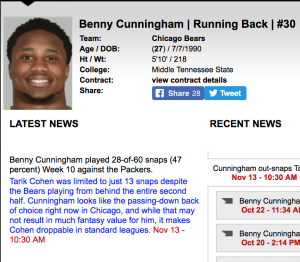 Benny Cunningham is not owned anywhere, but if he truly has the early season Tarik Cohen role, he's worth a look.
The Wolf's Week 11 Waiver Wire Rankings
Though a corpse from a long trip to Denver to watch Tom Brady manhandle the Broncos, The Wolf still wanted to chime in his rankings Big Board. Check out his SnapChat later today for a breakdown on particular names @RotoStreetWolf. Shoutout to Sam for stepping up and filling in while I'm gone! 
Tier 1
Lots of quality options both on the "use now" and "stash" front this week.
1) Rex Burkhead (RB – NE, 12%): Mike Gillislee's healthy inactive is no small thing. Burkhead is the most versatile back on this roster and gives offense far more options. He could be a true stretch run hero.
2) Danny Woodhead (RB – BAL, 36%)
3) Austin Ekeler (RB – LAC, 3%):  Thoroughly outproduced a floundering Melvin Gordon, and should continue seeing standalone value as he inherits more "pass-catching" RB work, while also carrying RB1 upside if anything ever happened to Gordon.
4) Jamaal Williams (RB – GB, 5%): Little more than a couple week rental, at best (Ty Montgomery might not miss any time). Would be a decent rental at that, but I'm not blowing my load like him as most are, especially if I don't need an immediate starter.
5) Rod Smith (RB – DAL, 26%):  Most snaps of DAL RBs in Ezekiel Elliott's absence as the preferred third-down option. Could be a matter of time until that's all down work.
6) Corey Coleman (WR – CLE, 22%)
7) Dede Westbrook (WR – JAC, 20%): This is the last week I hold onto the dream, but with Allen Hurns last seen on crutches, the team might have no choice but to activate the uber-talented Dede. I still think he has stretch-run homerun upside.
8) Josh Gordon (WR – CLE, 32%):  If you are a playoff minded owner just looking for upside, Gordon should top the list for you.
Tier 2
9) Dontrelle Inman (WR – CHI, 2%)* If you need a use-now WR, bump him up to the 4-5 range on this list.
10) Corey Clement (RB – PHI, 9%)
11) Samaje Perine (RB – WAS, 8%)
12) Elijah McGuire (RB – NYJ, 8%)
13) Charles Clay (TE – BUF, 43%)
14) Marquise Goodwin (WR – SF, 15%)
15) Josh Doctson (WR – WAS, 29%)
16) Blake Bortles (QB – JAX, 31%): Gets Cleveland this week and has a host of cakey matchups coming up.
Tier 3
17) Martellus Bennet (TE- NE, 33%)
18) Teddy Bridgewater (QB – MIN, 8%)
19) Curtis Samuel (WR – CAR, 13%)
20) Kenny Golladay (WR – DET, 7%)
Have questions about the waiver wire? Hit Sam up on Twitter!