Breaking down the key perimeter matchups for Week 10.
Patrick Peterson Shadows All
Patrick Peterson has been impressive this year pic.twitter.com/kGATHd6Cfu

— PFF (@PFF) October 27, 2017
Patrick Peterson has shadowed an opposing receiver in each game so far this season, so it's reasonable to think he'll be following Doug Baldwin around on Sunday. So far, Peterson's victims have been: Marvin Jones Jr., T.Y. Hilton, Dez Bryant, Pierre Garcon, Alshon Jeffery, Mike Evans, Sammy Watkins, and Marquise Goodwin. Those receivers have had Peterson on them for between 43% and 93% of their routes. Against Peterson, that list full of star receivers has caught 6/17 passes for 119 yards and one touchdown. Patrick Peterson has been the closest thing to a sure-fire way to take the opponent's' best receiver out of the game. Quarterbacks generally don't even try going at Peterson, he's only targeted every 10.5 times he's in coverage which is tied for the least among outside cornerbacks. That being said, Arizona gives up the 4th most points to wide receivers. Look out for Tyler Lockett and Paul Richardson — if he takes the field.
Are the Denver CBs to blame for their defensive struggles?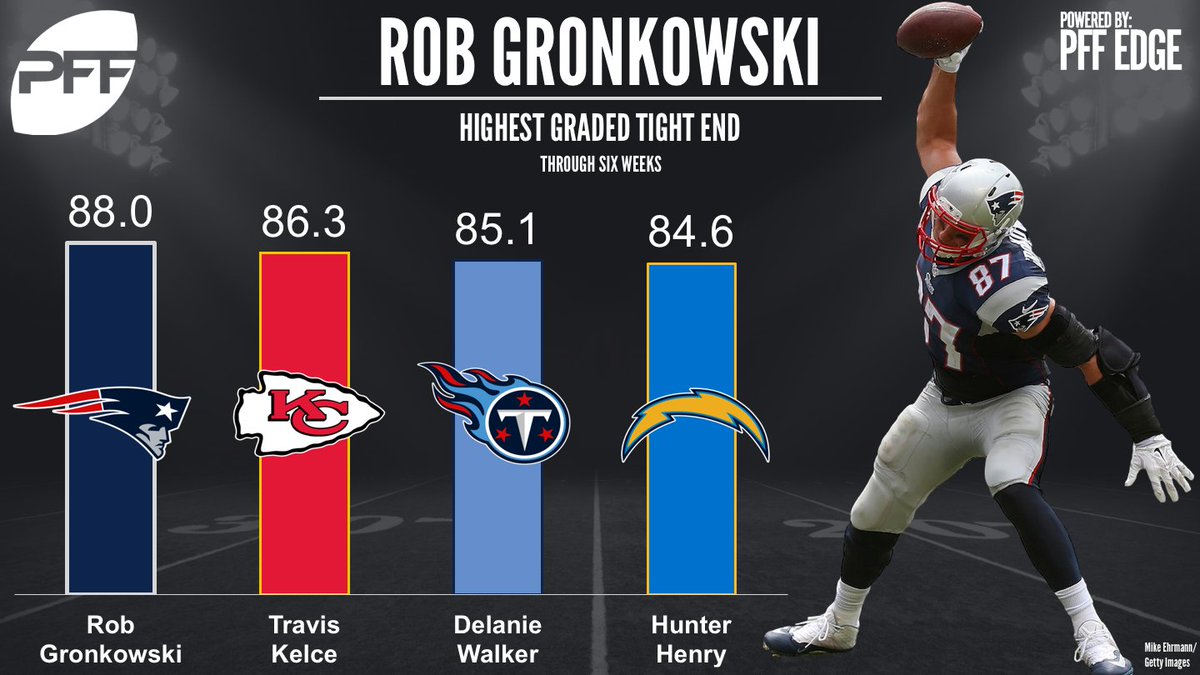 Over the past three games the Broncos vaunted defense has given up seven passing touchdowns. However, they only gave up 199 yards to Carson Wentz, 202 yards to Alex Smith, and 183 yards to Philip Rivers. When the offense can't generate any production and/or they turn the ball over, Denver's defense is constantly forced to defend a short field, and there's only so much you can ask your defense with nothing doing on the other side of the ball. There are games where Tom Brady just owns everything and can make anything happen, but according to the numbers, it would make most sense to attack the Bradley Roby with Brandin Cooks. Cooks lines up on the left side 55% of the time and Roby covers the WR left on 91% of his snaps. While Chris Harris Jr. gives up the 3rd fewest receptions per coverage snap of all slot corners, he's been burned for touchdowns a couple times in the last few weeks and we know the Brady/Danny Amendola connection is strong. This could also be a huge game for Rob Gronkowski as the Broncos give up the 2nd most fantasy points to tight ends in the league.
DeVante Parker and Jarvis Landry
Target per Route Run Leaders

1. Tarik Cohen
2. Alvin Kamara
3. Antonio Brown
4. Jarvis Landry
5. Julio Jones
6. Nuk Hopkins
7. Mark Ingram

— Scott Barrett (@ScottBarrettDFB) October 26, 2017
This year was supposed to be DeVante Parker's explosion onto the scene. Due to injury and quarterback inconsistency we've only seen a few flashes of greatness, but the second half of the season could be big. In each of the games he's played this season, he's had at least four catches and 69 yards. Getting rid of Jay Ajayi and using more dynamic backs Damien Williams and Kenyan Drake seemed to open things up for Jay Cutler and the passing game last week; he threw for 313 yards and three touchdowns. Pro Football Focus gives Parker a 45% advantage over Panthers cornerback James Bradberry. Jarvis Landry has been extremely consistent this season. He's the WR 5 in PPR formats, he's had at least five catches in every game, and he's scored a touchdown in four of his last five games. His four touchdowns halfway through the season already match his total touchdown output from last year. Pro Football Focus gives Landry a 36% advantage over Panthers slot cornerback Captain Munnerlyn. If Jay Cutler is on again, he should be able to take advantage of the severe mismatches in his wide receivers' favor.
Sterling Shepard vs. K'waun Williams
Most PPR Allowed per Route in Coverage (Cornerbacks)

1. Eli Apple
2. David Amerson
3. Jalen Mills
4. Damarious Randall
5. K'Waun Williams

— Scott Barrett (@ScottBarrettDFB) October 5, 2017
K'waun Williams is the most frequently targeted slot corner in the league and that doesn't figure to change against Sterling Shepard this week. Williams is one of the lowest graded CBs in the league with a score of 36.3, and Shepard (70.4) is by far the highest graded healthy Giants receiver. Eli Manning may not be quite what he used to be, but he'll be able to take advantage of this defense, and he may not get a better matchup than Shepard against Williams this season. Williams also gives up the 4th most yards per cover snap of all slot corners.
Vikings wide receivers vs. Redskins cornerbacks
King Thielen
w/out Stefon Diggs: 18.7 expected fantasy points (3rd-most among WRs)
w/ Stefon Diggs: 14.2 expected fantasy points (12th-most)

— Scott Barrett (@ScottBarrettDFB) October 25, 2017
At full strength, the Redskins secondary has been shutting receivers down this season. It will be interesting to see how the Vikings lineup Stefon Diggs. Josh Norman covers the right wide receiver 96% of the time and Diggs lines up there 54% of the time, twice as often as lining up on the left or in the slot. The Redskins strongest cornerback this season has been Kendall Fuller covering the slot. He's given up 21 catches on 34 targets for 187 yards, no touchdowns, and two picks. Quarterbacks targeting Fuller have a rating of 52, a league low for slot corners. This could make things difficult for Adam Thielen who lines up in the slot on 92% of his snaps. The Vikings will look to take advantage of Bashaud Breeland on the left side, the Redskins' clear weak link with a PFF grade of 52.5. It will interesting to see if the Vikings try to keep Diggs lined up across from Breeland.