Breaking down the key perimeter matchups for Week 9.
A.J. Green vs. Jaguars cornerbacks
Jalen Ramsey and A.J. Bouye are hands down the best cornerback duo in the league. Offenses have been completely held in check when facing the Jaguars. This season, the Jags have given up a league fewest four receiving touchdowns and only one of those balls was thrown to a wide receiver. They also allow only 161.7 passing yards per game, 19 yards fewer than the next best defense. To say the least, A.J. Green has his work cut out for him. He'll likely see some of both Ramsey and Bouye but I'm not sure either is a preferable option. Ramsey grades in at 91.7 according to Pro Football Focus and Bouye at 87.8 (3rd and 8th among all cornerbacks). That being said, Green is one of the best receivers in the league, he's scored a touchdown in three out of his past four games, and PFF still gives him a 21% matchup advantage. It will be fun to watch him go at it with Ramsey and Bouye.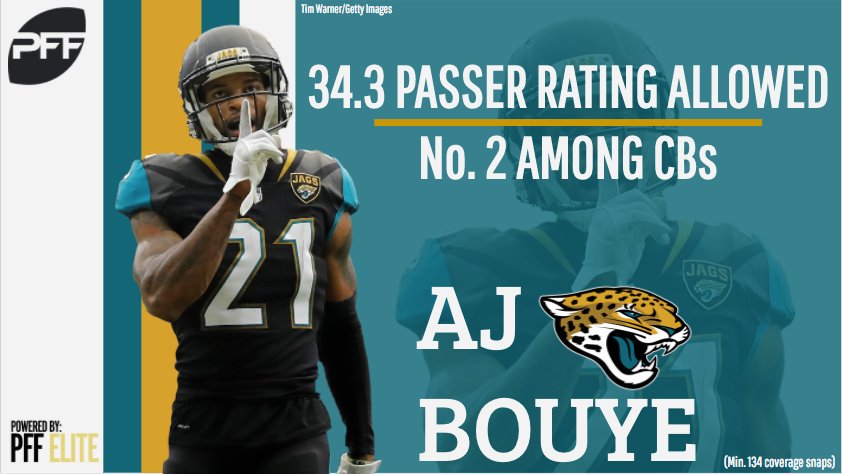 How will Janoris Jenkins' absence effect Sammy Watkins?
Sammy Watkins has completely fallen off the radar this season, and most my writing about him has been warning you to keep him on your bench. He's faced Josh Norman, Richard Sherman, Patrick Peterson, and Jalen Ramsey, and I don't think Jared Goff is at the level yet where he can confidently squeeze the ball through tight coverage. He's opted to check it off to Todd Gurley or sling it to Cooper Kupp and Robert Woods, who generally have less talented defenders covering them. This week however, I believe it might be the right week to plug him into your starting lineup. The Giants announced earlier this week that Janoris Jenkins would be "indefinitely" suspended for violating team rules. Watkins will now be lined up across from Ross Cockrell. Cockrell has filled in decently when he's been on the field, but he's only played 89 snaps this year and a receiver like Watkins should be able to create enough separation to get some better looks for Goff. I'm calling this week a Sammy Watkins week.
Packers WRs vs Lions Secondary
Last week, JuJu Smith-Schuster torched the Lions' secondary for 197 yards and a touchdown. He predictably beat Nevin Lawson on multiple big plays, but scored his 97 yard touchdown coming out of the slot against Quandre Diggs. The only Lion who fared well was Darius Slay. Slay held Antonio Brown to one catch for 12 yards on the four targets he had in coverage. This week, Slay will be lined up across from Davante Adams. Pair that with Brett Hundley, who threw for a grand total of 87 yards when the Packers last played, and this is just a horrible matchup for Adams. Jordy Nelson on the other hand may be able to make things easy for his backup quarterback if he have his way with Lawson. PFF gives Nelson a 32% matchup advantage over Lawson. That's great on paper but it will depend on if Hundley can step up his game.
Hopkins and Fuller going off again
The Colts have given up five 300+ yard passing games to the following quarterbacks: Jared Goff, Carson Palmer, Brian Hoyer, Marcus Mariota, and Blake Bortles. Of those 5 quarterbacks, Carson Palmer is the only one who averages more than 250 yards a game. After seeing what DeShaun Watson was able to do against the legion of boom in Seattle last week, DeAndre Hopkins and Will Fuller should both be in for another spectacular game. Hopkins is a cornerback proof wide receiver, but he's not quarterback proof. He can't perform when Brock Osweiler is throwing the ball, but put in a quarterback with NFL talent and Nuk is a monster. PFF gives Hopkins a 55% matchup advantage over Vontae Davis who's had a sub-par year at best, and Will "touchdown machine" Fuller has a 36% advantage over Rashaan Melvin, despite his high level of play. The trio of Watson, Hopkins, and Fuller have shown that they can get it done against anyone.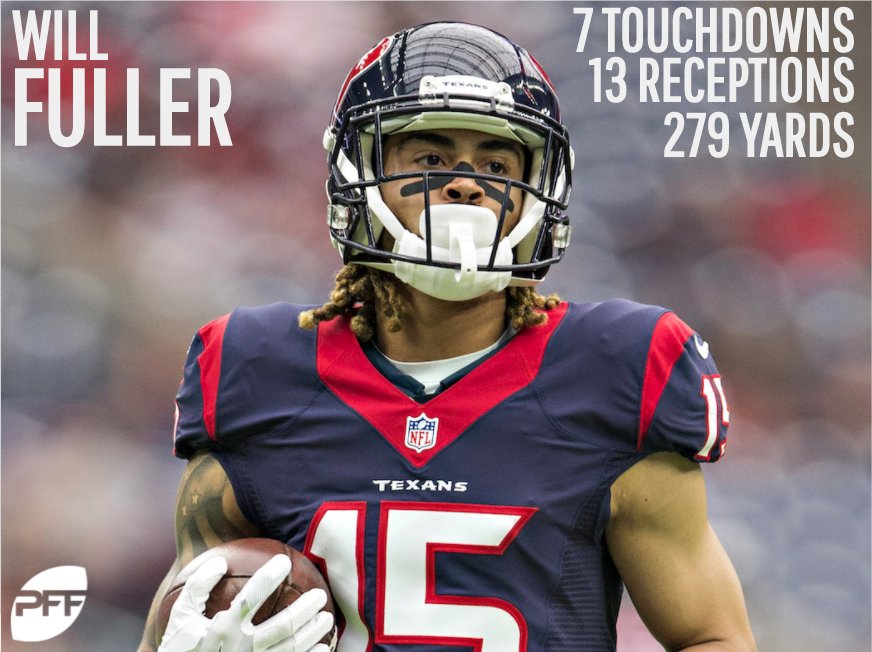 Marshon Lattimore vs. Mike Evans
My eyes nearly popped out of my head when I saw that PFF gave Marshon Lattimore a 23% advantage over Mike Evans. A top receiver in the league against a rookie cornerback? But it makes a ton of sense. Rookie or not, Lattimore is THE highest graded cornerback according to PFF. Quarterbacks against him this season have gone 13/25 for 127 yards with two picks and no touchdowns. Meanwhile, Mike Evans is a couple of garbage time touchdowns away from being a huge disappointment. He still has not eclipsed 100 yards in a single game this season. Evans' talent however, is undeniable, and Lattimore will have his hands full on Sunday trying to keep up.