Former Dolphins RB Jay Ajayi has been shipped to the Eagles for a 4th round pick, and value is soaring. Find out why below:
Rapid #FantasyFootball Reaction on the Jay Ajayi Trade: What's his value now? Are his backups worthwhile? What's Blount's status now? 👀 now! pic.twitter.com/cR03djE4LK

— Wolf of Roto Street (@RotoStreetWolf) October 31, 2017
Ajayi's Value Soars
Though Ajayi won't see the 25-30 touches he had been in Miami, the quality of those touches is going to increase dramatically. As we always breakdown here with our Fantasy Stock Formula, value is NOT just driven by Talent and Usage (as so many others would say). Rather, Surrounding Talent and Coaching Scheme also are major factors. We saw this with Todd Gurley's awful bust last season, and have since seen his value skyrocket in 2016 with the improved line and skill talent around him. Ajayi seemed destined for a similar bust, but might now have an equally dramatic turnaround in his new home.
The most starking upgrade here is the offensive line: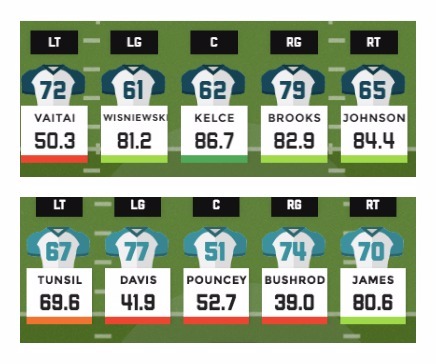 Ajayi leaves behind a Miami line that averaged a 57.6 grade and was ranked 30th by Pro Football Focus, to now their 7th ranked unit that averages a 77.1 score. In particular, the Eagles are dominant on the interior, which is huge as Ajayi has thrived on blasts and dives up the gut in his career.
Additionally, Carson Wentz is a humongous upgrade over Jay Cutler, and the overall contrast in total offense is staggering: The Eagles rank 4th in the league with 29.0 PPG, while the Dolphins rank dead last with 13.1.  Additionally, Philadelphia has totaled the third most yardage this season (2974) as compared to, again, dead last Miami (1767). He should find far more room to roam and oodles of more scoring opportunities in this vastly improved offense.
In short, while Ajayi might not have quite as large slice of this offensive pie, the taste & quality is so dramatically better that this is a clear win. Hell, decreased usage might even be a positive for those old knees and help him make it through all 16 a little fresher.
What's left behind in Miami?
Running back wise: not much. Kenyan Drake had been labeled the "No.2 back" by Adam Gase earlier this month, yet Damien Williams has outsnapped and outtouched him in the battle for Ajayi's scraps. The two will likely form a gross committee with unpredictable usage. If a talent like Ajayi can't squeeze value out with 25+ weekly touches, why would the lesser Drake or Williams suddenly emerge as monsters in the same awful situation with half the work?
In fact, if anyone gains steam, it's Jarvis Landry, Devante Parker, and the passing game as a whole. I could see the Dolphins completely abandoning the run and just airing it out all the time. With Jay Cutler and Parker expected to return in Week 9, I'm intrigued to see just how pass-heavy this offense becomes.
Blount and the Eagles
As the total offensive stats suggest, the Eagles were already humming without Ajayi. He does upgrade the backfield by a serious margin, however, so Wentz should only benefit.
LeGarrette Blount, however, plummets. We still need to see just how work will shake out here, but you have to imagine Ajayi inherits at least 60% of the carries and quite possibly the goalline work. He brings similar power to Blount, but far more versatility as a much better receiver, in addition to quite a bit more explosiveness. Blount would have to monopolize red zone touches to preserve any type of usable value here, which is no guarantee since Ajayi is powerful at the stripe as well.
Summary
Although we still need to see how backfield work is distributed, this has to be considered a clear win for Ajayi. The line and overall offense are so dramatically improved that, even if Ajayi drops from 25 to 15 touches, he should still produce far more FPs.  Meanwhile, no RB left behind is worth more than a speculative add, as they will form a gross committee in an even grosser situation. If anything, the passing game sees a step forward with more expected aerial volume. Finally, Blount's stock plummets, and he'll be largely dependent on goalline work to maintain any type value.
The Trade Deadline is just starting to heat up! Bookmark us now for coverage on every big move and shake to come, especially on the social medias (Facebook, Instagram, and Twitter).