Would you dance… if Alex Collins asked you to dance?
Would you run with JuJu… and never look back?
You're not in too deep. You haven't lost your mind. All you need is a Waiver Hero. Tonight.
Busted 2017 #FantasyFootball season?

A.Collins (32% owned) could be your hero, baby. pic.twitter.com/htKOba54XD

— Wolf of Roto Street (@RotoStreetWolf) October 27, 2017
Every season a player arrives midyear to throw owners on their backs and carry them from the depths of Hell. Already Jerick McKinnon feels very much like one of those guys. But he likely won't be the only one. For the first time in a long time, the Week 9 Waiver Wire actually has some serious upside instead of just steaming garbage. Still, even if every one listed is out there in 50% or more leagues, I recognize many of those are JV options. Thus, we'll dig a little more for some deep waiver wire targets and stashes later in the article. Let's dive in and see who can save, or enhance, your 2017:
Week 9 Byes: Chicago Bears, Cleveland Browns, Los Angeles Chargers, Minnesota Vikings, New England Patriots, Pittsburgh Steelers
Fantasy Week 9 Waiver Wire
Trade Deadline Update(s):
Update x2:
Ezekiel Elliot's suspension has again been upheld, and he's now expected to miss the next 6 games. Still, legal proceedings could be far from over. For what it's worth, owner Jerry Jones mentioned Alfred Morris (39% owned) first when discussing his backup RBs, but also did say Darren McFadden (37%) and Rod Smith (1%) would see increased workloads. Smith is actually my favorite of the bunch. Both Morris and McFadden will be added to the Tier 1.5, while Smith becomes a priority deep league stash.
In a true stunner, Jay Ajayi has been traded away to the Eagles in exchange for a fourth rounder. This will be a huge boost to his value behind a much stronger offensive line, and now leaves some interesting Waiver Wire characters to pluck through. Adam Gase has called Kenyan Drake (2% owned) the No.2 back all season, which suggests he should be in line for the starting gig. Still, Damien Williams (1% owned) has outsnapped and out touched Drake on the season. This looks like it'll be a gross committee in an even grosser situation, making neither huge priorities. Still, they are worth speculative adds in case a horse emerges that can transcend the horrible line (unlikely if Ajayi couldn't).
Update: Two teams are reportedly after Frank Gore, which would send Marlon Mack (No.4 on this list) soaring. He'd become the no-brainer top pickup of the week as the clear-cut guy. Meanwhile, TY Hilton is also being shopped, which would leave vacant targets for Donte Moncrief (38% owned). He's not currently listed here, but would become a Tier 2 add as the top guy.
Of course, Calvin Johnson has to be mentioned. He's been added to Yahoo Waivers, but remains the longest of shots to actually be traded and play. We'll know more by 4pm and update it as such.
Tier 1 – Potential Home Runs
1) Alex Collins (RB – BAL, 34%)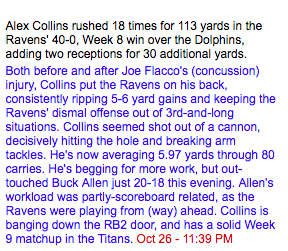 Key Stat: Nearly 6 YPC on his 80 carries thus far, has officially "earned" him more touches according to John Harbaugh.
Season Long Ceiling: Collins begins to emerge as the clear early down horse, including in the 4th quarter and in goalline situations. He maintains his efficiency despite the increased volume for some low-end RB1 numbers.
Realistic Outlook: Game flow does not remain favorable every week and Collins is phased out at times, making his floor quite low. Solid RB2 rest of way.
Usability:  Immediate
FAAB Price: All of it
Strength of Schedule (28th easiest): 

Breakdown:  Just on the eye ball test, Collins looks special. I've had him on my roster since Week 4, when he was a 6% owned nobody but Ian Rappoport had broken noise that Collins was gaining steam. Since then, I've watched all his carries, and damn does he look explosive. He seems to always find the hole despite bursting at full speed, and his feet are insanely fast for his size. This all come together on the national stage when he saw his heaviest workload and did not disappoint: 143 total yards on 20 touches, with far more snaps than ever before.
Before this outing, Collins seemed stuck in between-the-20s purgatory and thus unusable, as Buck Allen was both the clear third down and goal line option.  On Thursday Night, however, Collins was in for the majority of goal line snaps even if he didn't cross the stripe. Recently, John Harbaugh has stated Collins has "earned more work," and, as a reported "TD Hog" he should be more than ready to flourish in this role.
I truly think Collins could be this season's Jay Ajayi and develop into a low-end RB1 during stretch runs. The schedule isn't overly daunting, with 4 of 7 remaining games against bottom-half defenses (including the cakiest of Fantasy Championship battles). Offensive Coordinator Greg Roman has coordinated some of the most successful, run-obsessed attacks in the NFL — something Collins has, again, earned more work in. Very few options between now and the end of season will emerge with Collins' level of ceiling, so throw it all in.
2) JuJu Smith-Schuster (WR – PIT, 48%)

Key Stat: Let's just repeat his first statline with Martavis Bryant removed: 7-of-10, 193 yards and a TD.
Season Long Ceiling: Bryant is traded or is inactive, and Schuster continues feasting on the weakened coverage around him to be a high-end WR2 from here on out.
Realistic Outlook: Schuster remains the prefered No.2 target, but Bryant doesn't simply disappear. Thus, Schuster is more a boom-or-bust upside WR3 than a truly dependable option.
Usability:  Immediate
FAAB Price: $45
Strength of Schedule (20th easiest): 

Breakdown: There's no denying it: Smith-Schuster has the swag of a superstar. More importantly, Schuster was a flatout beast In his first game as the featured No.2 option. Just check the tape and watch him beat defenses deep, break tackles after the catch, and make some very soft catches in traffic:
Schuster's long term ceiling is obviously tied directly to Martavis Bryant's status. If he's traded or remains in the doghouse, Schuster will be banging out awesome  TD celebrations more often than ever and be an attractive WR3 moving forward.
Tier 1.5
3) Robby Anderson (WR – NYJ, 28%)

Key Stat:  Last 3 games as clear top guy = 13-of-23 targets, 215 yards, 2 TDs (15.5 PPR FPs a game)
Season Long Ceiling: High-upside WR2 who locks down the Jets No.1 WR role with Josh McCown maintaining his competency.
Realistic Outlook:  Fantastic Bye Week fill-in and useful season-long flex, but is still at the mercy of McCown and thus disappears at times.
Usability:  Immediate
FAAB Price: $15
Strength of Schedule: (21st easiest among WRs):

Breakdown:
How many weeks can we label Anderson a "boom-or-bust" fill-in while ignoring crucial information:
A) The Jets and especially Josh McCown aren't that bad. This is a creative offense that isn't afraid to challenge teams deep and McCown has taken smart shots down the field all year.
B) Anderson is the clear top target hear, and sees far more volume than a "boom or bust" play.
Week 8 was by far his best professional effort, as Anderson won at every level of the field against a tough corner in Desmond Trufant. Anderson brings incredible deep ball speed, and strong body control, to the table, and all have been on display throughout his recent tear. As long as McCown stays upright, this offense and Anderson will continue producing.
The schedule isn't great, but two dates versus the 1st and 2nd most generous defenses, plus bottom-12 matchups in Weeks 15 and 16, give Anderson the path for plenty more blow ups. Anderson brings huge weekly ceilings, and higher than expected floors, to WR3 spots, and should be a highly-sought after option for the WR-needy this week.
4) Marlon Mack (RB – IND, 44%)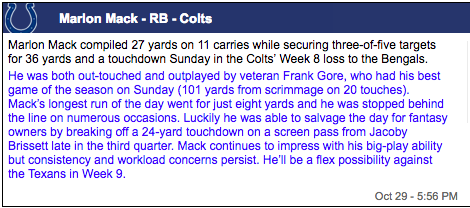 For about the 20th straight week…
Key Stat:  Most touches as a professional with 14, marks double digit targets in three of four past games
Season Long Ceiling: Quality PPR RB2 as he takes over the lead back role from an aging (or injured) Frank Gore
Realistic Outlook:  A mediocre bye-week option who brings plenty of ceiling thanks to his explosiveness due to unpredictable usage
Usability:  Still more stash, but usable in Bye Week pinches right now
FAAB Price: $12
Strength of Schedule: (23rd easiest among RBs):
Breakdown:
As long as Mack remains owned in less than 50% of leagues, he'll continue being listed here. Unfortunately, despite Mack seeing his highest volume of the season, Frank Gore took over the snap and touch lead this week and looked like he had plenty of juice in his legs still. Mack showed off explosiveness of his own, ripping off a highly impressive 24 yard touchdown screen where he had to change direction and outrun the defense.
With another loss in the books, you have to imagine the Colts will want to get an extended look at their younger talent in what's become a lost season. Mack should continue increasing his snap count and usage moving forward, and could become Alvin Kamara-lite down the stretch here. As before, the usability remains just OK, but the long term ceiling is still huge. He should be owned closer to 70-80%, especially with Bye Week Hell still upon us.
5) Corey Davis (WR – TEN, 27%)
Though Davis' absence has led to countless frustrations and releases, let's remind owners of the upside we drooled over after a sneakily dazzling Week 1 rookie debut:
Key Stat: Team target (10) and yardage (69) lead despite ranking third in WR snaps

Season Long Ceiling: WR1 upside once firmly established

Realistic Outlook: Inconsistent initial output in a crowded corps while establishing his rapport. High-end WR2 within a few weeks once this is in hand.

Usability: Immediate if needy, but a much better stash

Breakdown: Similar to Cohen, Davis has long been on our radar. Via our Draft Day Investing Guide:

If Davis' Week 1 performance is any indication, this projected "Mike Thomas type of surge" could begin far sooner than later.

No, the 6 catches and 69 yards aren't exceptionally flashy. It's more the context and sign of the future that has me salivating.

After suffering a training camp hamstring injury, Davis came into the game at less than 100 percent and without an established rapport with his QB. This had coaches and writers projecting a limited early-season role…This college record-setter has all the looks of a potential season-winner. Davis is still in a crowded pass-catching corps, and might take a few weeks to ascend to clear "top-dog" status. Still, his play on Sunday suggests this is only a matter of time, and Davis brings immediate WR3 usability with long-term WR1 upside.
Tons of game action has passed with Davis on the shelf between now and then, so we are still in this "ascending to top dog status" phase. Yet, if anything, the missed time has highlighted just how badly this offense needs a pass-catching playmaker. Davis drips with the natural ability, and the opportunity is still there, for him to become "the guy."
Unfortunately, the schedule is NOT working in Davis' favor, as he faces the 27th easiest WR schedule with some nightmare matchups forthcoming:

Still,  there's plenty of juicy matchups and the talent is too ripe to let sit around. If anyone has the raw potential and opportunity for an enormous blow-up, it's Davis, and Hail Mary-seeking owners who miss on Collins and JuJu should strongly consider Davis.
Tier 2 – Useful Season Long Assets
6) Cooper Kupp (WR – LAR, 41%) and 9)Robert Woods (WR-LAR, 28%)
Schedule (6th easiest among WRs):

Breakdown: Coming off a bye, there's a chance an impatient owner cut Kupp or Woods, which would be a major mistake to capitalize on. Kupp in particular drips in upside, as he is second in the NFL with 13 Red Zone Targets and currently leads Rams WRs in FPs. Kupp has been boom-or-bust, but those peaks and valleys have been predictable, and Kupp has roasted in the right matchups — dandy, given he gets the 6th easiest schedule among WRs including plenty of cupcakes.
Woods, meanwhile, is the higher floor play. He leads his team in targets, receptions, and yardage, and has seen at least 5 catches an 59 yards in three straight weeks. Unfortunately, he's an afterthought near the red zone, with 0 TDs since Week 6 of last season. But he's a perfect fit in Sean McVay's quick-strike attack, and should be a solid bet for 7.5 – 10 weekly FPs — a safety net most owners can benefit from, especially during these bye week crunches.
7) Paul Richardson (WR – SEA, 31%) and  8) Tyler Lockett (WR-SEA, 39%)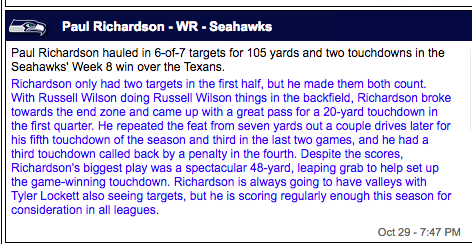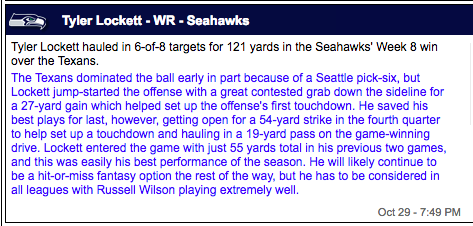 FAAB $: $4-6
Schedule (22nd easiest among WRs)

Quick Hit: All prominent Seahawks pass catchers need to be owned with Russell Wilson absolutely dealing right now, although don't overreact. Since the first two weeks, the Seahawks have abandoned the run while Wilson has hurled at least 295 yards and 3 TDs in 4 of 5 games. He's as mobile as ever in the pocket, and buying his explosive play makers time to get wide open deep down the field, and Richardson and Lockett have clearly benefited. In particular, Richardson has been finding tremendous space in the red zone and is often where WIlson looks first, resulting in 5 TDs through 7 games so far.
This week's matchup isn't great against a stifling Washington secondary, but both guys — especially Richardson — make for excellent WR4 depth from here on out.
For Deeper Leagues…
Upside Stashes
Dede Westbrook (WR – JAX, 9%)
Quick Hit: Alongside Alex Collins, JuJu Smith-Schuster, and Corey Davis, Westbrook is one of the few options who has legitimate season-changing upside. He's already flashed his explosiveness throughout the preseason, ripping off a 42 yard TD reception Week 1,  followed by a 6-catch, 131 yard monster and another 6-catch, 115 yard, TD explosion — a total of 13 catches, 288 yards, and 2 TDs in his only three NFL games. Unfortunately, he landed on the IR after needing core surgery, but he's set to return this week.
He's already shown his insane speed translates at this level, but Westbrook is far more than just a home run hitter. He's incredibly quick in tight spaces, his route running is incredibly smooth, and his hands are among the best of this class, making him equally as dangerous in the short to intermediate range. This is perfect, because he's most dangerous with the ball in his hands. In short, the natural skillset is there for a serious emergence, and we've already seen he can get it done in the pros.
Still, Westbrook's on the team with the second fewest pass attempts in the NFL, and still has to earn his share of this severely limited aerial pie behind Allen Hurns and Marquise Lee. Thankfully, neither of those "starters" have made the path all to difficult, and all it takes is an explosive play or two for Westbrook to become a 5-6 catch weekly fixture. With a cake schedule also in his favor, Westbrook is the lowest-owned potential home run out there.
Danny Woodhead (RB – BAL, 17%) *Week 11 Return*
Quick Hit:  Woodhead is among my favorite stashes because you know you'll be getting a solid asset once he returns. Just look at his usage on his only healthy drive: 3 catches for 33 yards. He was the featured back and absolutely churning, which made perfect sense as the Ravens trailed only the Saints in 2016 RB targets. Buck Allen has been serviceable in his stead, but has done nothing strong enough to stave off the far more explosive Woodhead. The tiny back is set to return to practice this week and eligible to play again in Week 11, so stash him now for a potential difference making RB for fantasy crunch time.
Corey Coleman (WR-CLE, 11%) *Week 11 Return*
Quick Hit: Coleman clearly left the preseason as the Browns' top target, and carried this over into a 5-catch, 53 yard, TD Week 1 debut against the ferocious Pittsburgh secondary. Unfortunately, he suffered a broken hand in Week 2 and has been sidelined on the IR ever since, but is projected to return in Week 11.  The schedule isn't particularly enticing for the five games you'd get out of him:

You'd also be stashing the top wideout of the Cleveland Browns, which just sounds sinful. Still, Coleman looked on pace for a sophomore explosion, and drips in natural ability. If you have the bench space, there's worse ways to burn it.
Charles Clay (TE – BUF, 14%) *Week to Week*
Quick Hit: This is just a reminder that Clay was a top-five tight end and his team's clear go-to-guy when healthy. If you've got the space, stash him away, even without any type of timetable available.
Matt Breida (RB – SF, 9%)
Quick Hit:  Carlos Hyde is long overdue for his annual injury, and it might not even matter — Breida took over as the lead back in the second half in Week 8 and ripped off a 21 yard TD catch, reminding us this remains very fluid, "hot hand" situation. With the season tanked and Kyle Shanahan wanting to prove his worth (just like his father), he could turn this backfield over to Breida, "his guy," at any moment. The zone blocking scheme still makes me stiff, and Jimmy Garopollo's addition will work wonders for this offense's overall efficiency. He remains a hold in my eyes.
Desperation Week 9 Streams
Owned in under 20% of leagues but could provide a useful one week plunge
Jacoby Brissett (QB – IND, 10%) @ HOU
The post-JJ Watt Texans have been scored on in bunches, and have particularly struggled with quarterbacks with solid pocket mobility — they are currently surrendering the third most FPs to signal callers. If nothing else, Brissett is a strong scrambler, and can rack up some leg points. With most sites saying to turn to Jay Cutler, I would 100% go Brissett here.
Marquise Goodwin (WR – SF, 5%) vs ARI
Quick Hit: My favorite WR Hail Mary of the week, as long as Pierre Garcon plays. Garcon will almost assuredly draw the blanket coverage of Patrick Peterson, who's locked down far greater talents this season. But everywhere else, this secondary has been pitiful, and streaming No.2 WRs against ARI has been a fantastic option all season. I expect Goodwin to beat them deep, and potentially pace the team in targets, for this one.
Vernon Davis (TE – WAS, 12%) @ SEA
Quick Hit: With Jordan Reed's latest tweaked labia, Davis instantly emerges on the streaming radar. Cousins loves targeting tight ends, and Davis continues to flash his ahtleticism even at his old age. The matchup in Seattle isn't ideal, but they have been far more susceptible to tight ends this season, and Cousins will be under duress and looking for the dumpoff with the line banged up. I think Davis puts in a solid effort.
Andre Holmes (WR – BUF, 0%)
Quick Hit: Though Sunday was his first time topping 20 yards, Holmes looked masterful doing so. His day was filled with highlight-reel toe taps, and Holmes has the build and athleticism for top-dog wideout duties. Which is perfect, because no one has yet emerged as Rich Dennison's "go-to" funnel X target. If Holmes becomes that guy, he'd be a difference maker during stretch runs. Perhaps he's worth a peek.
Defensive Streamers
Arizona @ SF (36% owned)
The Cardinals haven't been their usual stingy selves thanks to a porous secondary, but CJ Beathard could certainly help turn that around. I expect at least one defensive TD here, and Arizona should be widely available fresh off a bye.
Buffalo @ NYJ (47% owned)
Buffalo has been consistent all year, never dipping below 7 FPs while topping double digits three times. The Jets have been better than expected, but still are no offensive juggernaut. On a short week, expect Buffalo to finish among the top DST units.
SF vs. ARI (1% owned)
This is for the truly desperate, but Arizona is rolling out Drew Stanton and SF, for all their shortcomings, can pressure. Here's fingers crossed for a strip sack for six!
Waiver Wire Rankings
Tier 1
1) Alex Collins (RB – BAL, 32%
2) JuJu Smith Schuster (WR – PIT, 48%)
Tier 1.5
3) Robby Anderson (WR – NYJ, 28%)
4) Alfred Morris (RB – DAL, 39%)
5) Marlon Mack (RB – IND, 42%)
6) Darren McFadden (RB – DAL, 37%)
7) Corey Davis (WR – TEN, 27%) *If you don't need someone immediately usable, put Davis as No. 3*
Tier 2
8) Cooper Kupp (WR – LAR, 41%)
9) Paul Richardson (WR – SEA, 30%)
10) Dede Westbrook (WR – JAX, 9%) *Biggest Hail Mary name under 10%*
Tier 2.5
11) Kenyan Drake (RB – MIA, 2%)
12) Tyler Lockett (WR – SEA, 39%)
13) Robert Woods (WR – LAR, 28%)
14) Josh McCown (QB – NYJ, 26%)
Tier 3
15) Danny Woodhead (RB – BAL, 18%) *Put at No.6 if you can stomach the stash right now*
16) Matt Breida (RB – SF, 9%)
17) Rod Smith (RB – DAL, 1%)
18) Vernon Davis (WAS – TE, 12%)
19) Charles Clay (TE – BUF, 14%)
20) Damien Williams (RB – MIA, 1%)
Be sure to hit up The Wolf in the comments below, or on his SnapChat or Twitter Page (@RotoStreetWolf) for personalized  Add / Drop questions and concerns. He'll let you know who to drop / who to target based on your roster and team needs, and get you ready for a crucial Week 5 matchup. Plus, be sure to track us on all your social medias to never miss a single fantasy beat (Facebook, Instagram, and Twitter).