Highlighting the week's most important fantasy storylines using only six words.
Baltimore Continues Preying on Shitty QBs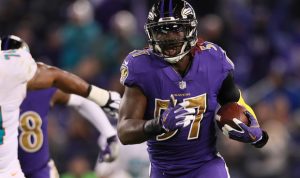 Ravens 40, Dolphins
I hyped the Ravens D as fantasy elite at the beginning of the season.  Although that is not 100% true at this point, we can all agree that it can be in spurts—especially when facing the worst of the worst.  Matt Moore is now the the team's latest victim, with the Baltimore flock posting two pick-sixes courtesy of C.J. Mosley and Jimmy Smith.  The team now has a league-high 12 interceptions and has proven to pounce on opponents' mistakes.  Keep an eye on the Ravens D when it falls to the waiver wire in week 10, as the team has an unfathomably favorable schedule against pick-prone QBs the rest of the way.  The list includes Brett Hundley in week 11, Deshuan Watson in week 12 (obviously he's nasty, but he throws interceptions), Ben Roethlisberger in week 14, whoever the Browns start in week 15, and possibly Jacoby Brissett to end the season.  Ca-ching!
Crowell Finally Rises From the Dead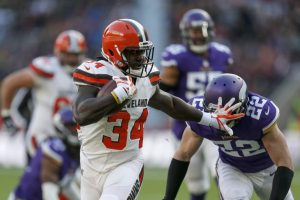 Vikings 33, Browns 16
Down to a 77% percent ownership percentage in Yahoo leagues, Isaiah Crowell has been a huge disappointment after failing to top the 10-point mark in any game entering week eight (standard scoring).  Well, he finally lived up to his expectations over the weekend.  The fourth-year back toppled the Vikings for 118 totals yards and a touchdown, his first of the season.  While this does not jettison him into the crux of your team, he is no longer a rotting spot at the bottom of your bench.  Consider him a match-up dependent flex after his best performance of the season.
McCoy Continues to Erupt After Slump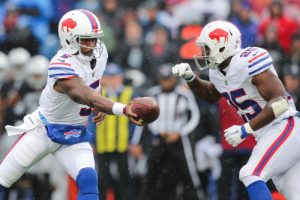 Bills 34, Raiders 14
With an up-and-down season thus far for Shady McCoy (by his standards), it is absurdly tempting to work an Eminem reference into this blurb.  After totaling 169 rushing yards in games two through five, MCCoy has rediscovered his swagger in a big way.  After amassing 91 rushing yards and two TDs in week seven, the 29-year old stud amassed 151 yards (and a touchdown) on the ground against Oakland yesterday afternoon.  Expect more monster performances from McCoy over the second half of the season.  Out of Buffalo's eight remaining games, six are against teams in the top ten in the NFL in rushing yards allowed.
Doyle Remains Brissett's Most Consistent Target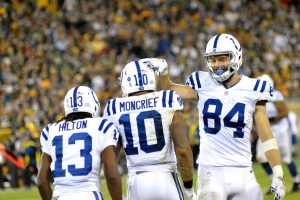 Bengals 24, Colts 23
Just when it appeared T.Y. Hilton was finally going to be the man he's meant to be in Colts Country, Jacoby Brissett dialed back his star receiver's targets and shifted them over to his crafty tight end.  After a 12-reception, 121-yard effort in Cincinnati, Jack Doyle now has 32 targets over his last three games.  Remarkably, he is still available in just under half (49%) of Yahoo leagues.  Doyle is a must add in all formats despite a tough upcoming schedule (@HOU, PIT, and TEN) for tight ends.  However, he has an amazing playoff schedule with juicy matchups against Buffalo, Denver, and Baltimore in weeks 14-16.  Add him if you don't have him, and start him if you do.  He is a valuable trade piece if you have another viable option at TE.
Lewis Solidifies Grasp on NE Backfield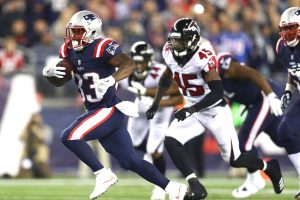 Patriots 21, Chargers 13
Dion Lewis continued his ascent to the top of the New England RB depth chart, leading the team in rushing yards for the fourth consecutive week with 44 yards on 15 caries against the Chargers.  Lewis also leads the team in carries over that span with 46.  After a slow start, the speedy back is gaining momentum at the right time, as Mike Gillislee has been unable to find any consistency in a Pats uniform.  Although Rex Burkhead and James White will continue to dominate the backfield through the air, it appears that Lewis is turning into the team's go-to rusher once again.  Although this is not a certainty, he will continue to be a viable flex play in most leagues.  Expect the versatility of the New England offense to keep Lewis's value afloat despite tough matchups against Denver and Miami in November.
Kamara Continues His Stellar Rookie Campaign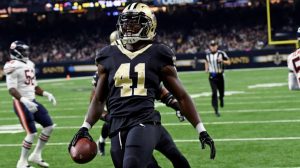 Saints 20 , Bears 12
God damn, I love me some Alvin Kamara.  The rookie is growing into arguably the Saints most consistent offensive performer, adding another rushing touchdown to his resume along with 48 receiving yards on three receptions.  Adrian Peterson's departure has created more rushing opportunities or Kamara, while his versatility has earned him a consistent role no matter how well Mark Ingram plays.  The Tennessee product is averaging 6.5 YPC on the season (34 carries) and has tallied 28 receptions out of the backfield.  In PPR formats, he has grown from a risky FLEX play into a respectable RB2 candidate.  This man should either be in your lineup every week or traded for someone who fills a dire area of need.
McCown's More than a Bye-Week Filler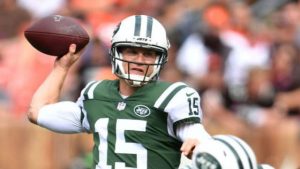 Falcons 25, Jets 20
Believe it or not, its highly likely that Josh McCown has been outperforming your starting QB for several weeks.  The journeyman Jet had another strong stat line yesterday against a solid Atlanta pass defense: 26/33 for 257 yards, two TDs, and zero interceptions.  Yesterday was the fourth game in a row McCown has thrown multiple touchdowns, averaging a respectable 253.5 passing yards per game over that span.  Since October 8th, McCown's numbers have been better and more consistent than more trusted QBs such as Drew Brees, Cam Newton, Phillip Rivers, and Matt Ryan (the list goes on and on…).  McCown is a shrewd add if you are the victim of injuries or inconsistency at the QB position, or if you just want to be a dick keep him away from a needy opponent.
Breida Slowly Carving Out a Role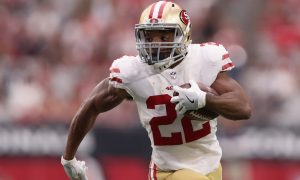 Eagles 33, 49ers 10
Despite fluctuating targets and carries, Matt Breida continues to be a notable factor in an abysmal 49ers offense.  This is thanks, in part, to the inconsistency of veteran incumbent Carlos Hyde.  Breida scored San Fran's only touchdown yesterday on a 21-yard pass in the third quarter.  The rookie finished the game with a team-high 39 yards through the air (four receptions on six targets) and carried the ball five times for 17 yards (3.4 YPC).  Hyde, on the other hand, ran for just 25 yards and went scoreless for the sixth time this season.  If Hyde continues to struggle, he may find himself on the trading block and losing more and more opportunities to Breida.  Although he is not going to be an immediate contributor, Breida is worth a stash in deeper leagues.
Martin Continues Solid Play Since Return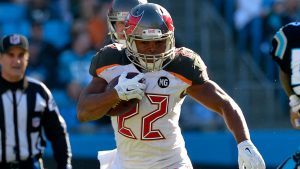 Panthers 17, Buccaneers 3
Although we are yet to see him in true Muscle Hamster form, Doug Martin has been arguably the most dependable Buccaneer since his return from suspension.  The running back was one of the few bright spots from his team's pathetic performance against Carolina, as he rushed for 71 yards on 18 carries and added a reception.  In default-scoring PPR leagues (Yahoo), yesterday was the only game in which Martin (8.5 points) did not crack double digits in scoring.  His remaining schedule is incredible, as Martin will face only two teams (Carolina and Miami) ranked outside the top 12 in points allowed to running backs.  Weeks 12-15 feature a boner-inducing slate against Atlanta (twice), Green Bay, and Detroit.  We are undoubtedly yet to see the best of Martin this season.
Miller Finally is What We've Expected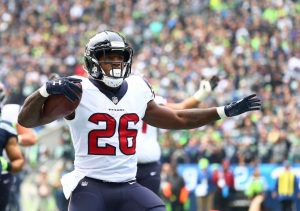 Seahawks 41, Texans 38
Yeah, no shit, Deshaun Watson and Russell Wilson are unreal.  Why would I waste both my time and yours writing about something that is blatantly obvious?  Lamar Miller's strong production, on the other hand, has been overshadowed.  The former Miami Dolphin reaped the benefits of Watson's tremendous play yesterday, scoring one touchdown on the ground (54 rushing yards) and a second through the air (three receptions).  He has now scored double-digit fantasy points (PPR) in all but one game this season.  Although it may not always be the top-tier production many hoped four, it is nice to see consistency after an up-and-down 2016 campaign.  Expect the trend to continue with Watson under center and a favorable schedule for the remainder of the season.  The Texans take on the Colts and Rams over the next two weeks, and will host the 49ers (week 14) and the Steelers (week 16) during the fantasy playoffs.
Cousins and Crowder Finally Re-establish Chemistry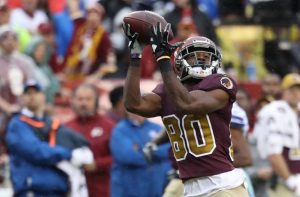 Cowboys 33, Redskins 19
The WR free agent pool has quickly grown incredibly shallow and stagnant in most leagues.  A bust on the level of Crowell, Jamison Crowder only totaled 149 receiving yards through his first six games.  His poor performance has been compounded by the emergence of Chris Thompson, as well as the fact that Josh Doctson and Ryan Grant are attempting to find their own seats at the table.  Crowder finally broke out of his season-long slump on Sunday, almost matching his season total with 123 yards on a team-high nine receptions (13 targets).  Although I wouldn't pounce on him yet, it is definitely worth keeping an eye on him to see if he and Cousins are finally back on the same page—or if it were just a fluke.
Smith-Schuster is the Real Deal, Bay-bay!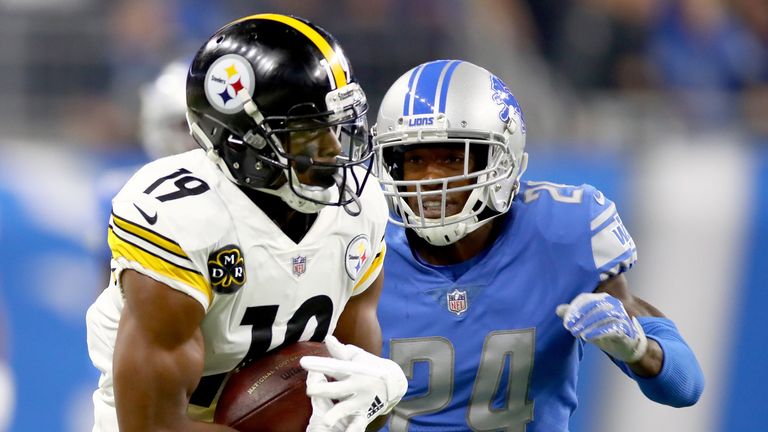 Steelers 20, Lions 15
Heading into yesterday's matchup against the Lions, Steelers rookie JuJu Smith-Schuster was more known for his bizarre name and antics with Mia Khalifa than for his performance on the field.  That all came to an end in a big way, as the wide receiver destroyed the Detroit secondary for seven receptions and 193 yards, including a 97-yard bomb that went for a touchdown.  He also tied Antonio Brown for the team lead with 10 targets.  Schuster has quietly put together a solid rookie campaign, falling under 10 PPR points in only four of his first eight games in the NFL (one of which saw him score 9.8 points).  It is highly unlikely that his ownership percentage will stay around its current rate of 47%, so grab him while you can.  He is a MUST ADD, as he has effectively replaced the droppable Martavis Bryant.  Schuster's momentum should carry over Pittsburgh's week nine bye, as the team takes on Indianapolis in week 10 and Green Bay in week 12.
Are these stories accurate?  Did I miss some major characters and plot points?  Let me know in the comments section below!