Player Stock Ticker
Vegas Meets Fantasy Football: How To Use NFL Week 8 Betting Odds To Set Your Fantasy Lineup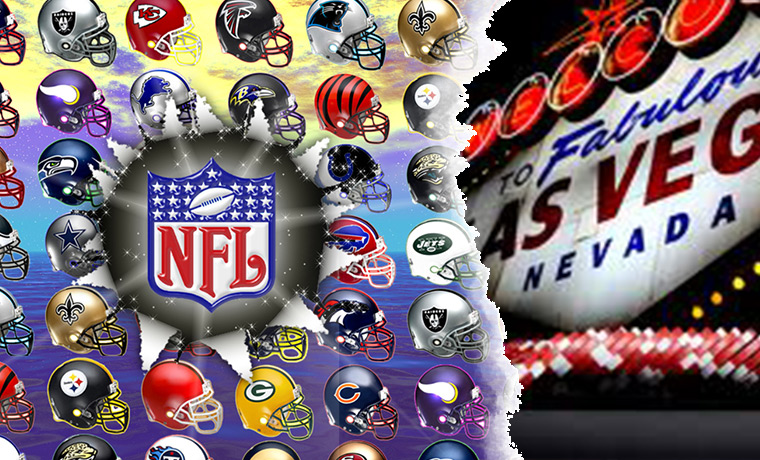 Quick, without thinking: what are the two best things about football? Easy: fantasy football and gambling. Well, and having something to do on Sundays. And chicken wings. And cheerleaders. And — ok, I'm getting carried away. Fantasy and gambling, that's what we settled on, right? Cool. Well much like peanut butter & jelly or Tom Brady & Gisele, your friend/fellow gambling degenerate Keegs is on a mission to combine two of the greatest things on planet Earth. How? Glad you asked.
Every week, we see the odds of NFL games all over the place. Seattle is 3-point favorites against Green Bay, the over/under for Pittsburgh/Cincinnati is set at 49.5, etc. Sure, you can use those to try and make a few bucks, but what about for fantasy? Believe it or not, gambling lines can tell you A LOT about who you should be trotting out there in your fantasy or even DFS lineup. So each week, I'm here to give you a handful of tips, based on the lines set by our buddies over in Nevada, that'll hopefully help you towards your ultimate goal of a fantasy football championship. Simple enough? Cool, let's get started.
Odds via www.bovada.com
Team To Love: Philadelphia Eagles
San Francisco 49ers @ Philadelphia Eagles (-13); Over/Under 46
Key Points:
This is the most lopsided spread Week 8 has to offer, and rightfully so: the Eagles are 6-1 — the best record in football — and their offense is firing on all cylinders with MVP candidate Carson Wentz leading the way. Meanwhile, San Francisco will trot out one of the worst statistical defenses in football, allowing over 393 yards and 26 points per game. It's a no-brainer, really.
Wentz is 4th in the league in passing yards at 1,852 through 7 weeks (putting him on pace for over 4,200), and he's turned Nelson Agholor and Alshon Jeffrey into two of the most lucrative fantasy WR options this year; this particularly rings true for Agholor, who has found the end zone the past 3 weeks and is currently 14th among WRs in PPR scoring
Meanwhile, SF's secondary limps into this game employing exactly 0 CBs that're ranked higher than 86th on Pro Football Focus' positional power rankings. 86th! They're allowing over 258 yards per game through the air, and are coming off a 40-10 shellacking at the hands of the Cowboys last week in which Dak Prescott threw for 234 yards and 3 TDs.
Basically, this one should be an absolute slaughter. The Eagles are returning home, where they're 3-0 this season and are scoring over 31 points per game. Conversely, the Niners are 0-4 on the road and 0-6 overall. I talked about Philly's receivers and the success they've had, but a matchup that'll be real interesting to watch in this one concerns Zach Ertz. Ertz has quickly become one of Wentz's favorite targets, and on 9 red zone targets this season (tied for 6th in the NFL) he's got 7 catches for 53 yards and 5 TDs. That's efficiency, folks. The Niners have done a solid job of shutting down TEs this season, only allowing about 8 fantasy points per game to the position, so if Ertz can break that trend along with predictably solid performances from Agholor, Alshon, and Wentz, this thing could get ugly real quick. I'm all in on Philly this week.
Team To Hate: Indianapolis Colts
Key Points:
After SF/PHI, this is the 2nd most lopsided spread this week. And honestly, if you're 9.5-point underdogs to the 2-4 Bengals, you've gotta be doing something really wrong.
Recency bias certainly factors into this line as Cincy has won 2 of their last 3, but mostly this line just indicates what a dumpster fire (insert the GIF here) the Colts have been in 2017. Obviously Indy's struggles can be partially chalked up to losing Andrew Luck in the preseason, but Jacoby Brissett has performed respectably in his place. The problem really lies beyond QB — the Colts are 7th in the league this year with 15 drops, and when that is coupled with lead back Frank Gore rushing for under 50 yards per game, it's tough to really get any offensive production going.
And Indy's defense isn't much better, coming in at 30th in PFF's rankings and facing a tough test in a Cincinnati offense that's starting to figure things out after their touchdown-less 0-3 start.
The one bright spot for the Colts, both in this matchup and moving forward, could be rookie RB Marlon Mack. Mack has still yet to find a consistent role in the team's running game but has shown flashes of potential in that regard, specifically in his 91-yard performance against San Francisco in Week 5. Mack's main contribution to the Colts offense for 2017 will likely be through the air, and Cincy has allowed the 6th most receptions to RBs this season, so that could potentially be a way for him to contribute to what will otherwise be a futile offensive effort. But aside from Mack, one of The Wolf's primary waiver targets for Week 8, it's slim pickins in Indianapolis.
Game of the Week:
Dallas Cowboys (-2) @ Washington Redskins; Over/Under 50.5
Key Points:
With the week's highest over/under, this one promises to be a high-scoring affair. Both offenses are in the top 11 in scoring this season, led by fantasy QB4 Dak Prescott and QB7 Kirk Cousins.
On the other side of the ball, Washington trots out a pretty league-average defensive unit that can get pressure on the quarterback but allows 23 fantasy points per game to running backs. Dallas' D, meanwhile, has allowed almost 24 points per game in 2017 and, aside from the surprising growth from DeMarcus Lawrence, has failed to generate a pass rush consistent enough to keep QBs on their toes.
Ezekiel Elliott has managed to put distractions aside and is now coming off his most impressive performance of the year against SF, where he rushed for 147 yards and 2 TDs while also hauling in a 72-yard TD catch. And teammate Dez Bryant has scored 4 times in the last 5 weeks, and comes in at The Wolf's WR5 against a secondary that could be without Josh Norman yet again.
For Dallas, you've gotta be looking at the usual suspects: Dak, Zeke, and Dez. Cole Beasley and Brice Butler have both put up respectable campaigns thus far, but have failed to develop any consistency in the offense and are textbook boom-or-bust selections. For Washington, Jamison Crowder leads the team in receptions, but has proven himself as nothing more than a desperation flex play this season. Terrelle Pryor is in a similar position, but has managed find the end zone a few times in 2017 to up his prospects a bit. And the Skins' backfield situation is still pretty murky, with Rob Kelley finally returning from his rib injury last week but still being outsnapped 37-27 by Chris Thompson — both had 7 carries, but Thompson more than doubled Kelley's run production and also caught 5 balls for 26 yards and a TD. Kelley should slowly be worked back into the offense, but for now I only really feel confident about Cousins and Thompson for Washington, with Pryor and his team-leading 33 targets coming in a distant 3rd.
Honorable Mentions:
Atlanta Falcons (-4.5) @ New York Jets; Over/Under 46
Despite Atlanta's ugly showing in their Foxboro "revenge game" last week, the numbers don't lie — Atlanta's offense is PFF's top ranked unit through 7 weeks. It's even easier to move past last week when you realize that if it weren't for 2 missed FGs and a failed jet sweep at the 1-yard line, we're talking about a possible OT game. Devonta Freeman is PFF's #2 RB, Alex Mack is their top-ranked center, and despite clear regression from his 2016 MVP season, Matt Ryan is still 5th in the league in completion percentage (66.5%). And a week after pledging to get Julio Jones more touches, Dan Quinn finally put his money where his mouth is — Jones was targeted 13 times (4 times in the red zone, a 400% increase from Weeks 1-6) and finished the contest with 9 catches for 99 yards and his first TD of the season. Damn, I guess when you make it a priority to get the ball to your superstar receiver, he plays well. Who knew? Meanwhile, the Jets defenses has been one of the worst in football, with a respectable secondary but an abysmal front seven that's conceding over 126 yards per game on the ground. Look for Matty Ice and Julio to hook up big time again, but I'm most excited about Freeman — The Wolf's RB5 this week — in this one.
Los Angeles Chargers @ New England Patriots (-7.5); Over/Under 48.5
In my preliminary looks this week, this seemed like a matchup that favored only the Pats. The NFL's leading passer Tom Brady looked as strong as ever against Atlanta last week, and he's spreading the ball out to all of his weapons extremely well. Brandin Cooks' role in the offense is seemingly growing by the week, Chris Hogan has emerged as a virtually-equal replacement for Julian Edelman, and Rob Gronkowski has remained healthy enough (knock on wood a billion times) to climb into the TE2 position through 7 weeks. And I still like New England a lot in this matchup, especially against LAC's unimpressive defense that's 31st in football against the rush, but this week's news that Dont'a Hightower will miss the rest of the season with a torn pec has changed my tone a bit. Hightower has been this defense's leader both physically and vocally for the past season and a half, and has played a key role in the unit's impressive turnaround over the past few games. Additionally, Stephon Gilmore may be slated to return to the field this week, and get this: that might actually be a bad thing. The defense has executed this midseason turnaround with Johnson Bademosi playing opposite Malcolm Butler in the secondary, and the return of Gilmore could also mark the return of the unit's severe communication issues that led to the team allowing over 30 points in each of their first 4 games. And having to slow down an offense with talent like Phillip Rivers, Melvin Gordon, and Keenan Allen is no simple task. I also really like Hunter Henry in this one, coming off double-digit fantasy performances the past 2 weeks despite not scoring. He's 2nd on the team with 31 targets with 6 of those coming in the red zone, and against a New England defense that's allowed almost 15 points per game to tight ends, he could be in for a big day.