Welcome back to Fanduel Picks Week 8, your one-stop-shop for the best FanDuel player picks. The recipe for success is finally coming together, and the meals taste delicious. In Week 7 the top tier Locks all seemed to hit with Dak Prescott, Julio Jones and Le'Veon Bell all scoring more than 20 FanDuel points. In an ironic twist you may see all of these names again very shortly, so stay tuned. Combining those players with underpriced lock of the week Jimmy Graham (another tight end touchdown against the Giants) should have easily earned you money. So good on us for nailing those heavy hitters who all truly deserved their top dollar pricing. This week we try something different at tight end, freeing up some big bucks for those top skill players at WR and RB. So let's get to the Week 8 picks and continue our hot streak. As a note, these picks are based on Sunday only leagues, so players on Thursday and Monday night will be ignored, as well as London games.
Quarterbacks
The Locks
Dak Prescott, QB, Dallas Cowboys ($8,600) – Recurring character number one. Dak Prescott is on some kind of heater right now scoring over 22.9 fantasy points in each of his last 4 games, accounting for 14 total touchdowns during that span (11 passing and 3 rushing). In Week 8 the Cowboys travel to Washington in what is currently projected to be the highest scoring game of the day (50.5 total, only game currently on the Sunday board over 50 points). And with the Cowboys only projected as a 2.5 point favorite, the game should remain tight all day, so Dak should throw, and throw some more. Boasting a strong run defense but poor pass defense look for Dak to continue his blitzkrieg of defenses and feast on a struggling secondary.
Carson Wentz, QB, Philadelphia Eagles ($7,900) – Speaking of hot, how about Carson Wentz. He has tossed at least 3 touchdown passes in each of his last three games and, most recently, ran for 63 yards against the Redskins defense mentioned above. Now that is productivity. This week the Vegas loves the Philadelphia Eagles predicting them as the biggest favorite (12.5 points) and the team with the highest implied team total (30 points). Squaring off against a 49er defense allowing the second most points to opposing quarterbacks look for Wentz to continue to pepper his receiving corps for another 20+ point performance.
Sleeper
C.J. Beathard, QB, San Fransisco 49ers ($6,300) – And who opposes Carson Wentz and the Eagles? C.J. Beathard of course! But why do I love him so? Well, for one his price is ridiculously low. Second he averages a respectable 14.3 fantasy points per game (one of his starts was in relief) even though he has throw just one touchdown pass. Third he faces an Eagles defense allowing the 4th most passing yards per game. And fourth and finally, as huge underdogs, look for the 49ers to throw early and often. For his price and solid scoring floor thus far Beathard could be one of the bigger steals this Sunday.
Running Backs
The Locks
Le'Veon Bell, RB, Pittsburgh Steelers ($9,400) – Recurring character number two. Le'Veon Bell gets 38 total totes for 192 yards and his price drops $300? WHATTTTTTTT? Sure he faces a solid Lions run defense but this man is impervious to difficult matchups. His volume alone makes him worth $9,400, never mind the fact the he is one of the most explosive and dynamic players in the past decade. On a fast track inside the dome at Ford Field look for the Steelers to once again give Bell 30+ touches. If he scores once, he is more than worth the price for admission. Twice, and goodnight moon.
Melvin Gordon, RB, Los Angeles Chargers ($7,900) – I had a difficult time convincing myself of this pick. I know the Bill Belichick school of thought usually says to take out the opposing team's best player. But with the secondary struggling so much (notwithstanding last week's game against the petrified Atlanta Falcons) Bill may focus on taking out Keenan Allen. However, even if Bill focuses on Melvin Gordon his volume in their rushing and passing attack makes him a must play. The New England Patriots give up the fifth most fantasy points to running backs and the most fantasy points to quarterbacks, so Gordon should capitalize on the great matchup. With plenty of volume coming his way Sunday, look for Gordon to get back on track after struggling Week 7.
Sleeper
Chris Thompson, RB, Washington Redskins ($6,000) – How does any other Redskin running back touch the football? In 5 of his 6 games this year Chris Thompson has eclipsed 13.5 fantasy points, twice scoring more than 24 points. As a dual threat in the running and receiving game, Thompson maintains upside in the volume department each week. Plus he just has a nose for the end zone this year, which should be important in a game likely featuring a lot of Kirk Cousins. At only $6,000 Thompson possess 20 point upside against a Cowboy defense that has struggled in the past containing pass catching running backs.
Dion Lewis, RB, New England Patriots ($5,400) – As my picture centerpiece and must start of the week for the Stream Team it is no surprise to see Dion Lewis making the Sleeper list here. The Charger run defense allows the second most rushing yards per game and rushing yards per attempt. Recently, Lewis appears to have taken control of the Patriot backfield from a running perspective. But do not forget how explosive he looked in years past in the passing game as well. As usual expect Belichick to exploit the opposing team's weakness, so a consistent dose of Lewis makes him worth the low price.
Wide Receivers
The Locks
Julio Jones, WR, Atlanta Falcons ($8,700) – Our final recurring character also strangely experienced a price drop after finally getting the targets and focus he rightly deserves. Julio Jones did not disappoint last week in a plus matchup catching 9 of 13 targets for 99 yards and one soul-snatching touchdown. What a talent. As the Falcons season spirals out of control I would not be surprised to see Dan Quinn and Matt Ryan draw up a game plan purely focused on getting Jones the ball to save their season.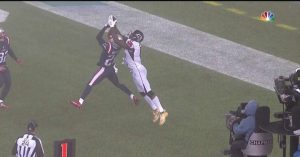 Doug Baldwin, WR, Seattle Seahawks ($7,700) – I've been screaming "Buy" from the mountaintops for weeks. And finally, Doug Baldwin has arrived in 2017. Baldwin caught 9 of 12 targets for 92 yards and a score last week, showing his connection with Russell Wilson is as strong as ever. In Week 8 the Seahawks host the Houston Texans, a team boasting one of the better run defenses in the league. Which really, when you think about it, does not effect the Seahawks approach given their futility at the RB position. Look for Wilson to keep plays alive with his legs and find his target hog often in a pivotal Week 8 matchup.
Sleeper
Kelvin Benjamin, WR, Carolina Panthers ($6,600) – Not quite as bargain-y as the two options below, I still must toss this out there. Kelvin Benjamin finds himself in a great position for success Week 8 against a Tampa Bay defense allowing the fourth highest yards per play and QB rating, the third most passing yards per game and the third highest completion percentage. With Benjamin's knee a little on the fritz, I expect his ownership to be rather low this upcoming week. But his gimpy knee should not deter you as he looked solid reeling in a few deep catches in Week 7. Look for Cam Newton to take advantage of a porous Bucs secondary and to throw to his big target in the red zone.
Kenny Golladay, WR, Detroit Lions ($5,500) – With their leading playmaker out, the Detroit Lions will try and find a replacement for wide receiver Golden Tate in Week 8. And while I think Marvin Jones Jr.'s ownership should be high, an under-the-radar play may be audibling to the other wideout, Week 1 breakout star Kenny Golladay. Sure Golladay has not played since Week 3 with a hamstring injury, but he showed true talent Week 1. With Golladay probably to return in Week 8, the Lions will look to replace Tate's targets, so don't be surprised to see more than a few going Kenny's way.
Josh Doctson, WR, Washington Redskins ($5,200) – Another Stream Team-er, Josh Doctson started in the starting X slot over Terrelle Pryor Monday Night, playing 54 of 64 snaps. As we know, the Cousin's led Redskins offense revolves around the passing game, so with Doctson currently leading the clubhouse for the all important X wideout, he makes for a very intriguing play at his price of $5,200. If Jay Gruden stays true to his word and Doctson is their number one wideout, a double digit floor seems more probable than not, with the potential for much, much more in an obvious passing game for the Redskins.
Tight End
The Locks
Another landmark day for the FanDuel picks. I always suggest someone in each category. And here I could too. Both Rob Gronkowski and Zach Ertz are matchup proof this year, but they face the second and third ranked defenses against tight ends respectively. Their prices are tough to justify the difficulty of their matchups, although I have more confidence in Ertz. However, I'd suggesting punting these two heavy hitting options and going for one of these bargain bin names below.
Sleeper
Tyler Kroft, TE, Cincinnati Bengals ($5,700) – With 14 catches and 3 touchdowns in his last three games, Tyler Kroft is slowly turning into a backend TE1. With a plus matchup this week against a Colts defense allowing the second most passing yards per game, look for Kroft to roam free as the Colts defense looks to take out top target A.J. Green.
Jason Witten, TE, Dallas Cowboys ($5,400) – I feel like the fantasy community is not giving Jason Witten the love he deserves this year. Sure he struggled in Weeks 3 and 4, but in his other 4 games he averages 14.4 FanDuel points. As noted above I love Dak Prescott and the passing game this week, especially against a Redskin defense allowing the third most fantasy points to tight ends.
Nick O'Leary, TE, Buffalo Bills ($4,900) – Who? Exactly. With Charles Clay still nursing a knee injury Nick O'Leary now mans the tight end front in Buffalo. In each of his previous two games O'Leary has topped 50 receiving yards, providing a solid floor for his believers. With the Raider defense allowing double digit fantasy points to tight ends in 5 of 7 games this year, O'Leary could be a deep sleeper worth rostering if you need room for some of the bigger names above.
Kicker
The Locks
Wil Lutz, K, New Orleans Saints ($4,900) – Gimme the guy in a dome every day of the week. Since the start of last year Will Lutz is 24/28 indoors, good for an 86% success rate. With a 28 point implied team total Sunday for the Saints, expect the New Orleans offense to turn on the jets in the dome, with scoring chances aplenty for Lutz.
Sleeper
Randy Bullock, K, Cincinnati Bengals ($4,600) – As the inept Colts offense fails to move the ball all game (see below) the Bengals should be left with short fields all day. That means lots and lots of scoring opportunities for veteran kicker Randy Bullock. For someone that has had his ups and downs in his career, he is settling in nicely this year going 7/8 on field goal attempt and a perfect 11/11 on extra points. If you want to save a couple bucks, here is your man.
Defense
The Locks
Cincinnati Bengals DST ($4,800) – This has more to do with the Indianapolis Colts offense than the Bengals defense. The Colts just cannot move the ball right now. Quarterback Jacoby Brissett has throw for one touchdown pass over the past two weeks and they're tied for the fifth lowest points per game average at 17. The Bengals play host this week and open as 11 point favorites, meaning the Colts have an implied team total just over 15 points. Yuck. Look for the Bengals to blitz Brissett early and often and blitz this inept Colts team off the field Sunday.
Sleeper
Pittsburgh Steelers DST ($4,400) – While the Pittsburgh Steelers DST's matchup with the Lions does not jump out at you immediately, a closer look reveals a solid floor play. First, the Lions will be without their number one offensive playmaker in Golden Tate as mentioned above. And second, the Steelers have not scored below 5 FanDuel points this year and 5 times have scored 8 or more points. Recording multiple sacks in every game this season and forcing at least one turnover in 6 of 7 games, the Steelers consistent production makes them a solid floor play.
And that's a wrap for Fanduel Week 8 analysis. Remember to always look at the matchups and Vegas totals, which are always telling, and do not be afraid to admit they know more than you, because they usually do. Until next time, good luck and don't forget to tip me 10% of your earnings. Thanks in advance.
To contact me with any questions or general fantasy football discussion, please email me at redsocker45@gmail.com or tweet me ‪@AJGamballer‪.