Player Stock Ticker
NFL DraftKings Week 8: Picks, Sleepers and Strategies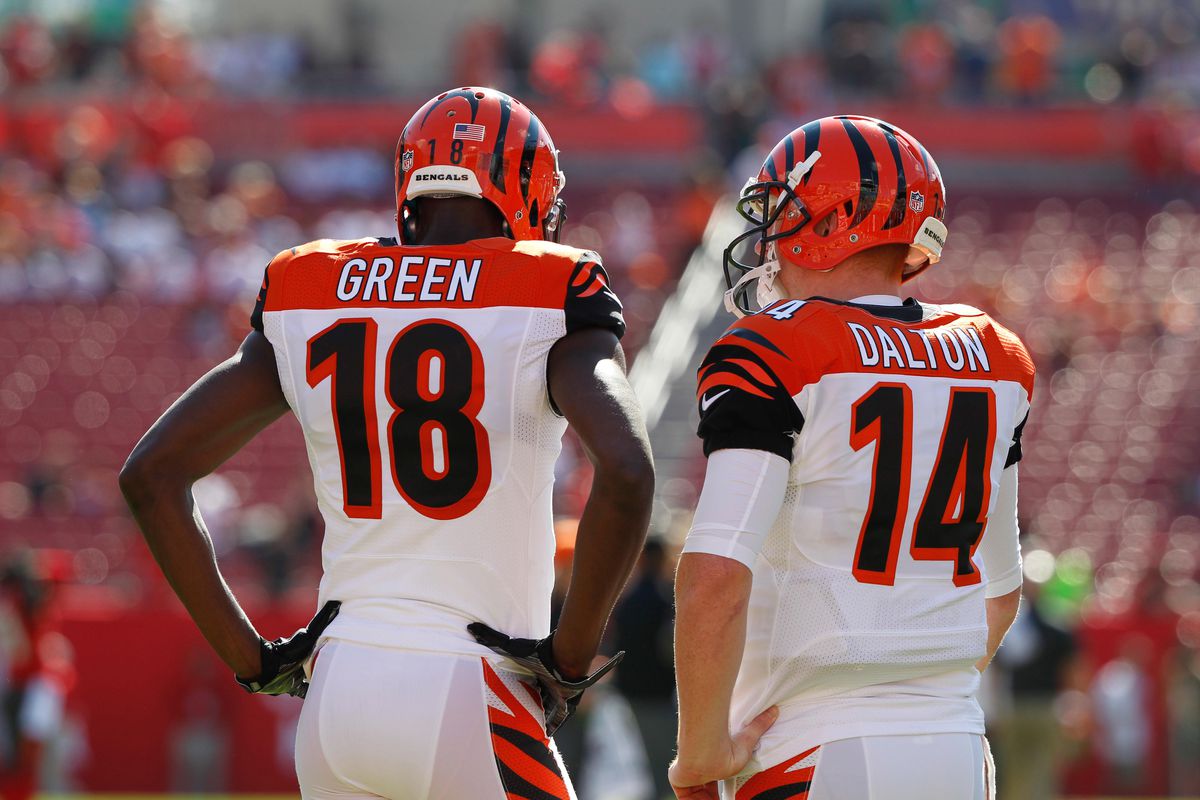 Week 7 was a career week for JimboSlice and the RSJ, as we torched the competition and popped bottles come Sunday night. I would like to dedicate this victory to the Chicago Bears defense, who as I mentioned on the last podcast last Thursday (SUBSCRIBE), I was somehow a fan of and really liked their value. All through the power of Ditka our lord, amen. Some big hits last week, while the cheaper options all performed well to keep the lineup afloat. Also, it was spectacular to see Zeke do Zeke things and really eat against the 49ers.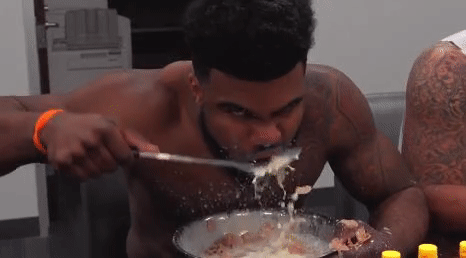 Per usual, these follow standard DraftKings prices and consist of every NFL game of Week 8.
For audio-based listeners, check out our LOADED Week 8 DFS Preview (subscribe here)
Quarterbacks
Top Shelf

Carson Wentz ($7,200) – The Wentz MVP chants are growing louder while his DK price does so as well. Performing at such a high level right now, a home matchup with the winless 49ers makes him the easy expensive/pay up play at QB.

Retail Price

Kirk Cousins ($6,400) – Cousins has scored over 20 points in each of his last four games while having some favorable home splits. Jordan Reed appears to be back and healthy in the offense which gives Cousins even more weapons to deal with.
Jameis Winston ($6,100) – While the Bucs defense has dampened the image of the team overall, Winston has delivered consistently and continues to put up solid numbers. Having Mike Evans to throw to all the time certainly helps Jameis week in and week out.

Bang For Your Buck

Tyrod Taylor ($5,900) – Tyrod paid off last week, and has another favorable home matchup against the Raiders. He's another guy with favorable home splits, and those rushing yards he tacks on really helps to separate him from other competition.
Andy Dalton ($5,700) – Big fan of the Red Rifle in this home spot against the Colts who just lost their top secondary defender in safety Malik Hooker to a torn ACL. The Colts have had trouble defending as a whole but could very well be exposed by Dalton and the deep ball to AJ Green.
Trevor Siemian ($4,800) – As bad as he looked last week, Siemian is the ultimate punt play at QB this week. A road game against the Chiefs isn't ideal especially with Emmanuel Sanders on the shelf. However, the Chiefs have really struggled against the pass as we saw Amari Cooper return from the grave for an ungodly performance. For only $4,800 it shouldn't be too hard to Siemian to produce to his salary level, and if he needs to keep up with the Chiefs offense then anything else will be gravy.
 
Running Backs
Top Shelf

Le'Veon Bell ($9,300) – Bell has continued to have an abnormal usage rate that puts him into the elite fantasy category. The Lions defense has surprisingly done very well in the secondary so I would guess the awful Road Ben decides to ride Bell to carry the offense.
LeSean McCoy ($8,700) – Week 7 was the week McCoy felt he was ready to break out and spot on he was. The Bills know they're bread and butter with McCoy mostly because of the limited options they have at receiver and tight end. Similar to Tyrod, McCoy is another guy with great home splits. His usage should continue to stay high this week against Oakland.
Mark Ingram ($7,400) – Ingram has become the horse in New Orleans' offense with 20+ carries in back to back games. I'd imagine the Saints handle the Bears easily as Chicago can't pass and keep up with the Saints offense. Ingram will continue to have a high usage in this potent offense.

Retail Price

Christian McCaffrey ($6,200) – McCaffrey's value and production almost entirely comes from the receiving game now as the Panthers continue to struggle running the ball. Tampa Bay has really struggled defensively with the passing game while McCaffrey continues to see a high volume of targets each week.
Chris Thompson ($5,800) – We know that Thompson has been on a historic pace for RB receiving numbers in 2017, but he's starting to etch out a role in the running game as well away from Rob Kelley. It's clear he needs to be on the field because he's so dynamic. Thompson has performed significantly better at home this season.
Latavius Murray ($5,000) – Murray looked like the back we expected to see in Minnesota's offense post Dalvin Cook injury as he both out touched and out rushed Jerick McKinnon. A date with Cleveland usually bodes well for any offense, so Murray should look to keep it rolling in London.

Bang For Your Buck

James White ($4,900) – Despite Dion Lewis' emergence in the backfield, White will always have his passing role carved out in New England. Against the Chargers this week, they boast some talented corners that might take away Brady's outside weapons. Usually against good defenses is when White shines the most in the offense.
Joe Mixon ($4,700) – We're still waiting for Cincinnati to unleash Mixon on the league and feed him those work horse numbers. He's more of a risky play, but if you're trying to predict breakout weeks this would be Mixon's ideal shot against such a struggling defense.
Duke Johnson ($4,500) – Sure Minnesota might have the best defense against opposing RBs, but gameflow always works for Johnson being in Cleveland. Often going down, he's forced into action as the receiving back for a team that rotates its QBs like a carnival carousel.
Ameer Abdullah ($4,200) – The low price is warranted based on recent production, but you'd have to think there would be some regression back to normal at some point. At home in a prime time game against a solid Steelers defense that ranks first in defending receivers, Abdullah should be worked back into the offense more.

Wide Receivers
Top Shelf

AJ Green ($8,600) – Green is an elite NFL receiver that's going up against a really bad Colts defense and secondary. Add in that they just lost their best player in safety Malik Hooker for the year. He's a no brainer.
Mike Evans ($7,900) – It's amazing Evans hasn't worked his way into the $8k range yet this year. He's as dependent and reliable as they come while continuing to just snag ridiculous touchdowns and produce with Winston. Don't expect Carolina to slow him down. He's the guy I'd pay for in the $7k range.
Retail Price

Kelvin Benjamin ($6,400) – Another week, another team shredding the Bucs defense. And this was Tyrod Taylor no less. "Upgrade" to Cam Newton and now add in some actual receivers and we might have something here folks. Really like Benjamin at this medium price range.
Michael Crabtree ($6,300) – While everyone continues to swoon over Cooper at $6.6k I'll take the surer Crabtree for less. Mike Evans had no problems with the Bills, while Derek Carr appears to be back captaining this deadly Raiders offense.
Demaryius Thomas ($5,900) – We saw the Chiefs defense get gashed by the Raiders and their passing game, and while Denver isn't quite up to that level there's some amount of intrigue for Demaryius as one of the NFL's better receivers.
Nelson Agholor / Marvin Jones ($5,500) – With touchdowns in three consecutive games, Agholor is quickly shedding his former "bust" title. He's been Wentz' best receiver not named Zach Ertz and has worked wonders for the Eagles out of the slot. Now he gets a cake matchup with the 49ers who can't seem to stop anything. With Jones, the absence of Golden Tate is big as he slides into that WR1 role. Pittsburgh isn't a good matchup on paper, so Jones could be a nice contrarian play forced into a lead role.

Bang For Your Buck

Mohammed Sanu ($4,900) – Sanu has been producing nicely as Atlanta's WR2 while Julio Jones had his initial struggles during the year. Sanu has put up 10+ points in every game he's been healthy and now gets to face the Jets.
Ted Ginn Jr ($4,700) – Ginn's quietly put together a real good season and continues to make plays for Brees and the offense. His big play threat makes him a quality tournament play. However, he's becoming consistent enough for cash considerations, especially against a weaker Bears team.
Bennie Fowler ($4,000) – Similar to Thomas above, Denver is best suited to beat Kansas City through the air and Fowler steps in as WR2 seeing as Emmanuel Sanders is injured. It's a plus matchup for Denver receivers who have shown that if they get down they can completely forget about their running game (still salty about the Giants game).
 
Tight Ends
Top Plays

Zach Ertz ($7,000) – Death, taxes, Zach Ertz scoring. Three certainties in life.
Travis Kelce ($6,800) – With Denver likely shutting down outside weapons and deep passes, I'd expect Kelce to be used heavily along with Kareem Hunt against the Broncos. Smith can dink and dump to his favorite tight end all game long.

Bargain Plays

Kyle Rudolph ($4,500) – Trust the flowchart. Is Cleveland playing this week? Yes. Insert opposing TE.
Zach Miller ($3,200) – Miller seems to be the only capable option for Trubisky in the passing game. Matched up with New Orleans, the Bears will have to throw a pretty good amount.
Tyler Kroft ($3,000) – The Colts defense is practically a plus matchup for all opposing offenses. Coming in at a cheap $3k, Kroft has a high catch rate when targeted and is turning into that red zone threat the team had in Tyler Eifert.
Defense
Top Plays

Minnesota Vikings ($4,000) – The Vikings are a solid defense to begin with, so when you face them up with the Browns they're only going to look even better.
Cincinnati Bengals ($3,600) – Same goes for the Bengals here at home against the Colts. Their offense looked inept versus Jacksonville, which means the Bengals should do fine this week.
New Orleans Saints ($3,400) – The Bears aren't intimidating on offense, while the Saints have quietly built a good secondary from the laughing stock they used to be. Being at home certainly favors them.

Bargain Plays

Detroit Lions ($2,600) – We know the struggles of Road Ben Roethlisberger, and with the improved play of Darius Slay and the Lions secondary I'd feel comfortable using them in a prime time game at home.
New England Patriots ($2,400) – Who would have thought the Patriots could be a play after the opening to their season. After completely shutting down the Falcons offense, New England gets Philip Rivers who has historically struggled versus the Patriots and has been sacked heavily behind a struggling offensive line.
Be sure to let me know how much money I won you, @theJMcGuinness.
Also, last week's picks can be referenced here.