In 28 years full of horrifying and disgusting life choices, I've never been so embarrassed. All the blackouts, bed wets, and ogre hookups from college? Pale in comparison. Passing up on a startup in the angel round to watch it now explode? Laughable compared to this. Speaking of explosions…the Taco Bell breakfast I decided to depress-eat on the way to work this morning? Somehow, I've pulled off even worse.
You see, this Sunday I started a fantasy football team that scored 67.8 Fantasy Points. 1/2 PPR. Flex. 10 total starters. A grand average of 6.7 shitty points per player. Nope, no real Bye Week trauma or tough roster decisions. No surprise "inactives" I forgot to switch out. Just plain, flat out SUCK, SUCK, SUCK.
Even worse, we're looking at a pretty hopeless Waiver Wire in Week 8. Sure, a few genuine potential difference makers are out there in some leagues. But for those of you not in 8 Team Slapfests with your 2 month old nephew (seriously, what 60% of leagues is Latavius Murray actually out there in), the options are quite barren. Perfect, considering Bye Week hell has officially arrived: 12 teams will be off over the next two weeks, beginning with Arizona, Green Bay, Jacksonville, Los Angeles Rams, New York Giants, and Tennessee in Week 8.
Still, no one cares about your shitty fantasy struggles (after I just cried about mine). In fact, everyone probably hopes your dismal woes continue, including your Mom so you might actually come home for Sunday night dinner. Which is why we need to shove it all in the world's face and defy the odds.
It's time to dive deep into the sewers and pluck at everything that moves, hoping to strike gold in this shit pile. As I love reminding you all (to keep that hope burning), I was 1-5 and the laughing stock of my league in 2014 until I snatched a relatively unknown rookie named Odell Beckham Jr. I went on to win out, including the championship. A 2017 Hail Mary will emerge, but will you find it?
Fantasy Football Waiver Wire Week 8
Tier 1 – Potential Season Long Difference Makers, Usable Immediately
These players both carry immediate usability as well as long term appeal, making them the ideal acquisitions on this week's Waiver Wire. Most are unfortunately for JV Leagues this week: 
1) Latavius Murray (RB – MIN, 41% owned)
Stat Line:

Key Stat: Has had at least 14 touches in every game post Dalvin Cook, but finally showed some forgotten explosiveness averaging 6.27 YPC on his 18 totes.
Season Long Ceiling: Game flow remains favorable most weeks and allows Murray to continue seeing 17-20 weekly carries as the clear early-down and goalline option. He averages close to 80 yards a week and pops one in more times than not.
Realistic Outlook: Game flow does not remain favorable and the backfield remains a clusterfuck to figure out each week, but the 10+ weekly touches keep him on the flex radar especially in Bye Week crunch time.
Usability:  Immediate
Price: $20
Strength of Schedule (17th easiest): 

Breakdown: 
Murray reminded football fans that he's capable of far more than his first two plodding starts with a 113 yard monster this Sunday. We saw the dangerous size / speed combination that made Murray a bull while in Oakland, as he ripped off countless chunk plays versus Baltimore on Sunday. This game definitely featured the right game flow, and Murray can't be counted on for these type of efforts every week. Still, the cold, cold reality of Bye Week hell  is closing in, and any RB with 10+ guaranteed touching and a weekly goalline look or three is very nice flex blanket.
2) Marlon Mack (RB – IND, 40%)
Stat Line:

Key Stat:  Led team in backfield snaps (32-of-67, or 48%), signaling a changing of the guard could be in play
Season Long Ceiling: Quality PPR RB2 as he takes over the lead back role from an aging (or injured) Frank Gore
Realistic Outlook:  A mediocre bye-week option who brings plenty of ceiling thanks to his explosiveness due to unpredictable usage
Usability:  Still more stash, but usable in Bye Week pinches right now
FAAB Price: $15
Strength of Schedule: (23rd easiest among RBs):

Breakdown:
This is the third straight week Mack's appeared in The Wolf's Waiver Wire, and it's been a roller coaster ride so far. He debuted on the list as an "immediately usable" prospect following his explosive 9 carry, 91 yard, and TD return from injury…. only to fall to an "upside stash" after a 2 carry, 18 yard dud (while his coaching staff all hyped up an "increased role" all week).
The third time may indeed be the charm here, however, as even if Sunday was only his third highest FP total, Mack's "Key Stat" is more crucial than any numbers: the majority of backfield snaps. Game flow helped given Mack is the primary pass-catcher here, but you have to imagine the floundering Colts will want to get an extended look at their younger talent in what's become a lost season. Mack should continue increasing his snap count and usage moving forward, and could become Alvin Kamara-lite down the stretch here.
The usability is OK, the long term ceiling is huge. Thus, Mack is one of the few truly difference-making type options on the Week 8 wire, and worth a hefty investment as such.
3) Dion Lewis (RB – NE, 29%)
Stat Line:

Key Stat: Was the clear leader of this four-headed pack, leading all Pats RBs with 14 touches, 26 snaps (34%) and 82 total yards
Season Long Ceiling: Solid RB2 as he continues distancing himself thanks to the unpredictability he brings to this offensive machine
Realistic Outlook:  A mediocre bye-week option who's lack of scoring upside keep cap his ceiling at 10
Usability:  Usable depth
FAAB Price: $13
Schedule Breakdown (23rd easiest among RBs):

Breakdown:
I have long loved Dion Lewis, who's only two years removed from averaging the 8th most PPR Fantasy Points Per Game. The tiny back is equally shifty and explosive, and is underrated between the tackles because of how well he can get behind his big blockers. Unfortunately, this backfield is far more crowded than in Lewis' RB1 days, and the four-headed nightmare will keep his weekly ceiling completely capped. Still, Lewis does appear to be the best bet for 10+ looks, and he's gone 9.2, 7.3, 11.2, and 8.7 in his last four. None of this is earth-shattering, and Lewis could disappear at any moment in a Bill Belichick backfield, but he appears plenty useful as a flex and/or RB2 piece amidst these Byes.
Tier 2 – Lower-ceiling but season long contributors
The below options bring a steady floor for the Bye Week needy, but none carry a long term ceiling worth sprinting after.
4) Matt Forte (RB – NYJ, 30%)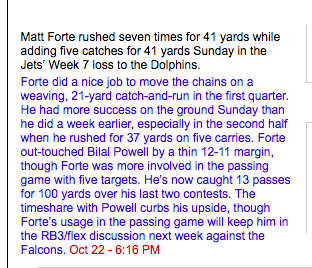 Quick Hit:  Even though us Bilal Powell truthers remain perpetually low on Forte, the old man simply keeps producing. Forte has quietly topped 10+ half PPR points in 3 of 4 healthy starts, largely in part to his versatility and heavy volume as both a runner and especially as a receiver (13 catches for over 100 yards over the past 2 weeks). Even with Powell back in Week 8, Forte led this team in snaps by 7 (28-of-56 or 50%), and he remains a sturdy RB2 and flex play until his leg falls off.
FAAB $$ = $12
5) Tyler Kroft (CIN – TE, 16%)
Quick Hit:
Tight-end needy owners need to turn their attention to an "Oaf named Kroft." In three games since Tyler Eifert suffered his annual labia pull, Kroft has racked up 16 targets and hauled in a whopping 14 of these looks (87.5% catch rate), including three TDs. Dalton's trust has deservedly grown in his 6'6″ monster, who is also trotting out the 5th easiest schedule among fantasy tight ends from here on out. If I was thin at the position, Kroft would be my No.1 add this week (and NOT OJ Howard, who I'd also stash…), especially with a date against the horrendous Colts forthcoming.

FAAB = $10
If Cooper Kupp (WR – LAR, 42%) and Ted Ginn JR (WR – NO, 51%) are both gone…
5) Mohamed Sanu (WR – ATL, 38% )

Strength of Schedule (8th easiest)

Quick Hit:
Sanu is Forte's clone at the WR position. Highly dependable, but equally unexciting. He's never going to explode and win you a week, but someone who hovers around double digit FPs and is available in over 60% of leagues is rare. Combine this with the 8th easiest schedule here on out, 55% of matchups against bottom-7 defenses, and Sanu is easily Week 8's top receiver add. This is especially true if you need longevity at the position. Additionally, don't discount the sneaky huge ceiling here if Julio Jones were to go down. Sanu has thrived as a WR1 in AJ Green's absence, and would likely do so again.
FAAB = $8
Other name(s) to check: Wendell Smallwood (RB – PHI, 39% owned), Robert Woods (WR – LAR, 36% owned)
Streamers and Stashes
This portion is 100% dictated by your team needs. If you need an immediate rental or a bye week or injury, obviously turn your attention to the Streamers. If you have the luxury to stash, side with the longer-term ceiling of some of the names below:

Streamers:
Oakland RBs:
Jalen Richard (RB – OAK, 11% owned) and DeAndre Washington (RB-OAK, 3% owned) vs Buffalo
Quick Hit: We'll know more about Lynch's suspension status come Tuesday, but Washington and Richard would form a 50/50  committee in his absence. With so many teams on Bye, both backs would be streamable plays in this scenario, with Richard presenting more "big play ability" (5.5 career YPC) and Washington the better bet to score. Granted, the matchup will come versus a tough versus a Buffalo defense allowing just the 23rd most FPs to backs (and a 3.4 YPC average). Also, neither did anything noteworthy during then-starter Latvius Murray's absence from Week 5 through 6 last year, which makes neither Raiders back a "locked in" play. If I had my choice, I'd side with Richard's explosiveness and versatility, but but both will see double-digit touches, which is comforting this time of year.  There's even a small chance one of the backs completely runs with this huge opportunity and becomes entrenched as the starter, so I'd double check your bench even if it's just for a stash-and-see.
Rental Price (if Lynch is confirmed out): $8-11
Kenny Golladay (WR – Det, 15% owned)
With target hog Golden Tate still in a sling and expected to miss "a few weeks,: some immediate aerial volume will be up for grabs in Detroit. Meanwhile, the towering 6'4" Golladay is now four weeks removed from a hamstring injury, and should be close to 100%. This is a dart throw recommendation at it's finest, but Golladay has flashed, especially as a TD machine, throughout the preseason and Week 1. I'd ideally avoid him this week against a Steelers D surrendering the fewest FPs to WRs in the league, but there's a real shot at a jump ball TD. If he looks primed and ready, Golladay could then be trusted for nonthreatening dates with Green Bay and Cleveland (if Tate is still banged up).
Rental Price: $3
Kenny Stills (WR – MIA, 21%), Tyler Lockett (WR – SEA, 34%), and Robby Anderson (WR – NYJ, 19% owned)
I list these three together because they all represent the same type of play: boom-or-bust dart throws. Stills, who went 6-85-2TDs, presents the most attractive option with Devante Parker still banged up. He benefits from Matt Moore under center, as the two displayed some fantastic chemistry in the second half comeback, and stills would be a very viable WR3 in weeks without Parker. He's a desperation dart-throw otherwise. FAAB = $6
Meanwhile, Lockett continues seeing his usage ratchet upwards, notching a season-high seven this week as the Seahawks heat up. He just missed a deep ball in this one, and Lockett brings some boom alongside the greater bust to WR3 bye week spots.  FAAB = $3
Last but not least, Robby Anderson got behind the defense for an 18 yard score, and has continued booming more than he busts. The floor is terrifying, but Anderson at least brings a huge week-to-week ceiling to your bye week woes. For owners in dire straights and needing magic during byes, Anderson makes sense. FAAB = $2
Week 8 Defenses = see if Philadelphia (59%, vs. SF) is available. If not…
Miami vs. BAL (28% owned) & Cincinnati vs. IND (24% owned)
Stashes
These guys cannot be immediately used, but drip in long-term ceiling. All are the right opportunity / health away from being potential high-end options at their positions.
Corey Davis (WR – TEN, 25% owned)
OJ Howard (TE – TB, 12% owned)
D'onta Foreman (RB – HOU, 13% owned)
JuJu Smith-Schuster (WR – PIT, 14% owned)
Danny Woodhead (RB-BAL, 18% owned) – week 11 return
Mike Williams (WR – LAC, 15%)
Dede Westbrook (WR – JAX, 2% owned)
Waiver Wire Rankings
Though your team's own positional needs, as well as your ability to stash versus pick up immediate starters, all factors in, here's how I would rank the Week 8 Waiver Wire prospects:
Tier 1:
Latavius Murray (RB – MIN, 40% owned)
Marlon Mack (RB – IND, 40% owned)
Josh Doctson (WR – WAS, 13% owned)
Corey Davis (WR – TEN, 25% owned) *Highest ceiling guy here
Tier 2:
5. Dion Lewis (RB – NE, 29% owned)
6. Tyler Kroft (TE – CIN, 18% owned)
7. Cooper Kupp (WR – LAR, 41% owned)
8. Matt Forte (RB – NYJ, 30% owned)
9. Mohammed Sanu (WR – ATL, 38% owned) 
10. Jalen Richard (RB – OAK, 11% owned) and 11. DeAndre Washington (RB – OAK, 3% owned)
Tier 3:
12. OJ Howard (TE – TB, 12% owned) **Up to No.5 if you don't need any starter value**
13. D'onta Foreman (RB – HOU, 13% owned)
14. Kenny Stills (WR – MIA, 21% owned)
15. Danny Woodhead (RB – BAL, 18% owned) **If I knew I could stomach the injury for three weeks no problem, he'd be a Tier 1 add.
16. JuJu Smith Schuster (WR – PIT, 14% owned)
Tier 4:
17. Tyler Lockett (WR – SEA, 34% owned)
18. Robby Anderson (WR – NYJ, 19% owned)
19. Mike Williams (WR – LAC, 15% owned)
20. DeDe Westbrook (WR – JAX, 2% owned)
Be sure to hit up The Wolf in the comments below, or on his SnapChat or Twitter Page (@RotoStreetWolf) for personalized  Add / Drop questions and concerns. He'll let you know who to drop / who to target based on your roster and team needs, and get you ready for a crucial Week 5 matchup. Plus, be sure to track us on all your social medias to never miss a single fantasy beat (Facebook, Instagram, and Twitter).