This type of carnage is simply unprecedented. In just under a half of the regular season, we've already lost fantasy football's top-ranked RB (David Johnson), QB (Aaron Rodgers), and the debated No. 2 or 3 WR (Odell Beckham). Additionally, a surefire RB1 and one of the most promising rookie RBs in recent memory's had his debut cut devastatingly short with Dalvin Cook.
Indeed, the Fantasy Gods show their mercy in mysterious ways. They lay their tests and see which owners are strong enough to prevail. Still, this is the most ruthless they've ever been, which means they're truly trying to separate the Wolves from the Sheep in 2017. And one thing a Fantasy Wolf never does is make excuses.
Just like with all those who departed before him, Rodgers isn't going to be "replaced" on the Waiver Wire. Still, of all the positions, QB offers the most streaming potential, and some revolving roulette with "whoever's facing New England / Tennessee/ Indy / Cleveland / Tampa Bay" in a given week should yield 15-20+ out of no names. Josh McCown just posted 22 on the Patriots for perspective.
Shed the tears. Then start digging in the waivers like your dirty dog self. No one likes going from a smokeshow to a bottom-barrel creature, but at the end the job can always get done at the right time and place. Time to slap some Bortles and Beathard ass, and laugh your way to a championship.
Quarterback Help:
QBs will be in high demand for Week 7 after the aforementioned Rodgers suffered what projects to be a season-ending collar bone fracture. Additionally, burgeoning superstar Deshaun Watson and stalwart QB1 Matthew Stafford will be on Bye.
If you don't need a signal caller, scroll on down. Otherwise, here's some "Long Term" options for those needing Rodgers replacements, as well as one-week streamers if you just need a quick stopgap and don't want to spend up for it.
Long Term:
Tyrod Taylor (QB – BUF, 37% owned)
Key Stat:  The schedule (insert wet drops and eggplants):

Season Long Ceiling: Locked-in QB1 who thrives with leg points and deep balls in his soft matchups, despite being weapon-less. 
Realistic Outlook:  His lackluster weapons and individual talent only yield mediocre QB2 outputs, even with SoS on his side
Usability:  Immediate for the needy (bye week, Rodgers)
Price: $20+
Breakdown: 
The weapons cabinet couldn't be more barren. The production hasn't been stellar. Still, Taylor has two things on his side: legs and a baby poo soft schedule.
Fresh off a bye, you have to imagine the Bills have concocted some sort of run-heavy, college-esque attack in light of a weaponless passing game. This could mean 6 or 7 designed runs for Taylor each week, and he's ripped plenty of long-gainers in his past. Remember, Sammy Watkins was essentially out all least year and Taylor still managed a top-10 fantasy campaign. He'll be a threat for ground scores every week in these matchups, and Taylor should post 15+ from here on out. He's clearly the highest floor option for Rodgers gap fillers.
Andy Dalton (QB – CIN, 46% owned)
Key Stat:  Since Bill Lazor took over as OC, Andy Dalton has averaged  19.3 FPs.
Season Long Ceiling: Continues heaving the ball to megastar AJ Green and explodes for top-5 QB stats in the right matchups; doesn't struggle as mightily in poor ones
Realistic Outlook:  Useless in hard matchups, but a gem, 20+ FP streamer at the right times
Usability:  Stash until Indy next week if you can
Price: $15+
Breakdown: 
Similarly coming off a bye but far more likely to be owned than Taylor, Dalton makes the ideal "committee QB" over the next six weeks. He alternates between nightmarish upcoming matchups (PIT this week, Jax in Week 9, Den Week 11) and some of the softest defenses in the league (IND, TEN, CLE):

Dalton should post 20+ in those three beautiful matchups, making him someone who can throw a Rodgers' owner on his back for half of Weeks 6-12. Unfortunately, the Week 13-16 schedule is daunting, so if you can claw into the playoffs with Dalton as a lead horse, you'll need to seek alternatives:

Still, anyone who can chuck it up to AJ Green 15 times a game will always bring ceiling, and Dalton has finished inside the top-10 fantasy QBs in multiple seasons. He's really been clicking in Bill Lazor's up-tempo attack, while the new OC has been excellent at scheming for his strongest talents (Green, Mixon). Consider Dalton a must-add and must start for Weeks 8, 10, and 12.
Jared Goff (QB – LAR, 38% owned)
Key Stat:  
Season Long Ceiling: Goff outgrows his matchup-dependent ways and is a weekly low-end QB1
Realistic Outlook: Goff continues capitalizing on friendly matchups for 16-20 FP outings in 5 of the last 9 outings. 
Usability:  Immediately vs. ARI (7th most FPs to QBs)
Price: $8
Breakdown: 

Real-life wise, Goff has been in far more command as a sophomore under young maestro Sean McVay — even engineering what was the top-scoring NFL offense through four weeks. Goff's predictably crashed back to Earth when matchups stiffen, putting up back-to-back single digit performances against the two ferocious Seahawks and Jaguars pass defenses. Still, the matchups look far riper for the future, with 7 of his last 9 contests (Wk 7 – 16) coming against bottom-half defenses against QBs, and only two truly threatening matchups on the radar. This begins with a porous Cardinals defense that surrendered nearly 300 yards and 3 TDs to Ryan Fitzpatrick. This should be an 18+ FP performance
In short, Goff offers both immediate streamer and  longterm appeal, making him a fantastic add as a Rodgers replacement.
I'm not going hard after…
Trevor Siemian (QB – DEN, 42% owned)

Quick Hit: Siemian offers the least "long term" appeal on this list, especially in light of the injury concerns: both to his own non-throwing shoulder, as well as Emmanuel Sanders' projected absence with an ankle ailment. Even Demaryius Thomas is banged up, meaning Siemian could be looking at a WR Corps spearheaded by household name Bennie Fowler — who undoubtedly has d-coordinators tossing and turning all over the league.
Sarcasm aside, Siemian has been more useful than not, logging 23, 23, and 17 points alongside 9 and 11 point duds. The upside, largely thanks to volume in poor game flow situations, is mildly here, and the schedule calls for some shootouts / coming from behind. His weekly floor is tremendously low though, and I'd probably just roll matchups instead of relying on Siemian.
Streamers / Desperate times…
If you're only looking for a one-week bandaid or all the names above are plucked, here's some un-owned options for your Week 7 consideration:
Blake Bortles (QB – JAX, 14% owned) vs. IND (2nd most FPs to QBs)
Brett Hundley (QB – GB, 1% owned) vs. NO (11th most FPs to QBs)
CJ Beathard (QB – SF, 1% owned) vs. DAL (8th most FPs to QBs)
Kevin Hogan / Deshone Kizer (QB – CLE, 1% owned) vs. TEN (3rd most FPs to QBs)
For audio-based listeners, tune into our Week 6 Review and how to replace Aaron Rodgers.
Other Non QB Waiver Options
First Check: 
Have Dallas RBs Darren McFadden (51% owned) and Alfred Morris (54%) been scooped up in your league yet? Of course there's a chance the legal process keeps Ezekiel Elliott on the field all year, but as of now he's scheduled to miss six games, paving a path to RB2 value for one of these waiver afterthoughts. The line may have taken a step back, but there still beastly and the game plan will be as run centric as the defense allows.
My preferred option is McFadden, as I buy into the speculation he's been a healthy scratch strictly to keep him on ice for this type of scenario. He's been the clear featured back in the past here, and offers far more receiving upside. Still, Morris has been the RB2 of choice in 2017, and could totally be next in line. Both need to be rostered universally while this draws itself out.
Elsewhere, Marvin Jones (55%) made one of the catches of the year with a sick one-hander, and continues making plays now seven weeks in. With Golden Tate banged up and set to miss a few weeks, Jones projects for a lead WR role in a pass-happy attack. Some more quality outputs are on the way, and Jones should be 80%+ owned by this time next week.
Sterling Shepard (52%) is also available in nearly half of leagues and may have been cut by impatient owners while out this week. He could be a fantasy WR2 down the stretch as a talented player about to see serious volume as the top wideout a pass-happy Giants attack.
Nelson Agholor (51%) continues making plays, and notched his 4th TD of the year on Thurday Night Football. He's a high upside WR3 who could produce at WR2+ levels all year now that he's truly arrived and is maximizing his impressive after-the-catch skills. I'd rather own him than Alshon Jeffery. 
As predicted this summer, Austin Seferian-Jenkins (51% owned) is truly an every week TE1. Roll him out with confidence, regardless of matchup, and make sure he's not lingering on your waiver whether you need a tight end or not.
Tier 1
The following prospects carry both immediate usability, as well as high long term upside, making them the ideal adds this week. 
Orleans Darkwa (RB – NYG, 9% owned)
Stat Line:

Key Stat: In Mike Sullivan's first game calling plays, Darkwa got the workhorse treatment with 21 carries.
Season Long Ceiling: Continues separating from a crowded pack to maintain quality RB2 value in an increasingly run-heavy attack
Realistic Outlook:  Paul Perkins makes this situation uglier, but Darkwa still leads this backfield in weekly touches and maintains flex appeal in most matchups
Usability:  Immediate (though matchup vs. SEA and then Bye Week aren't appealing)
Price: $22
Breakdown: 
The Giants backfield has been a 2017 fantasy wasteland up until last week. Leave it to something named Orleans Darkwa to inject new life.
With back-to-back 13+ FP efforts, he's done just that, and looked mightily impressive in the process. He's not special in any area, but Darkwa reads blocks well and plows ahead with impressive steam as seen in his Sunday highlights:
Equally important are the workload trends favoring Darkwa. While everyone went after Wayne Gallman, Darkwa is the true top dog here. He's been the clear No.1 tailback, which was especially true after being fed 21 carries by new playcaller Mike Sullivan in Week 6.
Though this week versus Seattle isn't ideal, Denver was the worst ranked matchup and a team that hadn't surrendered 100 yards rushing yet. Darkwa can be trusted as an RB3 before a Bye Week.
And when he returns? Check out these juicy showdowns for Week 9 & 10:

As long as Perkins remains injured or uninvolved, Darkwa should perform as a high-end RB2 for those contests. He's worth a sturdy investment for owners needing RB dependability and depth.
John Brown (WR – ARI, 43%)
Stat Line:

Key Stat: TDs in back-to-back weeks as the emerging No.2 . WR (on this awful carousel from hell)
Season Long Ceiling: Maintains his health and status as a weekly WR3 with upside
Realistic Outlook: Explosive, but undependable while battling health and playing time concerns
Usability:  Immediate 
Price: $12
Breakdown:
This marks my third time profiling Arizona's "No.2 WR," a trend which will hopefully stop here. Brown has no scored in back-to-back weeks, and feels like the safest WR outside of Larry Fitzgerald in this resurgent attack.
The emergence of Adrian Peterson should only help draw safeties in closer, which will allow Brown to do what he does best: get deep. The talent is still very real here, so Brown could do some serious rest of season damage if he can maintain his health AND a clear role amongst this packed corps. Those "ifs" remain major question marks, however, making Brown a nice commodity but not one to blow the bank for.
Upside Stashes
These prospects carry immense long term stash appeal, but only make sense if you have the bench depth and record to hold stashes.  Many of these are recurring names, but carry enormous appeal if the right dominoes fall.
Marlon Mack (RB – IND, 47%)
Key Stat:  Averaging nearly 10 YPC over his past 2 games.
Season Long Ceiling: Quality PPR RB2 as he takes over the lead back role from an aging (or injured) Frank Gore
Realistic Outlook:  A mediocre bye-week option who brings plenty of ceiling thanks to his explosiveness due to unpredictable usage
Usability:  Much more stash now
Price: $8
Breakdown:
All week Mack's coach and beat writers alike called for an "increased role" for the explosive rookie… so he proceeded to notch 2 carries. Go figure.
Mack still looked explosive on his only work, but simply was an afterthought in this one. The long term appeal is still very real with Mack. As I wrote last week:
Returning from a multigame absence, Mack immediately reminded owners of the playmaking abilities he flashed all preseason. Thanks to some serious burners and excellent downfield vision to find the open grass, Mack ripped off chunk play after cunk play on Sunday. His insane acceleration left defenders taking awful pursuit angles, and Mack looks like a threat to score every time he gets his hands on the ball.

In short, this kid's special. That was Chuck Pagano's exact word choice when describing Mack this summer:

"He jumps off the tape…He's popping out there. He's a talented guy. He's showing great athleticism, great vision…he's going to be a special player."

Now, the question becomes volume…
The role regressed in Week 6. But Mack remains an upside hold who could be the Colts featured back sooner than later.
D'Onta Foreman (RB – HOU, 15% owned)
Stat Line:

Key Stat:  Remains highly involved, notching 12 carries to Lamar Miller's 15. .
Season Long Ceiling: Through injury or ineffectiveness, Foreman steals the lead RB role and never looks back for bonafide RB1 numbers
Realistic Outlook: A "handcuff with benefits" that yields some useful 10+ FP weeks, but cannot shake Miller without an injury
Usability: Wait it out, unless truly desperate
Price: $8 FAAB
Breakdown: 
We've been pumping Foreman on here for a while, and that's not going to stop with this offense looking like the league's most explosive (yet Foreman's ownership drops by the week). As has been the case all season, Foreman flashed more than Miller, and even outgained him in Week 7 despite three less carries.
Don't forget this twitter blurb about Foreman's longterm role:
Bill O'Brien on D'Onta Foreman: 'I see him as a three-down back'

— Aaron Wilson (@AaronWilson_NFL) September 29, 2017
Amidst a crowded crew of talented runners, Foreman awarded the Doak Walker Award as the nation's best back. His speed is unfair for 240 lbs of man, and Miller continues looking completely ordinary. Meanwhile, Bill O'Brien leads all active play callers with an average of 422 rush attempts per season — the volume is certainly there for the taking.
All this appeal is even more magnified in light of Foreman's playoff schedule:

By Weeks 14, 15, 16 I fully expect this bulldozer to be under centered, benefiting from Watson's incredible play and the most beautiful playoff schedule to ever exist.
Chris Ivory (RB – JAX, 4% owned)
Stat Line: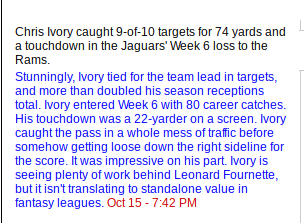 Season Long Ceiling: Fournette suffers a season-ending injury, and Ivory bulldozes for RB1 numbers in a run centric attack
Realistic Outlook: Ivory makes spot starts for an injured Fournette, and is a quality RB2 in each of those weeks
Usability:  Stash
Price: $7
Breakdown:
As a bruiser who seeks out contact yet has surprising agility and fast feet, Ivory remains one of my favorite runners. He's flashed all these traits on his limited  touches, but remains firmly behind Fournette, and thus a non fantasy option quite yet.
Still, this only feels like a matter of time. Fournette went down with a non contact injury, which was momentarily heartstopping even if deemed a non issue. Fournette has had injury issues dating back to his LSU days, and is now taking a harder beating from bigger, stronger NFL athletes.
If you own Fournette, Ivory is a must, and he should be held onto by any owner with the room. He'd be a deserved $100 FAAB if/when Fournette goes down, so be ahead.
Matt Breida (RB – SF, 21%)
Stat Line:
Note: Breida did not post any noteworthy Week 6 stats (36 total yards, 2 rec.), and in fact only logged 17 snaps as compared to 56 for Carlos Hyde.
Season Long Ceiling: Brieda becomes the latest "no name" Shanahan back to unexpectedly overthrow the incumbent and ride it to high-end RB2 value.
Realistic Outlook: Hyde remains the starter, and Breida is unusable without an injury.
Usability:  Ideal wait-and-see, unless named the starter shockingly
Price: $6
Breakdown:
Between Carlos Hyde trade rumors & reports that "there's not much of a difference" between the UDFA  and the incumbent,  this felt like Breida's week. Yet, unlike last week where he paced the team in all meaningful stats, Breida was a mere afterthought here – only 17 snaps that he turned into 4 carries, 2 catches, and 36 total yards.
Yet, the team could be attempting to "showcase" Hyde for potential trade partners, if those rumors have any truth. Whether through injury, trade, or gaining the hot hand, Breida feels bound to make starts in the most RB – friendly blocking scheme around, making him a very worthwhile hold or add in all formats. As explored last week:
A Shanahan "hot hand" is much different. The coach has a lengthy history of benching his incumbents for rookies he deems as better fits for his zone blocking scheme, and Hyde was frequently labeled a "poor fit" all summer. This truly could be a changing of the guard.

Which is crucial, because Shanahan has proven equally historic in producing monstrous RB numbers.
JuJu Smith-Schuster (WR – PIT, 14%)

Season Long Ceiling: Bryant is traded away, and Smith-Schuster emerges as an every week WR3 with the opened up volume.
Realistic Outlook: With or without Bryant, Schuster remains a boom-or-bust play thanks to both his rookie wall and Big Ben's road struggles.
Usability:  Stash
Price: $6
Breakdown:
Schuster has already been outsnapping Martavis Bryant for weeks, and now rumors swirl that Bryant is trying to force his trade out of town. Of course this is pure speculation, but Schuster is carving out his role as the No.2 guy regardless.
Unfortunately, Big Ben's current inconsistencies are limiting Schuster's appeal, regardless of "job title." Alongside a potential rookie wall, Schuster is just a stash — but a high upside one at that.
Low Ceiling, "Use Now" Guys
Alex Collins (RB-BAL, 31% owned)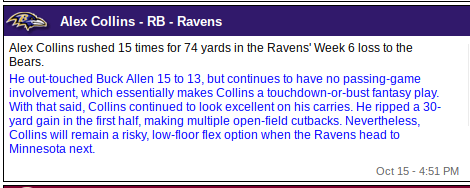 Quick Hit: Collins outcarried Allen 15-to-10, and looked impressive yet again with another 30+ yarder. His feet are very impressive for his size, yet Collins is being used purely as a runner, and not at the stripe. Unless he gains goalline work, if not a few catches here and there (both areas he performed well at in college),  Collins' floor and ceiling will be low. This is especially true with the following defenses on the docket:

Ted Ginn Jr. (WR – NO, 43% owned)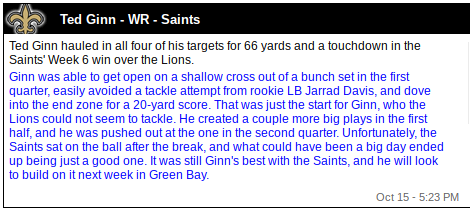 Quick Hit: New Orleans' new "deep toy" is starting to find his groove, although it's not coming on the type of routes you'd expect. Ginn is now being used in a short, shallow, high percentage role where the team gets him the ball quickly and lets him do damage with it once in space. He brings upside to your WR3 spot in bye weeks.
Matt Forte (RB – NYJ, 21% owned)


Quick Hit: Disgusting, but there's comfort in volume. Until Bilal Powell returns, Forte will see at least 5 or 6 weekly catches while approaching 10 carries. This type of usage gives him desperation flex appeal.
Dion Lewis (RB – NE, 10% owned)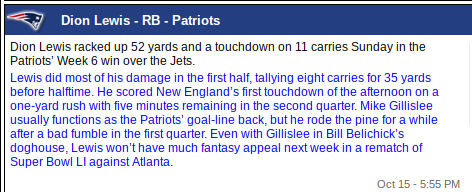 Quick Hit: This backfield is far too crowded for me to waste serious FAAB or Waiver Claims on — and this is before Rex Burkhead returns. Although I love Lewis as a talent, he won't see predictable or reliable enough usage to be anything more than a desperation bye week dart throw. Makes far more sense as a bench stash in case Mike Gillislee's fumbling issues persist.
Samaje Perine (WAS – RB, 36%)

Quick Hit: Rob Kelley's return will erase any of Perine's appeal, but the rookie remains a solid bet for a TD any week he's the lone power back. Perine's a clunk fest himself, but this situation can be juicy.
George Kittle (TE – SF, 8% owned)

Quick Hit: Our boy Kittle remained highly involved even with a new QB at the helm. 49ers Insider Grant Cohn joined our pod and predicted Kittle would pace all rookie TEs — something Evan Engram will make very difficult. But Kittle could easily finish No.2.
 Bennie Fowler (WR – DEN, 1% owned)
 
Quick Hit: This is purely speculative given we know nothing on Emmanuel Sanders' ankle right now. Still, the Broncos WRs literally face three straight bottom-5 teams over the next three weeks, making follower a very worthwhile addition for the WR needy:

More Stashes
Charcandrick West (RB – KC, 8%)
Corey Davis (WR – TEN, 21%)
Zay Jones (WR – BUF, 9%)
Streamers
Taylor Gabriel (WR – ATL, 29%) @ NE (5th most FPs to WRs)
Cole Beasley (WR – DAL, 21% owned) @ SF (8th most FPs to WRs)
New Orleans DEF (3% owned) vs. Green Bay and Brett Hundley
Miami DEF (5%) vs. New York Jets
Be sure to hit up The Wolf in the comments below, or on his SnapChat or Twitter Page (@RotoStreetWolf) for personalized  Add / Drop questions and concerns. He'll let you know who to drop / who to target based on your roster and team needs, and get you ready for a crucial Week 5 matchup. Plus, be sure to track us on all your social medias to never miss a single fantasy beat (Facebook, Instagram, and Twitter).