Highlighting the week's most important fantasy storylines using only six words.
LaGarrette Blount is Slowly Building Steam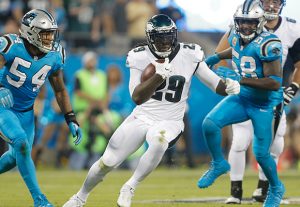 Eagles 28, Panthers 23
Hopefully, you aren't desperate desperate enough to venture into the Philly backfield.  If you are, you'd realize that LaGarrette Blount is quietly putting together a decent campaign.  The eighth-year back now has 67 or more rushing yards in four straight games after a solid outing at Carolina.  Surprisingly, the only thing holding Blount back from being an impactful member of your team is a lack of TDs.  Keep an eye on him moving forward if he is available in your league.  With the Philly offense clicking, expect the bruising back to eventually find the end zone with more frequency.
Fuller Worth More than a Spot-start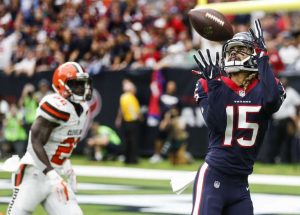 Texans 33, Browns 17
I picked up Will Fuller V in a whim a couple of leagues right before his return, figuring he would be good for a bye-week start or two.  After another trip to the end zone yesterday, the Notre Dame product now has five TD in just three games.  I'm not saying the man is the next Randy Moss.  And I know this pace won't continue.  Although his yardage numbers aren't eye-popping (51 YPG), Fuller's elite speed makes him just one bomb away from making an impact.  His unusual chemistry with rookie QB DeShaun Watson makes him a viable FLEX or WR3 play depending on your league's depth.  The Texans have an up-and-down schedule coming out of their week seven bye, so pay particularly close attention to the matchups when considering Fuller.
Julio Not Worth the Top-10 Price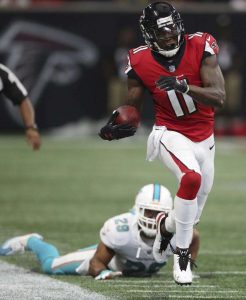 Dolphins 20, Falcons 17
By his standards, Julio Jones has been a monster disappointment this season.  The elite receiver hauled in six of seven targets yesterday for a respectable 72 yards.  But, that's all Jones has been this season: respectable.  Through fives games he has 367 yards and zero touchdowns.  That's right, ZERO TDs.  But, I don't blame him one bit.  Matt Ryan appears to be a shell of himself, tallying only six TDs and six interceptions on the season.  Only one out of five games this season has featured multiple TD passes form Matty Ice (week three at Detroit).  Although Jones is always a must-start because of his immense talent, don't expect consistent top-10 production out of him until Ryan gets in a rhythm.
Buy in on Bears Running Backs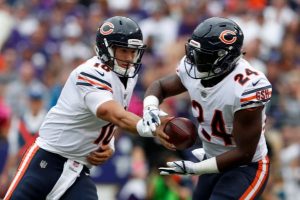 Bears 27, Ravens 24
A switch at QB in Chicago is already turning out to be a wet dream for Jordan Howard and Tarik Cohen owners.  The Bears ran 71 offensive plays yesterday, with just 17 of them being pass attempts (one of a which was, surprisingly, a TD pass from Cohen).  Howard ran roughshod on a porous Ravens' rushing defense, turning 36 carries (you read that right) into 167 yards.  Meanwhile, Cohen also got a noteworthy 14 carries of his own, along with three targets.  After a date with Carolina next week, Chicago has several middle of the road matchups from weeks eight through 11 (NO, GB, and DET).  Trubisky's lack of experience will force the team to continue to build off the ground game with Howard, while Cohen serves as a strong but safe pass-catching option.
Seferian-Jenkins Will Solve Your TE Problem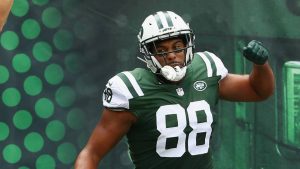 Patriots 24, Jets 17
There were rumblings coming out of camp that the 6'5″ Austin Seferian-Jenkins looked incredible; he finally put it all together.  The oft-troubled TE used the inconsistent New England defense to give us a sneak peak of what could be on the horizon.  Seferian-Jenkins tallied a whopping 11 targets, converting eight into 46 yards and what should have been two touchdowns.  As Josh McCown builds more of a rapport with possibly his deadliest weapon, expect the talented TE to maintain his status a target hog.  A juicy positional match up against the Dolphins awaits next week, with a tougher stretch against Atlanta, Buffalo, and Tampa Bay looming before a week 11 bye.
Marvin Jones' Targets Continue to Rise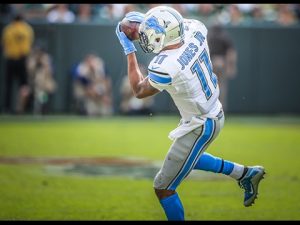 Saints 52, Lions 38
After falling off the face of the Earth last season, Jones Jr. was deemed untreatable heading into his 2017 fantasy campaign.  He has slowly crawled his way back into the middle of a potent Lions offense through the team's first four games, topping it off with a surprising and eye-popping 14  targets in a week six shootout with the Saints.  Jones Jr. converted six receptions into 96 yards and a TD.  His yardage has also increased in every game since week two (24 to 42 to 52 to 96), once again making him a notable threat opposite Golden Tate.  A favorable schedule awaits for the remainder of the season following a week seven bye, including matchups against Green Bay (week nine), Cleveland (week 10), Chicago (weeks 11 and 15), and Tampa Bay (week 14).  Expect Jones to maintain a FLEX-worthy position in Detroit's offense moving forward.
Beware Green Bay Pass-Catchers Moving Forward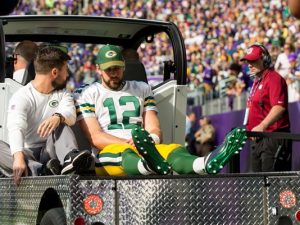 Vikings 23, Packers 10
Obviously this write-up was going to focus on Aaron Rodgers's season-ending injury.  The injury not only hurts Rodgers owners, but also those with roster spots filled by the Green Bay receiving corps.  After Rodgers was carted off the field, third-year backup Brett Hundley completed just 18 of 33 pass attempts, throwing only one touchdown compared to three picks.  Jordy Nelson hauled in a team-high six receptions for 60 yards, while Davante Adams added 54 yards and the team's only TD.  Hundley will  put a huge dent in the value of all of his receivers, with Adams possibly no longer being a must-start.  If Hundley can't get it done next week against an awful Saints pass defense, he won't be able to get it done against anybody.
AP Launches into your Starting Lineup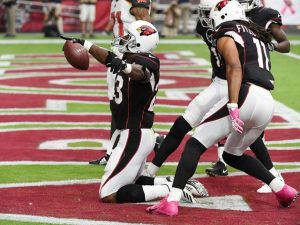 Cardinals 38, Buccaneers 33
In most cases, it is extremely difficult to write the great ones off.  For Adrain Peterson, it was easier than sweating on a 100-degree day.  He was old, coming off a devastating injury, and performed poorly in limited action to start the season.  Well, a change of scenery often brings out the best in people.  AP seemed to like his new digs in Arizona, wowing the home crowd with a unprecedented 134-yard, two-TD effort on 24 carries.  He look like the MVP of days past, pounding through wanna-be tacklers and turning on the jets when needed.  This brings about the uneasy debate of adrenaline rush vs. the real deal.  If Peterson is indeed "back," he has an orgasm-inducing schedule the rest of the way, with just two of his nine remaining opponents ranking in the top ten in the league for fewest fantasy points allowed to running backs.  Up next is a gross Rams rush defense that was just obliterated by Leonard Fournette.  Keep him in your lineups.
Gurley and Fournette Continue to Destroy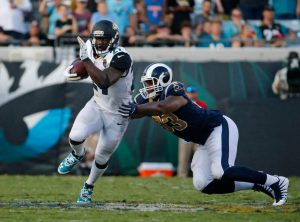 Rams 27, Jaguars 17
Not much detail is needed here.  Leonard Fournette demolished the worst rushing defense in fantasy (according to Yahoo) for 130 yards (21 carries) and a touchdown.  The rookie now has six touchdowns on the season and is averaging a hair under 100 yard per game.  Todd Gurley, on the other hand, rocked the Jacksonville defense for 116 yards on 23 carries.  Don't be concerned that this is the veteran's second game in a row without visiting the end zone; he'll probably be back next week despite a tough matchup against Arizona.  Hopefully you are riding one of these two to a championship.
Crabtree Maintains Go-to Status in Oakland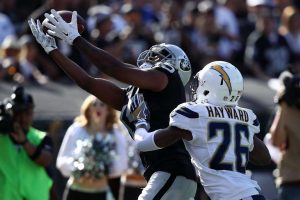 Chargers 17, Raiders 16
Amari Cooper's days as the man in Oakland may be over.  The star receiver has failed to top a paltry four fantasy points in Yahoo standard leagues since week one (12.2 points).  Meanwhile, Michael Crabtree has been Derek Carr's top redzone threat, tallying 52 receiving yards and his fifth TD of the season Sunday afternoon.  Cooper turned five receptions into just 28 yards and has not crossed the goal line since week one.  With consistency dating back to last season and a lack of production on Cooper's end, Crabtree is the top fantasy threat in Oakland's arsenal, and it appears this won't be changing any time in the near future.
Killer B's Remain on Same Page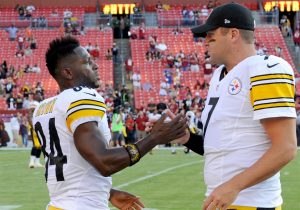 Steelers 19, Chiefs 13
Since throwing a temper tantrum on the sidelines in week four, Antonio Brown has topped 150 receiving yards in consecutive games, adding his second touchdown of the season on a 51-yard strike to seal a victory over the undefeated Chiefs.  Brown has remained a fantasy stud despite Ben Roethlisberger's disgusting performance this season.  The star wideout now has exactly 700 receiving yards on the season and will continue to feast moving forward, especially during a mouth-watering stretch against Indianapolis, Tennessee, and Green Bay following the Steeler's week nine bye.
Engram is Now a Viable TE1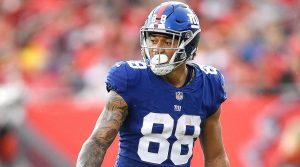 With two out the team's top three wide receiver out for the season (Odell Beckham Jr. and Brandon Marshall) and Sterling Shepard still nursing an ankle injury of his own, it was unclear who would emerge to pick up the slack.  Evan Engram, who has been effective early on in his rookie campaign, decided to take the bull by horns and lead the New York passing attack.  After going catchless during the Giants' injury-plagued tilt against the Chargers in week five, Engram rebounded by hauling in five receptions for 82 yards and a touchdown (last night against the Broncos.  With few reliable options at his disposal, expect Eli Manning to rely heavily on his talented tight end moving forward.  He is now a must-play in all formats.
Are these stories accurate?  Did I miss some major characters and plot points?  Let me know in the comments section below!