Player Stock Ticker
Six-Word NFL Week 5 Fantasy Football Storylines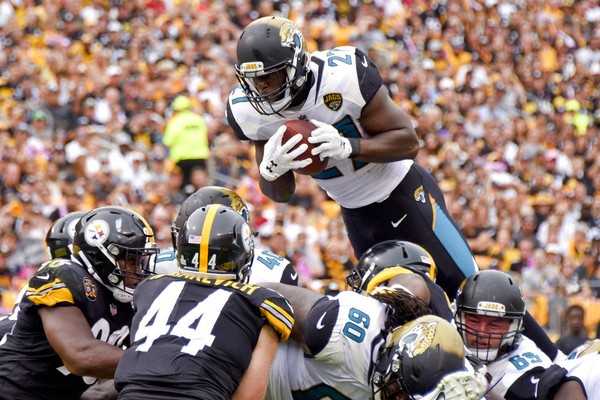 Highlighting the week's most important fantasy storylines using only six words.
The Muscle Hamster is Back, Bay-bay!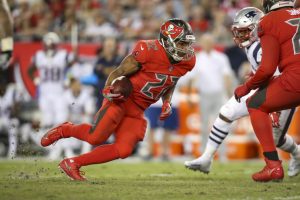 Patriots 19, Buccaneers 14
For some reason, there was actually  debate about who would get he majority of the Buccaneers' carries heading into this game.  Would it be the returning powerhouse Doug Martin, or the rollercoaster Jacquizz Rodgers?  Luckily for Tampa Bay fans, it was the former.  Martin shined in his return, turning 13 carries—Rodgers has just two—into 74 yards and a touchdown.  He looked fresh and ravaged the work-in-progress New England defense for 5.7 YPC, including a 17-yard burst.  Unfortunately, it is going to be extremely difficult for Martin to build on this performance any time soon.  Tampa Bay has extremely tough matchups, especially in terms of the rush, against Arizona, Buffalo, and Carolina over the next three weeks.  The good news, however, is that weeks 9-15 feature catchups against teams in or the near the bottom half of the league in terms of rushing defense.  Be patient, and you will be rewarded.
Mixon is Slowly on the Rise
Bengals 20, Bills 16
Despite running for just 45 yards on 17 carries, Joe Mixon was given a major bump in usage after week two.  In the last three games, the rookie has tallied 18, 17, and 15 carries, respectively.  While he is averaging a grotesque 2.8 YPC over that span, he did score the first touchdown of his career yesterday afternoon.  His talent is unquestionable, and it appears Marvin Lewis will not be taking away Mixon's opportunities anytime soon.  Expect him to finally gain some traction heading into November, as juicy matchups against Indianapolis (10/29), Jacksonville (11/5), and Tennessee (11/12) await.
There are Worse Streamers than McCown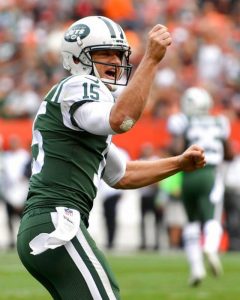 Jets 17, Browns 14
The Jets are undoubtedly the NFL's biggest surprise of the season, already winning more games through week five (three) than many critics expected them to win for the whole season.  One of the main reasons for the team's unexpected 3-2 start is that the quarterback play hasn't entirely been the blackhole those same critics had forecasted.   Josh McCown recorded another respectable effort, completing 23 of 30 attempts for 194 yards, two touchdowns, and the obligatory pick.  I'm not saying the journeyman QB is worth a long-term spont on your team, but if you have Andrew Luck or are suffering through a different WB carousel, there are worse streaming options out there than McCown, especially if the matchup is right.
Cam Newton has Returned to Form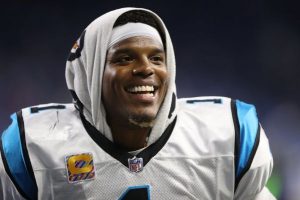 Panthers 27, Lions 24
Of course, Cam Newton explodes after I dropped him.  That's always, ALWAYS how it works.  The former Danon spokesman responded to the drama by having arguably his best outing since 2015 against a slipping Lions defense, destroying Detroit for 355 passing yards and three touchdowns.  While he was not effective on the ground—failing to gain yardage on seven carries—the Auburn great was still able to use his skilled feet to buy time and wait for plays to develop.  He now has eight touchdowns on the season, and is developing great chemistry with Devin Funchess and tight end Ed Dickson (who hauled in an obscene 175 yards).  Upcoming matchups against Philadelphia, Chicago, and Tampa Bay should make Newton owners salivate.  Point blank: he's back.
Don't Give Up on Hilton Yet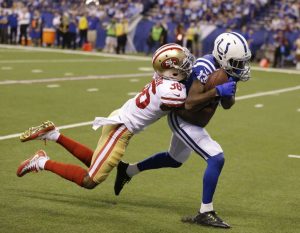 Colts 26, 49ers 23
When T.Y. Hilton is on, he's on.  Quarterback play has ruined any chance of consistency for Colts receivers, but Hilton has been able to take advantage of stellar matchups and put up monster numbers.  The sixth-year receiver totaled 153 yards and a touchdown against the Browns in week three, then torched a non-existent 49ers secondary for 177 yards yesterday afternoon.  Hilton has been Jacoby Brissett's favorite target since taking over for Scott Tolzien.  With inexperienced and inconsistent play coming from the quarterback position, matchups are more crucial to Hilton's value than most.  While a juicy date with the Titans non-existent pass defense awaits the Colts next week, be cautious with Hilton in weeks seven through ten as he takes on Jacksonville, Cincinnati, Houston, and Pittsburgh.  This all, of course, depends on when Andrew Luck comes back.  Grrrreeeeeaaatttttt…
Cutler Is Hurting His Receivers' Value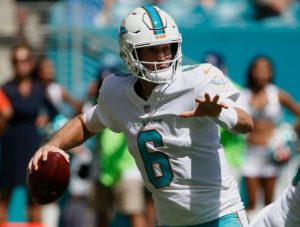 Dolphins 16, Titans 10
Both Jarvis Landry (30 receptions for 210) yards and DaVante Parker (19 receptions for 236 yards) have had solid seasons so far in the early-going, with the former notching 44 yards and a touchdown yesterday against the Titans (Parker exited early with an ankle injury and is list as day-to-day).  You may as well call those numbers Herculean considering the abysmal quarterback play of Jay Cutler.  The former Bears signal-caller continued his parade of futility yesterday by compiling a meager 6.5 QBR.  That's only three points higher than TE Marquise Gray, who failed on his only pass attempt.  Cutler only has a 62% completion percentage on the season, with three touchdowns and three picks.  It's only a matter of time before this inconsistent and downright awful play has a bigger effect on his receivers' numbers.
Please, Pick Up Wayne Gallman ASAP!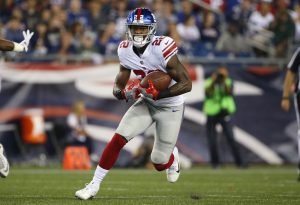 Chargers 27, Giants 22
Just when the Giants' season couldn't get any worse, week five happened.  The team lost its three top receivers (Odell Beckham Jr., Brandon Marshall, and Sterling Shepard) to ankle injuries.  Although the full extent of the injuries is unknown at this time, Beckham's appears the most serious.  With there being a possibility that all three are missing time, that leaves us to wonder who will step in and fill the void.  The remaining receivers lack notable experience.  Thus, expect an expanded role for the backfield in the passing game.  Wayne Gallman lead the team with 11 carries (57 yards) and tied Beckham for a team-high five receptions (25 yards) against Los Angeles.  Given the injuries and his impressive performance dover the past couple weeks, expect Gallman to be the biggest beneficiary of increased opportunities.
Wentz is NFL's Most Underrated QB1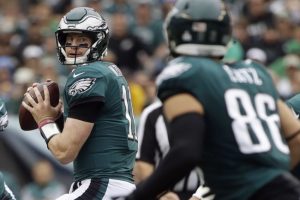 Eagles 34, Cardinals 7
Carson Wentz continued to impress in Philadelphia's week five matchup against Arizona.  The second-year QB threw for 304 yards and four touchdowns, raising his season totals to 1,362 and 10, respectively.  What has made Wentz so effective is his ability to spread the ball around to a variety of targets on any given day.  On Sunday he connected with Nelson Agholor, Torrey Smith, Zach Ertz, and Trey Burton to cap off each of the team's four scoring drives.  While Philadelphia's defensive competition hasn't been the league's best thus far, the Eagles have an up-and-down schedule as they take on Carolina, Washington, San Francisco, and Denver over the next four weeks.  If Wentz keeps up his strong performance over that stretch, his status as a strong fantasy QB will no longer be up for debate.
Fournette is Safest RB1 in the NFL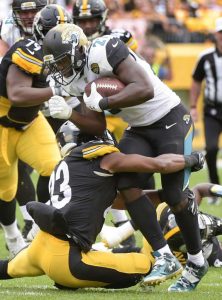 Jaguars 30, Steelers 9
Not much to analyze here.  Blake Bortles sucked again—I can't believe I said he might be worthy of a spot on your roster; I'm so sorry—and Leonard Fournette turned a season-high 28 carries into 181 yards and two touchdowns.  It is the third time this season the rookie running back has received over 20 carries, with his lowest total being 14.  He also now has six total touchdowns on the season.  As long as the pass games continue to suck on an armageddon-eqsue level, Fournette will be the crux of the Jacksonville offense.
Allen Asserts Himself as Lead Back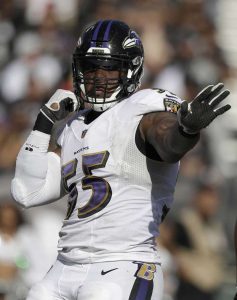 Ravens 30, Raiders 17
Alex Collins was the man down in the Baltimore after back-to-back 82-yard rushing performances.  The table was set for the second-year back to take the starting role, but Javorius Allen had something to say about it.  Allen rebounded from two sub-par outings with a season-high rushing yards 73 yards (21 carries), a touchdown, and four receptions.  The performance vaults him back into the FLEX picture—or even the RB2 picture in PPR.  Collins will still steal a portion of the work out of the backfield (12 carries against Oakland), but performances like these will keep Allen as the head of the Baltimore's RB committee until further notice.
Jimmy Graham is Regaining His Swagger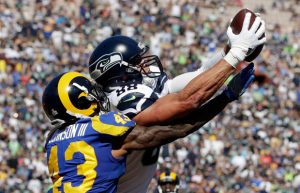 Seahawks 16, Rams 10
After totaling nine yards on four receptions through his first two games, it appeared that the demise of Jimmy Graham was underway.  As usual, fantasy fans rushed to an overreactive conclusion.  Since an old man in my work league was naive enough to drop Graham after those two dismal games, the former Saints tight end has totaled 170 yards, including 37 and a touchdown in week five.  Now that the Seattle offense is showing flashes of its former self, Graham will continue to be a solid weekly contributor in all formats.  Once Russell Wilson establishes true consistency, Graham's stock will continue to rise.
Jones is the Top Waiver Target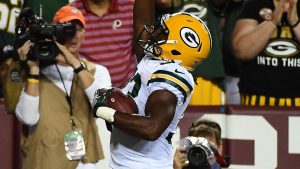 Packers 35, Cowboys 31
With Ty Montgomery out for the second consecutive game, Jamaal Williams was one of the most added players in all of fantasy despite his poor debut last week.  Aaron Jones continued to steal the spotlight yesterday, scoring for the second week in a row and recording a game-high 125 yards on just 19 carries.  Williams, on the other hand, recorded a single one-yard carry.   Although Montgomery is expected to return next week, it is still a good idea to add Jones to your roster if possible, just in case Montgomery's return doesn't go according to plan.
Watson is Making Hopkins Elite Again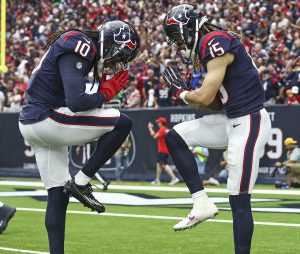 Chiefs 42, Texans 34
Deshuan Watson is unreal.  Just when you think he can't do any better, he makes your jaw drop again and again.  The rookie QB followed up an amazing week four performance (283 passing yards and five total touchdowns) with five passing touchdowns yesterday against the undefeated Kansas City Chiefs.  And the main recipient of the Houston offensive resurgence is, of course, DeAndre Hopkins, who was on the receiving end of three of Watson's five TDs.  This effort pushed Hopkins's season total to five, already surpassing his 2016 total (four).  Hopkins has long been recognized as one of the game's most talented and versatile playmakers, but it is hard to make plays when no one puts you int he position to make them.  That's where Watson and his quick feet shine at their brightest, turning what appears to be a lost play into a game-changer.  Watson's ability to prolong plays enables Hopkins to take advantage of his defender and get open.  If Watson keeps playing at a high level, Hopkins will re-enter the conversation of elite fantasy receivers in both standard and PPR formats alike.