The Fantasy Gods prefer crowning only the toughest owners with titles, and they're certainly laying down their trials and tribulations in 2017.
After Dalvin Cook's incredible rookie season was cut way too short last week, Week 5 claimed superstar Odell Beckham Jr. with a season-ending ankle fracture. Remember… it's not your fault.
Additionally, Travis Kelce exited early with a concussion, and other useful fantasy starters DeVante Parker, Bilal Powell and Charles Clay all had their afternoons ended prematurely.
It's not your fault.
Before you tell me "I know Wolf," leading into a tear-filled, emotionally-charged embrace, I must warn you: Week 6's Waiver Wire sucks.
Unlike last week, owners will find far less cushion for their crash landing. Really, only three RBs qualify as "Must Adds," while the rest of this shallow pool is more streamer or speculation than anything else.
Still, now is your chance to prove you can weather any storm the Gods throw at you. Keep trucking, and consider the following names for Week 6 and beyond:
First check for: Alvin Kamara (RB – NO, 67% owned) Aaron Jones (RB – GB, 57% owned), Javorious Allen (58% owned), Andre Ellington (RB – ARI, 56% owned, Devin Funchess (WR – CAR, 64%)
Part 1: Actual "Must Adds"
The following names have both the immediate usability as well as long term upside to be rostered in nearly all league
Jerick McKinnon (RB – MIN, 29% owned)
Stat Line: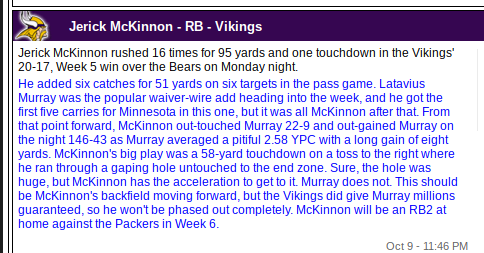 Key Stat:  Out-touched (22 to 9) and outgained (146 to 43) "starter" Latavius Murray
Season Long Ceiling: Low-end PPR RB1 who thrives with a similar workload to Dalvin Cook
Realistic Outlook:  A quality RB2 most weeks, but struggles at times with Murray still vulturing goal line looks and siphoning touches
Usability:  Immediate
Price: $35+
Breakdown:  
McKinnon immediately vaults to the top of a shallow Week 6 Waiver Wire pool with an enormous 146 total yard, 6 catch, TD explosion. The notoriously freakish "SPARQ" athlete finally saw his skillset translating, weaving and powering through the Bears defense in equal measure, and serving as the primary cog to this entire offense for 75% of this game. Though he's no Cook, McKinnon definitely opens up the playbook for this offense, and the Vikings operated far more similar to their previous form with his versatility. Look at the high usage from last night:
Murray will stay involved around the goalline and on some early downs, but McKinnon looks like a lock for 10-12 weekly carries and at least 5 receptions a game. He should be able to rack up serious total yardage and reliable numbers here on it, which is far more than anyone else available this week. Splurge if you're RB needy.
Marlon Mack (RB – IND, 8% owned)
Stat Line: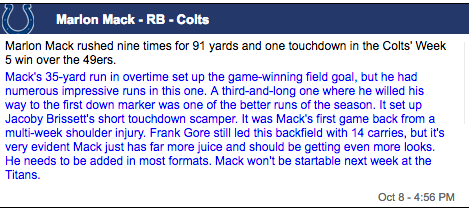 Key Stat: 10 touches in both healthy weeks. Over 10 YPC in Week 5.
Season Long Ceiling: Quality PPR RB2 as he takes over the lead back role from an aging (or injured) Frank Gore
Realistic Outlook:  A fantastic bye-week option who brings plenty of ceiling thanks to his explosiveness.
Usability:  Immediate if you're desperate.
Price: $18-20
Breakdown:  
Take a quick look at the tape:
Returning from a multigame absence, Mack immediately reminded owners of the playmaking abilities he flashed all preseason. Thanks to some serious burners and excellent downfield vision to find the open grass, Mack ripped off chunk play after cunk play on Sunday. His insane acceleration left defenders taking awful pursuit angles, and Mack looks like a threat to score every time he gets his hands on the ball.
In short, this kid's special. That was Chuck Pagano's exact word choice when describing Mack this summer:
"He jumps off the tape…He's popping out there. He's a talented guy. He's showing great athleticism, great vision…he's going to be a special player."
Now, the question becomes volume. Mack's only played in two full games, but he's reached 10+ touches in both contests. This feels like a floor, as Frank Gore is as involved and healthy as he'll be all season. Remember, this is a 34-year old back who brings far less juice, and has been defying "Father Time" for four straight seasons. Whether injury or earned, Mack's usage seems like a lock to keep growing.
Under Jacoby Brissett, this offense needs playmakers who can do damage after the catch. Mack is that exact fit. Plus, this could quickly become a lost season for the Colts, resulting in the team getting a long look at what Mack brings. He's among the only picks I'd be genuinely excited about this week.
Matt Breida (RB – SF, 7% owned)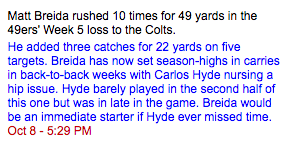 Key Stat: Led the team in RB snaps (35 to Hyde's 33), touches (13 to Hyde's 9), and total yardage (71 to 18).
Season Long Ceiling: Brieda becomes the latest "no name" Shanahan back to unexpectedly overthrow the incumbent and ride it to high-end RB2 value.
Realistic Outlook: Hyde remains the starter, and Breida is unusable without an injury.
Usability:  Ideal wait-and-see, unless named the starter shockingly
Price: $15-18
Breakdown:  
Breida led 49ers in nearly all meaningful RB categories for Week 5, which originally seemed due to Carlos Hyde's lingering hip injury. However, we learned some crucial news in Kyle Shanahan's post game comments:
Shanahan says he went with "hot hand" in RB Matt Breida, and his increase in snaps had nothing to do with Carlos Hyde's hip injury. #49ers

— Rob Lowder (@Rob_Lowder) October 8, 2017
Normally, this could be written off as motivational coach speak. However, a Shanahan "hot hand" is much different. The coach has a lengthy history of benching his incumbents for rookies he deems as better fits for his zone blocking scheme, and Hyde was frequently labeled a "poor fit" all summer. This truly could be a changing of the guard.
Which is crucial, because Shanahan has proven equally historic in producing monstrous RB numbers. Sure, Breida was undrafted, but the athleticism is certainly there:
Matt Breida's numbers and ranks if he was at the NFL Combine.

40yd: 4.37 (1st)
Vert: 42" (1st)
Broad: 11.2 (1st)
225: 23 (3rd)

— Jake Abraham (@JakeAbraham45) March 30, 2017
For all you SPARQers out there, Brieda ranked in the 95th percentile here as well.
In short, we've got.. A fantastic athlete + "Hot hand" battle + Historically dominant ZBS system  + A coach who's changed starters at the bat of an eye. Very worthwhile, and arguably the highest upside add of the week.
Alex Collins (RB – BAL, 41% owned)
Stat Line: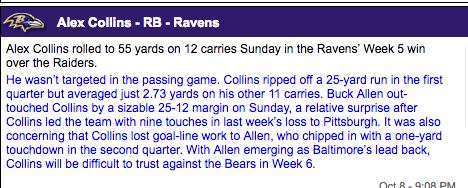 Key Stat: Not necessarily a stat, but Terrance West left the game with a calf injury that could keep him shelved a while.
Season Long Ceiling: Collins continues to carve out a role as the lead rusher here, including goal line work, which leads to lower-end RB2 numbers.
Realistic Outlook: Mediocre bye-week depth as a talented back who's locked into the dreadful "between-the-20s" role, with Javorious Allen receiving the more valuable third down and GL touches.
Usability:  Immediate if you're desperate.
Price: $12-15
Breakdown:  Collins' Week 5 came with equal positives and negatives. On the plus side, he continued looking explosive and received a season-high 12 carries, proving again he is the clear top rushing talent here. Additionally, Terrance West exited early, and could be looking at a multi-week calf injury, thus freeing up more weekly volume for Collins.
Unfortunately, and despite being labeled a "touchdown hog" in NFL.com's Scouting Report, Collins lost all red zone work to the smaller Javorious Allen, who also monopolizes receiving usage too. This leaves us with the unenviable "between-the-20s" role in an uninspiring offense, which creates minimal upside for the talented Collins. As of now, he'll need to see a boost in red zone usage to become a desirable weekly play, but is still worth a roster spot as high-floor bye week depth.
Austin Seferian – Jenkins (TE – NYJ, 28% owned)

Key Stat: Team lead in targets in 2 of 3 games thus far
Season Long Ceiling: Remains Josh McCown's favorite short-to-intermediate game target, producing TE1 numbers all season.
Realistic Outlook: A high-end TE1 streamer in the right matchups, but disappears against solid defenses.
Usability:  Immediate
Price: $10
Breakdown: We've been calling ASJ this year's "Cameron Brate" since the summer, and he's shown why since returning to the NFL field. The 6'5″ monster finally has his head on straight, and is quickly becoming Josh McCown's, who notoriously loves targeting tight ends, favorite target: ASJ has led the Jets in targets for 2 of his 3 starts, including last week versus Cleveland.
While true Jenkins could disappear along with this entire offense against quality defenses, he gets another juicy matchup versus the Patriots in Week 6 (30th vs. TEs) before non-threatening bouts with Miami and Atlanta. Expect ASJ to continue cementing his top-target status in New York, and develop into a TE1 at such an unpredictable position.
I'm not really splurging on…
Wayne Gallman (RB – NYG, 39% owned) or Orleans Darkwa (RB – NYG, 3% owned)
Stat Line: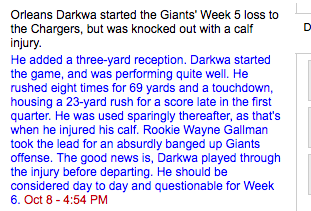 Breakdown: 
Unlike the first three backs, I'm not going to splurge on either of the Giants runners.  Sure, this offense promises to be more run-centric after losing their entire receiving corps on Sunday (not an exaggeration. Literally every one). But they'll also lack any type of firepower to threaten defenses, creating stacked boxes for an abysmal offensive line to face.
Meanwhile, Darkwa and Gallman rotated almost dead-evenly when both were available, meaning this will be a nightmarish committee situation with or without Paul Perkins. Nevermind an abysmal schedule coming up — Denver has allowed a meager 2.35 YPC to rushers, followed by a ferocious Seattle front 7 and then a Bye.
Are you truly going to roll out either piece of a bad committee, in bad matchups, in a bad offense, behind a bad offensive line over these next three weeks? That's a lot of bad to stomach.
Part 2: Usable Bye Week Depth
The below options don't offer the seasonal ceilings as those above, but should be usable in bye week pinches. They are separated into pure streamers (great one-week matchups) or longer-term guys
I. Longer Term:
Nelson Agholor (WR – PHI, 31% owned)

Quick Hit:  Repeat after me: I will not cut Nelson Agholor for Tyler Lockett ever again. I will not cut Nelson Agholor for Tyler Lockett ever again. I will not cut Nelson Agholor for Tyler Lockett ever again. I will not cut Nelson Agholor for Tyler Lockett ever again. Oh, I was the only moron who did this?
Looking forward, Carolina on TNF this week isn't ideal, but Agholor will be an upside WR3 versus a Norman-less Washington and the abysmal San Francisco secondary in Weeks 7 & 8. He's made too many plays to be on the waivers anywhere regardless.
Mike Wallace (WR – BAL, 33% owned)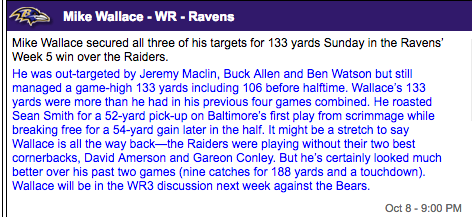 Quick Hit:  After failing to top 10 yards or 2 FPs for the season's first three weeks, Wallace is tough to ever consistently trust.  Still, he's blown up for over 14 FPs in two straight weeks, and brings some serious upside to flexes for the right matchups. With the bottom-barrel defenses of Chi, Mia, and Ten over the next four weeks, the matchups are indeed right for the near future at least.
Matchup Watch:

JuJu Smith-Schuster (WR – PIT, 5% owned)


Quick Hit:  Smith-Schuster has now seen more snaps than Martavis Bryant for three straight weeks. While I am still unwilling to throw in the towel on Bryant, Schuster's higher usage is certainly noteworthy. He's scored 20 half PPR FPs over his past two weeks, and Schuster sees enough volume for a stab, even with Ben Roethlisberger making Blake Bortles look like a Hall of Famer.
Marquise Goodwin (WR – SF, 2% owned) and Brian Hoyer (QB-SF, 9%)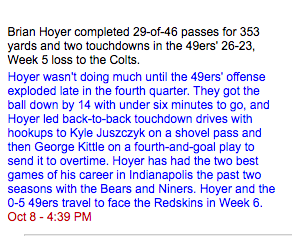 Quick Hit: Take a quick look at the 49ers upcoming slate: @WAS, vs. DAL, @Phi.
Two important common themes:
A) Each of these offenses will bombard SF's pathetic defense.
B) Each of these defenses will yield tons of catch up yardage.
This means aerial volume galore, which is great news for the widely available Brian Hoyer and Marquise Goodwin. Yes, Hoyer has been the definition of boom or bust, with 3.2, 1.96, and 7.66 back breakers to go along with 26 and 22 FP explosions. Yet, the upcoming matchups profile much closer to his blow ups.
Meanwhile, Goodwin looks to have carved out a higher-volume Taylor Gabriel role in San Francisco, coming off an 11 target, 116 yard monster. He made these plays all throughout camp, and should have the game scripts to keep seeing 8+ targets moving forward.
Matchup Watch:
WR:

 (WAS much more susceptible with no Norman)
QB:

Ed Dickson (TE – CAR, 5% owned)

Quick Hit: Devin Funchess has been the real beneficiary of Greg Olsen's injury, but Dickson has certainly seen his production rise too. His 175 yard monster will be a career high, but Dickson's beginning to see enough volume to be usable in the right matchups. Based on the calendar below, Dickson should be worthwhile the next few weeks. I'd still rather patch together whoever's facing the Browns or Giants though.
Matchup Watch:

II. Week 6 Streamers
Jacoby Brissett (QB – IND, 12% owned) @ TEN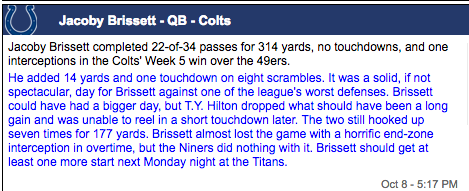 Quick Hit: Tennessee surrenders the 2nd most points to QBs, and particularly struggle with guys who can buy time in the pocket. Brissett is no Russell Wilson or Deshaun Watson, but he still moves well and can extend plays, letting his deep threats to sneak behind the coverage. This is perfect, because the Titans struggle holding coverage more than anyone else in the league. Brissett goes for 20+ this week.
Elijah McGuire (RB – NYJ, 16% owned) if Bilal Powell and Matt Forte are out

Quick Hit:  McGuire struggled when thrust into the featured role versus Cleveland, but now faces a New England defense that has gotten brutalized by backs — most FPs in the league. The Jets have been using their backs in all facets of the offense, and McGuire would see 15+ touches if Bilal Powell and Matt Forte sit again. He's well worth an RB2 / Flex Spot for the bye week needy in that scenario.
George Kittle (TE – SF, 1% owned) @ WAS
 
Quick Hit: Kittle has been a favorite of our 49ers Insider Grant Cohn, and he's coming off a monster 17.8 FP day. Meanwhile, Washington was surrendering the 3rd most FPs to TEs before Josh Norman's injury. I can't imagine this helped them by any means. He's one of my favorite DraftKings plays at $3.4K, and can fill a desperation TE or Flex spot in Week 6.
Ryan Griffin (TE – HOU, 6% owned) vs. CLE
This is purely matchup based, but Deshaun Watson has been on obvious fire and Houston should reside in the red zone. Meanwhile, Cleveland has given up 3 Red Zone scores to tight ends over the past 2 weeks, and Griffin is a strong bet to keep this trend moving forward.
AJ Derby (TE – DEN, 1% owned)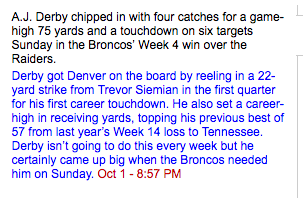 The Giants have yet to stop a tight end from scoring, and Derby is coming off his best professional game yet. Expect him to keep the streak alive and find pay dirt.
Atlanta Def (22% owned) vs. Miami
Have you seen how bad Jay Cutler and the Miami offense has looked against the worst three pass defenses in the league? Atlanta is no shut down unit, but they are better than New Orleans, New York, and Tennessee. There's 15+ FP upside here.
Part 3: Upside Speculation
If you're sitting pretty and don't need immediate starters, here's some guys worth speculative bench stashes that carry larger long-term ceilings than those above, but are no bet to ever be usable.
Wide Receivers:
Mike Williams (WR – LAC, 8% owned)
Season Long Ceiling: Establishes a strong rapport with Rivers, especially in the red zone, and becomes an every-week WR3.
Realistic Outlook: A fun stash, but too inconsistent to trust any time soon.
Usability:  Stash
Price: $4
Breakdown: 
Williams, the 7th pick in this year's draft, is set to make his much-anticipated NFL debut after a lengthy recovery from a back injury. You have to imagine he's 100%, because why roll him out otherwise after this long? Let's erase health reservations then.
How about volume? Indeed, at first glance, the Chargers offense appears filled with mouths to feed. Yet, Williams brings an element this passing game sorely lacks: athletic, vertical size. Yes, Hunter Henry is big and moves well. Tyrell Williams is a burner for his size. But neither bring that "leaping over you" and making those "I'm a man, and you're a boy" type of catches — the way Antonio Gates used to dominate in his prime.
This is where Williams excelled at Clemson. Meanwhile, Philip Rivers still has undeniable touch, and can capitalize on Williams' lanky frame by putting the ball where only he can get it. They could make some serious magic together.
Yes, Williams could need an "adjustment" period, which creates risk he's a 2017 non-factor. Yet, Williams could also be fresher than the rest of the league and see his talents immediately translate. This scenario would yield a very real impact player, which are tough to come by this late.
Josh Doctson (WR – WAS, 6% owned)
Season Long Ceiling: Takes over the clearly still vacant WR1 role in this pass happy attack and becomes an upside WR3.
Realistic Outlook: Struggles with health concerns and is never truly able to establish a presence.
Usability:  Stash
Price: $2
Though he suffered a tweaked shoulder and comes with long-documented durability concerns, Doctson still drips in upside. Neither Terrelle Pryor nor Jamison Crowder have established a firm role in this pass happy, and Doctson has flashed his big play ability — he hauled in a beautiful 51 yard over-the-shoulder TD in Week 4 before just missing another score in Week 4. The team is giving him chances to make plays, and Doctson has the talent to capitalize.
Also note – he squares off with SF, Phi, and Dal over the next three weeks — three highly burnable secondaries. There's a shot he emerges as a 6-8 target guy in this pass-obsessed offense, and Doctson has the size and leaping ability to become a red zone beast if he can put it all together.
Zay Jones (WR – BUF, 12% owned)
Quick Hit: This is more of a "who else is there?" in light of Charles Clay's injury than anything else. Zay has been a major disappointment, hauling in only five balls despite starting all five games and seeing 23 looks thus far, but there's literally no one else here.
After getting a Week 6 bye to get primed for a potential "target hog" role, Jones gets cake matchups with Tampa Bay, Oakland, New York Jets, and New Orleans. He hasn't capitalized on opportunity yet, but there's upside here if Jones can have the switch flip on.
RB Handcuffs
The following RBs would approach RB1 status if forced into a starting role at some point in 2017. Bench depth is hard to come by with Bye Weeks now approaching, but if you have trash to cut, these guys are always worth speculative adds each week.
Alfred Morris (RB – DAL, 8% owned)
Though we feel Ezekiel Elliott won't miss a game, Alfred Morris would be an RB2+ if he's forced to serve the suspension.
Charcandrick West (RB – KC, 6% owned)
Andy Reid's RB1s averaged 19.5 FPs entering 2017 – a number that's surely risen with Kareem Hunt's explosion. West is no Hunt, but would be a low-end RB1 with the volume he'd see.
Chris Ivory (RB – JAX, 3% owned)
Ivory is still a bulldozer, and Leonard Fournette has chronic foot issues. He's an RB1 in this run-obsessed attack if/when he makes starts.
James Conner (RB – PIT, 5% owned)
The multifaceted usage would allow the versatile Conner to be a high-end RB2 if Le'Veon Bell misses any time in 2017.
Be sure to hit up The Wolf in the comments below, or on his SnapChat or Twitter Page (@RotoStreetWolf) for personalized  Add / Drop questions and concerns. He'll let you know who to drop / who to target based on your roster and team needs, and get you ready for a crucial Week 5 matchup. Plus, be sure to track us on all your social medias to never miss a single fantasy beat (Facebook, Instagram, and Twitter).