(as Third Eye Blind's "Jumper" softly strums in the background) 
Dear Dalvin Cook owners,
You are not alone. You have many friends and family members who care for you. Thousands upon thousands of other owners also find themselves without their locked-in, workhorse RB1 this morning. Myself very much included. You are not the only one struggling to digest food. Stare in the mirror, or find a shred of meaning in this dreary world right now. You are not alone.
And your season is far from over, so get that thought out of your head immediately. Though the Fantasy Gods have laid down a tumultuous test, they've mercifully provided a bevy of potential band aids to help you through. So do not curse them, but thank them. You are not alone, or without options. No. nothing lingering on the Waiver Wire will ever "replace" what Cook brought to the table, but production is available. The season is still very young. And, again, you are not alone.
Indeed, this undoubtedly hurts. The sting will not disappear quickly, if ever. But you are strong. Dalvin wouldn't want you to quit, so if you can't do it for you, do it for him.
Cry your tears. Use them as lube for your sad tugs. Then put the chin up and move on. It's onto the waivers and winning a 2017 title.
-Wolf
Dalvin Cook "Replacements"
Running Backs you can immediately plug in and expect some level of production: 
Tier One – RB2+ Options
Though not Cook, these two RBs provide a cushioned landing down. Both have clear paths to RB2 value for the remainder of 2017, if not more. 
Alvin Kamara (RB – NO, 45% owned)
Stat Line: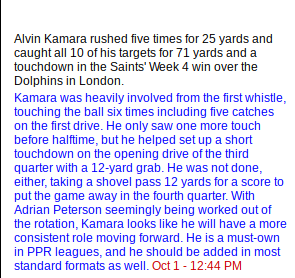 Key Stat: 10 targets, 10 receptions,  71 yards and a TD. Need any further proof he's a crucial cog in this explosive machine?
Season Long Ceiling: Kamara continues cementing himself as the "Darren Sproles / Reggie Bush" Joker here, which ultimately yields 80+ catches and a low-end RB1 season.
Realistic Outlook: Quality PPR RB2 and standard flex thanks to immense aerial volume.
Usability:  Immediate
Price: All of it if you lost Cook. Kamara is the closest option you'll find all year on waivers. $50+ otherwise.
Breakdown: Kamara, our top pickup for two straight weeks, is somehow still available in over 50% of leagues, but hopefully you secured him while his price was in the $20 FAAB range. Otherwise, it's time to blow the load; as seen this past week in London (96 total yards, TD, 10 recs), Kamara will be a PPR terror for the remainder of 2017.  Last week, I wrote:
"I genuinely believe Kamara will go down as one of 2017's true difference-makers from the wire once his number is called as much as he deserves… he's going to be seeing 12-15 looks a game at some point, and will be a genuine game changer once that happens… with his vision, speed, elusiveness, you can't help but call for more touches for this electric talent. They will come."
Now, I didn't expect  "some point" to mean literally the next week, but 15 touches later, Kamara isn't making us wait. He was the clear top option out of the backfield in Week 4, even above "starter" Mark Ingram, and the offense hummed at a noticeably quicker clip with the rookie on the field. Kamara's Sean Payton's next "Joker" back, which Sproles and Bush have ridden to RB1 value thanks to insane volume. Remember: the Saints have led the league in passing yardage five of the last ten years, and never finished below fourth in that category during that time frame. Meanwhile, Sean Payton unsurprisingly leads all play callers with 168.4 RB Targets per season — 30 more than the next closest team.
The volume is a lock, as Kamara 7-8 receptions feel like a weekly floor. The Talent, Scheme, and Surrounding Talent also check off in spades, meaning Kamara should be started weekly from here on out. If you lost Cook and Kamara is still lingering, consider your prayers answered.
Latavius Murray (RB – MIN, 16% owned)
Stat Line:

Key Stat: 
via @ScottBarrettDFB: #Skol OC P.Shurmur rides 🔔🐄's. His RB1s rank 1st in RuATTs (84%) & 2nd in Wghted opps (76%).#FantasyFootball pic.twitter.com/PGpZK3zJDO

— Wolf of Roto Street (@RotoStreetWolf) October 2, 2017
Season Long Ceiling: Murray proves he wasn't just a product of the monstrous Raiders line and explosive offense, and is again a quality, TD-heavy RB2 for the remainder of 2017.
Realistic Outlook: Behind a far lesser line and with fewer scoring chances, Murray is much closer to a flex than RB2, but still sees the weekly volume to be deployed.
Usability:  Immediate
Price: If Kamara's gone, then you need the next best thing. Just like the rookie, Murray's season-long RB2 upside is worth $50+ FAAB.
Breakdown: No one is pretending the drop off from Cook to Murray isn't steep, but this is among the better back-up talents in the league. Murray ripped off 12 TDs in only 14 contests last season, a year after topping 1,000 yards in 2015. Though definitely no Cook in regards to explosion (especially with "game speed"), Murray did rip a 4.38 40-yard dash at a sturdy 6'2″ and 223 lbs, so let's not act like we're suddenly getting a mediocre plodder. The team didn't hand out $15mil to Murray this offseason without seeing something they didn't like — Cook simply fell into their laps on Draft Day, and his talent was clearly quite obvious while Murray healed from surgery. Now, the big-back will get his chance to earn that hefty payday.
Working in Murray's favor is OC Pat Shurmur's tendency to ride a workhorse. As seen in the above tweet, Shurmur rides his RB1s for 84% of his rush attempts and offer 76% weighted opportunities to his lead guy. This, of course, requires a versatile back who can contribute in all three-phases, which is where Murray is a severe downgrade from Cook. Jerrick McKinnon should eat into the receiving role, but Murray can catch the ball just fine — he had 41 receptions in 2015, and would've have topped this last season if he made it through 16 games.
Tier 2 – Flexy Options
These options bring some longer-term value, even if they don't drip in the same ceiling as the above. RB2 ceilings and fair flex floors are still rare to find a quarter into the ceiling, and we have a few options here.
Alex Collins (RB – BAL, 10% owned)
Stat Line: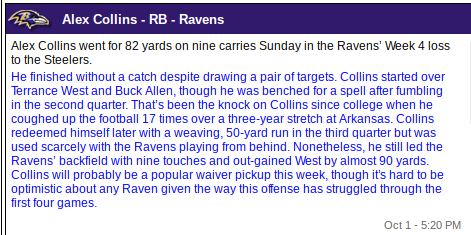 Key Stat:  Over last 2 games, Collins has turned 18 carries into 184 yards (9.1 YPC).  Meanwhile, Terrance West and Buck Allen have combined for 20 carries for 43 yards (2.15 YPC) over that same span.
Season Long Ceiling: In Greg Roman's run-obsessed scheme, Collins maintains his dominant YPC and rolls to quality RB2 numbers all season.
Realistic Outlook: Collins continues his impressive play, but a subpar surrounding situation, both on the line and the skill around him, keeps him from elevating beyond low-end RB2 / flex status.
Usability:  Immediate
Price: $15-20, especially if desperate for RB depth
Breakdown: I won't pretend to know much about Collins, but I will say a few things: 1) His tape has been impressive — fast feet, a slashing style with good open-field vision to keep gaining chunk plays. Reminds me of Jay Ajayi last year, but not as powerful.  2) Notes from his scouting report produced fantasy wood, including:  "Well-built, durable frame with feet from a wind­up toy.. Plays with amazingly consistent and repetitive tempo as a runner…Runs with consistent forward lean and always falls forward….Touchdown hog." 3) Greg Roman's run-obsessed power games are always gold. 4) I just have a feeling in my gut he's going to be something.
Now, the fumbling concerns are very real. Head coach John Harbaugh publicly announced Collins' short leash in this area after the back put the ball on the turf versus Pittsburgh. Yet, with Terrance West as ploddy as ever and Buck Allen a mere receiving specialist, Collins should be given every chance to succeed. He's miles ahead of this roster as a pure runner.
Andre Ellington (RB – ARI, 23% owned)
Stat Line: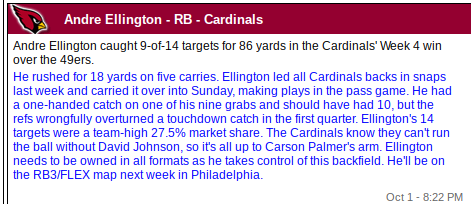 Key Stat: Ellington's 14 Week 4 targets = 27.5% of market share. Meanwhile, the Cardinals lead league in pass attempts (183) with no running game in sight.
Season Long Ceiling: Ellington continues his target-hog act for as long as David Johnson is out, and is a quality PPR RB2 in light of 6+ weekly receptions.
Realistic Outlook: Ellington continues being a useful flex play for any game Johnson misses, hovering around 5 weekly catches and 60 total yards.
Usability:  Immediate
Price: $15-20, especially if desperate for RB depth
Breakdown: With Chris Johnson wishing he had the explosiveness of a one-legged zombie and Kerwynn Williams even less athletic, the Cardinals' running game has been thrown out the window. Unsurprisingly, Arizona lead the NFL in passing attempts by 17 (183 total), and this trend seems bound to continue after Arizona couldn't muster a ground game even against the league's most generous defense (49ers). As such, Ellington should approach 7-10 weekly targets as Carson Palmer's clearly preferred safety valve. This should yield 8-10 FPs in reception leagues, and make Ellington a very strong band aid for his remaining 4-5 games of relevance until Johnson returns.
Tier 3 – Stopgaps and Stashes
Aaron Jones (RB – GB, 11% owned)
Stat Line:
Quick Hit: Jones doesn't provide much long term upside. Still, the rookie should be a strong streamer versus a pathetic Cowboys defense that surrendered 215 total yards and a TD to Todd Gurley last week, assuming Montgomery misses time. Jones is a solid receiver out of the backfield, and could do damage on 12+ touches versus this pathetic defense.
Seahawks RBs:
Eddie Lacy (18% owned), Thomas Rawls (28%), J.D. McKissic (3%), and CJ Prosise (16%)
Stat Lines:


Quick Hit:  This backfield is a complete quagmire, and the "winner" is rewarded with one of the worst lines in football. Early tea leaves suggest Thomas Rawls will get the first crack at the gig, but Eddie Lacy looked mildly competent while plodding out 52 yards on 11 carries. Meanwhile, JD McKissic looks too explosive to simply disappear, but CJ Prosise presents the same issue if his sack were to drop. Some value will undoubtedly emerge here, but I don't have any idea when or who that'll be.
Wayne Gallman (RB – NYG, 3% owned)
Stat Lines: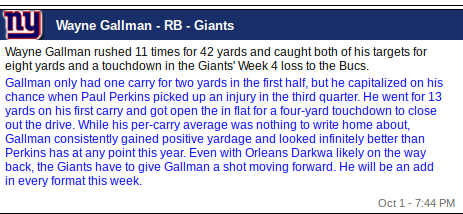 Quick Hit: Gallman wasn't particularly impressive, but he only needed to breathe to beat out Paul Perkins. He appears to have opened his lungs, and thus Gallman should have a real shot at lead back duties. Of course, this offense is extremely pass-heavy, particularly in the red zone, meaning Gallman is unlikely to truly evolve into anything meaningful.
Elijah McGuire (RB – NYJ, 2% owned)
Stat Lines:

Quick Hit: McGuire is more of a talent-based stash. He can't be trusted for anything over a handful of touches, but the team is reportedly very high on the rookie. He's a name to monitor, at least.
Other Fantasy Football Week 5 Waiver Wire Options
Tier One – Immediate Starters
Will Fuller (WR – HOU, 31% owned)
Stat Line: 

Key Stat: Before suffering a Week 5 injury that he never bounced back from, Fuller was the WR13 in standard (WR15 PPR) even as a rookie. During this span, Fuller topped 12+ FPs (.5 PPR) in 3 of 4 contests, including two games over 18 FPs
Season Long Ceiling: Deshaun Watson proves to be the real deal, while Fuller continues building on his explosive 2 TD debut, while showing a more complete all-around game. Thus, he finishes 2017 as an every-week WR2.
Realistic Outlook: A more than acceptable WR3 that's best served as an explosive flex
Usability: Immediate
Price: $15 FAAB
Breakdown: With almost no time to build a rapport with rookie QB Deshaun Watson, Fuller stormed into his sophomore campaign to score twice and haul in 4-of-6 looks. He looks fully healthy, and should benefit immensely from Watson's ability to extend plays and let his WRs break free downfield. DeAndre Hopkins is the clear Alpha here, but Fuller should benefit from the reduced defensive attention and destroy single coverage down the field.
Deshaun Watson (QB – HOU, 33% owned)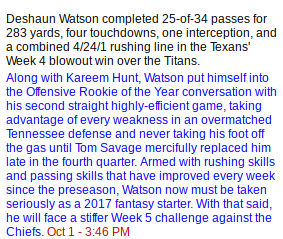 Key Stat: 17.7, 20.14, 33.72 FPs in his three starts.
Season Long Ceiling: Indeed the real deal, Watson finishes 2017 as a top-7 fantasy QB ala Dak Prescott in 2016.
Realistic Outlook: Watson's rushing ability keeps him a top-15 weekly QB play, and he finishes in the top-10 more often than not.
Usability: Immediate
Price: $12 FAAB
Breakdown: Watson is a winner, and has made noticeable strides in each of his first three starts. Most notably, Watson has grown increasingly patient in the pocket, using his high-end athleticism to buy his receivers time downfield. He also showed unbelievable chemistry with Hopkins on a variety of back shoulder and timing routes. Will Fuller also looks fully back, giving Watson the weapons cabinet for some serious weekly upside. Watson was my QB Stream of the Week for his 5 TD gem, which made me look genius. Thus, I have a soft spot for him, and genuinely believe he finishes as a top-10 QB for 2017.
D'Onta Foreman (RB – HOU, 28% owned)
Stat Line:

Key Stat: Double digit touches in three straight weeks.
Season Long Ceiling: Through injury or ineffectiveness, Foreman steals the lead RB role and never looks back for bonafide RB1 numbers
Realistic Outlook: A "handcuff with benefits" that yields some useful 10+ FP weeks, but cannot shake Miller without an injury
Usability: Wait it out, unless truly desperate
Price: $15 FAAB
Breakdown: Even after Lamar Miller's top game of the season, Foreman still seems bound to take over. Once this happens, the results will be massive, especially with the latest volume nugget:
Bill O'Brien on D'Onta Foreman: 'I see him as a three-down back'

— Aaron Wilson (@AaronWilson_NFL) September 29, 2017
Don't forget Foreman was awarded the Doak Walker Award as the nation's best back. His speed is unfair for 240 lbs of man, and Miller continues looking completely ordinary. Meanwhile, Bill O'Brien leads all active play callers with an average of 422 rush attempts per season — the volume is certainly there for the taking.  Just as we said last week — stash for now, and yield the RB1 upside later.
Austin Seferian Jenkins (TE – NYJ, 7% owned)
Stat Line:

Key Stat: 
CLE was worst team in NFL vs. TEs last year. This year they've given up 6-41-2 to Jesse James, 8-91-0 to Ben Watson & 6-68-2 to Tyler Kroft.

— Adam Levitan (@adamlevitan) October 2, 2017
Season Long Ceiling: Josh McCown gives ASJ the "Gary Barnidge" treatment, and the hulking TE finishes well-within the top-10 for the rest of season.
Realistic Outlook: Starts as a fantastic streamer in the right matchups but turns into a weekly play 
Usability: Immediate
Price: $9 FAAB
Breakdown: Jenkins' 4 catches for 46 yards might not seem special, but he was making some incredibly acrobatic and athletic grabs all afternoon. ASJ was leaping over defenders and showing insane control over his enormous body. He now gets matched up with the most generous defense to seam-stretchers (and a nice revenge game for McCown). I expect him to score at least 1 TD as a top-six Week 5 TE play, ultimately developing into a weekly asset.
Tier 2 – Other Names to Consider
Josh Doctson (WR – WAS, 11% owned)
Stat Line:

Jaron Brown (WR – ARI, 6% owned)
Stat Line: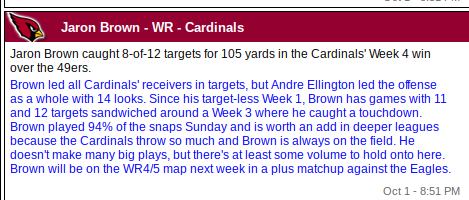 Tyler Kroft (TE – CIN, 1% owned)

JuJu Smith Schuster (WR – PIT, 1% owned)
Stat Line: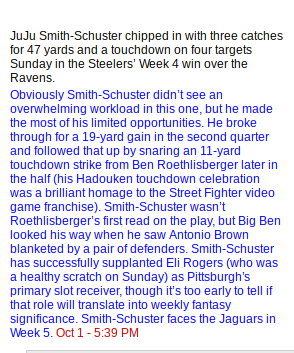 A sneaky league winner could be…
Greg Zuerlien (K – LAC, 39% owned)
If I asked you which team leads the league in points scored, how many guesses would you need to reach the Rams? A major piece of this has been the insane play of Greg "Legatron" Zuerlien, who just booted 7 FGs versus Dallas and has more 2017 FPs than Antonio Brown and Jordy Nelson, to name a pair. With Jared Goff looking reborn in Sean McVay's creative scheme, Legatron should continue having ample opportunities to show off his massive leg strength. He will go down as fantasy's top kicker in this gem set up, and needs to be pursued aggressively in leagues where he remains available.
Week 5 Waiver Wire Rankings
Tier 1
1) Alvin Kamara (RB – NO, 45%)
2) Latavius Murray (RB – MIN, 16%)
Tier 2
3) Will Fuller (WR – HOU, 31%)
4) Alex Collins (RB – BAL, 10%)
5) DeShaun Watson (QB – HOU, 33%)
6) Andre Ellington (RB – ARI, 22%)
7) D'Onta Foreman (RB – HOU, 28%)
8) Evan Engram (TE – NYG, 47%)
9) Cooper Kupp (WR – LAC, 44%)
Tier 3
10) Austin Seferian-Jenkins (TE – NYJ, 7%)
11) Devin Funchess (WR – CAR, 26%)
12) Jared Goff (QB – LAC, 22%) 
13) Wayne Gallman (RB – NYG, 3%)
14) Thomas Rawls (RB – SEA, 28%)
15) Aaron Jones (RB – GB, 11%)
Tier 4
16) Tyler Kroft (TE – CIN, 1%)
17) Jaron Brown (WR – ARI, 6%)
18) Jerick McKinnon (RB – MIN, 4%)
19) Paul Richardson (WR – SEA, 28%)
20) Kendall Wright (WR – CHI, 13%)
Be sure to hit up The Wolf in the comments below, or on his SnapChat or Twitter Page (@RotoStreetWolf) for personalized questions and concerns. He'll let you know who to drop / who to target based on your roster and team needs, and get you ready for a crucial Week 4 matchup. Plus, be sure to track us on all your social medias to never miss a single fantasy beat (Facebook, Instagram, and Twitter).
Listen to The Wolf and The Truth discuss the Week 3 Waiver Wire on The Fantasy Fullback Dive (Subscribe on iTunes or Stitcher)