Highlighting the week's most important fantasy storylines using only six words.
Cobb's an Intriguing WR3 or Flex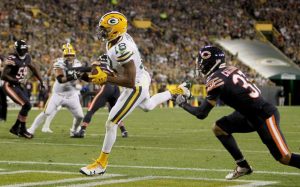 Packers 35, Bears 14
The numbers aren't eye popping, but Randall Cobb has appeared more effective in three games this season than any stretch during an injury-riddled 2016 campaign.  Despite a sharp decrease in targets (13 in game one and nine in game two), Cobb snagged all four in week four for 44 yards and a TD.  He now has 19 receptions for 189 yards on the season, and even tallied a ten-yard run out of the backfield.  With a slew of injury woes for Green Bay in the early going—including Cobb himself—Cobb's role in the offense could grow at any moment.  Arguably Aaron Rodgers's most sure-handed target, Cobb's versatility makes him worthy of a strong look as the Packers are destined for shootouts with the Cowboys and Saints in the next three weeks.
Kamara is a Must-Play PPR Flex
Saints 20, Dolphins 0
I tried to draft Alvin Kamara in the later rounds of all of my drafts, not only due to his potential, but also due to the fact that Sean Payton hates Mark Ingram and Adrian Peterson was a huge question mark.  I ultimately ended up dropping Kamara in most leagues for the "hot" waiver wire pickups of the week, and each week I regret it more and more.  Kamara is a stud.  He is second on the in targets by a good margin, falling nine shy of Michael Thomas (37) and six ahead of Ingram (22).  Kamara makes the most of his opportunities, including a ten-reception (ten targets), 71-yard, one-touchdown receiving effort yesterday in London.  He now has 147 receiving yards on the season, and is averaging 5.5 yards-per-carry in limited rushing opportunities (15 carries through four games).  One of the top receiving backs in the league, Kamara is quickly becoming a must-play in PPR formats, preferably out of the flex slot.
Clay Continues Rise to Top-five TE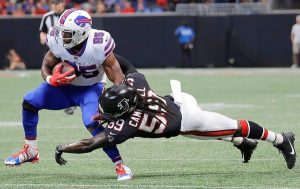 Bills 23, Falcons 17
An overlooked fantasy option dating back to his days in Miami, Charles Clay is finally getting the attention and credit he deserves.  The seventh-year TE continues to be Tyrod Taylor's favorite target, nabbing five receptions (seven targets) for 112 yards against Atlanta.  The only other pass-catchers to receive multiple targets yesterday were LeSean McCoy (three) and Jordan Matthews (two).  Clay is currently on pace to have his most productive season since 2013, where he totaled 759 yards and six touchdowns.  With a gross amount of instability in the receiving core, Clay will continue to be the focal point of the Buffalo passing attack.  Be careful, however, as two of the Bills' next three opponents (Tampa Bay and Cincinnati) are in the top-five for fewest fantasy points allowed to tight ends in 2017 (entering week four)—per ESPN.
The Duke's Ready to Overtake Crowell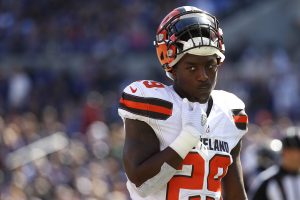 Bengals 31, Browns 7
It's not that Duke Johnson has been overly effective and is truly worthy of a starting spot; it's just that Isiah Crowell has been horribly, horribly, horribly bad.  Like, The Office after Michael Scott left bad.  Crowell's fall into futility continued yesterday with a seven-carry, 20-yard effort against Cincinnati.  Although he only had four carries, Johnson stole a red zone carry and was able to punch it in.  He also continued to be an effective part of the passing game, grabbing nine of his team-high 10 targets for 47 yards.  If Crowell doesn't decide to show up soon, he could forfeit more carries to Johnson, or someone else if Cleveland gets desperate and jumps into he free agent pool.
Ezekiel Elliott is Establishing Good Consistency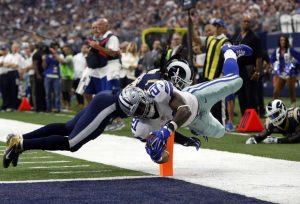 Rams 35, Cowboys 30
Ezekiel Elliot owners across America panicked when the sophomore running back put up just eight rushing yards on nine attempts against Denver in week two.  How did he respond to this newfound apprehension?  He posted stat lines of 80 yards and a TD against Arizona and 85 yards and a TD against Los Angeles (Rams), respectively.  He also tacked on 35 yards and a second touchdown through the air against the Rams.  Zeke is back, and in a big way.  The lesson here, in short order: Don't…doubt…Zeke…
Will McKinnon or Murray Emerge First?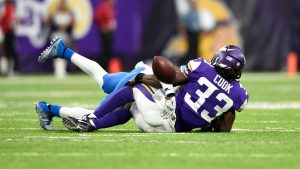 Lions 14, Vikings 7
Dalvin Cook was well on his way to another strong performance, notching 66 rushing yards and a touchdown before leaving the game with a possible ACL tear.  With Cook being the only consistent part of the Minnesota offense, his injury raises the question of who will rise from the proverbial ashes to take his place.  His tentative replacements, Latavius Murray and Jerick McKinnon, entered yesterday's matchup with a combined 43 rushing yards on 15 carries.  Woof.  With McKinnon failing to establish any sort of consistency after Adrian Peterson's injury last season, logic would dictate the starting gig will go to Murray, who was the lead back (albeit mired in mediocrity) in Oakland last season.  I'd wait a few weeks to see how this pans out before putting stock in any  members of the Minnesota backfield.
Benjamin and Funchess Finally Break Out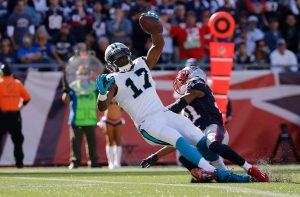 Panthers 33, Patriots 30
With the Panthers' offense in shambles, the blame was placed squarely on Cam Newton's shoulders.  Yet, his receivers were the ones who were really suffering.  Week four turned into a coming out party for almost everyone in the offense, with even the fossil-like Jonathan Stewart rushing for a season-high 68 yards. Newton appeared to be back to MVP form, with the biggest recipient of his resurgence being Kelvin Benjamin (104 yards receiving) and Devin Funchess (70 yards and two TDs).  With the dismal new England defense serving as a launch pad for Newton's swagger, expect the Carolina offense to stabilize moving forward.  This will lead to some more big nights for the Panthers' receiving core as the team faces four of the worst 11 passing defense teams in league (entering week four, according to ESPN).
Sans Forte, Powell and McGuire Shine

Jets 23, Jaguars 20
Yeah, I know, last week's column was all about a Matt Forte revival.  Then Matt Forte reverted back to being Matt Forte, and missed the Jets' week four matchup against the Jaguars.  In his absence, Bilal Powell snapped for 163 rushing yards and a TD, while rookie Elijah McGuire made his presence felt with 93 yards and a TD of his own.  It looks like the predicted fall of Forte will continue—much to my chagrin—as McGuire has undoubtedly earned himself a bigger role in the New York offense, while Powell has further cemented himself as the leader of the Jets' rushing attack.
 Le'Veon Bell Finally Asserts His Value
Steelers 26, Ravens 9
Patience is a virtue, my friends.  Cliches become cliches for a reason;  they are true!  The Trillest told you not to panic after Le'Veon Bell's slow start—by his standards—and if you remained steadfast and believed, you were rewarded with a monster effort against a fading Baltimore defense.  Bell ravaged the Ravens for 292 all-purpose yards and two touchdowns.  With Ben Roethlisberger failing to establish consistent chemistry with either Antonio Brown or Martavis Bryant in the early going this season, expect the Pittsburgh offense to continue to rely heavily on Bell.  The fifth-year back has matchups against inconsistent run defenses in Jacksonville, Kansas City, Cincinnati, and Detroit over the course of October, so expect him to feast as he continues to reacclimatize after a lengthy training camp holdout.
Watson Could be a Dependable QB1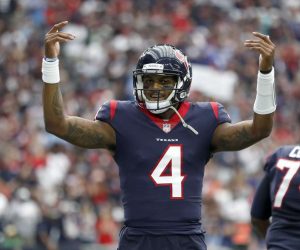 Texans 57, Titans 14
I heard The Wolf recommend Deshaun Watson as a streaming option during yesterday afternoon's live cast, and damn am I glad that I tuned in.  The rookie QB assertively announced his arrival as a force to be reckoned with, totaling five touchdowns (four passing) and 2017 NFL single-game high 98.3 QBR.  Watson's legs and ability to buy time make him a dangerous weapon as he continues to adjust to the NFL.  He is building chemistry with DeAndre Hopkins, and already appears on the same page as a returning Will Fuller V (two touchdowns in his season debut).  With his confidence continuing to rise, expect Watson to be a dependable contributor despite an up-and-down schedule over the course of the next four weeks (vs. KC, vs. CLE, @ SEA, vs. IND).
Thomas No Longer an Unquestioned WR1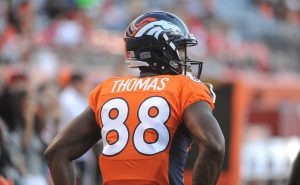 Broncos 16, Raiders 10
After receiving a healthy amount of targets through three games (25), Demaryius Thomas only received five looks from Trevor Siemian in week four.  Thomas came down with just one catch for 11 yards.  While he has a respectable 236 receiving yards on the season, the former Pro-Bowler is yet to find the end zone this season and his title as the undoubted king of the Denver is taking a few hits.  Again, his numbers are good, but are not really worthy of WR1 placement.  Siemian is slowly integrating your receivers A.J. Derby (75 yards and a TD yesterday) and Bennie Fowler III (two TDs in week 1 and 55 yards in week three) as consistent contributors to the offense.  These small steps, along Emmanuel Sanders's boom-or-bust reputation, could further cut into Thomas's target-share moving forward.
Allen's Living Up to High ADP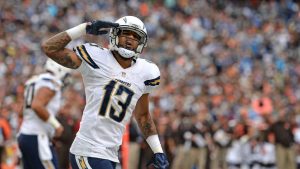 Eagles 26, Chargers 24
My gut always tells me that I can't trust Keenan Allen and that he is overrated.  After a breakout rookie campaign in 2013 (1.046 yard and eight TDs), Allen was consistently hyped as one of the best WR in the league until injuries ravaged his 2015 and 2016 seasons.  But, 2017 keeps proving me and other doubters wrong.  In a losing effort on Sunday, Allen hauled in just five of his 11 targets for a monstrous 138 yards, brining his season totals to 24 receptions and 334 yards.  However, the star receiver is yet to find the end zone since the season opener.  With such high-volume targets—his season low is nine—expect Allen to continue to rack up high yardage and eventually find the zone more often.  Even against elite corners, Allens till has a chance to be a strong contributor to the Chargers' high-volume and diverse passing attack.
Stream TEs Who Face the Giants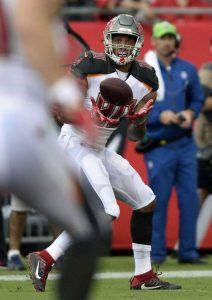 Buccaneers 25, Giants 23
You may not have realized, but the New York Football Giants are downright disgusting against opposing TEs.  The team entered week four having allowed the third-most fantasy points to opposing tight ends, and took about 17 steps backward in that regard against the Bucs.  Of Jameis Winston's 332 passing yards, 143 went to the tight end duo of Cameron Brate and rookie O.J. Howard. Each also contributed a TD, including Howard's wide-open 58-yard grab near the end of the first quarter.  Winston is a solid WB, Brate is a solid TE, and Howard is a solid prospect, but New York made them all look like superstars.  The duo of Hunter Henry and Antonio Gates (LAC), Virgil Green (DEN), Jimmy Graham (SEA), Tyler Higbee (LAR), and George Kittle (SF) are all on the docket for the Giants through week nine, so keep an eye on those who are available if you need to stream in deeper leagues.
Andre Ellington Flexes Strong PPR Appeal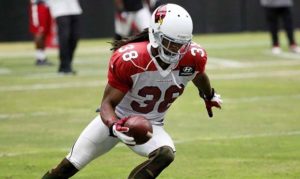 Cardinals 18, 49ers 15
When David Johnson went down with a season-ending wrist injury, most major fantasy sites projected Kerwynn Williams to be the biggest recipient of an increased workload.  Then he actually played.  And he totally sucked…  Neither Williams, Andre Ellington, or the returning Chris Johnson has proven to be incredibly effective out of the backfield (the trio combined for 41 yards on 19 attempts against San Francisco).  However, Ellington has flashed strong potential as a pass-catcher.  Yesterday, he racked dup 86 yards on nine catches after tallying five receptions for 59 yards in week 3.  His targets also continue to climb, jumping from three in week one to 14 yesterday afternoon.  Expect Ellington to continue to be an integral part of the Cardinals' pass-heavy offense.
Seattle's RB Problem Isn't Solved Yet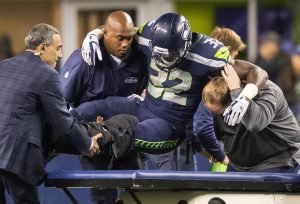 Seahawks 46, Colts 18
Just when it appeared Seattle had finally found their guy, Chris Carson went down with a leg injury late in the fourth quarter on Sunday Night Football.  While the extent of the injury is unknown at the time of writing, the result of the problem is crystal clear: the Seahawks have to reevaluate their running back situation for the umpteenth time.  With Thomas Rawls a healthy scratch and C.J. Prosise out due to injury, the team activated rookie J.D. McKissic. The debuting back rushed for 38 yards and a touchdown on just four carries, while also adding a second TD on an impressive 27-yard reception in traffic.  To further complicate the backfield mess, Eddie Lacy rose from the dead, rushing for 52 yards on 11 carries.  It appears Lacy might be given first crack at the starting job due to experience, with McKissic not far behind after an impressive debut.  Rawls, per usual, is lurking in the shadows.