Things to consider while the proverbial Night King (Week 3) waltzed right in and screwed me so hard I was left battered and torn:
Let's not beat around the bush here, Week 3 was pretty horrible. It's been addressed on the podcast already that it was not a good week for me or the RSJ in Week 3 but we learn and we move on and that's the best we can do for the time being. Only because I've done it in the past, let's look at a quick recap of last week's picks. Grab a trash barrel/bag to throw up in because these get nasty.
Hits:
Deshone Kizer

(22 pts)

Chris Thompson

(23 pts)

Frank Gore

(13 pts)

Chris Hogan

(19 pts)

Lamar Miller

(7 pts)

Kyle Rudolph

(1 pt)

Martellus Bennett

(4 pts)
Misses:
Philip Rivers

(3 pts)

Derrick Henry

(7 pts)

Theo Riddick

(6 pts)

Kenny Golladay

(3 pts)

Rashard Higgins

(3 pts)

Jack Doyle

(1 pt)

JJ Nelson

(0 pts)

Russell Wilson

(34 pts)

Marcus Mariota

(19 pts)

Jordan Howard

(30 pts)

Dalvin Cook

(24 pts)

Leonard Fournette

(16 pts)

Odell Beckham Jr

(25 pts)

Sammy Watkins

(23 pts)

Stefon Diggs

(29 pts)

Jimmy Graham

(11 pts)

Dragons/Starts
Quarterbacks
Carson Palmer (ARI)
Palmer has thrown for over 300 yards in back to back games, and now welcomes the 49ers shitty defense to Glendale. The offense has yet to put up a big offensive game, but if there's ever a week for everything to line up for Palmer it's this week. He showed the ability to move the ball effectively against Dallas, he just needs more time than his offensive line gave him last week.
Others: Trevor Siemian (DEN), Dak Prescott (DAL)
Running Backs
Joe Mixon (CIN)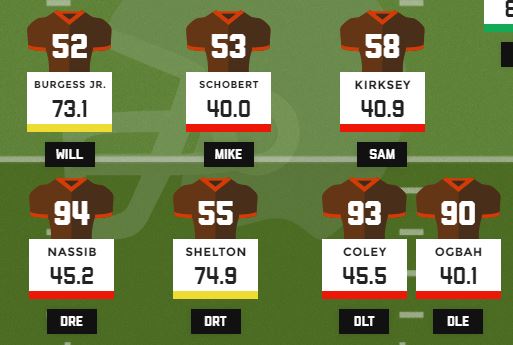 Take a look at this Cleveland front seven and tell me what you see. If you said "Shit", then you sir/madame are correct. Last week the Bengals promoted Bill Lazor to offensive coordinator and he made it clear that Mixon is going to be the team's lead back going forward. Mixon out-snapped and out-touched Hill and Bernard pretty heavily against the Packers, showing that Lazor wants to get the rookie involved in the offense and using him in multiple ways. Against the Browns, Mixon should have no problem breaking out and flashing that potential which made him a high draft pick in both the NFL and fantasy this year.
Bengals RB snaps/touches yesterday under new OC Bill Lazor: Joe Mixon 34/21, Jeremy Hill 14/8, Gio Bernard 13/5. Mixon's backfield now.

— Adam Levitan (@adamlevitan) September 25, 2017
Christian McCaffrey (CAR)
When Kelvin Benjamin suffered that nasty looking knee injury, the door flung open for McCaffrey. He totaled 9 catches for 101 yards last game and proved he can be a go to receiver for Cam Newton with limited options. Facing the Patriots, McCaffrey should have a field day against their linebacker group. Missing Dont'a Hightower is a big blow for New England so having a talented secondary limits what Newton can do out wide. McCaffrey can work the middle of the field and get his handful of rushes in to make for a big day on the road.
Others: Tarik Cohen (CHI), Chris Carson (SEA)
Wide Receivers
Larry Fitzgerald (ARI)
Larry Fitz showed Monday night that he's still got it, and then some. Fitz was Palmer's favorite target as he made some pretty incredible catches to keep Arizona close. Now Arizona welcomes the abysmal 49ers secondary into town and as you can see above the matchup is ripe for the picking. Terrible corner back play should allow Fitzgerald to roam free and have himself another big day in what should be a Cardinals win.
Jarvis Landry (MIA)
We know how bad the Saints defense is, and after watching Chris Hogan pick apart their secondary from the slot, Jarvis Landry looks to have himself a day similar to his Week 1 numbers. He grades as a plus matchup across from nickel corner PJ Williams and has gotten double digit targets in back to back games with Jay Cutler. You can feel comfortable throwing Landry out there for a big game in the London spotlight.
Others: Sterling Shepard (NYG), Danny Amendola (NE)
Tight Ends
Cameron Brate (TB)
The soft spot of the Giants defense is at the linebacker spot. We know the Giants are ultra talented at corner with Janoris Jenkins and deep with Landon Collins. While Jameis might have trouble connecting with Mike Evans and DeSean Jackson, the middle of the field should then open up for Brate to do some damage. He scored a touchdown last week, and is a good bet to do it again in Week 4.
Others: Evan Engram (NYG), Austin Seferian-Jenkins (NYJ)
White Walkers/Sits
Quarterbacks
Derek Carr (OAK)
If you listened to our last podcast then you heard me on the Whine Line grieving about Carr's last performance. It was just pitiful, and now he has no momentum heading into Denver where every QB goes to die. He's basically unstartable this week against that elite defense at home as they've held all opposing QBs to under 300 yards passing through three weeks.
Others: Ben Roethlisberger (PIT), Cam Newton (CAR)
Running Backs
Ameer Abdullah (DET)
There weren't any big named RBs that I felt strongly against this week so Abdullah will have to do. The Vikings boast a strong front seven that's only allowed an average of 70ish rushing yards per game and has given up no touchdowns on the ground. Of course, Theo Riddick is going to eat into Abdullah's share per usual, but this doesn't look like the week to be using Lions RBs against Minnesota.
Buck Allen/Terrance West (BAL)
Similar to the Vikings, the Steelers also have a pretty good ranked front seven that should slow down the Ravens RBs. Last week Flacco and the offense looked abysmal against the Jaguars and just couldn't move the ball. A divisional and rival matchup with Pittsburgh figures to be a low scoring affair all around with no encouraging signs from the Baltimore side of the offense.
Others: Marshawn Lynch (OAK), Isaiah Crowell (CLE)
Wide Receivers
Amari Cooper (OAK)
This plays off of Derek Carr above, but with the Raiders likely to struggle through the air against Denver, Cooper becomes a tough start for the Raiders. He's been a drop machine so far in 2017 which has thrown up numerous red flags along with getting heavily outscored by Michael Crabtree in Week 2. His stock is dropping quick, and going up against Chris Harris Jr or Aqib Talib won't help that value this week.
Terrelle Pryor (WAS)
Pryor just hasn't clicked with new QB Kirk Cousins so far and it's been pretty frustrating for fantasy owners thus far. With just 10 catches on the year, Pryor's stock is also plummeting after many had high hopes for the new receiver in Washington. Facing Kansas City on Monday night will be very challenging for the Redskins. Unfortunately, Pryor gets matched up with Marcus Peters on the outside who grades as one of the better corners in the league.
Others: Davante Adams (GB), Michael Crabtree (OAK)
Tight Ends
Jason Witten (DAL)
Witten came out on fire to start 2017, but was brought back down to Earth in Week 3. Now facing the Rams, Los Angeles has done a great job at limiting opposing TE production, while majority of the offense should be running through Ezekiel Elliott who figures to have himself a big time game.
Others: Hunter Henry (LAC)
Do you agree with Jimbo? Or is he clueless? Let him know at @theJMcGuinness.