An Apology
There's no beating around this bush: I was God awful Sunday. Legitimately, Week 3 of 2017 was, by a longshot, the worst predicting performance I've had in my entire life.  From benching Stefon Diggs and TY Hilton to recommending Jack Doyle and Rashard Higgins over them, my Week 3 was full of more shit than Eddie Lacy's gut after fourths at China Buffet Hell (imagine the poor plumbing at his place).
Thus, only the deep, brilliant words of American Idol Runner Up and historic lyricist Ruben Studdard can capture the deep darkness eating away my organs right now:
It's like I missed a shot,
It's like I dropped the ball.
(damn I'm sorry)
It's like I'm on stage,
And I forgot the words.
(damn, I'm sorry)
It's like building a new house,
With no roof and no doors.
(damn, I'm sorry)
It's like trying to propose,
And I ain't got the ring.
(oooh damn I'm sorry)

But girl I've apologized
A million times before.
(I'll apologize a million more)
So here it comes again
For all the wrong I've done.
(so get ready babe)
Here's one million one.

Girl this is my sorry for, 2004 2017.
And I ain't gonna mess up no more, this year.
In all seriousness, I am sincerely sorry for any losses caused at the hands of my horrendous calls. After a torrid start to 2017, I got too cocky, and needed to be force fed a humongous serving of shit and humble pie. I could careless about myself though. This is about you all, Wolf Pack, and it's genuinely one of the worst feelings to know how much I let many of you down.
Which is why I will be working tirelessly to try and never let it happen again. I'm not foolish enough to make a half-hearted promise that "I ain't gonna mess up no more, this year" like Studdard. Mistakes will still be made, it's the nature of the beast when you can't control the outcome and what happens on the field. Still,  I HAVE to be better. So stick with me, Wolf Pack. We will look back at Week 3 as a necessary pothole that provided the teachable moments we ultimately needed on this marathon to a championship.
Unfortunately, in the wake of Fantasy Armageddon, not a whole ton of forgiveness will be found on the waivers this week. Still, some immediately usable talents that carry long term upside are available, as well as plenty of high-upside stashes who could prove to be difference makers this season. Let's dive in for all the players available in over 50% of Yahoo Leagues that need to be on your radar:
Fantasy Football Week 4 Waiver Wire Pickups
A) Immediate + Long Term Usability
The below options have proven themselves as dependable depth options that see enough weekly volume to be immediately thrown into needy lineups, while also carrying upside to develop to even more useful talents long-term.
Tier One
Alvin Kamara (RB – NO, 40% owned)
Stat Line: 

Key Stat: Currently second on the Saints, trailing only Michael Thomas, with 13 targets — despite a three-headed nightmare in this backfield
Season Long Ceiling: A genuine season-changing, high-end PPR RB2 once utilized to his full capacity
Realistic Outlook: Excellent Bye Week RB fill-in and decent weekly flex option, until Mark Ingram's inevitable injury and/or Adrian Peterson's faded out
Usability: Immediate if desperate in strong matchups, ideally someone you can stash though
Price: $20+ FAAB, higher for RB needy teams
Breakdown: Kamara is Week 4's top option on the waivers for his combination of immediate usability (if desperate) + ENORMOUS long term ceiling. I genuinely believe Kamara will go down as one of 2017's true difference-makers from the wire once his number is called as much as he deserves. It remains to be seen if these touches will come thanks to the inevitable Ingram injury, Sean Payton finally realizing Peterson couldn't be a worst fit for this offense, or Kamara just continues earning his keep. But he's going to be seeing 12-15 looks a game at some point, and will be a genuine game changer once that happens.
Not to say the volume has been awful thus far. In fact, Kamara has logged far more snaps than AP and his 13 targets trail only Thomas on the team. Yet, when you see plays like his ankle-breaking 25-yard TD run that highlighted his vision, speed, elusiveness, and burst all at once, you can't help but call for more touches for this electric talent.
They will come. Remember, as explored in my "Penny Stock RBs" this summer:
"The Saints have led the league in passing yardage five of the last ten years, and never finished below fourth in that category during that time frame. Meanwhile, Sean Payton unsurprisingly leads all play callers with 168.4 RB Targets per season — 30 more than the next closest team….The offense is explosive, the workload pie is huge, and Kamara has earned himself a prominent seat at this fantastic buffet."
If he's still out there in your JV league, pick up Kamara and never look back. He's going to be the next rookie RB to put his stamp on 2017.
Jamaal Charles (RB – DEN, 33% owned)
Stat Line: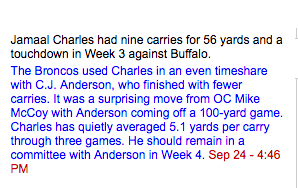 Key Stat: Charles outcarried CJ Anderson 9 to 8 in Week 3 while averaging 5.1 YPC
Season Long Ceiling: Yields high-end RB2 numbers after the inevitable CJ Anderson injury
Realistic Outlook: Receives roughly 10 touches per game, which creates a 7 point flex floor for bye weeks 
Usability:  Ideal for the bench, but can be a desperate source of RB points for the very needy
Price: $15+ FAAB, higher for RB needy teams
Breakdown: The NFL's all-time leader in YPC, Charles has looked fantastic on his limited work in 2017. The Broncos' line has been surprisingly competent, while Trevor Siemian is performing well-above any expectations. Thus, the Broncos RB situation is far juicier than I originally believed. Charles has touched the ball 10 times in each game, including more carries than Anderson in Week 3, thus showing he plays a key role here. Still, he's firmly behind Anderson, and will need an injury to reach his ceiling. The good news? Anderson has never made it through a full season. The ceiling is quite enormous, and Charles is getting enough touches to be a desperate source of 7ish FPs per week, at minimum.
Sterling Shepard (WR – NYG, 34% owned)
Stat Line: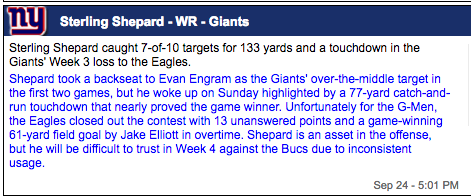 Key Stat: Shepard has scored in 7 of his past 10 full games with Odell Beckham Jr. 
Season Long Ceiling: Benefits from OBJ's return and secures No.2 role which he rides to high-end WR3 numbers all season
Realistic Outlook: Quality bye week depth option who struggles with consistency
Usability:  Immediate versus a Bucs secondary that got roasted by Case Keenum last week.
Price: $15 FAAB, higher for RB needy teams
Breakdown: Unsurprisingly, the Giants offense is completely different with Beckham healthy. He opened up the field for this entire offense, which Shepard was able to capitalize upon for a monster 22.8 (1/2 PPR) day. The field was literally wide open for his 77 yard catch-and-run, but Shepard was also making chain-moving grabs throughout the day. With a matchup against the abysmal Buccaneers on the docket, Shepard can immediately be thrown into lineups, and has a real shot at emerging as an upside weekly play if this offense continues ironing out the kinks. The higher usage is widely encouraging after Shepard was insanely efficient on limited looks as a rookie, and a sophomore year breakout could be brewing here.
Tier 2
Wendell Smallwood (RB – PHI, 4% owned)
Stat Line:

Key Stat: 57% of snaps in Week 3 following Darren Sproles' exit (done for year with ACL)
Season Long Ceiling: Emerges from the three-headed nightmare for a weekly feeding of 20+ touches, and develops into a useful flex in the process
Realistic Outlook: The crowded nature of the backfield makes Smallwood little more than a bye week depth piece
Usability: Ideally you can wait and see how this backfield shakes out post-Sproles, but expect Smallwood to log 10+ touches right out of the gate against a weak Chargers defense
Price: $12 FAAB
Breakdown: In all likelihood, Doug Pederson will continue employing a tough-to-project committee that minimizes the fantasy value of any runner here. Even with Sproles out, Pederson kept a three-headed rotation by tossing in a creature named Corey Clement. Still, Sproles was the surest source of volume thanks to his receiving role, and Smallwood is the early favorite to inherit these snaps. — he logged over 50% of snaps this past Sunday. Additionally, Smallwood had been pushing LeGarrette Blount for early-down work, and should continue doing so despite Blount's quality Week 3. The team name options are worth Smallwood's price of admission regardless, but he remains unlikely for a major splash.
Evan Engram (TE – NYG, 38% owned)
Stat Line: 

Key Stat: 4+ catches in every game as a pro
Season Long Ceiling: Target showers continue, but Engram is even more efficient in a higher-powered Giants attack, which helps his TD total explode
Realistic Outlook: An upside TE2 who ends up being your TE1 by midseason.
Usability: Immediately, especially against the hapless Bucs.
Price: $12 FAAB
Breakdown: Though rookie tight ends rarely translate, Engram is essentially a WR with an identity crisis. This has allowed him to play a major role in the passing game, with Engram securing 4+ catches for over 40 yards every single week. This type of floor doesn't exist at the tight end position, so Engram is even more enticing for TE needy squads. He'll offer even more upside as this offense projects to reside in the red zone far more often with Odell Beckham back.
Mohamed Sanu (WR – ATL, 32% owned)
Stat Line: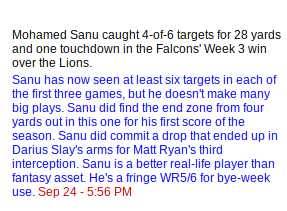 Season Long Ceiling: Rides a Julio Jones injury to some major WR3 weeks.
Realistic Outlook: A high-floor, non-existent ceiling flex play for owners who side with "sure points" in their bye weeks.
Usability: If you're desperate enough, Sanu is among the cheapest source of a sure 7+ FPs out there and can be tossed in immediately.
Price: $9 FAAB
Breakdown: Though Sanu will never excite you, he's proving to be a sure source of FPs in Steve Sarkisian's offense. He's posted double digit FPs (1/2) PPR in 2 of 3 contests, and Sanu's lowest week was a useful 7.7 score. In an offense that'll dominate possessions and live in the red area, Sanu is a safe WR4 for owners desperate for some consistency.
Other Name(s)
Charles Clay (TE – BUF, 22% owned): Clay has topped 12 FPs in 2/3 games to begin 2017, and appears to be the team's top passing option right now. This offense is still gross, but Clay has a real shot at low-end TE1 status all season. Worth a $7+ bid for owners rolling out garbage right now.
Interesting Stashes
If you don't have an immediate roster hole to plug, the following guys make interesting stashes for the bench, and carry the most upside to develop into long-term assets for the future.
D'Onta Foreman (RB – HOU, 17% owned)
Stat Line: 

Key Stat: Double digit touches in two straight weeks after being promised more work entering Week 2
Season Long Ceiling: Through injury or ineffectiveness, Foreman steals the lead RB role and never looks back for bonafide RB1 numbers
Realistic Outlook: A "handcuff with benefits" that yields some useful 10+ FP weeks, but cannot shake Miller without an injury
Usability: Wait it out, unless truly desperate
Price: $15 FAAB
Breakdown: Foreman's takeover just feels inevitable, and Foreman is my favorite pick outside of Kamara. Through Week 3, this much-heralded rookie RB class has exceeded their immense hype, so don't forget Foreman was awarded the Doak Walker Award as the nation's best back. His speed is unfair for 240 lbs of man, and Miller continues looking completely ordinary. Meanwhile, Bill O'Brien leads all active play callers with an average of 422 rush attempts per season — the volume is certainly there for the taking. Foreman has begun seizing this work, with back-to-back 10+ touch efforts, and he's outshining Miller every time he touches the field. Stash for now, and yield the RB1 upside later.
Will Fuller (WR – HOU, 3% owned)
Stat Line: 

FAAB: $3
Breakdown: Before suffering a Week 5 injury that he never bounced back from, Fuller was the WR13 in standard (WR15 PPR) even as a rookie. During this span, Fuller topped 12+ FPs (.5 PPR) in 3 of 4 contests, including two games over 18 FPs. He flashed game changing speed, and now has a far more competent Deshaun Watson, who has flashed strong deep ball touch, slinging him the rock. This offense has shown the ability to stay on the field and gain chunk yardage, which should play right into Fuller's strengths. He is a huge upside bench stash for forward-thinking owners.
Josh Doctson (WR – WAS, 6% owned)
Stat line:

FAAB: $3
Breakdown:  Doctson drips in upside with a No.1 WR build and insane leaping abilities. Meanwhile, Terrelle Pryor and Jamison Crowder have both been disappointments, while Jordan Reed continues to suffer from tweaked labias — the path to targets is certainly open for Doctson. Of course, health is also an issue for Doctson, but he is currently 100% and the team is making a concerted effort to involve him after giving him the start and 36 total snaps of action. If you have low-upside trash to cut, consider stashing Docston now in the off-chance he emerges as the top-guy in a very pass-centric attack.
I'm not buying…
Geronimo Allison (WR – GB, 9% owned)
Stat Line: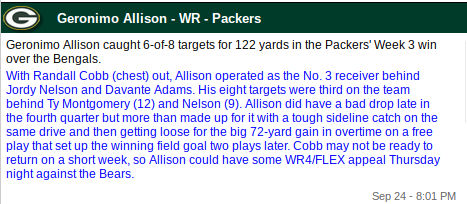 FAAB: $1
Breakdown: I'm not going all-in on Allison despite his massive week. He'll only have value if Randall Cobb or Jordy Nelson miss time, and even then Allison will be tough to project. Without a 72 yard broken play, we wouldn't even be discussing Allison, so let someone else blow some FAAB or a valuable waiver pick instead.
Deep Ball Dart Throws
These guys offer week-to-week usability as deep threats who can explode and swing a week at any point, but also carry 0 FP floors. They make sense as bye-week pinches when you're a severe underdog, but are not recommended weekly plays.
Travis Benjamin (WR – LAC, 5% owned)
Stat Line:

FAAB: $3
Taylor Gabriel (WR – ATL, 20% owned)
Stat Line:

FAAB: $2
Robby Anderson (WR – NYJ, 20% owned)
Stat Line: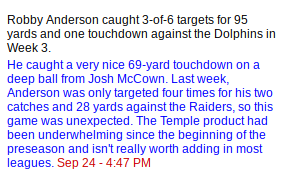 FAAB: $1
Breakdown: All three of these WRs bring the same type of fantasy usability to the table: either they'll blow up and be a week-swinger, or they'll disappear and make you regret even starting them. Still, these type of dice rolls are often crucial to bye week wins. Out of the bunch, Benjamin is my favorite by far. He seems to be emerging as the Chargers No.2, perhaps even at the expense of Tyrell Williams, and thus carries the highest week-to-week floor alongside his huge-play upside.
Gabriel ranks second given the vastly better quarterback and offensive situation compared to Anderson. He's been heavily underutilized by Steve Sarkisian thus far, but Gabriel was far more involved in Week 3 with six total looks. This could be a turning point. Meanwhile, Anderson scored on a beauty this Sunday, but seems to be the clear second-fiddle to Jermaine Kearse. I'm not sprinting out to grab Josh McCown's secondary look.
Week 4 Streamers
The "Stream Team" will be coming out later, so I'll spare the analysis for then. Still, here are some names for your streaming consideration:
Deshaun Watson (QB – HOU, 14% owned)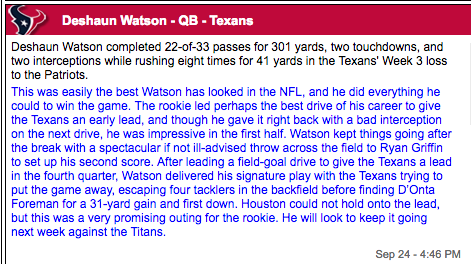 Quick Hit: Love the potential for ground points, and Watson looks like he can make all the throws. Some real upside in the right matchups, like a Titans defense that just gave up 33 FPs to Russell Wilson.
Jared Goff (QB – LAR, 12% owned)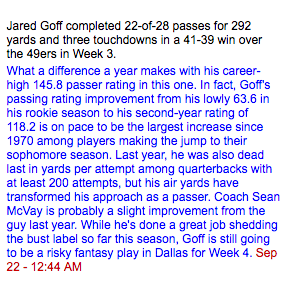 Quick Hit: The Rams lead the league in scoring right now, and Goff's improvement has been a major part of this. He could finish 2017 well inside the top-12 QBs, and has earned our trust especially in the right matchups.
Cameron Brate (TE – TB, 40% owned)

Quick Hit: Brate scored his first TD of 2017, and has a great shot to repeat against a Giants team that has allowed a TE to score for three straight weeks.
Vernon Davis (TE – WAS, 8% owned)

Quick Hit: Davis can clearly still ball whenever Reed misses time. Given how swollen Reed's labia is, Davis could be relied on yet again. He'd be a top-10 TE play versus the Chiefs, and is a necessary insurance policy with the team playing Monday Night.
Be sure to hit up The Wolf in the comments below, or on his SnapChat or Twitter Page (@RotoStreetWolf) for personalized questions and concerns. He'll let you know who to drop / who to target based on your roster and team needs, and get you ready for a crucial Week 4 matchup. Plus, be sure to track us on all your social medias to never miss a single fantasy beat (Facebook, Instagram, and Twitter).
Listen to The Wolf and The Truth discuss the Week 3 Waiver Wire on The Fantasy Fullback Dive (Subscribe on iTunes or Stitcher)