Gurley Continues His Run of Revenge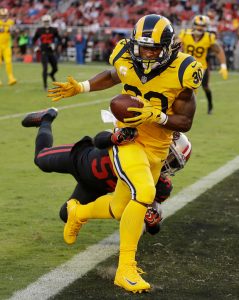 Rams 41, 49ers 39
I don't want to write about Todd Gurley every week.  I really don't…But I can't help it.  He is unreal.  He ran for 113 yards on Thursday night and added another 36 receiving yards.  Oh yeah, and he scored three touchdowns.  Through three games, the third-year running back has seven total touchdowns.  SEVEN.  The Rams offense has 10 as a whole.  Gurley is giving rookie phenom Kareem Hunt some competition for fantasy MVP, and there are no signs of the Ram's back slowing down as Jared Goff continues to improve.  Many made the mistake of writing off Gurley after a huge step back in his sophomore campaign, and he is making them pay for it.
It's Okay to Drop Cam Newton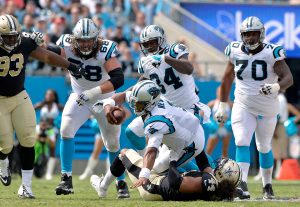 Saints 34, Panthers 13
The only entity that can give the Jets competition for the title of "Worst in the NFL" this season is Newton.  A former fantasy scoring king, Newton has been the drizzling shits (s/o to Stone Cold Steve Austin) through the early stages of the 2017 season.  His stat line after three games is anemic: 61% completion percentage, two touchdowns, and four interceptions.  The fact that Newton couldn't resuscitate his season against the non-existent New Orleans passing defense just shows how far he has fallen.  If you can jump on less sexy options such as Alex Smith, Tyrod Taylor, or even Jared Goff in deeper leagues, don't think too hard.  Act before it is too late.
OBJ Decisively Dismisses Any Injury Concerns
Eagles 27, Giants 24
To start or not to start?  That was the question that took the fantasy world by storm as Odell Beckham Jr. battled a pesky ankle injury.  After playing last Monday night, Beckham put a stamp on his critics with a two-touchdown performance yesterday against the Eagles.  Beckham hauled in a game-high nine receptions for 79 yards, including a jaw-dropping one-handed grab in the back of the end zone.  As long as Eli Manning can feed Beckham the ball, OBJ is a TD waiting to happen.  Still keep an eye on the ankle, but yesterday was a strong indication that any injury concerns should be put to rest.
Samples Show Ajayi is Boom or Bust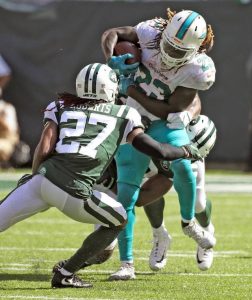 Jets 20, Dolphins 6
This is a lesson many of you learned the hard way last season, but Jay Ajayi still shot to top-ten status prior to the start of his sophomore campaign.  Lost in last year's jaw-dropping 200-yard performances was an abundance of mediocrity.  Outside of those three stunning games, Ajayi accumulated only four touchdowns and topped 61 yards just three times. The same rollercoaster is up-and-running this season, as the erratic running back followed up his 122-yard effort in the season opener with a 16-yard dud (11 carries) yesterday afternoon.  The latter also came against the NFL's biggest punch-line, the New York Jets.  Expect the same hit-or-miss performances from Ajayi through the season, regardless of matchup.
Surprisingly, Hogan's a Dependable Fantasy Option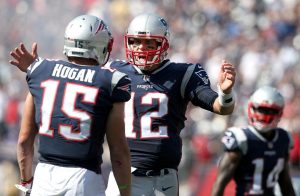 Patriots 26, Texans 33
Despite the doubt burned in this story's title, Chris Hogan's raw talent is undeniable.  Even though we all knew he'd be a bigger part of the Patriots' success after Julian Edelman's injury, many of us would have noses longer than the Brooklyn Bridge if we steadfastly insisted Hogan would be a fantasy workhorse.  The former lacrosse player has flashed the ability to make the most of what he's given.  Through three games, Hogan has ten receptions on 17 targets, three of which have gone for touchdowns.  That already nearly ties his total for all of last season (four).  Moving forward, Hogan will be best utilized as either a consistent WR3 or a bye-week substitute.  Matchups against a top-tier passing defense in Carolina and an inconsistent Tampa Bay squad might make it difficult to pull the trigger on the fifth-year receiver, but he will continue to reap the benefits of defenses targeting Gronk and Brandin Cooks.
Stefon Diggs is Finally for Real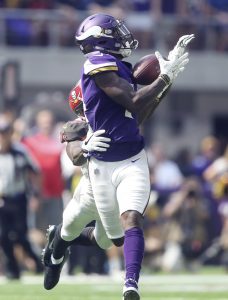 Vikings 34, Buccaneers 17
For two years, the word "potential" became synonymous with Diggs each and every Sunday during the NFL season.  He took some steps forward last year by tallying an impressive 903 yards, but the lack of a well-defined role hurt the Maryland product's ability to get in the end zone and become a high-end fantasy option.  Mike Zimmer made some tweaks to the offense in the off-season, and he may heave created a monster in the process.  Diggs scorched the Bucs for 173 yards and two touchdowns, including an impressive 59-yard grab. He has already surpassed his touchdown total from last year (tying his career-high of four) and is one game away from tying his total for 90+ yard performances.   Diggs is now undoubtedly a must-start in every format, and will feast against the Lions and Bears next.
Could Brissett be a Fantasy Savior?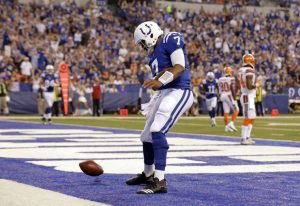 Colts 31, Browns 28
No, don't pick him up.  Definitely don't pick him up.  But, you probably should send him a thank you card for saving your receiving corps. After back-to-back meh performances, T.Y. Hilton was destined to ride the fantasy pine until Andrew Luck's mirage of a return date.  Enter Jacoby Brissett, who has been able to do one thing that eluded Scott Tolzien: establish a rhythm.  Although the second-year QB did most of the damage with his legs, Brissett was able to develop some chemistry with Hilton, connecting with the receiver on seven receptions (nine targets) for a touchdown and 153 yards.  I'm not saying Hilton is the man he was with Luck at the helm, but yesterday earned him a spot back in your starting lineup in a big way.  Unless you have a no-brainer replacement, I'd continue rolling the dice with Hilton.  You— as well as myself— can't afford to miss out on a performance like yesterday.
Julio Jones's Targets Continue to Climb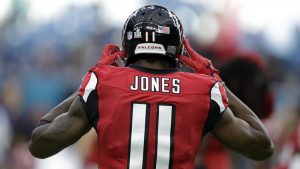 Falcons 30, Lions 26
Although Julio's stat line thus far doesn't justify taking him in the top ten, his increasing target numbers are a good sign heading into week four.  Through three games, Jones's targets have jumped from a pedestrian five, to a solid seven, and a noteworthy 12.  Arguably the most talented receiver in the NFL, Jones deserves high-volume targets week-in and week-out, no matter how diverse the Falcons' offense may be. Throw the ball up there, and the guy will pull it down more often than not and make a huge impact while doing so.  Juicy matchups against the Dolphins, Patriots and Jets are on the horizon, so expect the high-yardage (108 and 91 in the last two games, respectively) to continue and the TD drought to end.
Despite concerns, Howard Returns to Form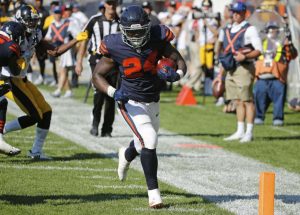 Bears 23, Steelers 17
Tarik Cohen snapping + Jordan Howard in a sling = Howard on the bench.  Rest assured my friends, Howard showed us it is too early to worry.  The second-year back asserted his position on the depth chart by notching 23 carries for 138 yards and two touchdowns.  Cohen will still have a role as a passing-down back, but Howard is going to remain the workhorse and produce.  A Thursday night tilt against Green Bay on short rest and a tough upcoming schedule may slightly dent his value, but it should not dissuade you from starting him.
Neither Anderson Nor McCory Dominates Carries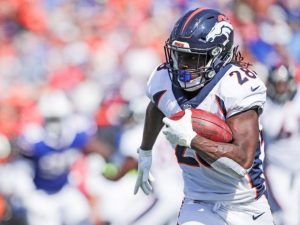 Bills 26, Broncos 16
Just a week ago, it seemed that C.J. Anderson locked up the lion share of carries in the Denver backfield for the rest of the season.  Meanwhile, LeSean McCoy has continued to falter since a stellar debut.  Anderson had fewer carries (eight for 36 yards) than Jamaal Charles (nine for 56 yards and a TD) in week three, while McCoy (14 for 21 yards) barely topped afterthought fullback Mike Tolbert (11 for 41 yards).  Although McCoy's job isn't in danger—unlike Anderson's—he is in danger of losing more carries and further underperforming.  Charles has been getting better and better by the game, and could steal some more carries.  It may not be time to panic yet, but both situations are definitely worth monitoring.
Blake Bortles Still Has It in Him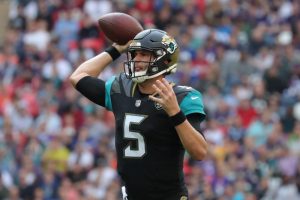 Jaguars 44, Ravens 7
Bortles kamikazied an ungodly number of fantasy teams last year, so I also air on the side of skepticism.  It didn't help matters that he was only 31-55 with two TDs and two picks through his first two games.  For shit sake, he had a QBR of 10.4 against Tennessee two weeks ago.  Yup, 10.4…  And yet, for those of you in Andrew Luck purgatory, this man could be your greatest hope, especially if you didn't have the brains or foresight to draft another QB.  In terms of fantasy output, the man who entered the season as a lost cause has improved in each game in the early going, so there are signs of hope.  With matchups against the Jets, Rams, and Colts in the next four weeks, I'd jump on Bortles while you have the chance, especially if you are dealing with Luck's uncertainty.
Simply put: Hunt Cannot Be Stopped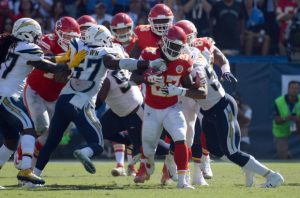 Chiefs 24, Chargers 10
One game is a fluke.  Two games is lucky.  But three games in a row?  Kareem Hunt is a force to be reckoned with, and it's about time the doubters stop writing his hot start off as the consequence of superstition.  The dude can run.  Hunt topped 140 rushing yards for the second time on Sunday, embarrassing the Chargers defense and the state of California in the process.  He is showing a Zeke-like dominance in the early going, averaging an unfathomable 8.5 yards per carry.  Bringing up his receiving stats at this point would be beating a dead horse, so just continue to ride the wave despite poor rush defensive matchups over the course of the next six weeks.
Andy Dalton Shows Signs of Life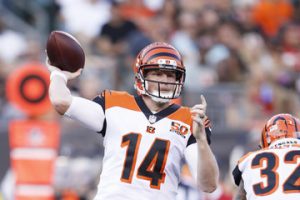 Packers 27, Bengals 24
I hate repetition, so I'll try to keep this to a minimum as to avoid re-writing the Bortles section.  Yesterday, Dalton went 21-27 for 212 yards and two touchdowns.  A pedestrian stat line by any means, this served as a sigh of relief for Bengals fans.  If you are suffering from QB trouble, Dalton offers another answer until Luck's injury (or other fantasy woes) heals up.
Graham is also Alive and Well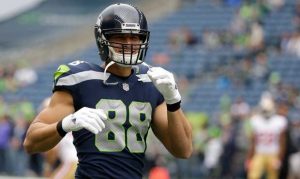 Titans 33, Seahawks 27
Maybe all Jimmy Graham needed to get on track this season was another chance.  After a dismal showing in week one, Graham was granted only two targets in week two.  Patience is hard to come by in fantasy, and Graham proved that theory correct as many owners started to panic.  Russell Wilson had his best game of the season in week three, totaling 373 yards and four TDs.  Graham was one of the main recipients, topping his season total by turning eleven targets into seven receptions and 72 yards.  With Wilson finding his groove, his tight end may also finally be bale to do the same with some decent October matchups against the Colts, Rams, and Giants.
Cousins Snaps Out of Early Funk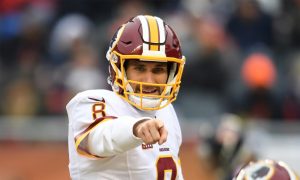 Redskins 27, Raiders 10
Finally, Kirk Cousins showed us what made him one of the top fantasy QBs in 2016.  He shook off the rust against an average Raiders defense with a 365-yard, three-TD effort.  Cousins was able to smoothly incorporate multiple weapons into his passing attack, with  Chris Thompson (six receptions for 150 yards and a TD), Vernon Davis (five for 58 and a TD), and Jamison Crowder (six for 52) pacing the team in receptions. Josh Doctson added a 52-yard TD to cap off a strong performance for the Redskins.  The added involvement of the rushing game—34 carries on 64 plays—helped open things up for Cousins.  If the offense can maintain a strong balance and do more to integrate Terrelle Pryor (two receptions on four targets Sunday), Cousins will become an increasingly dangerous weapon.  For the next two months, the Redskins have a 50-50 schedule in terms of opponent passing defense, so Cousins should be a reliable option moving forward.
Are these stories accurate?  Did I miss some major characters and plot points?  Let me know in the comments section below!