After a merciless Week 1, the Fantasy Gods were far kinder in Week 2. Scott Hanson had far more touchdowns to glowingly narrate, while injuries weren't quite as soul-crushing as David Johnson.  Still, the Trainer's Room was plenty full by the end of the day, leaving many owners scrambling again on the Fantasy Football Waiver Wire for Week 3.
Of all the positions, tight end got steamrolled the hardest. Most glaringly, Greg Olsen broke his foot and will now miss 6-8 weeks at minimum. Additionally, Rob Gronkowski suffered a "non-serious" groin tweak after a volcanic 6 catch, 116 yard, TD eruption, and is now a candidate to miss a week or two. Additionally, in the least shocking news in human existence, Jordan Reed (chest/clitoris) and Tyler Eifert (knee/back/meat curtains) also suffered injuries that could shelve them for some time. Thus, seam-stretchers will be a focus of this week's column.
Other positions were not unscathed, though. Jordy Nelson was the biggest name to exit Week 2 early, with DeMarco Murray not trailing far behind. Neither are projected for extended absences, but owners could be searching for depth in Week 2. Also, Rob Kelley (rib) and Corey Coleman (broken hand) are potential starters looking at missed time. Kelley's status has been updated to day-to-day as a cartilage injury, but Coleman could be looking at an IR visit.
Thus, we revisit the Island of Misfit Toys, in search for stitches and band-aids from a wire still plentiful with options.
Listen to The Wolf and The Truth discuss the Week 3 Waiver Wire on The Fantasy Fullback Dive:
Week 3 Waiver Wire Pickups
First check if your league is JV:
James White (RB – NE, 66% owned), Javorious Allen (RB – BAL, 55% owned), Jack Doyle (TE – IND, 63% owned), Jason Witten (TE – DAL, 66% owned)
Tight End Repair
Though this is largely a result of Week 2 injuries, tight end will be a major focus area for countless owners. Thus, we dive in for potential fill-ins. *REMINDER* Check for Jack Doyle and Jason Witten (current No.1 fantasy tight end is available in 66% of leagues?!) first, and blow the load on these TE1s if you lost Olsen.
Long-term Greg Olsen surgery
Step 1: Get a boring volume guy…
Benjamin Watson (TE – BAL, 1% owned)
Stat Line: 

Key Stat: 380 vacant targets, including Dennis Pitta's 121 looks from 2016 (third among TEs in the league)
Season Long Ceiling: Mid-range TE1 who becomes Flacco's clear No.2 guy in light of Danny Woodhead's injury.
Realistic Outlook: Low-end TE1 output most weeks
Usability: Immediate
Price: $15+ FAAB if I lost Olsen, otherwise $7-8
Breakdown: It's no secret Baltimore entered 2017 with 380 targets up for grabs. While everyone zoomed in on which receiver or running back would take the majority of the pie, Watson flew under the radar everywhere… well, outside Roto Street. As written by yours truly this preseason:
Keep in mind a large portion of those targets were thrown at the tight end, as Dennis Pitta's 121 looks ranking third among seam stretchers in 2016; when seeing 113 targets in 2015 with the SAINTS, Watson hauled in 74 catches, 825 yards, and 6 TDs, good for a top-seven fantasy campaign. Of course, an Achilles tear and his age (36) are working hard against him, so Watson's health is important to watch this training camp. He has returned to practice, but it remains to be seen if he can regain pre-injury form against father time
So far, so good on that whole regaining pre-injury form front. Watson showed no ill-effects of his surgery or age, and has played in 162 of 176 games since 2005, or 92%. Even without a tremendous ceiling, Watson is the ultimate floor play for owners who lost Olsen. Target him heavily if in TE need.
Zach Miller (TE – CHI, 5% owned)
Stat Line: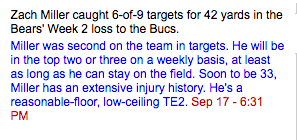 Key Stat: 50% of his 2016 contests went for double digit 1/2 PPR points
Season Long Ceiling: Rides volume and an improved QB rapport to low-end TE1 status all year
Realistic Outlook: Dependable "six point" TE2 who'll net a handful of double digit performances when he scores
Usability: Immediate (after swallowing back throw up)
Price: $8 FAAB if TE desperate, useless otherwise.
Breakdown: Through 10 GP in 2016, Miller was the TE11 in fantasy thanks to double digit 1/2 PPR points in 5 / 10 contests. He was as consistent as you could ask for in a streaming TE, and became a staple in many lineups who were seeking just a rental. Nothing about Miller's 2017 has been sexy, but he's already logged 10 catches and 15 targets on the season. His team will constantly be down, and his quarterback will continue checking down. If you're looking to avoid goose eggs in your tight end vacancy, Miller will be a solid bet for 5-8 weekly FPs, with a handful of 10+ point days stirred in.
Jared Cook (TE – OAK, 24% owned)
Stat Line: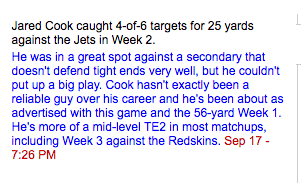 Key Stat: Third on Raiders in targets so far (11), as expected.
Season Long Ceiling: Goes on a TD binge on a team that frequents the red zone, propelling him to TE1 status
Realistic Outlook: A few explosions stirred in with highly underwhelming weekly outputs
Usability: Immediate if desperate
Price: $7 FAAB
Breakdown: Cook's start in Oakland hasn't been flashy, but him and Derek Carr have barely missed for potential massive plays twice now. This offense is clearly churning, and I'm always a fan of an athletic freak, in an offense that frequents the red zone, with a QB who can put the ball where he wants it. The dominant duo of Amari Cooper and Michael Crabtree will still ciphon the vast majority of looks, but Cook is the clear No.3 in this explosive offense, which means the TDs are bound to come.
Step 2 – Paired with the ceiling of…
Austin Seferian-Jenkins (TE – NYJ, 3% owned)
Key Stat: 5 catches, 110 yards, 2 TDs (Week 1, 2015)
Season Long Ceiling: Leads NYJ in targets, while Josh McCown continues peppering his seam stretcher with targets ala Gary Barnidge in 2015.
Realistic Outlook: TE2 at best on this horseshit team
Usability: Wait-and-see, 100%
Price: $1 FAAB
Breakdown: Yes, I'm well aware this is a Hail Mary. Indeed, Jenkins hasn't put anything quality on tape since, really, 2015's opening week. But man, that game was a beauty, and I've been chasing Jenkins ever since. The Jets abysmal receiving corp creates serious volume potential here, especially with McCown at QB. If a white oaf named Gary Barnidge can haul in over 1,000 and 9 TDs with McCown, a 6'5″, 265 lb athletic freak can too. Jenkins drew rave reviews as "dominant" in Training Camp after being labeled "the most impressive player in camp" during OTAs. There's been enough smoke, potential volume, and insane athleticism to fully justify a dart throw for the TE-needy.
Stopgap Stitches for Gronk, Reed, and Eifert owners:
Jesse James (TE – PIT, 35% owned)
Stat Line: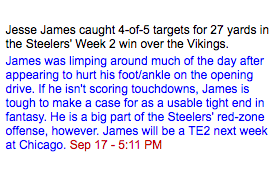 Key Stat: Two TDs in Week 1…on the road..vs. a bad defense (see any similarities this week?)
Season Long Ceiling:  Tops double-digit TDs as a red zone maven in a team that lives there.
Realistic Outlook:  Unreliable as anything more than a TD-dependent dart throw, especially if the more athletic Vance McDonald expands his role.
Usability: Immediate
Price: $1 FAAB
Breakdown: Season-long, James barely interests me. The team didn't acquire McDonald for no reason, and I expect the more athletic TE to eat into James' targets sooner than later. This all being said, James has the set-up to feast in Week 3. Chicago's defense has been non existent, as expected, and the Steelers should reside near the stripe even on the road. This gives James a fantastic shot at a TD, and a beautiful plug-and-play for those needing a quick-fix bandaid.
Dwayne Allen (TE – NE, 8% owned)
Stat Line: Non-existent.
Key Stat: No.2 TE depth chart spot (if that counts as a stat)
Season Long Ceiling:  Top-5 TE1 performances on weeks Gronk doesn't play
Realistic Outlook:  Low-end TE1, High-end TE2 performances on weeks Gronk doesn't play
Usability: Immediate if Gronk is hurt, never if Gronk is healthy
Price: $1 FAAB
Breakdown:  This is as pure a handcuff as they come, but Allen will ooze streaming appeal if Gronk misses any time with his groin injury. Tight ends have always played a key role in the Patriots offense, and Allen should see 5+ looks from Tom "Our Savior" Brady if called into starting duty. He'd be a top-12 option any week this occurs.
The Other Positions
Tier 1 – Potential Season-Long Difference Makers
Chris Carson (RB – SEA, 38% owned)
Stat Line: 

Key Stat: 20 carries with all backs available = clear workhorse for now.
Season Long Ceiling: High-end RB2
Realistic Outlook: Weekly flex play, but disappoints more often than expected thanks to a lackluster line and overall offense
Usability: Immediate
Price: $22+ FAAB
Breakdown: Eddie Lacy was a "healthy" scratch. Thomas Rawls' triumphant return yielded 4 yards on 5 carries. There's little doubt now: Carson owns this backfield. He's been, by far, the most impressive back on this roster, and Pete Carroll was adament he'd ride a hot hand if it emerged. Consider Carson's scorching.
Still, I'm not going "all-in" like so many other experts. While I'd love to own this type of volume, keep in mind Carson is running behind arguably the worst line in the league. Moreover, Rawls looked horrendous, but he could also be shaking off some rust. He could muddy this situation in no time. Carson is still a juicy option, especially for the RB and Flex needy, but I'll let someone else blow $30+ if that's what it'll take.
Alvin Kamara (RB – NO, 37% owned)
Stat Line:

Key Stat: Lead Saints RBs in Week 1 snaps, and topped Adrian Peterson again in Week 2.
Season Long Ceiling: Every week PPR RB2 upon finding his groove
Realistic Outlook: Serviceable bye week flex play with enough volume for a solid floor, and the explosion to create a major ceiling as well
Usability: Ideally a wait-and-see prospect, but can be used immediately if needed
Price: $20 FAAB
Breakdown: Of all the players on this week's list, Kamara presents with the most long-term upside. If I don't need an immediate starter like Carson, I'd side with the Saint here. He's clearly filling the team's "Darren Sproles / Reggie Bush" role, which is absolutely crucial. As explored in my "Penny Stock RBs" this summer:
"The Saints have led the league in passing yardage five of the last ten years, and never finished below fourth in that category during that time frame. Meanwhile, Sean Payton unsurprisingly leads all play callers with 168.4 RB Targets per season — 30 more than the next closest team….The offense is explosive, the workload pie is huge, and Kamara has earned himself a prominent seat at this fantastic buffet."
So far, Kamara's "seat at this buffet" has been even more prominent than I could have expected. Yes, he left some yardage on the field with a few disappointing drops and lackluster routes, but the 7 targets are still encouraging. Kamara's already seeing enough volume to warrant flex consideration, and his role should only grow. Sign up now before he rips a 70 yard TD and it's way too late.
JJ Nelson (WR – ARI, 18% owned)
Stat Line: 

Key Stat: In his past four games, Nelson has averaged 92.5 yards and scored 4 TDs. Has totaled 8 TDs in 11 games as starter.
Season Long Ceiling: Legitimate WR2 as the Cardinals top guy
Realistic Outlook: WR3 more weeks than not
Usability: Immediate
Price: $20 FAAB
Breakdown: Nelson's 4.28 speed has consistently been fully on display since he took over as a starter in Week 8 last season (vs. Car). More impressive, however, is his development as a route runner and especially with his hands — check out the concentration on some of these catches:
This guy has consistently made plays since being afforded the opportunity: 8 TDs in 11 games as a starter, including one in 6 of his last 7 contests. He's also averaged 92.5 yards over his past 4 contests, and has honestly looked like the top-dog here in 2017. This is no fluke: Nelson is the real deal, and can be immediately inserted into lineups. My only concern is his small frame, but this is the exact type of mold Bruce Arians has thrived with. Ride Nelson with confidence.
Chris Thompson (RB – WAS, 30%)
Stat Line: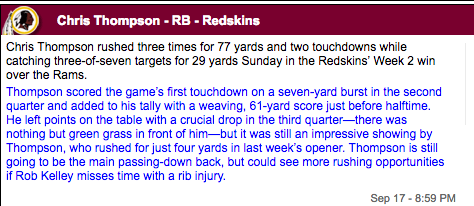 Key Stat: Three total TDs and 12 targets through two games
Season Long Ceiling: Quality PPR RB2 as key cog in pass-heavy attack
Realistic Outlook: Flex option more weeks than not
Usability: Immediate in PPR
Price: $18 FAAB
Breakdown: If I asked you to name 2017's Top-5 RBs thus far, would you ever get to Chris Thompson? Yet, going completely unacknowledged, Thompson trails only Kareem Hunt, Ty Montgomery, Todd Gurley, and CJ Anderson in Fantasy Points thus far.
Most will write this off as flukey, and Thompson's current scoring rate is obviously unsustainable. Still, this is overshadowing his key 2017 role as the main pass-catching back in an aerial-based attack. He's become one of Kirk Cousins' most relied upon targets with Pierre Garcon and DeSean Jackson now gone, and Thompson should continue having his number called. He has enough ability to keep gaining major chunks each and every time he touches the rock, which should be 10-12 times a game. Don't let the "unsustainability" blind you to the valuable fantasy role here — Thompson is the back to own in Washington moving forward.
Tier 2 – Well-Worth Rostering
Chris Johnson (RB – ARI, 12% owned)
Stat Line:

Key Stat: Kerwynn Williams 2017 YPC = 2.3
Season Long Ceiling: Usable RB2 for bye weeks and depleted teams
Realistic Outlook: Depth play, and nothing more
Usability: Stash-and-see
Price: $11 FAAB
Breakdown: As predicted, Kerwynn Williams was FAAB Fool's Gold this week, so hopefully you weren't the fool to burn serious money in him. Johnson looked far more spry than he did last season, and Bruce Arians is already talking about a potential depth chart change favoring CJ2K:
Arians: RB Chris Johnson might move up depth chart but something to sort out this week.

— Darren Urban (@Cardschatter) September 18, 2017
Remember, while David Johnson was being groomed as a rookie, Johnson was among the top-three leading rushers in the league to open 2015. He knows the system, has his coach's trust, and could be a weekly source for 12-15 carries in a slightly above average attack. That's well-worth owning, especially for the RB needy. Assuming Rob Kelley's injury is truly day-to-day, CJ2K will be the cheaper, but more useful, waiver add this week.
Allen Hurns, (WR – JAX, 26% owned)
Stat Line: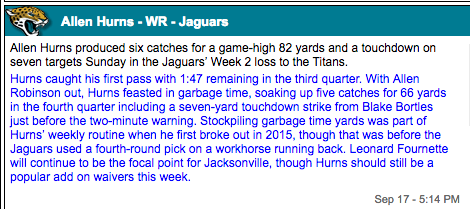 Key Stat: Jaguars leading WR for two straight weeks.
Season Long Ceiling: Rides top-target volume into quality WR3 season.
Realistic Outlook: QB inconsistency renders Hurns a matchup-based flex play
Usability: Immediate
Price: $11 FAAB
Breakdown: How quickly we forget Hurns is just one season removed from a 1,000+ yard and 10 TD campaign!  Blake Bortles' ineptitude and the league's run-heaviest attack will rightfully have that effect. Still, people are looking for reasons to crucify Hurns' potential, rather than seeing the upside here: Hurns brings talent to the table. He's the No.1 WR here and Bortles most trusted target (sure Marquise Lee out-targeted him versus Tennessee, but Hurns has been far more reliable and efficient. He's the guy). Even in a run-obsessed scheme, a team's top target shouldn't be available in over 70% of leagues.
Rashard Higgins (WR – CLE, 0% owned)
Stat Line: 

Key Stat: Team leading 11 targets and 95 yards following Corey Coleman's early departure.
Season Long Ceiling: Quality WR3 play on sheer volume
Realistic Outlook: Flex Matchup Play
Usability: Immediate (Colts in Week 3, surrendering the second most FPs to WRs in 2017)
Price: $9  FAAB
Breakdown: I won't pretend I know a whole lot about Higgins. Still, two things I respect:
He led the nation in college receiving yards (1750) and TDs (17) in 2014. I don't care what your combine or SPARQ scores say, there's an "it" factor, especially mentally, that is necessary to do this
Matt Harmon – one of the industry's best at breaking down WR tape — charted Higgins as a very complete WR in his Reception Perception.
I'm still leery that much of this production came with starting QB Deshone Kizer out of the lineup with migraines, as backup Kevin Hogan was in for most of Higgins' production. These two may have established chemistry from practice team reps, so this team-high production needs to be taken with a grain of salt. Even still, Higgins will get a week of rapport building with Kizer, and squares off against a non-existent Colts defense that has surrendered the second most FPs to WRs. He's a WR3 and Flex streamer at it's finest, and could develop into far more.
I'm not blowing my load on…
Samaje Perine (RB – WAS, 22% ownership)
Stat Line: 

Key Stat: The volume: 21 carries (and 36 RB carries on this "pass-centric" attack)
Season Long Ceiling: High-end RB2 as a more explosive Rob Kelley.
Realistic Outlook: Mostly just a handcuff, and nothing overly special when not
Usability: Stash-and-see at best (pending Kelley's status)
Price: $7 FAAB
Breakdown: Perine was originally far higher on this list with starter Rob Kelley thought to be dealing with a "fractured rib." However, latest reports suggest Kelley is in far better shape:
#Redskins coach Jay Gruden says RB Rob Kelley (rib cartilage) and TE Jordan Reed (chest contusion) are day-to-day. Nothing major.

— Ian Rapoport (@RapSheet) September 18, 2017
Even if/when Kelley misses time, Perine has looked mediocre at-best when afforded opportunities. This is still a team that fields a top-10 line and should reside in the red zone a fair amount, and thus the surrounding situation is intriguing. But I'm not going to be the one shelling out huge bucks for an uninspiring handcuff who might not even make a start this season. Stir in fumbling concerns, and Perine has the looks of this week's overpriced asset.
Others to note
D'Onta Foreman (HOU – RB, 7% owned)
Stat Line: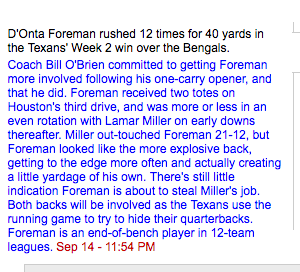 Key Stat: After promising Foreman more work, HC Bill O'Brien stuck to his word, feeding the Doak Walker Award winner 12 carries.
Bottom Line: Foreman should not be considered for lineups right now, but he is an ideal bench stash. If he continues receiving double-digit carries, it's only a matter of time before his talent severely outshines the plodding Lamar Miller. This mammoth back will soon take the reigns of the run-heaviest attack in the league over the past three years, and minimum RB2 value is bound to follow.
Jermaine Kearse (WR – NYJ, 6% owned)
Stat Line: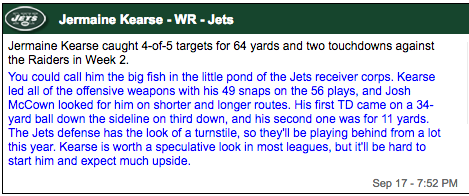 Key Stat: Team leading 49 snaps on 56 plays
Bottom Line: Kearse appears to have ascended to the clear No.1 WR role over Robby Anderson, and now gets the same "sleeper" logic applied: top-WR in an offense that'll be playing from behind nearly every game = lots of volume, even if the talent is lackluster. He's got the season long upside to top Nelson or Hurns, at a fraction of the price.
Kendall Wright (WR – CHI, 15% owned)
Stat Line:

Key Stat: 134 targets, 90 catches, 1089 yards in 2014 under now Bears OC Dowell Loggains
Bottom Line: Wright finally looked the part of the Bears top target, and should be a comfortable, but low-ceiling, source of volume for the remainder of 2017.
Marquise Lee (WR – JAX, 34% owned)
Stat Line:

Key Stat: Team-leading 12 targets
Bottom Line: Hurns seems like the top-guy, but Lee has the opportunity to seize this… if he ever stops dropping the ball.
Jalen Richard (RB – OAK, 4% owned) 
Stat Line: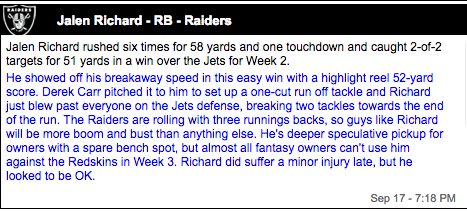 Key Stat: 109 combined yards on only 9 touches
Bottom Line: Richard continued where he left off in 2016: making enormous plays on minimal touches. Unfortunately, the number of looks will almost always remain in the single-digits, meaning you'e begging for more Hail Mary long scores like this week if ever using him.
Geronimo Allison (WR – GB, 1% owned)
Stat Line:

Key Stat: 61-of-76 snaps due to injuries
Bottom Line: Yes, a creature named "Geronimo" would drip in "streaming appeal" if Randall Cobb or Jordy Nelson miss any time. Aaron Rodgers' aerial pie is simply that valuable, and even a fourth, no name target could be flexed if desperate.
Cordarrelle Patterson (WR – OAK)
Stat Line: 

Key Stat: 4 offensive touches (lol)
Bottom Line: Patterson is only worth a speculative add in the deepest of leagues, but he'll deserve universal consideration if these touches continue rising in such a high-powered attack. He clearly still has the playmaking chops, and the coaching staff raved about his offensive role. Patterson could have a late season Tyreek Hill type of surge in him with the right usage.
Here at Roto Street Journal, we know that the Draft is only Step One towards a title. Dominating the Waiver Wire is equally crucial, and we're here to provide the most comprehensive takes around.
Listen to The Wolf and The Truth discuss the Week 3 Waiver Wire on The Fantasy Fullback Dive:
Be sure to hit up The Wolf in the comments below, or on his Twitter Page (@RotoStreetWolf) for personalized questions and concerns. He'll let you know who to drop / who to target based on your roster and team needs, and get you ready for a crucial Week 3 matchup.