With Week 1 of the NFL season in the books, here are some of the top fantasy football storylines to keep an eye on — using only six words.
Derrick Henry Can Carry the Load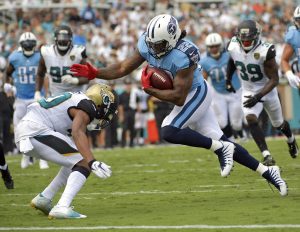 Titans 37, Jaguars 16
Although uninjured (just minor tightness), the Titans decided to rest Demarco Murray for the majority of the second half, giving Henry his first real shot to show what he's made of.  The second-year back took full advantage of his opportunity and showed Tennessee fans they have nothing to worry about once Murray's time is up.  Henry scored one of his team's three rushing touchdowns on the day, racking up 92 yards on 14 carries (including a 17-yard burst.)  If he is somehow still available in your league, pick him up ASAP.  If you are lucky enough to have him, either hang onto him for dear life or put a high price tag on him.  If Murray is inevitably injured, you'll be sitting on a gold mine.
Watch Out for a Motivated Martavis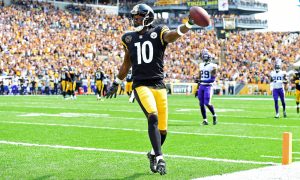 Steelers 26, Vikings 9
After a shockingly underwhelming season debut, Martavis Bryant came out with guns blazing on Sunday afternoon, making the most of his pedestrian four targets.  Coming off of a year-long suspension, Bryant is starting to show the speed and elusiveness that'd make him a WR1 on almost every other team in the league.  He hauled in three of his four targets for 91 yards, including a game-high 51-yard bomb.  With top defenders often doubling Antonio Brown, expect Bryant to continue to feast, especially next week against a pitiful Bears squad.
Baltimore's D is Again Fantasy Elite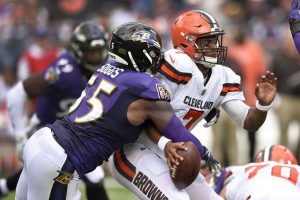 Ravens 24, Browns 10
With most fantasy eyes focused on newcomer Jeremy Maclin and the backfield duo of Terrance West and the now-injured Danny Woodhead, the Baltimore defense flew under the radar.  Ya, I know, the Ravens have faced horrid competition in the stagnant Bengals' offense and the always abysmal Browns, but the performances of the Baltimore defense should not be overlooked.  Tyus Bowser, Brandon Carr, Eric Weddle, and Ladarius Webb all had interceptions on Sunday, brining the team's league-leading total to eight.  To put that into perspective, the next high total is three (Denver and Detroit).  The Ravens are also tied for second in forced fumbles and tied for fourth in sacks.  They should be a fixture in any lineup with matchups against the Jaguars, Bears, Vikings (depending on Bradford's status), and Dolphins within the next six weeks.
Coleman No Longer Threatens Freeman's Value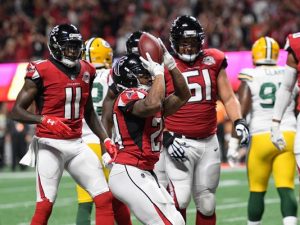 Falcons 34, Packers 23
Last year I finally decided to buy in on the importance of having a handcuff, so DeVonta Freeman and Tevin Coleman repaid the favor by biting me in the ass each and every week.  For the majority of 2016, Coleman challenged Freeman for the spot of higher-scoring running back, with the two alternating productive weeks.  And, of course, I was wrong each time I benched one for the other.  That won't be a problem for anyone this season.  At the end of last season, Freeman ran away with Atlanta's backfield scoring title and has not looked back. Coleman will have a good game here and there, but he is no longer the threat he once was.
The Ball is in Carson's Court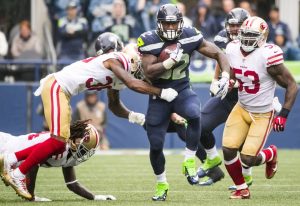 Seahawks 12, 49ers 9
So far, 2017 has been a mixed bag for the Seattle backfield.  Despite a a stockpile of viable candidates in Eddie Lacy, C.J. Prosise, Thomas Rawls, and rookie Chris Carson, the team remains in the middle of the pack in every major rushing category.  No one has been able to pull away from the competition and cement a role of the lead back.  Eddie Lacy ran his way to the inactive list, Rawls has been hurt, Prosise has been inconsistent, and Carson is an unknown entity.  However, the back with the smallest chance of carving out a larger role may have done so this weekend, as Carson sliced the 49ers defense for 93 yards on 20 carries.  Quarterback Russell Wilson was second on the team with 12 rushing attempts, while Rawls was a distant third with five.  Carson has a chance to build his case to be the starting back with matchups against Tennessee and an awful Titans team heading into October.
Gurley is Back with a Vengeance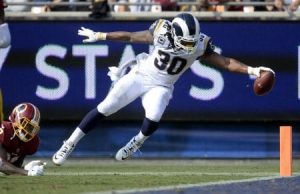 Redskins 27, Rams 20
After losing a fumble early, Todd Gurley II came storming back and put the Rams on his back in a tight contest.  Gurley compiled 136 total yards and two touchdowns and put the rest of the NFL on notice that he's back to the form that made him one of the most dangerous offensive forces in the NFL.  As long as the passing attack remains inconsistent, Gurley will carry the load for Los Angeles.  Expect monster games as he takes on three of the bottom ten rushing yards per game defenses (San Francisco, Seattle, and Jacksonville) in the next four weeks.
C.J. Anderson Destroys Denver RB Debate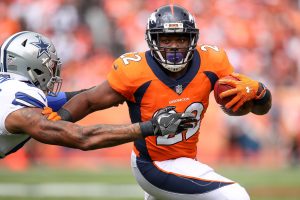 Broncos 42, Cowboys 17
After an up-and-down 2016 campaign, C.J. Anderson's spot as the lead back in Denver was in jeopardy with the signing of Jamaal Charles and the imminent return of Devontae Booker.  However, all quells were seemingly put to rest yesterday when Anderson feasted on a barren Cowboys' defense.  He embarrassed Dallas at every turn, averaging 4.7 YPC en route to 118 yards and a touchdown, while also contributing a receiving touchdown and 36 yards through the air.  Anderson looked like the versatile back that started turning heads in 2014, and appears ready to take on tough matchups against the Bills, Raiders, and Giants.  Ride the momentum Anderson is building.
Matt Forte Isn't Dead Just Yet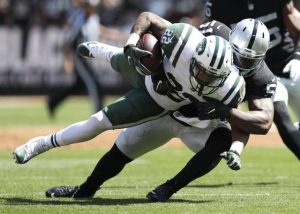 Raiders 45, Jets 20
He's not the player he once was, but Forte may still have something to offer fantasy owners.  The former Bears stalwart showed signs of life both on the ground and through he air, posting a line of nine carries for 53 yards and four receptions for 38 yards.  Forte out carried Bilal Powell 9-6 and was the recipient of two more targets (4-2).  Although this performance isn't headline worthy, it shows that Forte could steal back the starting job if he continues to take advantage of his opportunities.  The Jets have some favorable matchups coming up against some of this season's poorest rushing defense—including Jacksonville and New England—so it's now or never for Forte to expand his role.
Landry Remains Target King Despite Change
Dolphins 19, Chargers 17
All anyone talked about coming out of Dolphins camp was the amazing chemistry developing between Jay Cutler and DeVante Parker, which would ultimately help Parker usurp Jarvis Landry as the team's most-targeted receiver.  If yesterday were a microcosm of the 2017 season as a whole, then the status quo isn't changing anytime soon.  Landry tallied 13 receptions on a monstrous 15 targets (compared to four and nine for Parker) for 78 yards.  Although Parker outgained Landry, the latter proved his worth as a beloved PPR stud.  Jarvis will continue to be a PPR fixture as long as he remains healthy.
Cohen Hype Should Stay in PPR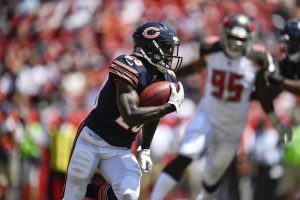 Buccaneers 29, Bears 7
The top waiver-wire pickup following opening weekend, Tarik Cohen owners smiled brightly when news of Jordan Howard's banged-up shoulder emerged.  Unfortunately, The rookie running back did little with the starting back in a sling for part of the game.  Cohen underwhelmed on the ground, rushing seven times for just 13 yards.  However, he still maintained value in PPR leagues, converting eight catches into 55 yards.  While his value in standard leagues might be suspect, expect Cohen to remain a steady flex contributor in PPR formats.
Peterson's Days of Relevance Are Dwindling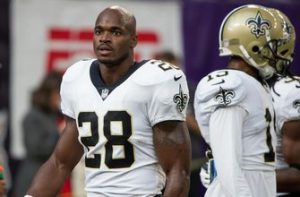 Patriots 36, Saints 20
After a much-noted sideline confrontation with coach Sean Payton in week one, AP got what he wanted and received a larger chunk of the carries in week two.  And what did he do?  Well, both he and Ingram received eight carries a piece, but Ingram doubled the former Viking's output with 52 rushing yards.  Need I do the math?  Peterson is off to an auspicious start in the Big Easy, and another morbid week will send him straight to the waiver wire.  Start mulling over your options before it is too late.
Ertz is Finally Meeting the Hype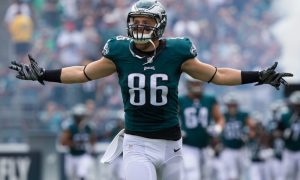 Chiefs 27, Eagles 20
Every year I hear how great Zach Ertz is going to be and how whoever grab him will have the steal of the draft.  And each year, someone earns the title of naysayer.  This might be the year the lucky son of a bitch is finally right.  In the early going, Ertz is averaging nine receptions and 95 yard per game.  If he continues to receive the targets, it seems his days of inconsistency may finally be in the past.  With Greg Olsen heading to IR with a broken foot, Ertz's value only increases/  He has the potential—as they've been saying for years—to be a top-five tight end come season's end.
Nelson's a Diamond in the Rough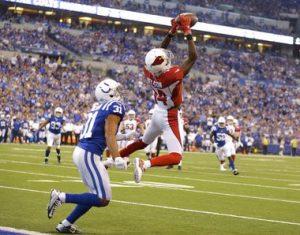 Cardinals 16, Colts 13
With Michael Floyd out of town and John Brown and David Johnson out of action, J.J. Nelson is taking full advantage of his expanded role in the Arizona offense.  He received more targets than Larry Fitz (seven to six), turning five receptions into a fiendish 120 yards and a touchdown.  Nelson's speed has made him an even bigger threat with an increased spotlight, and he has put that speed to use in making several acrobatic catches.  Matchups against an embarrassed Cowboys' defense and the sluggish 49ers make him an intriguing flex or WR3 option the next two weeks.
Newton's QB1 Value is Quickly Deteriorating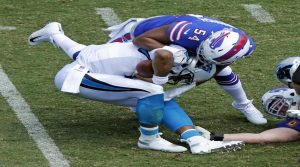 Panthers 9, Bills 3
God has Cam Newton been awful.  Granted, he doesn't have the best receiving corps in the league, but there are worse out there (see Bears, Chicago).  Newton continued his foray into mediocrity against the Bills over the weekend, failing to convert on a TD pass while going just 20-32.  Through two games his completion percentage only reaches 60% if you are generous enough to round him up, while he only ranks 20th in the league in Total QBR behind awe-inspiring names such as Jay Cutler and Josh McCown.  Losing Greg Olsen for two months doesn't help matters, as Newton will now have to lean more heavily on an inconsistent Kelvin Benjamin.  If possible, another bad week might make it time to consider other options.
Dalton is Hurting Green's Unquestioned Value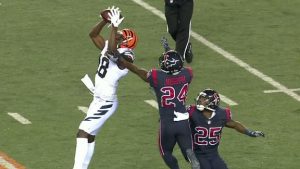 Texans 13, Bengals 9
The only thing worse than Andy Dalton's performance this season is shitting your pants on prom night.  That's it, plain and simple.  It is not only affecting those who were foolish enough to rely  on the oft-questioned quarterback, but also those who took his top target, A.J. Green.  Green is undoubtedly a top-five WR talent, but it is hard for him to showcase his skills when his QB can't consistently get him the ball.  The Georgia product salvaged his day by hauling in a 5o-yard reception in double-coverage, but did little else to pad his stat line.  If Dalton continues his poor play, Green may fall into borderline WR2 territory.
Are these stories accurate?  Did I miss some major characters and plot points?  Let me know in the comments section below!