The return of the NFL this past Sunday was a very welcomed sight. Much like when we finally saw Daenerys Targaryen return to Dragonstone and Westeros in Season 7's dramatic opener this past July.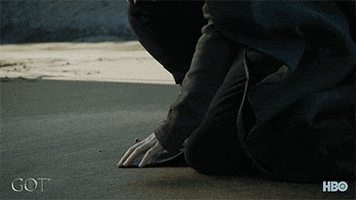 Anyways, football is back but it was a bit of a rough opening Sunday. David Johnson was lost for an extended period of time, Le'Veon Bell turned in a disaster effort, Odell Beckham Jr missed Week 1 and Julio Jones did nothing special. The first NFL Sunday was dark and full of terrors, but I was able to channel the Lord of Light to hit and miss on some performances.
Hits:
Todd Gurley

– he might have struggled on the ground, but he ended up with a touchdown along with 5 catches for 56 yards. Good for roughly 17.8 points

Adam Thielen

– 9 catches for 157 yards, good for second most yards behind Antonio Brown.

Zach Ertz

– 8 catches for 93 yards and was the top target in the Eagles offense

Drew Brees

– 291 yards and a touchdown mostly coming in garbage time. Vikings defense held the Saints in check for 90% of the contest

Lamar Miller

– 65 rushing yards on 17 carries. Very underwhelming performance

Dez Bryant

– 2 catches 43 yards. Thank you Janoris Jenkins

Martellus Bennett

– 3 catches 43 yards
Misses:
Bilal Powell

– 22 rushing yards and 17 receiving yards on 5 catches. Give him more touches, please

Doug Baldwin

– 4 catches for 63 yards. Should have been much better

Leonard Fournette

– stiff armed me into the ground rushing for 100 yards and a score

DeAndre Hopkins/Golden Tate

– each had a handful of catches and a touchdown

Hunter Henry

– legit had no targets

Dragons/Starts
Quarterbacks
Jameis Winston (TB)
The season opener for Winston and the Bucs in Week 2 at home against the Bears. Chicago allowed for Matt Ryan to throw for over 300 yards, while Tampa Bay bulked up their receiving core in the offseason. Also, starting RB Doug Martin is out on suspension, so Winston will be asked to do more in his absence. An extra week of getting ready for the Bears could be very beneficial.
Others: Philip Rivers (LAC), Jared Goff (LAR)
Running Backs
Melvin Gordon (LAC)
With the Chargers behind most of the game against Denver, the offense was forced to pass in order to catch up. Gordon looked phenomenal early on in the game and was also used a good amount in the passing game. Now playing at home against the Dolphins, the game flow should favor Gordon and the Chargers ground game. Miami was good for the 30th overall defense in regards to rushing touchdowns allowed. Gordon should have himself a nice day here.
Ty Montgomery (GB)
Montgomery silenced all the doubters who didn't think he'd see a true workhorse volume this year. Montgomery rushed 19 times and caught four passes against the Seahawks. In what's going to be a shootout in Atlanta coming up, there should be plenty of opportunities for TyMont to get his.
Others: Kareem Hunt (KC), Marshawn Lynch (OAK), Jacquizz Rodgers (TB)
Wide Receivers
Julio Jones (ATL)
As much as I hate putting someone so highly ranked as Jones in this, his matchup is just that juicy. The Packers cornerbacks rank among the NFL's worst and are ripe to be picked on by this monster.
Julio Jones gets these cornerbacks after a five target game.

Someone who is good at this stuff, what is the appropriate gif to use here? pic.twitter.com/SD5bXyTWK3

— Scott Barrett (@ScottBarrettDFB) September 12, 2017
Look how bad they are! Where Doug Baldwin couldn't capitalize, I'll take my chances with Jones at home after a rough showing. Coach Dan Quinn has also mentioned he would like to get Jones more involved in Week 2. Ya, me too buddy.
Tyreek Hill (KC)
Hill is the ultimate playmaker in the Chiefs offense as he's lined up both out wide, in the slot and in the backfield. Andy Reid is hell bent on getting him more touches and we saw why against the Patriots. Now facing the Eagles, Hill matches up against a very suspect cornerback group. Susceptible to big plays, Hill is the ideal candidate to turn loose and put up some more big time numbers. Especially with Ronald Darby's ankle basically exploding and keeping him out for an extended period of time.
Others: Keenan Allen (LAC), Terrelle Pryor (WAS), DeSean Jackson (TB)
Tight Ends
Rob Gronkowski (NE)
Another cop-out, but Gronk is in a dream matchup here with New Orleans. A bad secondary that was picked apart by the Vikings in Week 1 is awaiting the deadliest tight end in the game. The Saints don't have an Eric Berry that can lock down Gronk, and I'd imagine the Patriots coaches really want to get their all-pro tight end much more involved after a dud opening performance. He'll be a beast come red zone time.
Others: Charles Clay (BUF)
White Walkers/Sits
Quarterbacks
Marcus Mariota (TEN)
Mariota had a relatively quiet game on the road against a less than average Raiders defense. He struggled to finish drives, and his only touchdown came on a ten yard scramble into the end zone. Now Mariota travels to Jacksonville, who just showed a tremendous ability to rush the passer and get to the quarterback. The Jaguars also boast an above average secondary, so moving the ball could be difficult for Mariota through the air.
Others: Kirk Cousins (WAS), Carson Wentz (PHI)
Running Backs
LeSean McCoy (BUF)
McCoy looked dominant in Week 1 versus the Jets, so I'm a little hesitant to put him here. However, the Panthers defense looked pretty stout up front and limited the 49ers to under 60 yards rushing. Majority of that could have been game flow dictation, but San Francisco couldn't get anything going offensively. I'd expect the Panthers to stack the box on McCoy, who also suffered a wrist injury and had his goal line touchdown vultured away by Mike Tolbert.
Isaiah Crowell (CLE)
Crowell looked bad against the Steelers and found nowhere to run, going for 33 yards on 17 carries. Things wont get easier against divisional rival Baltimore Ravens who just completely shut down the Bengals offense. After all the off season love and hype we had for Crowell, questions are arising about whether Cleveland will be the anchor that drags him down.
Others: Carlos Hyde (SF), Kerwyn Williams (ARI)
Wide Receivers
Dez Bryant (DAL)
Doubling down with Dez here. He was locked up by Janoris Jenkins on Sunday Night Football, and now draws the best secondary in the NFL. Whether it's Aqib Talib or Chris Harris Jr, Dez won't have much to work with here. I'd imagine we see a lot of Ezekiel Elliott from the Cowboys, as you don't want to expose Dak Prescott too much to this defense.
Golden Tate (DET)
I whiffed on Tate last week as he hauled in 10 catches for over 100 yards against the Cardinals. Similar to Dez, we'll be doubling down on Tate as the Lions take on the Giants in New York on Monday Night Football. The Giants boast corner Janoris Jenkins, who as we know has been capable of shutting down Dez Bryant in three straight games. Although the Lions have more offensive firepower at receiver than the Cowboys, Tate would draw a very tough matchup if he's lined up against Jenkins in Week 2.
Others: Alshon Jeffery (PHI), Sammy Watkins (LAR), Stefon Diggs (MIN)
Tight Ends
Jordan Reed (WAS)
Word spread that Reed could possibly be playing through a fractured toe, but that didn't stop him against the Eagles. He had a pedestrian day with 5 catches for 36 yards. Reed seems to always be battling injuries, and hasn't been his dominant self in quite some time. Last week the Rams swarmed over the Colts offense shutting down nearly every player. With Reed still struggling to stay healthy, and a hot defense at the moment I have to stay away.
Others: Jason Witten (DAL)
Do you agree with Jimbo? Or is he clueless? Let him know at @theJMcGuinness.