Player Stock Ticker
Fantasy Football Waiver Wire Week 2: Tarik Cohen and Corey Davis could change seasons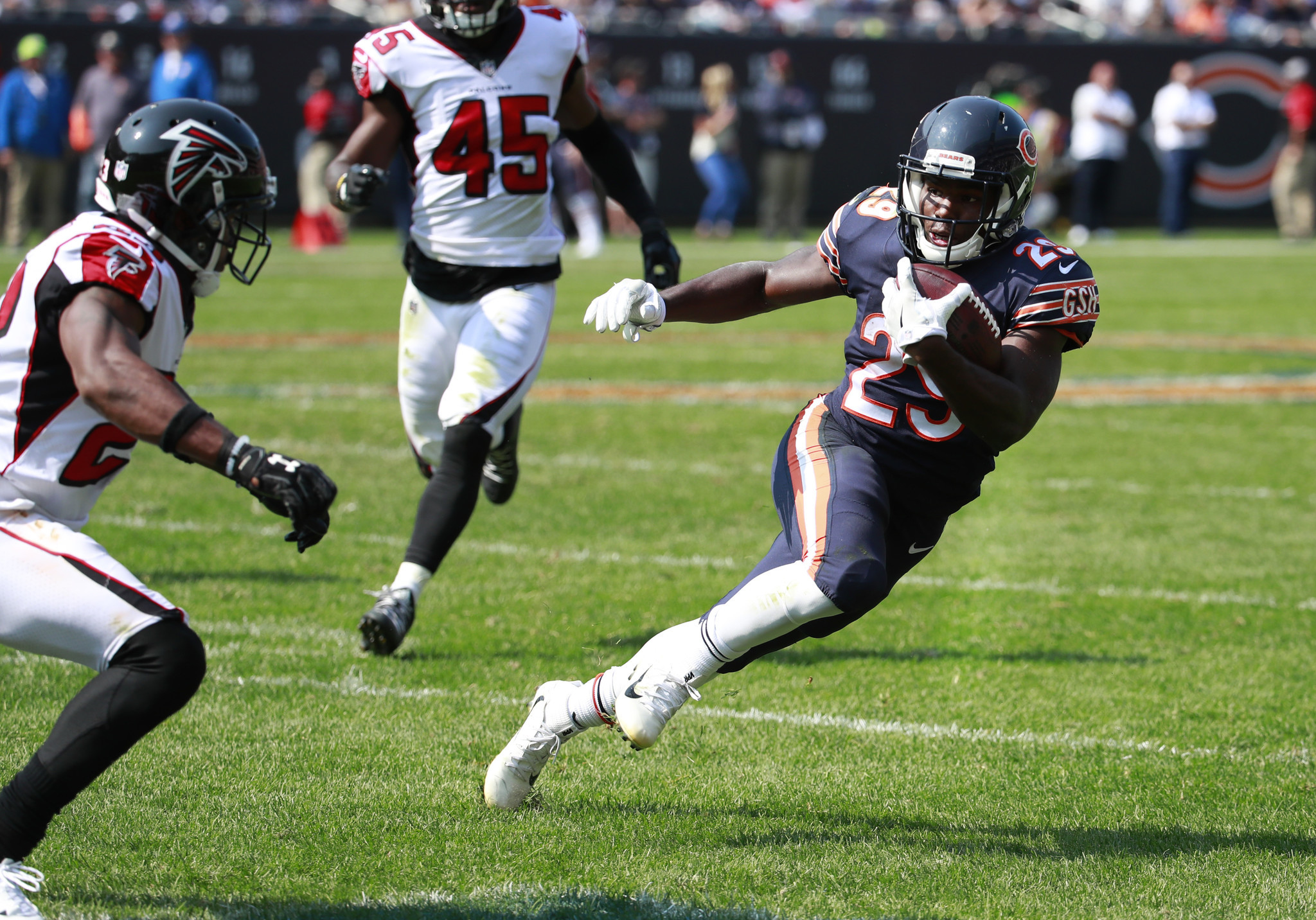 A hideous Week 1 of Fantasy Football is officially in the books. Consensus No.1 pick David Johnson is set to miss substantial time. No.2 pick Le'Veon Bell totaled less than 8 PPR points. The Jaguars and Rams defenses are tied for third in fantasy points through Week 1, and Alex Smith is one of only two players outscoring them (Kareem Hunt is the other).
If your world is a crumbled heap and you've been curled in a fetal throwing up on yourself, you're not alone.
Yet, when the Roto Sphere implodes, enormous treasures often lie on the other end. This is especially true in Week 1, when the Waiver Wire is often the most fertile it'll ever be. Per usual, 2017's first crop of pick ups presents some true potential season-long difference makers, alongside a whole bag of worthwhile lookers. This is a week you can't miss on.
Don't be among the sad group of owners who wait until the field is barren and end the season with FAAB rotting in your pockets. Pluck a few of these huge upside options and reap the game-changing points to follow.
Article Layout:
Players are listed in order of my preference. Obviously, many factors come into play. Roster composition can flip importance for particular cases (i.e. you're stacked at RB but thin at WR). Plus, your starting needs (i.e. "immediate value" versus "upside stashes") also are crucial factors. Thus,  consider this more of a launching point than a "set-in-stone" bible.
To further help with personal conundrums, I've organized the pickups into tiers. More importantly, I'll field all questions (i.e who to drop?!) on my Twitter (@RotoStreetWolf) or in the comments below.  Starting next Monday @ 7PM, we'll also be doing a Facebook Live so be sure you like our channels to get immediate and customized feedback.
*Note – Ownership percentages are based on Yahoo, and FPs are in a 1/2 PPR format.
Listen to The Wolf and The Truth discuss the Week 2 Waiver Wire on The Fantasy Fullback Dive:
Week 2 Waiver Wire Pickups
Tier One – Potential Season-Long Difference Makers
1) Tarik Cohen (RB – CHI, 13% owned)
Stat Line: 5 rushes, 66 yards + caught 8-of-12 targets for 47 yards and a TD (21.3 FPs)
Key Stat: 12 Targets
Season Long Ceiling: High-end RB2, especially in PPR formats
Realistic Outlook: Weekly top-20 RB option with a handful of RB1 outings
Usability: Immediate
Price: $35+ FAAB, #1 Waiver Priority (especially on RB needy teams)
(that run at 1:10…GASP)
Breakdown: Though predicting his insanely explosive debut was impossible, Cohen is no stranger to the Roto Street Journal. The Darren Sproles clone, who I had ranked 98 spots higher than the ECR and over 130 spots higher than his ADP, was featured in my Penny Stock Running Backs (also on FantasyPros), where I had this to say:
Despite a smaller frame, he is fearless when he hits the hole, and Cohen's impressive play has reportedly earned him a significant role: 8-12 weekly touches, according to Chris Mortenson… If Cohen truly receives this, he is going to net worthwhile flex production, at least. Expect Cohen to be among 2017's most popular waiver pickups. This guy can ball.
Turns out my Crystal Ball wasn't far off. Cohen's already 2017's top pick-up after only the first week of action.
The 5'6″ back repeatedly flashed everything you'd want to see: change of direction, tackle breaking, soft hands, crisp route running, and, most importantly, creative, high-volume usage in the passing game. In fact, his 12 targets led the team (and rank 6th in the NFL right now).
Funny, Twitter Trolls mocked me for listing Cohen as the potential biggest beneficiary of Cam Meredith's season ender. Where are they now?
With Benny Cunningham injured and lightyears below Cohen ability-wise, the rookie's 15ish weekly touches feel very secure. He's in a near-even split with the more plodding Jordan Howard, and is a genuine threat to approach the bigger-backs 2017 totals. Something tells me this isn't a new call though…
Another reason I'm very leery of Jordan Howard in 2017. Wouldn't sniff him til Rd 3 in #FantasyFootball drafts, he's well gone by then.?‍♂️ https://t.co/1yS3XFEmxc

— Wolf of Roto Street (@RotoStreetWolf) August 22, 2017
Every year, a couple season-long difference makers emerge in Week 1. Cohen has every look and feel of 2017's guy. Especially if you lost David Johnson, empty the bankroll. This kids a stud.
2) Corey Davis (WR – TEN, 46% owned)
Stat Line: Caught 6-of-10 targets for 69 yards (9.9 FPs)
Key Stat: Team target (10) and yardage (69) lead despite ranking third in WR snaps
Season Long Ceiling: WR1 upside once firmly established
Realistic Outlook: Inconsistent initial output in a crowded corps while establishing his rapport. High-end WR2 within a few weeks once this is in hand.
Usability: Immediate if needy, but a much better stash
Price: $30 FAAB, #2 Waiver Priority (has the longest-term ceiling for owners who don't need immediate starting value)
Breakdown: Similar to Cohen, Davis has long been on our radar. Via our Draft Day Investing Guide: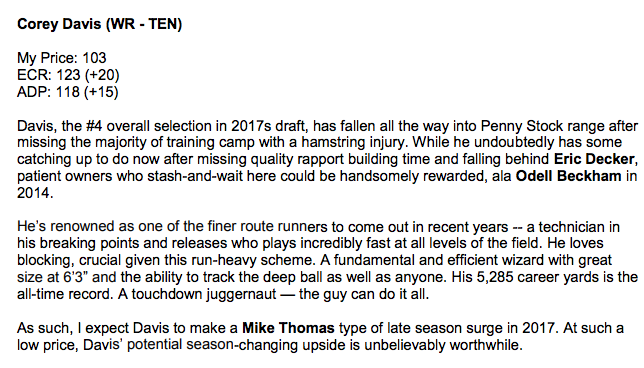 If Davis' Week 1 performance is any indication, this projected "Mike Thomas type of surge" could begin far sooner than later.
No, the 6 catches and 69 yards aren't exceptionally flashy. It's more the context and sign of the future that has me salivating.
After suffering a training camp hamstring injury, Davis came into the game at less than 100 percent and without an established rapport with his QB. This had coaches and writers projecting a limited early-season role:
Mularkey: No snap number count. Will use Corey Davis in specific situations vs. #Raiders.

— Paul Kuharsky (@PaulKuharskyNFL) September 4, 2017
Even with health, role, and chemistry against him, Davis still led the team in targets and yardage. He proved too talent to avoid, and this feels like an absolute floor.
So imagine the output when he firmly establishes himself as the true target hog?
This college record-setter has all the looks of a potential season-winner. Davis is still in a crowded pass-catching corps, and might take a few weeks to ascend to clear "top-dog" status. Still, his play on Sunday suggests this is only a matter of time, and Davis brings immediate WR3 usability with long-term WR1 upside.
Tier Two – Usable Players with Serious Ceiling
3) Nelson Agholor (WR – PHI, 13% owned)
Stat Line: Caught 6-of-8 targets for 86 yards and one touchdown (17.6 FPs)
Key Stat: Team-leading 8 targets in highly creative ways
Season Long Ceiling: High-End WR2 with a weekly WR3 floor
Realistic Outlook: A weekly WR3 option as Carson Wentz's voluminous slot WR.
Usability: Immediate
Price: $15 FAAB, #3 Waiver Priority
Breakdown: Tuning out the offseason puff on Agholor has become quite easy, if not recommended, after two seasons of drop-filled nothingness. We could't blame any skepticism towards reports of a "total rebirth" and an "outstanding, 180 degree difference."
But the real whistles have blown, and Agholor has already shown way more than ever before.
Yes, his 58 yard score was impressive. Most promising, however, was the Eagles commitment to generating touches for Agholor. He was motioning all over the place, taking passes from the slot, out of the backfield, and on the outside. Unlike the past, Agholor was finally delivering on his usage.
With actual game tape evidence in his corner, you'll regret ignoring Agholor's hype any further. He indeed looks "reborn" and ready to capitalize on the surprisingly large role carved out for him.
4) Cooper Kupp (WR – LAR, 26% owned)
Stat Line: Caught 4-of-6 targets for 76 yards and a TD
Key Stat: Team lead in yardage and first receiving TD of 2017
Season Long Ceiling: Dependable WR2 all year
Realistic Outlook: Rides the up-and-downs of Goff to some high-end WR2 weeks and some complete duds. Quality bye week flex, at minimum.
Usability: Can be used immediately, but is better served as a bench stash until he does it against an actual NFL defense.
Price: $15 FAAB, #5 Waiver Priority
Breakdown: Kupp looked like Jared Goff's clear go-to throughout the preseason, racking up 8 catches, 105 yards, and a TD in under a full game of burn. Importantly, this featured role, and Goff's vastly improved play, have both seemingly carried over into the regular season.
Kupp routinely made plays in his NFL debut, including a 28-yard snag with a defender draped over him, as well as his 18 yard TD on a beautiful route. Indeed, this success came against one of the worst secondaries in the NFL. Still, Kupp continues to thrive in Sean McVay's aerial bonanza, and Goff looks like a new man.
My "bold prediction" is looking increasingly realistic, and Kupp should be universally owned.

5) Danny Amendola (WR – NE, 45% owned)
Stat Line: Caught 6-of-7 targets for 100 yards (13 FPs)
Key Stat: 7 Targets in only 3 quarters as the clear "slot guy" through which this offense funnels
Season Long Ceiling: High-end PPR WR2 whenever on the field… which could be very infrequently.
Realistic Outlook: Less than 9 Games Played, but useful WR2 numbers for the ones he plays
Usability: Once back on the field… immediate.
Price: $15 FAAB, #4 Waiver Priority
Breakdown: If you guaranteed health, Amendola's Week 1 would place him among the "Season-Long Difference Maker" tier.
Unfortunately, he's already week-to-week with a concussion, and continues to prove he's made of the thinnest glass around.
On the positive front, Amendola looked like the clear "Edelman Replacement" in the slot on Thursday. From Troy Brown, to Wes Welker, to Edelman, this offense has always run through the slot WR. Thursday seemed no different, as Amendola was Tom Brady's clear go-to. As seen in "Do Your Job 2," Patriots coaches have praised 'Dola as their best "trash WR," meaning he thrives in congested situations — ideal for this close-quarters role.
Par for the course, however, Amendola didn't last a full game under the heavier usage. 100+ catches could be very real here, but Amendola's health is also difficult to put too much stock in. Still, he should be owned in far more than under 50% of league, and is worth a stash with his high-usage role confirmed.
Tier 2.5
6) Kenny Golladay (WR – DET, 17% owned)
Stat Line: Caught 4-of-7 targets for 69 yards and two TDs.
Key Stat: Two TDs go without saying for a guy advertised as a red-zone, "jump-ball" monster.
Season Long Ceiling: Scores 12+ TDs with frequent week-winning blow ups.
Realistic Outlook: Explodes and ghosts in equal measure, making him no more than a bye week ceiling play… but one who can win weeks.
Usability: I need to see it again to believe it, making him a bench stash for now.
Price: $12 FAAB, #6 Waiver Priority
Breakdown: Of all the names above him, Golladay seems the least likely to achieve consistently usable success. But it's certainly a possibility, especially after he tore up camp and preseason games with "devastating" red zone performances.
Though his consistency will likely be questionable as the third – to – fourth option here, Golladay has an indisputable knack for big plays. This was on display with his leaping 45 yard touchdown grab for the go-ahead score. Of course, the 6'5″ tower-of-terror was under three points until the fourth quarter, which previews the risk of Golladay.
Overall, this game likely highlighted the high-and-low roller coaster Golladay will be in 2017. Still, he's well-worth a bench stash to see if those highs can gain momentum — especially if Golladay can continue outplaying now No.2 Marvin Jones.
7) Buck Allen (RB – BAL, 1% owned)
Stat Line: Played 33-of-66 snaps, leading the team in backfield snaps and carries with 21 totes for 71 yards.
Key Stat: The usage.  Though this may have been a product of the blow out, Allen saw the highest volume.
Season Long Ceiling: Allen locks down the "passing back" role and racks up 50+ catches.
Realistic Outlook: Allen is inefficient but sees enough volume to warrant high-floor flex play in bye-weeks.
Usability: He can be trusted for 6-8 PTs immediately, with room for double digits if he secures significant passing game work.
Price: $10 FAAB, #6 Waiver Priority
Breakdown: Allen will likely come highly recommended from most, but color me cautiously optimistic. The usage does immediately pop off the page, but this game was also a blow out. West was the guy early-on, and performed quite well (80 yards, 1 TD).
This reeks of the Ravens seeing what they had amidst an already-over contest. If that's the case, they're likely unimpressed with his 3.3 YPC. I bet this goes down as Allen's season-high on carries, barring an injury to West.
The most intriguing upside that most are ignoring, however, is Allen's pass-catching prowess. He's only two seasons removed from a 45 catch season, and was held in high-regard here as a college prospect. With Woodhead's targets vacant, Allen could thrive as the high-volume RB pass-catcher, with the Ravens placing second in the league with 7.5 RB receptions per game in 2016.
Should Allen lock down this role, he'd be a threat for double-digit 1/2 and full PPR points every single week. This gives him some upside, but I simply like the talents above him a whole lot more.
I'm not blowing my load on…
A) Kerwynn Williams (RB – ARI, 8% owned)
The knee-jerk reaction of many 
David Johnson 
owners will be turning to his immediate back up. However, with a three-headed committee (and a possible reunion with CJ2K) as the likely fill-in plan,
the aforementioned Cohen and Allen make far better stop-gaps
. There's a chance Williams runs with the opportunity, but nothing in his brief and dull career suggest this will be the case. I'll pass.
B) Chris Carson (RB – SEA, 15% owned)
Yes, Carson lead the Seahawks RBs in snaps. Yes, he was clearly the most effective of the bunch, totaling 39 yards on his 6 attempts. Yes, Eddie Lacy looked like a complete tub of shit.
Still, Carson has many hurdles to leap if he's going to be trustable. For one, Thomas Rawls, the team's No. 1 back, didn't play. Even if Carson does secure a serious role, this line is among the bottom-three in the league, if not the worst. I don't mind Carson as a stash-and-see in case Rawls falters or is reinjured — he did put some impressive runs on tape. I just think the ceiling is capped, and much more usable and/or higher upside options exist.
Instead stash…
Chris Ivory (RB – Jax, 3% owned)
No one seems to be recognizing the RB1 upside that Ivory drips in. He's a bulldozing talent only two years removed from leading the AFC in rushing, and just one injury away from a featured gig in the league's most run-heavy attack; Doug Marrone stayed true to his word, as the Jaguars completing a meager 11 passes on 21 attempts, compared to 39 rushes.
Of course, an injury will be necessary for Ivory to ever be usable, but Leonard Fournette has never been the sturdiest back. Indeed, the rookie back looked strong, but his chronic foot injuries give me a "when, not if" feel for missed time.
Don't be forced into a $60 bid when Fournette suffers his inevitable foot injury. Stash away Ivory for free this week, and play the long game.
Others to Consider:
Marlon Mack (RB – IND, 9%): A featured "Penny Stock" RB this summer, Mack scored a TD in his NFL debut and was the clear No.2 behind Frank Gore. Though Mack is unusable in this awful situation without Andrew Luck, he makes for an excellent upside stash with Gore now 34.
Kendall Wright (WR – CHI, 13% owned): Kevin White put an early and emphatic end to the "Who's Chicago's No.1 WR" debate… by breaking his scapula. Wright now has a clear path to massive volume, though he failed to capitalize on Sunday. Tarik Cohen looks like the legitimate top-target here (which is why he's the top pick up of the week), but Wright does have familiarity with OC Dowell Loggains (134 target, 90 catch, 1078 yard season in this scheme in Tennessee).
Allen Hurns (WR – JAX, 9% owned) and Marquise Lee (WR – Jax, 16% owned): Necessary mentions in light of Allen Robinson's season ending ACL tear. Yes, this team is glaringly run heavy. Still, Robinson leaves a massive target void after accounting for 24% of looks and 37% of their air yards. Most are siding with Lee, I personally like Hurns, and neither are particularly thrilling either way.
Julius Thomas (TE – MIA, 47% owned) Double check if this potential TD beast was dropped in light of last week's "Bye Week." 24 TDs in 27 games under Adam Gase.
Mohammed Sanu (WR – ATL, 12%): Obligatory reminder that Sanu is the "clear No.2" in Atlanta after leading the team in snaps (72%), targets (9) and receptions (6). Also my obligatory chance to tell you I don't care, barring an injury. I still prefer Taylor Gabriel's upside if I'm rolling out a Falcons WR not named Julio.
 Paul Richardson (WR – SEA, 15%): Was a near full-time player as Seattle's clear No.2, logging 41-of-49 snaps while tying for the team's lead in targets (7). This line is so horrendous, however, that no serious aerial volume should ever be expected here. Unexciting.
Charles Clay (TE – BUF, 11%): Panned out as a Week 1 streaming recommendation as Tyrod Taylor's only returning receiver weapon. Still, this was against the hapless Jets, and Clay's likely to fade into the abyss as Zay Jones and Jordan Matthews continue to grow in the offense.
Defense of the Week:
Baltimore Ravens (48%)
This is about as easy of a call as you'll see. The Ravens are coming off a 25 FP road thrashing of Cincinnatti. They now get the Browns at home. Do you really need me to spell this one out?
I swear this is not a joke but…
Giorgio Tavecchio (K – OAK, 2%) could win leagues
I kid you not, an owner in my league drafted Tavecchio before Sebastian Janikowski went to the IR… and also dropped him before this news was revealed. Tavecchio's consequent 19 FPs are an obvious sign of the Fantasy Gods sending their smite.
In all seriousness, this offense is going to live over the 50 yard line, and Tavecchio show he can accurately boot it from pretty much anywhere (two 50s, one 40, and one 20). I hope to enter Week 2 with Tavecchio booting in all my lineups. Put in the extra buck, and go $2.
Listen to The Wolf and The Truth discuss the Week 2 Waiver Wire on The Fantasy Fullback Dive:
Subscribe on iTunes or Stitcher to hear our weekly hot Fantasy Football #Takes
Here at Roto Street Journal, we know that the Draft is only Step One towards a title. Dominating the Waiver Wire is equally crucial, and we're here to provide the most comprehensive takes around.
Be sure to hit up The Wolf in the comments below, or on his Twitter Page (@RotoStreetWolf) for personalized questions and concerns. He'll let you know who to drop / who to target based on your roster and team needs, and get you ready for a crucial Week 2 matchup.