With Week 1 of the NFL season in the books, here are some of the top fantasy football storylines to keep an eye on — using only six words.
Hunt can be a top-tier RB1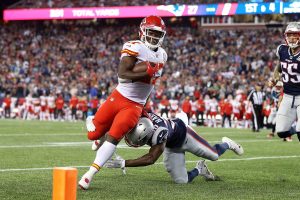 Chiefs 42, Patriots 27
The rookie's stat line speaks for itself: 148 rushing yards (on only 17 carries), 98 receiving yards and three total touchdowns.  Kareem Hunt carved through the New England defense in explosive fashion, peeling off one run for 58 yards and one catch for another 78.  It's only one game, but it was against elite competition.  The hype is real.
McCoy shows no signs of slowing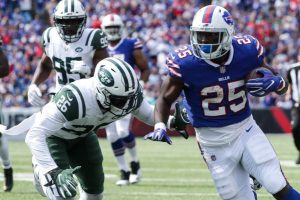 Bills 21, Jets 12
Approaching age 30, many peculated that this would be the year LeSean McCoy would finally show some chinks in his armor.  Don't fall into the tempting trap of "Well yeah, he played the Jets."  Shady dominated yesterday's game both on the ground (22 carries for 110 yards) and through the air (fives catches for 49 yards) and did so in impressive fashion.  With no truly consistent option in the passing game, expect McCoy to continue carrying the load and eventually find the end zone as Buffalo takes on a couple of tough defenses (Carolina and Denver) in the coming weeks.
Don't get down on Le'Veon Bell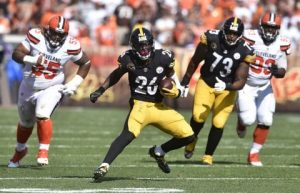 Steelers 21, Browns 18
Yeah, Bell had a terrible game.  And yeah, it was against an abysmal Browns squad.  Guess what, though?  IT HAPPENS TO EVERYONE.  Every player in every sport has a bad game from time to time, not matter his or her level of greatness.  There is nowhere to go from here but up, and expect it to happen quickly and fiercely.
Stafford is elite; get over it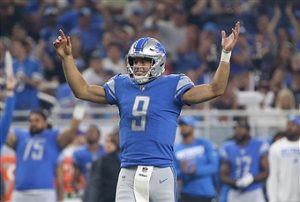 Lions 35, Cardinals 23
Since we are talking in fantasy terms, this statement could not be more accurate, not even if we added "MJ is the G.O.A.T." to the end of it.  For some reason the Detroit gunslinger gets overlooked over and over again, but he always puts up strong and consistent fantasy numbers.  With Golden Tate back to prime form, rookie Kenny Golladay stealing the show, Marvin Jones capable of exploding at any time, and Theo Riddick back to full health, Matthew Stafford is ready to have have possibly his best fantasy season yet.  If he is somehow available in your league, jump on him like a five-dollar bill blowing in the wind.  Stafford is the real deal in fantasy, and its time for everyone to admit it.
Leonard Fournette is the real deal
Jaguars 29, Texans 7
The LSU product's role is the Jacksonville offense was obvious from the moment he was drafted.  With only the Jets having a more dire situation at QB, Jaguars' coach Doug Marrone stressed this his team would run a run-dominated offense.  That being said, Fournette would have to hold up his end of the bargain and perform.  The rookie turned 26 carries into 100 yards and a TD, showing he has what it takes to anchor the pedestrian Jags offense.  The only thing that is going to slow down Fournette this season is an injury, so keep your fingers crossed.
Christian McCaffrey will dominate Carolina's offense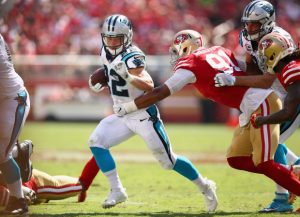 Panthers 23, 49ers 3
With many entering the season feeling that McCaffrey would be a key cog in the Panthers' offense, the former Stanford standout  proved speculators right.  The rookie running back  was the focal point on 20 of Carolina's 63 offensive plays, totaling 13 carries while pacing the team with seven targets.  After averaging 3.6 yards-per-carry, it will be interesting to see if McCaffrey further cuts into Jonathan Stewart's workload moving forward.  Next up is a Buffalo defense that stifled Bill Powell's versatility, holding him to only a tick over three yards-per-carry and only 17 yards on five receptions.
Colts receivers are untrustworthy without Luck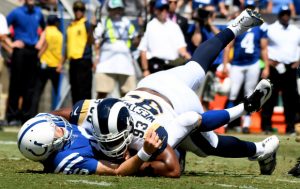 Rams 46, Colts 9
Damn do I regret drafting T.Y. Hilton in multiple leagues.  With Scott Tolzien at the helm, the Indianapolis receiving corps hauled in only nine of 18 targets for 128 yards.  Hilton and Donte Moncrief lead the way with 57 and 50 receiving yards, respectively.  A career backup, Tolzien was erratic and downright embarrassing.  Things won't get easier next week as the Colts host a stout Cardinals passing defense.  Until Andrew Luck comes back, Hilton is best used as a flex play, with Moncrief only being considered the same in deeper leagues.
Cohen could steal the PPR spotlight
Falcons 23, Bears 17
Unproven QB?  Check.  A mediocre and inconsistent set of receivers?  Check.  A second-year running back with huge potential and flashes of brilliance as a rookie? Check, check, check.  A recipe for an unquestionably one-dimensional offense had never been concocted to such perfection.  Although Jordan Howard dominated carries out of the backfield (13 of 19), rookie Tarik Cohen dominated all of the headlines by unexpectedly tallying 113 yards from scrimmage, most notably a 46-yard carry in the second quarter.  With eight catches (12 targets) for 47 yards and a touchdown, Cohen showed his true potential as a strong PPR play.  Although the Tampa Bay defense is on notice, Cohen has a strong chance to have another solid outing against a middle-of-the-road Bucs defense.
Cincinnati's backfield still up for grabs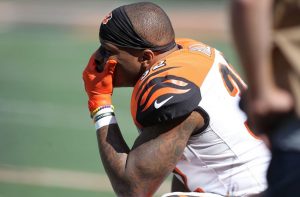 Ravens 20, Bengals 0
2017 appeared the be the year that the stagnant duo of Giovanni Bernard and Jeremy Hill would finally take a back seat.  Controversial yet talented rookie RB Joe Mixon has the tools to take over the role of lead back for the Bengals, but could not get the job done in his debut.  The University of Oklahoma standout turned eight carries into a tear-inducing nine yards.  Gross…  Marvin Lewis split the carries almost as evenly as mathematically possible: eight for Mixon, seven for Bernard, and six for Hill.  With the lead role up for grabs due to Mixon's awesome potential, it is hard to count on any of these backs as the Bengals host a scary Texans defense on short rest Thursday night.
Beast Mode's vacation served him well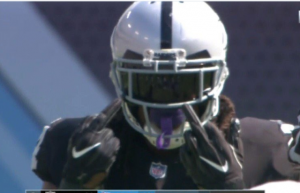 Raiders 26, Titans 16
It's impossible to predict how a player will perform coming out of retirement.  Brett Favre showed us both the graceful and the brutal throughout his many un-retirements.  Skepticism was especially high with Marshawn Lynch returning at the age most running backs begin to crumble (31).  However, Beast Mode proved the doubters wrong and looked like he hasn't missed a beat.  He bowled over defenders and broke tackles just like the good old days, and was his usual, efficient (4.2 YPC) self.  Expect his work load to increase as he becomes more and more comfortable in the Raiders' offense.
Montgomery's a true bellcow in GB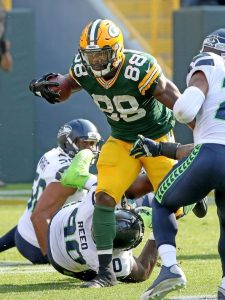 Packers 17, Seahawks 9
Though the numbers weren't eve-popping, Ty Montgomery's usage was extremely noteworthy: 23 touches, compared to two for rookie Jamaal Williams.  Nailing down this role was crucial, as we explored how meaningful a Mike McCarthy-featured back can be in fantasy.  Montgomery's RB1 upside is now more real than ever before, and he will feast on lesser defenses if he receivers similarly voluminous workloads for the remainder of 2017.  The lesser Atlanta defense will be a great measuring stick of his weekly ceiling.
Manning and Marshall need more time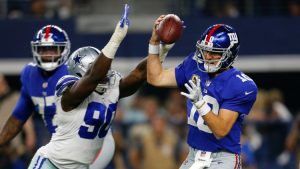 Cowboys 19, Giants 3
Without the presence of Odell Beckham Jr., the New York offense suffered in ways you can't imagine.  Or, to be more direct, it shit itself.  Many, including myself, assumed Eli Manning and Brandon Marshall would have an instant connection due to the latter's size and overall skill.  However, without Beckham there to hold the spotlight and draw defenders, Marshall was held to one catch for 10 yards—on a putrid four targets—in garbage time.  The blame falls squarely on Manning's awkward shoulders, and it will be up to him to find Marshall more often in the coming weeks, especially if Beckham manages to miss more time.  Next Monday night will be as good a time as any to take some chances when the Giants face off against a poor Lions defense.
Pryor's the No. 1 in Washington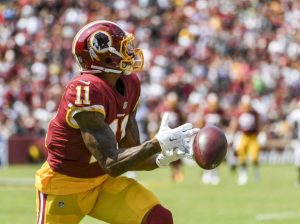 Eagles 30, Redskins 17
Like Ty Montgomery, Terrelle Pryor was able to define his role in a potent offense despite an underwhelming effort.  The former Cleveland Brown was almost targeted as many times (11) as Jordan Reed (eight) and Jamison Crowder (seven) combined.  This shows that Washington expects big things out of former QB, as Kirk Cousins already has strong chemistry with both Reed and Crowder.  These high-volume targets will eventually yield big results once Cousins establishes more of a report with his newest weapon, as Pryor has the speed and size to be a reliable WR1.
Are these stories accurate?  Did I miss some major characters and plot points?  Let me know in the comments section below!