Player Stock Ticker
Fantasy Football Week 1 Start/Sit: Believe 'Em or Bench 'Em (Standard Scoring)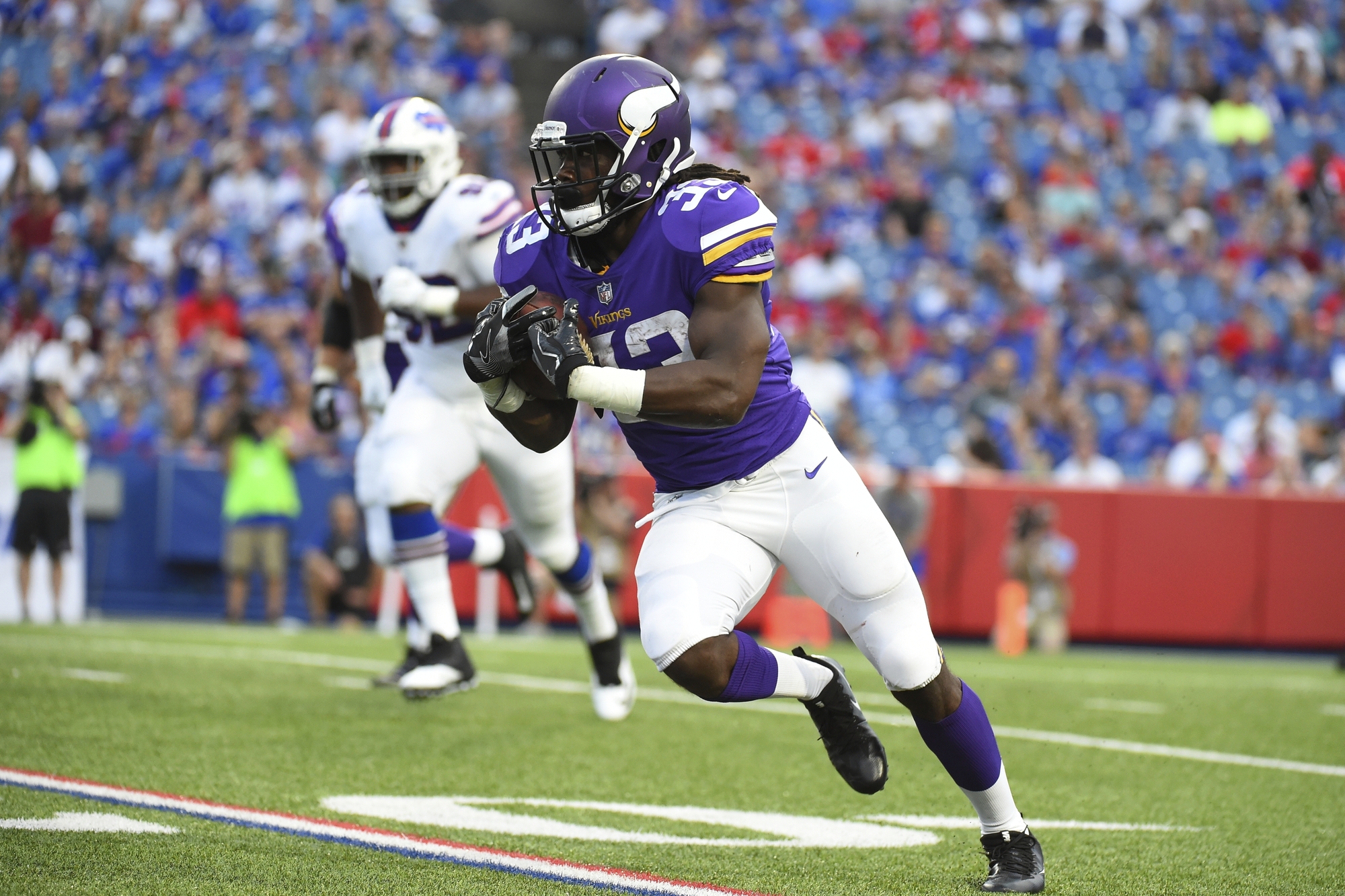 Week 1 is finally upon us! I hope you're happy with your draft. It's now time to start making decisions about your starting lineup. Knowing who to start and who to sit can be an art form. Some people turn to data and analytical evidence while others can just feel it in their gut. I feel a lot of things in my gut, but an ideal starting lineup isn't one of them.
If you're like me, we must rely on matchup data. Good players can look like scrubs against great defenses, and poor defenses can make scrubs look like great players. Truly great athletes can find success against any opponent, no matter their talent level. This article isn't about the Drew Breeses, the Julio Joneses or the Le'Veon Bells of the NFL. Those are guys you're going to start every week regardless of the matchup. This article was written to help you make sense of the rest of your roster. Below I point out players from every position who are primed to win you or lose you the first week of the season.
Believe 'Em
Quarterbacks
Carson Palmer
Palmer was nicked up in 2016 and his play was stifled because of it. The 37 year-old now says he enters this season feeling fresher than he ever has. Expect Palmer's healthy arm to feast on a Detroit defense that gave up the second most fantasy points to quarterbacks last season. The Lions ranked 31st in passing touchdowns allowed (33) last year, and pass rusher, Ziggy Ansah, is listed as questionable after recently being activated from the PUP.
Derek Carr
After signing a 125 million dollar extension in July, Carr is motivated to play up to his contract. His first opportunity is against Tennessee, whose defense allowed the fifth most fantasy points to opposing quarterbacks last season. The Titans secondary still has a lot of question marks after giving up the third most yards through the air (269.2 YPG) in 2016. Cooper and Crabtree should dominate their matchups, empowering Carr to shine.
Russell Wilson
Though he didn't miss a game, Wilson's play was hampered by injuries last year. He recorded the lowest quarterback rating and fewest rushing yards of his career, finishing as QB10 in fantasy. Wilson is 100% healthy for week one, and he will face a Packers defense who surrendered the eighth most fantasy points to opposing quarterbacks last season. If Aaron Rodgers piles on an early lead, Wilson may be called upon to carry the offense.
Running Backs
Melvin Gordon
Denver's suffocating pass defense will lead to a heavy workload for Gordon, who saw 27 touches in both contests against his division foe last season. The Broncos surrendered the fifth most rushing yards (130.3 YPG) in the NFL a year ago and ranked 20th in fantasy points allowed to opposing running backs. Now in his third season, with an improved offensive line in front of him, Gordon is primed to build upon his breakout 2016 campaign.
Todd Gurley
Will the real Todd Gurley please stand up? After an abysmal sophomore season, many wonder if Gurley's electric rookie year was merely a flash in the pan. The third-year back's first opportunity to prove otherwise is against a Colts defense who ranked 25th in rushing yards allowed (120.4 YPG) in 2016. With significant upgrades along the offensive line and receiving corps, Gurley is well-positioned to regain his 2015 glory.
This time last year debates were raging over whether Cook or Leonard Fournette was the better running back. Cook impressed, leading all draft eligible 'backs in broken tackles (92), according to Pro Football Focus. Minnesota pounced in the second round and quickly recognized the rookie as the best RB on their roster. Cook's coming-out party will be against a Saints defense that gave up the third-most fantasy points to running backs a year ago.
Wide Receivers
Martavis Bryant
Bryant is an elite talent who's scored fifteen touchdowns in 21 career games. After serving a year-long suspension for repeated substance abuse, the 25 year-old has turned his life around and is now fully reinstated by the league. He'll get to shake off the rust against a Browns defense that surrendered the most touchdown passes (36) in the league last season. Now focused and fully committed to football, say hello to 2017's Comeback Player of the Year.
Doug Baldwin
Coming off his second consecutive 1,000 yards season, Baldwin has established himself as one of the best slot receivers in the game. He'll begin this year against Green Bay's defense, who gave up the second most yards through the air (269.2 YPG) in 2016. No team allowed more fantasy points to receivers last season than the Packers. With Russell Wilson healthy to start the year, expect a hot start from Baldwin.
Michael Crabtree
Earlier in this article I argued that Tennessee's leaky pass defense would lead to a big game from Derek Carr. The same goes for his receivers. Crabtree racked up eight catches for 102 yards against the Titans in their week three matchup last season. Tennessee gave up the second fewest rushing yards (88.3) in the NFL last year, prompting the Raiders to lean toward the passing game.
Tight Ends
Delanie Walker
Give me more Titans and Raiders. Walker missed last season's matchup with Oakland due to injury. In his place, tight end Jace Amaro caught three balls for 59 yards. Just imagine what a Pro Bowler can do against that Raiders defense that ranked 25th in fantasy points allowed to tight ends last year. Mariota should be more polished in his third season and Walker will continue to produce at a high level.
Greg Olsen
Another consistent veteran, Olsen should be in your starting lineup most weeks, but he has a particularly tempting matchup this Sunday against San Francisco. Olsen balled out with five catches for 122 yards and a score in last year's week two contest against the 49ers. San Fran surrendered the sixth most passing touchdowns (30) in the league last season. Now recovered from offseason shoulder surgery, expect Cam Newton to target Olsen early and often.
Zach Ertz
Without 6'3" slot receiver, Jordan Matthews, to compete with, Ertz becomes the primary target in the middle of the field. His connection with Carson Wentz also grew as last season went along. Ertz went from 29 catches for 302 yards and no touchdowns in his first seven games, to 50 catches for 514 yards and four touchdowns during his last seven. Expect Ertz to lead his team in targets this week, as Josh Norman will be shadowing top receiver, Alshon Jeffery.
Defense
Pittsburgh Steelers
While Cleveland is a franchise headed in the right direction, they're still the Browns. They enter the season with second round pick, DeShone Kizer, as their starting quarterback. Scouts saw Kizer as a talented but raw prospect who needed a year or two of development. This new era Steelers defense looks to be on the verge of regaining dominance and should be ready to convert on the rookie's mistakes.
Buffalo Bills
It's a good idea to start any defense against the Jets this season. No team is more inept of talent than NYJ. Though Buffalo lost their two starting cornerbacks from last season, do you really expect Josh McCown, Robby Anderson and Jermaine Kearse to take advantage? The Bills' front seven remains solid and New York has their eye set on 2018's number one overall draft pick.
Bench 'Em
Quarterback
Dak Prescott
Prescott is a talented quarterback with a bright future. That being said, I expect him to regress this year. His 23-4 touchdown to interception rate is unsustainable, and he'll be asked to do more in his second season. He also struggled against the Giants last year, completing just over 50% of his passes in two games. NYG relinquished the second fewest fantasy points to opposing quarterbacks in 2016, suggesting a rough start for Mr. Prescott.
Matthew Stafford
After a hot start, Stafford cooled off during the second half of last season, throwing multiple touchdown passes in just three of his final eight games. The Lions' offense took a more of a ball-control approach down the stretch as a means to hide their weak defense. Expect that to continue. Stafford will face an Arizona defense that gave up the fourth fewest passing yards (210.3 YPG) in the NFL last year.
Phillip Rivers
You should know the drill by now when it comes to the Broncos pass defense. They've given up the fewest passing yards (192.7 YPG) over the past two years, and that should continue in 2017. Denver allowed the fewest fantasy points to opposing quarterbacks last season, and Rivers was not immune to their dominance. He threw three touchdowns, three interceptions and completed just over 52% of his passes in two games versus his division rival a year ago.
Running Backs
Kareem Hunt
Hunt's hype train started gaining steam during OTA's. The rookie was so impressive he sparked rumors that he could overtake Spencer Ware's starting job by the end of the season. With Ware now out for the year due to injury, nothing is stopping Hunt from breaking out… except for the Patriots. New England surrendered the fewest rushing touchdowns (6) in the league last year and allowed the second fewest fantasy points to opposing running backs.
Mark Ingram
They took his job! Well, kind of. The additions of Adrian Peterson and third round pick, Alvin Kamara, have certainly put a damper on Ingram's fantasy outlook. He'll play a Viking defense that gave up the third fewest rushing touchdowns (9) in the NFL a year ago. Facing his former team, Peterson has already deemed this matchup a 'revenge' game, and could dominate the carries. With Kamara taking on the receiving 'back role, Ingram's workload remains unclear.
Leonard Fournette
No defense allowed less total yards than the Texans last year, and they did it without three-time Defensive Player of the Year, J.J. Watt. With Watt fully healthy, AFC South offenses appear to be doomed. Fournette is a physical specimen, but his biggest downfall might be that he takes handoffs from Blake Bortles. Defenses will stack the box against Fournette until Bortles can prove his competence as a passer, which doesn't look likely.
Wide Receivers
Keenan Allen
This is all about the Broncos. As you could have guessed, no team gave up fewer fantasy points to receivers last season than Denver. With shutdown cornerbacks like Aqib Talib and Chris Harris lined up across from Allen, expect Rivers to shift his attention to the running backs and tight ends. If you're looking for a positive note, all Allen has to do to improve upon last year's season opener is finish the game without injury.
T.Y. Hilton
Hilton will probably remain on this list until Andrew Luck returns from injury. After leading the NFL in receiving yards (1,448) a year ago, Hilton will begin the season working with long-time backup quarterback, Scott Tolzien. The duo failed to complete a pass during the preseason, and Hilton caught just three balls for 54 yards in Tolzien's lone start last season. The Colts' outlook remains bleak until Andrew Luck returns.
Allen Robinson
Remember what I said about Leonard Fournette? That goes double for Allen Robinson. Until the former Pro Bowler gets a capable quarterback to throw him the ball, his upside will remain limited. Robinson failed to reach 60 receiving yards in ten games last year and surpassed 100 yards just twice. With J.J. Watt back in the fold, Houston's top ranked defense is prepared to shut down Jacksonville's go-to target.
Tight Ends
Jordan Reed
At the moment, the often injured Reed appears to be healthy. That's the good news. The bad news is he'll start the season against an Eagles defense that relinquished the second fewest fantasy points to opposing tight ends last year. Reed caught just one pass for ten yards in his lone game versus Philadelphia in 2016. I predict Kirk Cousins will lean toward his receivers, as they match up well against Philly's lackluster cornerbacks.
Travis Kelce
Kelce enjoyed a terrific 2016 season, leading tight ends in fantasy points and receiving yards (1,125). The issue is he's facing the Patriots, whose defense surrendered the fifth fewest fantasy points to tight ends last season. Bill Belichick schemes to take away the opposing offenses' best player, which in Kansas City is clearly Kelce. The Pro Bowler's best chance for week one fantasy success will be during garbage time.
Martellus Bennett
At first glance Bennett appears to be in line for a huge season. He finished as a top ten fantasy tight end last year with the Patriots, and Green Bay hasn't had a tight end of Bennett's talent since Jermichael Finley's peak.  However, Green Bay targeted tight ends on only 16% of their passes last season. Bennett will begin his career with the Packers against a stingy Seattle defense that gave up the fourth fewest fantasy points to opposing tight ends last year.
Defense
Vikings
The Vikings boasted the top defense in fantasy football last season and are prime contenders to repeat that feat. However, fantasy points will be hard to come by when the Saints come marching in (I'm not proud of that). Drew Brees conducted the second highest scoring offense in the league last year and looks prepared to do it again. Better defenses will be available to stream from the waiver wire.
Chiefs
The NFL season kicks off tonight with the Chief visiting the Patriots. The Patriots offense is really good and will score a lot of points #ANALYSIS. I don't think there's much I can really add to this.
Agree with my Believe 'Em or Bench 'Em? Or do you think I'm an idiot? Sound off below or hit me up at @fasttakefantasy!