Player Stock Ticker
Fantasy Football Strategy: Locking down the two Buccaneers running backs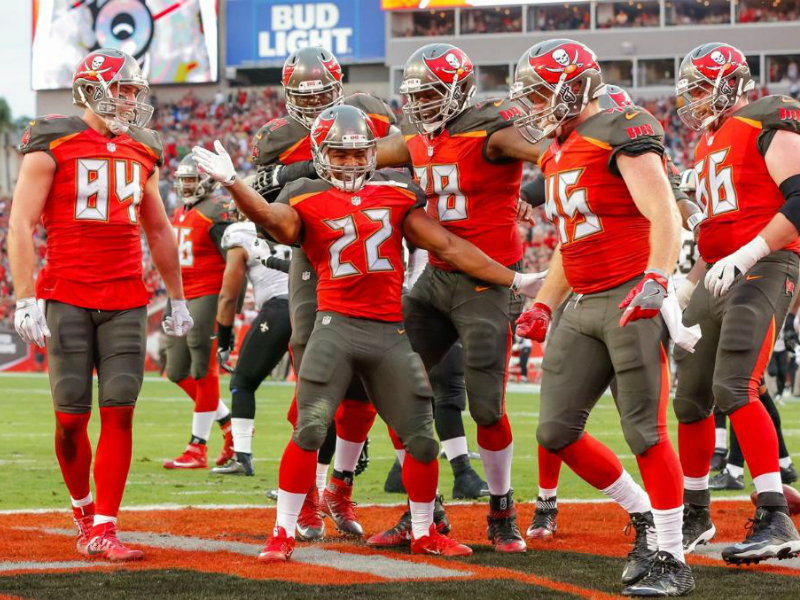 Ever since we flipped the calendar to 2017 and the "expert rankings" started to make their way online, one theme has been consistent here at the Roto Street Journal. Our very own The Wolf couldn't believe his eyes when he had to scroll WAY down these rankings in order to find Doug Martin's name listed so low. Sure, Martin had a rough 2016 season in which he was drafted high in fantasy leagues based off his 2015 production. On top of that, Martin appeared in only eight games in 2016, while also receiving a three game suspension starting in 2017.
The combination of the poor performance and the suspension has Martin currently ranked as the RB35 on Yahoo and the RB41 on ESPN. The Wolf currently has Martin as his RB23 in the latest Big Board, a noticeable jump from the rest of the "experts."
The reasoning for his higher ranking is sound. When Martin is healthy and motivated, he's a true stud. You see the "Muscle Hamster" (he hates, we all love) that is a very reliable fantasy stud RB. Martin participated in Tampa Bay's second preseason game with a stat line of 5 carries for 30 yards and a touchdown, while adding two catches for 11 yards. He was a critical part in moving the offense down the field and he really looked like his 2015 self. He was quick with his cuts and was finding the holes consistently. That rush at the 0:15 mark in the video below is so impressive. Instead of being bottled up and smacked behind the line of scrimmage for a loss, Martin stops and cuts back toward the open space. On top of that, as he's approaching the first down line, he lowers his shoulder and drives himself through the defender to reach the mark. Very promising stuff. Martin's performance was enough to catch The Wolf's eye.
In majority of drafts, Martin is being drafted around rounds nine or ten. That's traditionally bench building rounds, or filling in your QB/TE spots if you decide to wait on those. What's better to do, is "reach" on Martin and lock up the Bucs RB stable. You can target Martin around the fifth or sixth round, knowing you have to wait only four weeks to get yourself a solid RB2 with RB1 potential. If you in fact take Martin before those ninth or tenth rounds, how should you fill that void for the first three weeks? Easily, look no further than his backup Jacquizz Rodgers.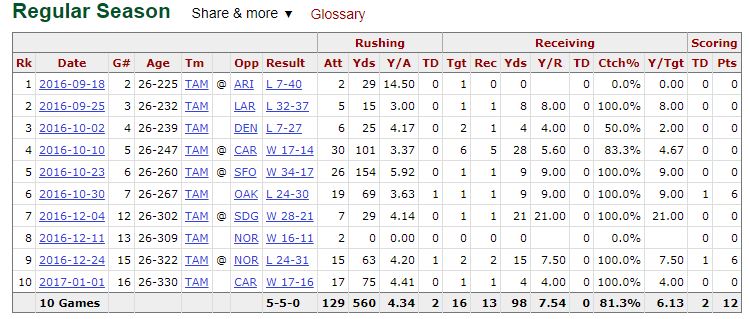 Rodgers isn't that far behind Martin when it comes to his "expert rankings." Sitting around RB50, Rodgers offers a startable running back for the first three weeks when he's the RB1 with Martin on the shelf. Rodgers started five games in 2016 in Martin's absence, with carry totals of 30-26-19-15-17. That's a very healthy number for a back who is going in double digit rounds in drafts that you can easily take and use to abide the time until Martin returns. The Tampa Bay offense is expected to put up good numbers this year with Jameis Winston having more experience in Dirk Koetter's system. With Mike Evans and DeSean Jackson on the perimeter, space will be opening up for Martin and Rodgers to run when given the ball.
If you do decide to draft both of these Bucs RBs, then you have locked up at minimum an RB2 for the entire year, for a very cheap price.