When it comes to finding a player that doesn't have ANY questions marks, this can be tough. Very tough. In fact, there may be less than a handful, so every pick is important, especially when considering your starting roster. What if it was possible then, to target a player in the 4th round to be your WR2 (with WR1 upside), and then a player in the 8th/9th round after your starting skill position players are all selected… to ensure near WR1 production the whole year!
Look no further than teammates Keenan Allen (ADP 45.4) and Tyrell Williams (114.1 ADP).
We don't know what Tyrell will do when Keenan is 100% healthy, since his breakout occurred post-Keenan injury, but we know what he will do if Keenan is to miss more time. With the one knock on Allen being that he misses lots of time, it's a no-brainer to snatch Williams up as well. Of the top 20 WR's fantasy wise (standard scoring), Tyrell Williams had the least amount of receptions in this group, so this production came without a large workload, so Keenan shouldn't do anything but help draw attention away from Williams. It's not often we suggest a "WR Handcuff," but this feels like a safe play.
Take a look at the most recent production for these two:
Tyrell Williams 2016 Stats – 16 games played, 12 games started, 119 targets, 69 receptions, 1059 yards, 7 touchdowns, 8.90 yards/target, 15.35 yards/reception, 2016 Rank – WR #19
Keenan Allen 2015 Stats – 8 games played/started, 89 targets, 67 receptions, 725 yards, 4 touchdowns, 8.15 yards/target, 10.82 yards/reception, 16 game pace – 1450 yards, 8 touchdowns, 90.63 yards/game, 2015 Rank – WR #8 (pace)
Now, take a look at the Los Angeles Chargers, or more importantly Philip Rivers, who has always supported production from multiple receivers in his offense:
588 pass attempts/game & 4303 yards/season over last 4 years
2013: Keenan Allen – 1046/8td, Antonio Gates – 872/4td, Eddie Royal – 631/8td
2014: Malcolm Floyd – 856/6td, Antonio Gates – 821/12td, Keenan Allen – 783/4td, Eddie Royal – 778/7td
2015: No overwhelming #1 weapon, but multiple 600-750/4-6td players
2016: Tyrell Williams – 1059/7td, Dontrelle Inman – 810/4td, Antonio Gates – 548/7td, Hunter Henry – 478/8td
Targets:
2016: Tyrell Williams 120 targets
2015: Keenan Allen 89 targets in 8 games (168 target pace)
In 2016, Rivers' No. 1 target amassed 120 targets, his second had 94 targets, and his third? 92 targets. In 2016, that No. 1 target was Williams, and in 2015 Keenan was well on his way to being the leader in targets with a pace of 178 targets (89 over 8 games).
In terms of receptions, Tyrell Williams in 2016 had a relatively low reception percentage of 58% catching only 69/120 targets last year. Totalling over 1000 yards with a catch rate of less than 60% means that another year in the offence, the return of their best receiver, and getting used to Rivers should see that percentage rise, so a slight decline in targets will not hurt him as much as some say. Also, take a look at 2014's top Chargers WR, who sustained production alongside Keenan. Floyd did this on 52 receptions. It is also interesting to note the similar build of the two (with age being in Tyrell's favor).
Floyd – 6'5″, 225lbs, 33 years old (in 2014 season)
Williams – 6'4″, 205lbs, 25 years old
The Chargers' passing game is loaded with many capable targets. At the tight end position, Hunter Henry and Antonio Gates alone totalled 15 TD's, with Henry claiming 8 and Gates 7. The number one story surrounding Henry, who was a rookie tight end last year, is the theory that he will experience some TD regression. Although this is a reasonable theory, it should also be noted that Gates could be due for some of that same regression in his 15th season. He is closing in on the tight end record (literally sets the record with one TD), so although you can't deny his Hall of Fame status, it is reasonable to believe that the Chargers will move towards developing their future. Tyrell Williams can be utilized as a big target in the red zone, and with 15 TD's going to big bodied receivers last year, maybe we will see Tyrell's TD total rise.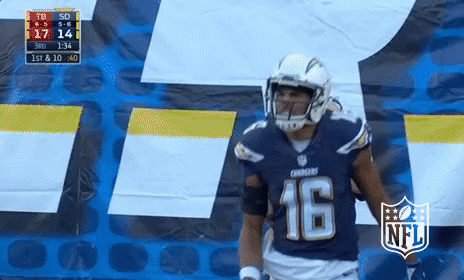 Right now, guess who Tyrell Williams is being drafted behind? Directly behind kicker Matt Bryant and 3 kickers/5 DST's in total. That is absolutely ludicrous considering that last year was the first time Tyrell had a chance to receive looks from Philip Rivers and still amassed 1000 yards OUT OF NOWHERE. Even if you are scared about the return of Keenan Allen, you should at least take comfort in knowing Tyrell will once again be heavily targeted, and may even eclipse what he did in 2016.
Lock them both up, you won't be disappointed.