Welcome back to the RSJ Stock Board.  Week 2 of the Preseason is in the books, and there has been a sufficient amount of ADP movement all over Fantasy Football drafts.  We saw some young rookies shine and lost some veteran stars.  These are the players I saw with changing value worth paying a little extra attention to heading into the season.
Rising Stock, BUY NOW!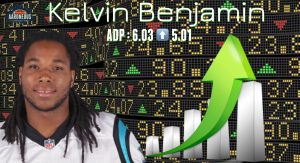 Over the offseason Kelvin Benjamin was taking a bunch of flack for gaining weight and looking out of shape.  Then a video emerged of him running a route in camp and he looked very, VERY slow.  This condemned his value to the Fantasy Football community almost overnight. Heading into the preseason I was not expecting much from him at all, but he has proved the doubters wrong.  He has dropped some (most) of the weight and appears to be in great form.  In the Panthers' first 2 preseason games, Benjamin has 4 receptions for 71 yards and a touchdown.  With his performance in the Preseason, his ADP is on the rise.  Grab him in your drafts while he's still a value. Something tells me the Panthers WR1 is coming back with a chip on his shoulder in 2017.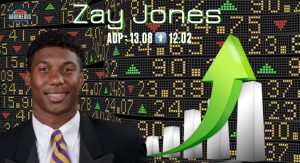 Zay Jones is a rookie wide receiver out of East Carolina. Last season he set the record for most receptions ever in college football and was drafted by the Buffalo Bills as the 37th overall pick.  Early on it seemed that Jones would have a lot of competition for targets in the Bills offense, but things change very quickly in the NFL.  Since Week 1 of the preseason Sammy Watkins was abruptly traded to the LA Rams, Anquan Boldin announced his retirement from football, and the Bills signed Eagles receiver Jordan Matthews. All of the sudden the Bills start talking about moving Zay to the outside, and he is setting up to be a fantastic Fantasy Football sleeper as the Bills WR2. In his preseason debut, Jones led the team in targets (6) and had 3 receptions for 42 yards.  He is super talented and has a great opportunity to get involved. Zay Jones is worth scooping up in the 12th round, but hurry he won't be that cheap for long.      
Falling Stocks with Rising Value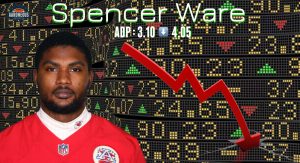 Ever since the Chiefs drafted Kareem Hunt, there has been talk of him becoming the starting running back in Kansas City.  I do not agree with this narrative.  Hunt has looked like he has all the makings to be a starting back in the NFL.  Don't get me wrong, I am an advocate for Hunt to get playing time but it is only preseason. Spencer Ware has proven he can get it done in a real game situation.  Over the last 2 seasons, Ware has 286 carries for 1,325 yards and 11 total touchdowns. Last year he had some troubles, but this was probably a result of dealing with a concussion and injuries to the O-line.
In the preseason action he saw against the Steelers he was able to come away with 8 carries for 35 yards and a touchdown.  He looked very solid in his limited action and if he is healthy, Ware should lead the Kansas City backfield this season.  His stock is dropping due to Hunts "on-air" production. Do not be fooled, when the season begins, his price will increase dramatically after the Hunt hype cools down. I am drafting Ware in the back half of the 4th round wherever I can and you should do the same.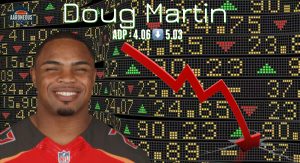 The Tampa Bay offense looks like it could be one of the most exciting to watch in 2017.  There is a massive repertoire of weapons at Jameis Winston's disposal.  One of these weapons is largely being forgotten.  That weapon is Doug Martin.  Martin has been an elite running back in the NFL and Fantasy Football when he is healthy.  Both 16 game seasons he has had, Martin finished as a top 5 Fantasy Football RB (#3 & #2).  The knock on Martin this season is his 3-game suspension, and talk out of Bucs camp that he isn't guaranteed his job upon return in week 4. Doug doesn't have the job "locked up" because the coaching staff is most likely trying to keep him motivated while missing time in the regular season.
Martin is the best back currently on the roster in Tampa Bay and the Bucs are hunting for a playoff berth. He will be the bell cow from week 4 on, as long as he is healthy.  Getting a workhorse running back with proven top 5 potential is too good to pass up in my opinion.  Grab Martin in the 5th round with confidence and stash another RB that can get some work done for your team until his return in week 4.
You can visit Aaron's website at www.AaroneousSports.com and follow him at @AaroneousSports.