Player Stock Ticker
Daily Fantasy Football Stock Report: 8/16/17 Rookie WR Zay Jones working outwide at Bills practice
Unlike any other site, Roto Street Journal treats Fantasy Football like the stock market is. Just like on Wall Street, values are constantly in flux here on Roto Street, and true Fantasy Wolves never miss a single swing. Thus, we're here to help you sift through the bombardment of news to figure out what truly matters, organizing it all into one convenient spot: The Daily Stock Report. To keep up with breaking fantasy football news, be sure to follow us on Twitter, Instagram and Facebook.
SIGN UP FOR YOUR FREE FANTASY FOOTBALL MARKET REPORT: TRAINING CAMP EDITION
Tier 1 – Genuinely Impactful Notes
These blurbs will undoubtedly cause moves and shakes on the ranks. This could range from significant injury, job promotions and demotions, unexpected volume or role changes, etc.
 To be honest with you, there was no news on Tuesday that files under Tier 1 for generally impactful notes. No ground shaking updates or implications that would have us adjusting our rankings. The day was filled with much less substantial information and news.
Tier 2 – Fodder to File
Interesting stories to file away, though they might not cause immediate waves on the rankings quite yet. This is the puff stories that we want to see some actual tape / action backing up, stories or injuries that need more concrete developments before we move people in the ranks, etc.
Zay Jones

(WR – BUF)
#Bills HC Sean McDermott says primarily rookie WR Zay Jones will be used outside. Sometimes in the slot.

— Joe Buscaglia (@JoeBuscaglia) August 15, 2017
I covered Zay Jones and the Bills receivers more in-depth earlier in this article. With the Bills trading for Jordan Matthews and signing Anquan Boldin, that's two primary slot receivers to use in Buffalo. Jones is more in the mold of an outside receiver, so he could slip right into the void left by Sammy Watkins outside. The rookie has some nice upside in an arsenal of receivers all trying to develop chemistry with QB Tyrod Taylor.
OJ Howard

(TE – TB)

"It might not show up on the stat line or make SportsCenter's top plays, but the former Alabama star's run blocking is already making a noticeable difference in Tampa. That's likely where he'll make his mark early on, and the Bucs would be thrilled. He didn't have a catch in the preseason opener, but the hands will show up in games soon enough. They can leave that to Cameron Brate for now. The Bucs are very happy with Howard's progress and he'll get a significant amount of playing time right away. The one knock on him is that he has to do a better job of maintaining possession of the ball when his number is called. An opportunistic linebacker or defensive back will find a way to punch the ball loose and negate a 'wow' play. It's happened twice in practice."

It's no secret how much fantasy owners get their panties in a bunch of the new shiny rookies coming into the league. First round pick OJ Howard is a physical specimen out of Alabama that many thought would be such a weapon for Tampa Bay. Keep in mind, QB Jameis Winston is still a big fan of tight end Cameron Brate who is likely to get the bulk of receptions from the tight end spot. If Howard was on your radar as a starting tight end, take him off it. He's a penny stock with the chance to blow up later in the season as he develops.
Injury Report
Dolphins RB Jay Ajayi is finally out of the concussion protocol after missing two weeks
Amari Cooper returned to practice Tuesday after dealing with a nagging leg injury
Doug Baldwin aka Dougie Fresh returns to practice after a foot injury that held him out of the team's first preseason game
Jets RB Bilal Powell (neck) returned to practice Tuesday after being held out for some time.
WR out of Arizona John Brown (quad) also returned to practice Tuesday. Coach Bruce Arians is worried about all the time he missed so far this year
Breshad Perriman of the Ravens suffered a Grade 2 hamstring strain which should sideline him for about two months.
Highlights of the Day
Jaguars WR Allen Robinson was none too pleased with his QB Blake Bortles. Probably has been brewing for years now.
Allen Robinson after Blake Bortles throws a pass too far: "Keep that s–t in bounds" (via @PewterReport) pic.twitter.com/GDAUGAQcJo

— Bleacher Report (@BleacherReport) August 15, 2017
Got enough ice there Big Ben Roethlisberger?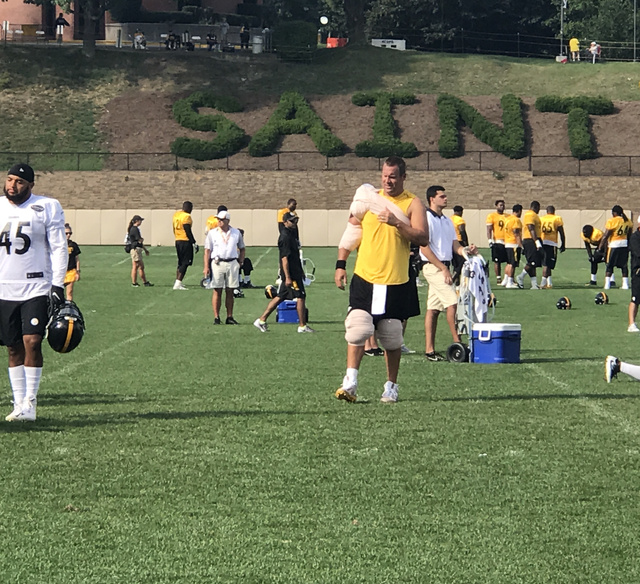 SIGN UP FOR YOUR FREE FANTASY FOOTBALL MARKET REPORT: TRAINING CAMP EDITION