Practice Makes Perfect: The Need for Mock Drafting
Indeed, accurate and well-reasoned rankings are the backbone to a successful draft. Still, a static list of names can't be the only preparation tool for a True Wolf.  To be "game-day" ready, you need perfect practice.  You need a sense of how "play" will unfold, and how you'll respond. Elite athletes often speak to how they don't even think come game day because everything just flows; they've seen it all through their thousands of practice attempts, so their bodies just react.
In the fantasy world, perfect practice means Mock Drafts. Hundreds of them. Probably thousands at this point. Even when asleep, I'm questioning whether to take Jamison Crowder or Willie Snead as my flex WR. Unlike just a list of name, this allows you to feel the ebbs and flows of a draft, and how draft strategies can fluctuate based on team needs (demand) and positional runs (supply). You get a sense of different team makeups, and where players are being taken. There's no capturing your own league's draft day, this is true, but placing yourself in the battlefield countless times will have you hardened and ready to roll.
Draft Wizard: The Better Way to Mock
By far, the most efficient and effective way to gain this practice is Fantasy Pros Draft Wizard. If you've never used this tool, you'll see in the beginning of my video that you customize the number of teams, roster makeups, and scoring settings before joining a computer simulated draft. You'll make your own player selections, but the rest of the draft picks unfold based on your choice of Expert Ranking, a specific site's rankings, lists, or various ADP Reports.
In a mere 5 or 10 minutes, you'll have completed a full draft, and can readily jump back in for another round (or twenty) of practice.  No human-error hassles like people not showing up, picks taking forever, selections so atrocious they screw up the realism of any draft. Just a full draft to learn from… plus a team grade and projected standings courtesy of FantasyPros.
The Daily Draft Wizard: Here for You
With this context laid down, I now introduce the Daily Draft Wizard. So many of the reader questions I receive center around  "What do I do with XX Pick in XX setting of league?" Upon realizing I can record my computer screen, I've also realized by far the best way to answer these inquiries: doing a Draft Wizard and narrating my thoughts.
Think about this as a vocal stream of conscious to learn from as I draft. I'll discuss which players I'm considering at certain picks, why I am thinking of them in the first place, and why I ultimately choose a particular player. In my opinion, this is far more useful and illuminating than reading a 15th article on Zero RB theory, and instead just gives you a natural flow to how a draft could unfold from your shoes. If you have a particular request, tweet #DailyDraftWizard with your Scoring / Draft Slot / any other info @RotoStreetWolf.
Targeting Ezekiel Elliott in Round 2
I open this series with a "Prove It" type of request I've received multiple times after my highly popular, but somewhat controversial article: Why Ezekiel Elliott's Suspension Will Win You A Fantasy Title. In short, I argue that Elliott is such a rare commodity that he's still worth an early second round pick despite the suspension, especially considering there's enough depth at RB and WR to keep a team afloat in his absence.
With the doubt pouring in, I'm here to show two potential draft approaches if you choose Zeke in Round Two.
This first draft is more RB Heavy, relying on LeSean McCoy's RB1 presence to buoy the squad amidst the rough Zeke-less waters: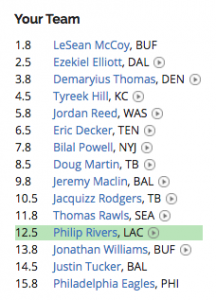 The combination of Zeke AND Jordan Reed is quite risky here, and I don't LOVE my top three WRs. Still, the depth on this team is more than enough to pull out a 3-3 start, at worst, especially if Tyreek Hill is the Fantasy God I believe in this season. Doug Martin and Jacquizz Rodger will be at minimum a serviceable RB2 to Shady, with RB1 potential once Martin returns if he's in the shape all exclaim. I could have three RB1s on this roster by the time Elliott returns, especially if Bilal Powell is a PPR dump-off machine as I expect.
Below, this second video shows a WR Heavy approach to filling the Zeke Gap, which I actually might prefer given the typical higher floor of high-end WRs: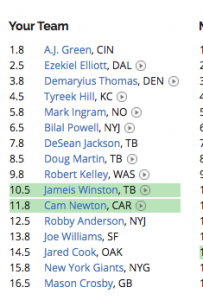 This WR Corps is monstrous, considering I had to burn a second on Zeke. With AJ Green, Demaryius Thomas, Tyreek Hill and DeSean Jackson raking in 60+ weekly points, I can certainly squeeze 20+ out of some gross RB rotation with this stable (Powell, Mark Ingram, Martin again, Robert Kelley). Once the 20+ guarantee of Zeke comes in alongside whichever of that bunch pans out to be a high-end RB2, my squad will be flying. Yes, I had to punt the tight end positon, but that position is streamable now. I'll find this year's Cameron Brate and be fine come the playoffs.
Hopefully, these videos were able to illuminate the depth I spoke at length about, and how Zeke is very much an affordable Round 2 luxury even amidst his six week span. If you disagree, let me hear it now, either in the comments or on my Twitter (@RotoStreetWolf) This is our first go-around with these, so any feedback on what you enjoyed and what we can improve is much appreciated.
Of course, if you have a draft slot you'd like The Wolf's perspective on, send your requests over to @RotoStreetWolf with the #DailyDraftWizard. I'll hit any and all requests, breaking down the players to consider and strategies to employ in leagues of all shapes and flexes. Happy Mock Drafting!