Player Stock Ticker
Fantasy Football Impact: Bills Trade Sammy Watkins to Rams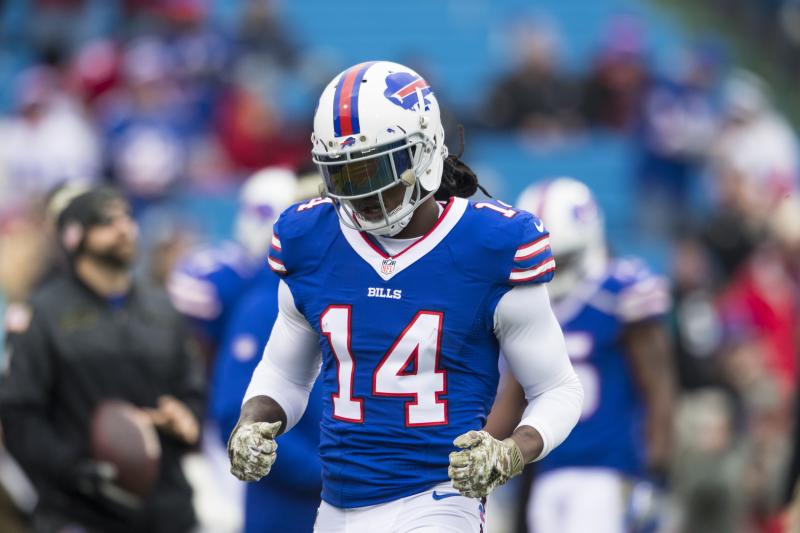 Sammy Watkins' fantasy value takes a definite hit after being traded to the Rams. In Buffalo, Watkins benefited greatly from serving as OC Rich Dennison's high-volume "X-Receiver," as well as playing alongside Tyrod Taylor whom he had tremendous chemistry with. Now, his value is far less clear, as Jared Goff looked horrendous last season. On the positive, Sean McVay is a creative play caller and is more than willing to sling deep. Nonetheless, Watkins takes quite a dip.
On the positive front, Todd Gurley should see more space now with a legitimate field-stretcher on the outside for the first time in his carry. Goff also now has the play calling and surrounding talent to potential gain streamer appeal.
Robert Woods can safely be crossed off "Penny Stock" lists after finding himself covered again by Watkins' shadow.
What in the absolute hell is happening this Friday? I spend all week reorganizing my rankings, stayed up until 2am to format my Big Board properly, and excitedly launched it this morning.
Then Ezekiel Elliott is suspended SIX GAMES (fantasy implications here).
Then, while recording a video reaction to this news, Sammy Watkins gets traded to the Rams?!
Meanwhile, Jordan Matthews is shipped to Buffalo as his replacement?!?!?
Let's continue picking up the debris, now turning to Watkins:
Sammy Watkins to the Rams – Fantasy Implications
#Bills trade Sammy Watkins to the #Rams?!

Find out all the #FantasyFootball Implications in another Rapid React now! pic.twitter.com/lUW3dmxVfV

— Wolf of Roto Street (@RotoStreetWolf) August 11, 2017
Watkins' Value
Sammy Watkins value takes an obvious hit here.  In Buffalo, new OC Rich Dennison hails from the "Shanahan" coaching tree, which has historically peppered "X-Receivers" with target after target. In fact, just one night ago, evidence for this role was mounting, as in a mere two drive Watkins received 5-of-8 targets, ultimately hauling in 4 catches for 39 yards.  His chemistry with Tyrod Taylor was on point, and health was really the only question mark between Watkins and a Top-10 WR campaign.
Now, he enters the dark and uncharted territories of Jared Goff.  Indeed, Watkins immediately slides in as the Alpha WR1 of this abysmal receiving corps, but does that truly matter with Goff delivering the mail?  True, Goff carries "No.1 overall pick" talent, and sure he was likely shackled by an awful surrounding cast and an abysmally uncreative coaching staff. Even still, Goff looked lost on the NFL field last year, and he'll need to show some serious growth for Watkins to be worthwhile in 2017.
On the positive, I do like new HC Sean McVay from a creativity standpoint. McVay's adept at moving pieces around to maximize matchups, and DeSean Jackson thrived in this attack when on the field last season. Watkins is almost a mesh of Jackson's deep speed and Pierre Garcon's strong intermediate game, so if Goff can actually complete the passes, Watkins will have some serious ceiling.  Assuming also, of course, that Watkins can stay healthy.  That remains a monstrous question mark, and with a decreasing "Surrounding Talent" score, Watkins finds himself more in the WR25 – WR30 range, rather than my WR16 from before.
Rest of the Rams offense
Perhaps the sneaky biggest beneficiary here, and unmentioned in that video, is Todd Gurley. For the first time in his career, Gurley will have a threat on the outside that can take serious pressure off of him. Of course, Goff's arm will determine just how seriously defenses take Watkins, but his deep speed should, at minimum, keep boxes lighter and red zone chances more plentiful. Already rising thanks to increased receiving game usage and an improved offensive line, Gurley's chances at a massive bounce-back RB1 campaign are getting even more real. The "Surrounding Talent" boost he receives will propel Gurley above Isaiah Crowell in my next rankings, and possibly ahead of many "Tier 2" WRs like Amari Cooper and DeAndre Hopkins.
Meanwhile, Robert Woods is likely shedding tears, as he finally escapes Watkins in Buffalo and gets his first real shot at being a team's No.1 option… only for Watkins to come back and steal all those targets away. Cooper Kupp's "target hog" potential also takes a massive hit, even if his game complements Watkins well.  Both "sleepers" can be safely crossed off of "Penny Stocks" lists for now. With Watkins injury history, however, either could come into serious value at some point. If McVay's system is clicking, both will be well-worth waiver looks come September.
Last, but not least, Goff gains "Watch List" consideration. Though I won't touch him with a 10-foot pole on draft day, the former No.1 pick now has a fairly stacked and explosive cast after Watkins, Kupp, and Woods were all added this offseason.  His blind-side has been sured up thanks to Andrew Whitworth's massive addition at LT, and, as mentioned here frequently, McVay will be a far more creative playcaller than Goff's experienced yet.  There's enough pieces in place for Goff to take a significant step-forward, but he'll actually have to be productive himself in order to do so. All camp reports suggest he picked the offense up rapidly, so go throw up in a bag and then keep Goff in mind as an in-season streamer.
The Fantasy Friday from Hell rolls on. Make sure you're following us on Twitter, Instagram and Facebook for all breaking news, and track my personal twitter (@RotoStreetWolf) for instant fantasy takes as they happen. Check in later to see how the Big Board ultimately shakes up in light of all this news!