It started off as just another boring Tuesday at the office. Slaving away in the cubes, doing monkey business shit. All that changed when my phone lit up to a text saying the DraftKings Week 1 salaries were out. Church bells rung in the distance, I started getting dizzy while my palms dampened with sweat. I knew in an instant my day was over, and I would focus on nothing else but this lineup for the next handful of hours.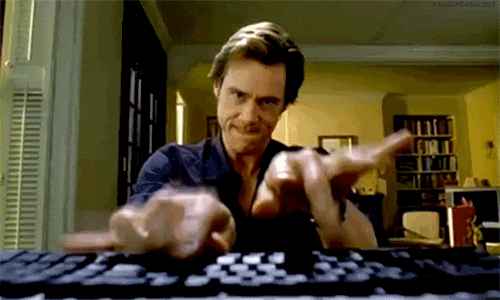 Sure Week 1 is about a month away, and there's A TON of different things that can still happen and shift the Week 1 landscape immensely. With that said, it's not going to stop me from assembling a "Way-Too-Early NFL Week 1 DraftKings Lineup" that's sure to be changed no less than 50+ times. I'm currently sitting on a plane writing this article on my to a nice vacation. This bitch in front of me reclined her seat ALL THE WAY BACK so my laptop is all up in my grill. T-Rex typing this shit but the DFS grind never sleeps. #NoDaysOff.
Let's go to work: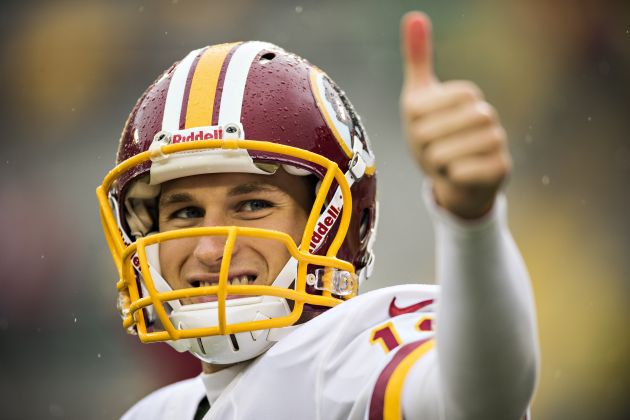 QB: Kirk Cousins ($6,400)
After an interesting offseason, Cousins finds himself with some new weapons in the offense that looks ready to put up some numbers. Cousins isn't seen in the same light as elite QBs, but his passing stats speak for themselves. Opening up against divisional rival Philadelphia Eagles with a weak secondary at home, has me on board the Starship Cousins following Captain Kirk.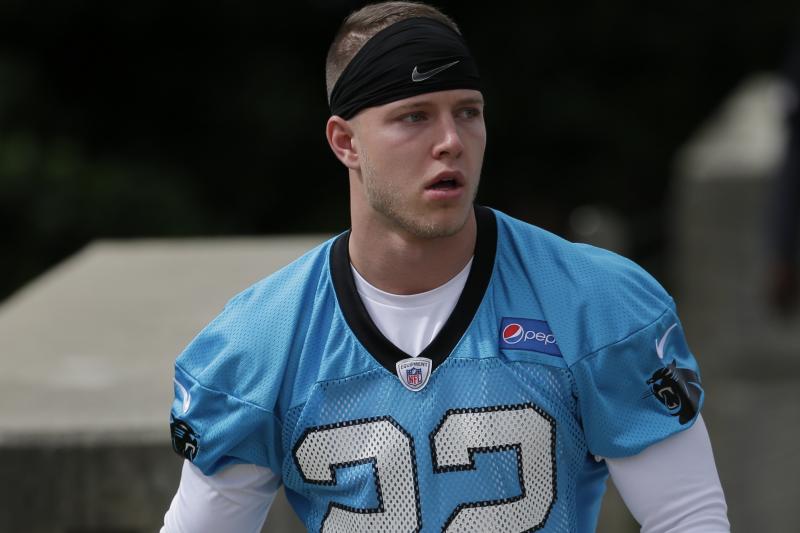 RB: Christian McCaffrey ($5,400)
The rookie is known for his electric combine performance paired with insane moves on the field. He's going to be a force in Carolina's offense and can be used in so many ways he's going to be an instant playmaker. Opening the season against the 49ers will be beneficial as the Panthers unleash this rookie on the league.
RB: Isaiah Crowell ($5,300)
Crowell is one of our favorite guys coming into the 2017 season. With the Browns beefing up their offensive line, and head coach Hue Jackson emphasizing that he wants to run the ball significantly more, Crowell should be in for a solid year. Playing at home against Pittsburgh in Week 1, the Browns should look to seize tempo and control the clock through the ground game. They certainly can't keep up in an aerial contest, so the ground game will be key for Cleveland, thus benefiting Crowell.
WR: Mike Evans ($7,800)
Evans is one of the most talented receivers in the entire league, which is why seeing him priced below $8,000 surprised me. We're expecting a big step up from Jameis Winston in head coach Dirk Koetter's Verticals System, meaning Evans should be in line for a bump as well. To be able to get this elite of a receiver at a "discounted" price is too good to pass up on. I don't see anyone in Miami's secondary capable of slowing him down.
WR: Doug Baldwin ($6,700)
I'm a big Baldwin guy, and I love this matchup here against Green Bay. We know how good the Packers offense and passing game is, meaning the Seahawks are going to have to keep up and sling the rock on the road. Baldwin is Seattle's unquestioned #1 receiver, while the Packers secondary is notably bad as seen in last year's playoffs. Fantastic matchup here for Dougie Fresh.
Terrelle Pryor making it look easy 👀

(via @FixOurBullpen) pic.twitter.com/HGCSiwEtEO

— Bleacher Report (@BleacherReport) August 2, 2017
WR: Terrelle Pryor Sr ($6,100)
Pryor moved to Washington this offseason and is the shiny new toy for Cousins and the Redskins. I love the stack here with Cousins and Pryor against a bad Eagles secondary. Pryor has looked dominant in training camp and appears to be the WR1 in Washington's offense.
TE: Zach Ertz ($3,500)
On the other side of the Redskins matchup, Zach Ertz comes in relatively cheap for one of Carson Wentz' favorite targets. The Washington secondary isn't anything to write home about, while Josh Norman will likely be lined up against Alshon Jeffery. Wentz should make strides in year two, but he'll still love his check downs and reliable tight end in Ertz.
Flex: Bilal Powell ($4,900)
Powell was a man possessed towards the end of the 2016 season once he took over the lead back role for the Jets. He's the starting back for 2017, which leaves him as the only promising option in the Jets offense. Despite such a piss poor roster in 2016, Powell was still able to put up great numbers with his versatile rushing and receiving prowess. Powell is likely to be the only driver on the team's offense and should see a lot of touches for such a low salary.
Defense: Buffalo Bills ($3,900)
The Bills open this season at home against the New York Jets. The Jets offense, STINKS as the starting QB is likely to be Josh McCown and the top receiver is likely Robby Anderson. Jets camp had reported before that Christian Hackenberg was the best looking QB so far, which is an ALARMING thing to point out. The Bills have a solid defense to begin with, but a home game against the Jets is just too perfect.
Make your own "too early" NFL Week 1 Draftkings lineup and post it below in the comments or tweet it to me @theJMcGuinness .