The Fantasy Consultant: Episode 2
Thursdays with The Wolf and Simply Shamus
Once again, thank you for tuning into "The Fantasy Consultant" — Thursdays with Simply Shamus and The Wolf! If there's a theme that I took away from episode two it would be "preparation." More and more over time I'm realizing why everyone has all these papers spread out around them on draft day. My first draft consisted of sitting around a fire with seven ladies, drinking wine, holding pictures up to the crowd asking "nay or yay"… this will no longer be my approach! (The wine, yes!)
The Wolf says…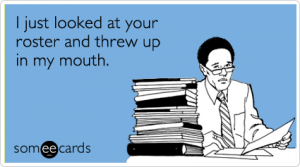 Simply Shamus says…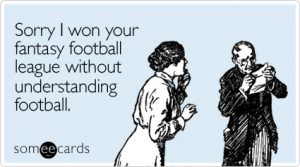 The Importance of the Tiering System
Tiering is a system of not only ranking players at their position but also grouping players together that you view as having relatively similar value. I did this during the "Dancing With The Stars" Fantasy League, so why should it be any different? Essentially saying anyone in that tier of players would do you some good. Being aware of who is an RB1, WR3, TE5, will probably prevent me from making picks such as Eric Ebron in round six. Or the NEVER-ENDING harassment for taking Aaron Rodgers in such early rounds. I've decided for my draft this year — and perhaps for my next mock draft with The Wolf — I will compile a cheat sheet. I have a lot of reading to do — and not just those "Football Fantasies" — to familiarize myself with tiers and who's actually on it. Are flashcards in my future?
Who To Go After First
Talent over need is what The Wolf tells me. And it makes sense. Why rush to get a defense? A quarterback? Tight end? 'Simply' because I think I need one, or like them doesn't qualify. Those are positions that are stacked with similar talent and will be there in later rounds. The majority of points come from the positions of wide receivers and running backs, which are the players I should be piling up come draft day. They're the ones filling more than half your starting roster — logically this makes sense. Although I disagree with Gronk being considered the TE1 (injury bug much) I can see what if someone of that magnitude, skill, point ability must be taken in the earlier rounds if I believe that it's worth the cost.
In Conclusion….
As I continue to embark on this journey of developing my football fantasy abilities, please don't hesitate to give me feedback, words of support, words of disgust, ask questions of intrigue, by no means do I KNOW what I'm doing but I'm certainly eager to. Thanks to the Roto Street Journal for this consulting, I ACTUALLY believe I'm taking in some of this material. As a reigning champion (I'll continue to share this solely for the fact of establishing some sense of credibility) I'm looking to dominate the fantasy world even more this coming Fall!
Tune in on Facebook Live for the Fantasy Consultant series every Thursday at 10am.
Be sure to send in questions on anything (football, fashion, dating — literally, anything) you want to hear Shamus and The Wolf discuss!