Player Stock Ticker
Daily Fantasy Football Stock Report: 8/2/17 News and Notes on Carlos Hyde, Will Fuller, Sterling Shepard and More
Unlike any other site, Roto Street Journal treats Fantasy Football like the stock market is. Just like on Wall Street, values are constantly in flux here on Roto Street, and true Fantasy Wolves never miss a single swing. Thus, we're here to help you sift through the bombardment of news to figure out what truly matters, organizing it all into one convenient spot: The Daily Stock Report. To keep up with breaking fantasy football news, be sure to follow us on Twitter, Instagram and Facebook.
Tier 1 – Genuinely Impactful Notes
These blurbs will undoubtedly cause moves and shakes on the ranks. This could range from significant injury, job promotions and demotions, unexpected volume or role changes, etc.
1)
Carlos Hyde

/

Joe Williams

 (RB – SF)


The San Francisco Running Back Battle has dominated headlines so much that we are currently crafting a separate "SF RB Watch" post as we speak.  Beyond daily material, however, this job is incredibly crucial. Kyle Shanahan's ZBS has long produced monstrous RB1s, and he's never been afraid to play the best system fit, regardless of "nominal starer" or "draft pedigree" status. Thus, a near-daily examination of this backfield's state will be crucial. Here's where we currently stand:
After a rough training camp for Carlos Hyde where Podcast guest Grant Cohn came on to discuss Hyde and the 49ers, things weren't looking up for the former Buckeye back. Now it appears he's locking down that lead role, where handpicked rookie Joe Williams is struggling to adjust to the NFL game. Hyde becomes much safer to draft now, while Tim Hightower is establishing himself in that #2 role.
"It was a good first week of practices for Hyde. He looks – right now – to be in good position as the team's starting running back. Veteran Tim Hightower is also looking very good. He appears to be the team's second-best running back.

Hyde looks to be adapting better and better to the 49ers' run scheme. And he has also placed a lot of emphasis on catching the ball out of the backfield.

Rookie Joe Williams, a fourth-round draft pick who was seen as a serious challenger to Hyde, has gotten off to a slow start and he is still gaining familiarity with the system. He also must do a better job of securing the football." – Matt Maiocco of CSN Bay Area
 

2) 

Will Fuller

(WR – HOU)

, 

DeAndre Hopkins & Braxton Miller 

Though drafts will be largely unaffected as a whole, Will Fuller (HOU-WR) has suffered a broken collar bone and will miss 2-3 months. With a Week 4 return a "best case," Fuller now loses any "Penny Stock" appeal he brought to the table, but is a worthwhile name to stash away for midseason.
DeAndre Hopkins is guaranteed even more early-season work, while Braxton Miller now has a shot to truly emerge. 
Tier 2 – Fodder to File
Interesting stories to file away, though they might not cause immediate waves on the rankings quite yet. This is the puff stories that we want to see some actual tape / action backing up, stories or injuries that need more concrete developments before we move people in the ranks, etc.
 1) Todd Gurley 

(RB – LA)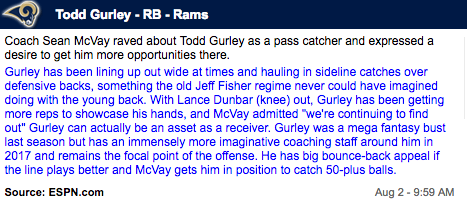 Earlier in OTAs, we outlined how Sean McVay was a far more innovative offensive coach who was hoping to "merge" the running and passing games in Los Angeles. As camp unfolds, it appears Gurley is still being lined up all over the place and is flashing some serious receiving chops. In addition to his improved offensive line following Andrew Whitworth's addition, this increased, more creative usage undoubtedly helps Gurley's chances at a 2017 rebound.  His fortunes are still tied to Jared Goff taking another step forward, which makes him far from risk-free. Still, Gurley brings serious upside as an RB2, and could easily push for top-five RB status if all the cards fall in his favor.
2) 

Sterling

Shepard 

(WR – NYG)

Sterling Shepard originally seemed destined for the #1 News Spot after crying while being carted away from the field over an ankle injury.  Yet, all that was revealed was his general softness, as he merely suffered a low-ankle sprain that only takes a few days, maximum a week, to overcome. Thus, he earns the elusive "Red Green" tag after suffering an injury, but one far less serious than originally speculated.
Even if he were to miss serious time, Shepard was a mere late round flier. His absence would've benefited Brandon Marshall and Evan Engram's volume outlook, especially in the red zone where Shepard thrived last year. However, this seems to be a moot point, as this was again just a day to reveal Shepard is made of downy toilet paper.
3) 

James White  

(RB – NE)
Our fearless leader The Wolf actually attended Patriots practice today in Foxborough and had some tasty bits to share. Apparently, James White was heavily involved with the first team while being used in two-minute drills and passing situations. He was the star of Patriots camp and even had two receiving touchdowns on the day. It looks like his performance in Super Bowl LI wasn't just a one hit wonder. One of our favorite Penny Stocks.
J. White= star of #Patriots camp so far. By far most reps w. 1st O, all 2 minute snaps, peppered with tgts. 2 rec. TDs, one on deep wheel rt

— Wolf of Roto Street (@RotoStreetWolf) August 2, 2017
James White doing James White things. #Patriots pic.twitter.com/mQJVWTdHh7

— Roto Street Journal (@RotoStJournal) August 2, 2017
Jimmy Garoppolo to James White on the wheel route on Pat Chung #Patriots

(IG: iampatsnation) pic.twitter.com/tigHM0kjHF

— Casey Baker (@CaseyBake16) July 30, 2017
4) 

Mark Ingram 

(RB – NO)

Here's a nice tid bit on Ingram who has fallen drastically in our RB rankings with the Saints signing Adrian Peterson. If Ingram can monopolize on the passing game work, it could salvage his value and bring him back into promising territory, especially considering how muddy the middle-range RB2 tier has become.
Big gain on pass play to Mark Ingram down the left sideline. He's been very active in passing game all camp.

— Mike Triplett (@MikeTriplett) August 2, 2017
5)

Jamaal Williams

(RB – GB)

This seemed pretty predictable as rookie Jamaal Williams seems destined for the RB2 role in the Packers offense. Pass protection is usually what keeps rookie RBs off of the field, so seeing Williams be praised for those abilities is a very good sign. It allows Green Bay to play him in more situations while protecting star QB Aaron Rodgers instead of the former WR turned RB Ty Montgomery.