CLICK HERE TO SIGN UP FOR YOUR FREE FANTASY FOOTBALL MARKET REPORT: TRAINING CAMP EDITION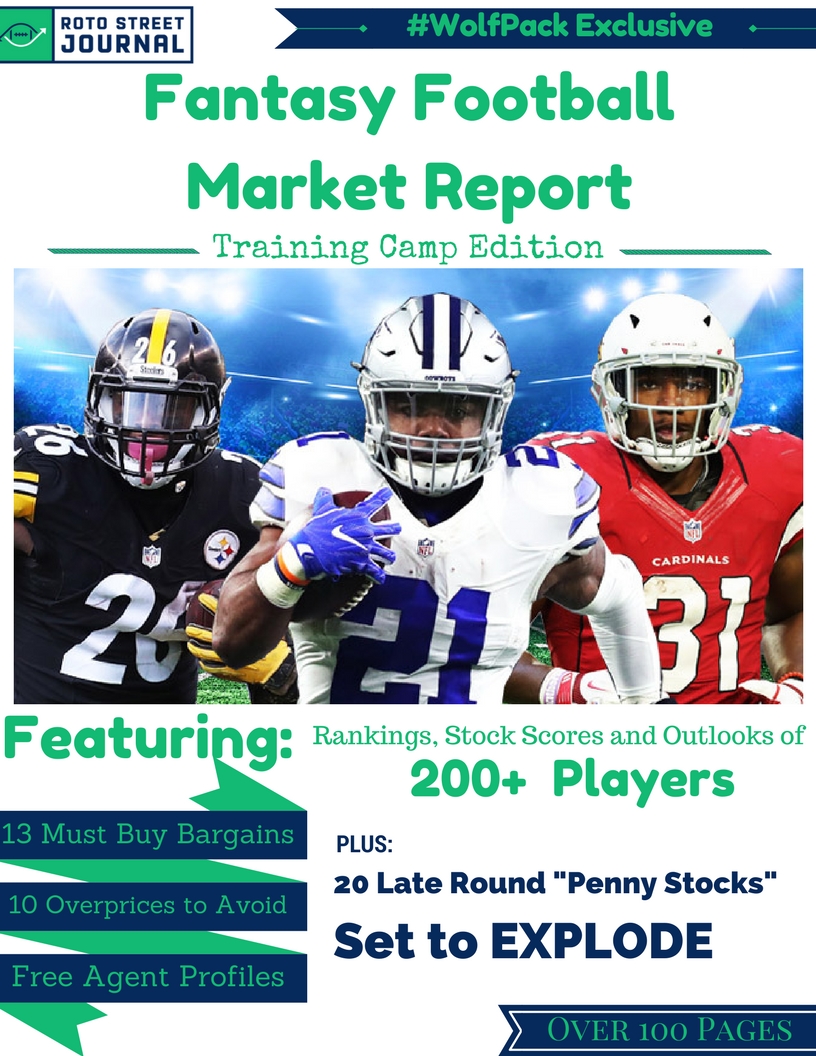 Fellow Fantasy Wolf,
I am honored to welcome you to our first-ever Fantasy Football Market Report. Though I've been preparing for 2017 domination since the final whistle of Super Bowl 51, you're likely more sane than myself.  This Training Camp Report is a culmination of months upon months of research and analysis to feed my insatiable fantasy football addiction.  More importantly, it's also your Fast Pass to not only getting completely caught up, but far ahead of the rest of the fantasy sheep.
By downloading this guide, you will gain access to:
The 13 Bargains You Need to Capitalize On

The 10 Overpriced Players to Avoid

20 Under 120: The "Penny Stocks" Going After Round 10 That'll Win you a Fantasy Football Championship

An inside look as to how we grade every player's "Fantasy Stock" with the most comprehensive evaluation tool out there

The most in-depth and accurate rankings completed with said evaluation tool

In-depth "Stock Profiles" on every free agent mover and "Our Guys"

A sneak peek at the game-changing content you can find every day on our site

A Look Ahead: The crucial fantasy storylines you need to be monitoring over Training Camp

The Wolf's 2017 Big Board
And so much more!
All of this for just providing an e-mail? One that'll land also you title-swinging, exclusive #WolfPack content all summer? Oh, and ANOTHER championship-bringing Market Report come August?!
Yes, you have indeed hit the Fantasy Football jackpot.
These 100+ analysis packed pages aren't for the "casual fantasy" owner who wants some light beach-reading material. This isn't meant to be consumed in one sitting. We aren't here to "summarize" a few "key points" that everyone and their grandma already knows.
This is for those who like no fantasy stone being left unturned. For the hardcore addicts who value fantasy titles (nearly) as much as their wedding and graduation days. This is for the bold and innovative owners who want to climb above the "groupthink" analysis that pollutes this great game. This is for the Fantasy Wolves.
We are thrilled for the chance to bring you a title in 2017.  But, of course, the Fantasy Market never sleeps, and nor do we. Stay engaged. Connect on all your socials to never miss a hot take or crucial fantasy development. Submit any and all questions for our unmatchable MailBag analysis. Subscribe to The Fantasy Fullback Dive on iTunes and Roto Street TV on YouTube to see and hear how we're revolutionizing the way fantasy content is delivered. And be sure to download Part Two of our Market Report, dropping in mid-August to ensure you stay ahead.
It's feasting time. Cheers to preying on the fantasy sheep all fall, you Wolves.
—The Wolf of Roto Street & co
CLICK HERE TO SIGN UP FOR YOUR FREE FANTASY FOOTBALL MARKET REPORT: TRAINING CAMP EDITION
A Look Inside…
Bargains: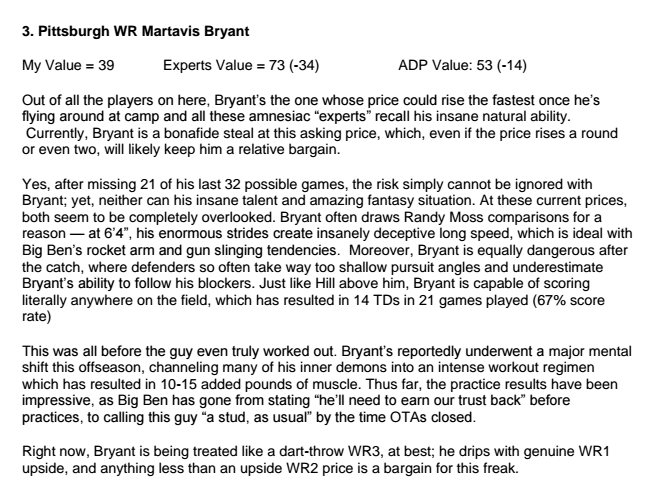 Overpriced: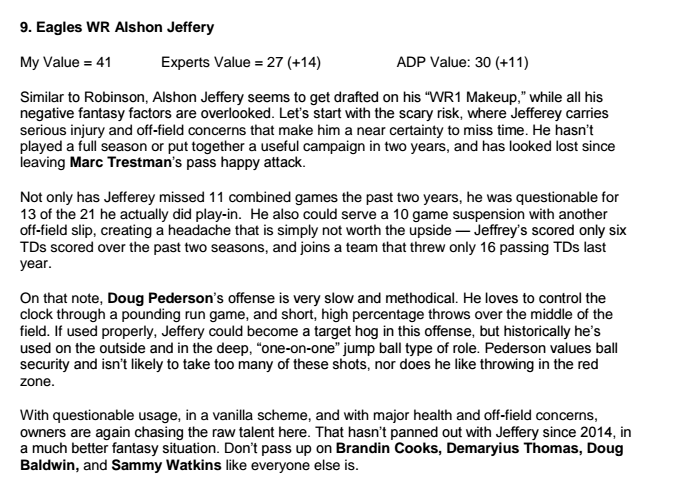 Penny Stocks: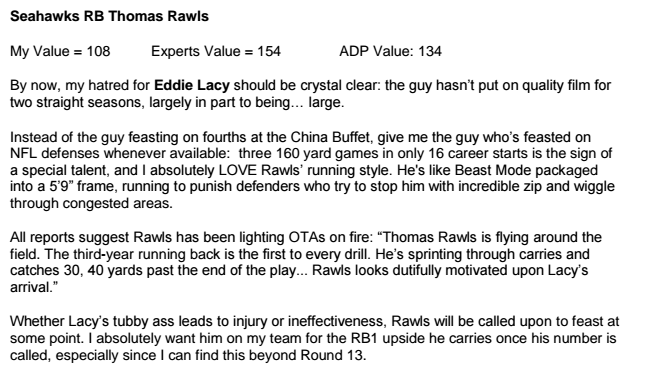 Again, there's over 100 pages of quality, information-packed blurbs like those above. And all we are asking is for an e-mail, which will land you more exclusive content all summer long. So what are you waiting for? Join the #WolfPack now.
What are they saying?
"That fantasy guide you sent my way is awesome, thanks. That guy really knows his fantasy. He doesn't value QBs though." – Wil M.
"Absolutely love the FFMR you put out, it's great.. so far I think it's perfect. It's got a ton of info, but also very skimmable" – Jay N.
"I'm not a fantasy guy [more of a broad NFL guy], but that's pretty impressive stuff. Really impressive amount of info you guys have compiled" – Frank J.
"As a fantasy football fan, I've never seen a pre-draft report so in-depth. This will definitely be with me in the draft room." – Sean D.