Okay, lets be honest… today may be one of the worst days of the year. You might be at work right now, you're hungover today, and last night wasn't worth puking this morning. What if I told you that today may be the second worst day, not the first? The worst day is the day you draft Cam Newton.
Now don't get me wrong, we all loved Superman Cam. We all remember the beautiful drives that he would put together. If the defense would drop eight in coverage, he would scramble for 20 yards. If the defense would keep a spy on him, he would chuck it over the middle for a 15-yard gain.
Then Von Miller happened.
After Superbowl 50, something happened. His 18-41/0 TD/1 INT line was a foreshadowing for fantasy owners of the season to come. Last season, he was tied for 20th in the league in touchdown passes, 29th in TD/INT ratio and 21st in total passing yards. One of the only stats that he finished the top 10 was in interceptions, with 14. From a fantasy standpoint, the consensus preseason top three QB finished the season ranked as QB19. It has to be clear that there are a lot of better options, right? Right?
Nope.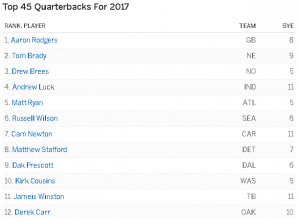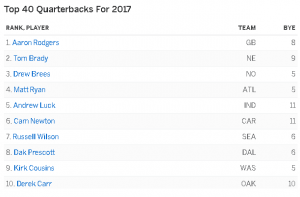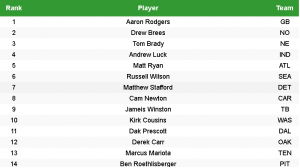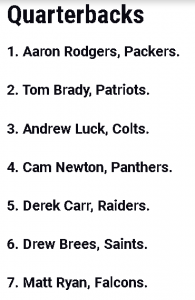 How is this happening? How is he being chosen over proven studs? Is the world crazy? Have people been putting their rankings together by throwing darts? Lets get done with this Three and Out so I can go puke from the mix of booze and these quarterback rankings.
1. Newton is being drafted way too high.
First of all, if you draft a quarterback within the first 7 rounds, you're an idiot who hates value. This topic will be discussed closer to the draft, but simply the gap between QB1 and QB12 (which is where The Wolf has him ranked) is too small to really sink much stock into them. Partner this with him being ranked a top 10 QB in "expert" rankings and mock drafts, his stats do not back up his production. Go ahead, scroll up and read those stats over again. Too gross to read again? Don't want to live the horror that was his 2016 campaign? Well get ready for it again, because I am going to pull a Schefter and just quote myself.
"Last season, he was tied for 20th in the league in touchdown passes, 29th in TD/INT ratio and 21st in total passing yards. One of the only stats that he finished the top 10 was in interceptions, with 14. From a fantasy standpoint, the consensus preseason top three QB finished the season ranked as QB19."

-The Smartest Man Alive
Yet people are going to go ahead and draft him because they get nervous when they see a blank spot on their roster in round 7. Don't be that person, go with players who can stand out and break out in those rounds and find your quarterback a few rounds later — such as a Tyrod Taylor, whose ADP is around 140 and was last year's QB8.
2. Ron Rivera is cutting his rushes.
The most intriguing part of Newtons game has always been his legs. From his time at Auburn, to his 2015 MVP campaign, Newton has always been a threat on the ground — and especially at the goal line. However, this is not the case anymore. Last season was the first time in his NFL career that he did not eclipse 100 rushing attempts, which was partnered by a career low 359 rushing yards — almost 200 less rushing yards than his second worst season. This also led to a career low in rushing touchdowns, with only five on the season. If these stats were not a concern to fantasy owners already, Ron Rivera gave a quote to scare every owner around the world.
"We understand and we get that there's some things that have to evolve around (Newton) because he's evolving as a quarterback, as well. He's getting older and he's going to be a different style player. We know that much."
This was all said after talking about how the more Cam rushes, the more big hits he takes. Rivera is worried about the durability of Newton, so why aren't you?
3. His weapons are good, not great.
Although he does have two shiny new weapons in Christian McCaffrey, and Curtis Samuel, his other weapons are slowly breaking down. Greg Olsen is on the wrong side of 30 by a couple years, Jonathan Stewart (who is still listed as their RB1) hasn't played a full season since 2011, and Kelvin Benjamin gained more pounds than actual receptions since he tore his ACL. These targets of his do not support a top 10 ranking. Although McCaffrey will be a great check down target, he will be taking away from the rushing attempts that Newton's owners are accustomed to seeing.
Now lets see what you have to say:
The best part about talking about fantasy football is the interaction with you guys. Different opinions lead to different answers, in which the only way to find the truth out is to wait until the end of the season.
These are some of my favorite replies to my question: Where does Cam Newton end up? So make sure to follow me at @InternRSJ to have the chance to have your tweet be featured in next weeks article.
11-15 for me, Cam is a generational athlete but he hasn't shown he can be an elite passer, low completion %, often inaccurate.

— Cody Hamilton (@oregonbeernerd) June 30, 2017
This is a great response because it does include how skilled Cam Newton is. Although I do not believe Cam is a great quarterback, his athleticism cannot be questioned. But father time catches up with everyone… was last season evidence of that?
I'll say 6-10… hard to see him not succeed with addition of offensive weapon McCaffrey https://t.co/6x9NPXbcFj

— Best NFL Matchups (@BestNFLMatchups) June 30, 2017
When his fantasy relevance is reliant on his rushing yards and touchdowns, I believe the addition of McCaffrey may hurt him. Defenses will be much more wary of the rush, which does not really help Newton too much.
https://twitter.com/CouchRR/status/880795629643018240
It is quite hard to have a worse season than the previous. so you may be right there. But top 10? Eh.
11-15 for me 👍🏻 https://t.co/LiCtkYEWSy

— Raiders Report Mitchell Renz (@MitchellRenz365) June 30, 2017
Love the commentary on this one, lots of thought into this reply.
QB 11-15. They will be protecting him more. Less work on the ground.

— Tim Jablonski (@TimJablonski) June 30, 2017
Although they have added a weapon in McCaffrey, they did not do much to their line, so I am not sure how true this is. The line can only do so much with the talent, or lack-thereof, that they have.
Newton's a QB 6-10 due to a surge in the pocket passing game with new check down weapons, but major regression in rushing yards and TDs

— TFGYFA (@FantasyGuysBSHW) June 30, 2017
The theory that you have on his upswing in pocket passing is true, he will have more attempts. I, however, don't believe he is a good enough quarterback to crack the top 10 with his arm alone.
With Benj 100% Healthy as long as he dont eat Newton cam should b around 9 or 10

— DisKountDynasty (@DisKounTDynAsTY) July 1, 2017
That is a big if, for I am not sure anyone can say for sure Benjamin won't take at least a little nibble of Newton. But seriously, your projection is just cracking the top 10 IF Benjamin stays healthy.
He is also regressing in rushing stats and is a career 20:14 td:int guy. Doesnt sound like top 10 QB to me

— NFL Horn (@NFLHorn) July 1, 2017
EXACTLY! DING DING DING!
Now he's becoming a low end starter in your eyes. How about Dak? Or Drew Brees… you see where I'm headed

— Intern Kevin (@InternRSJ) July 1, 2017
This was my absolute favorite interaction this week. I cannot list out the entire tweet conversation but please click on the tweet to see it, because it quickly shows how the mistake of Cam being drafted high can happen. Austin started with listening Brady, Rodgers, Ryan, Rapelessburger and Carr as the QBs who will be better. I can see him now at the draft after all of these players are taken and when it comes to his draft spot, he panics and takes Newton. But after this tweet, he corrected himself with who is better than Newton and said "Maybe Eli Manning also." But when reminded of Mariota, he remembers him and Winston. But what about Brees, and Dak? The list goes on.
Don't do what Austin did. Do not fall into the trap of remembering a pretty name and what he did two season ago, which in fantasy years might as well be ancient. Please remember all of the talent that awaits in later rounds. When you see an idiot drafting Cam in the 5th round over the other stud quarterbacks that you will get amazing value with later on, hit 'em with a dab.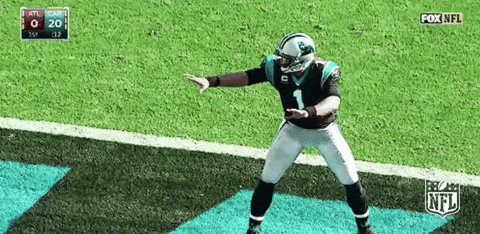 Well that's it for this weeks Three and Out. Remember to follow me at @InternRSJ on twitter and to be interactive to have a chance to make the next article. If there is any player in particular that you believe to be either undervalued or overvalued that you would like to see on the Three and Out, leave a comment or send me a tweet.