In the most recent episode of the Fantasy Fullback Dive (subscribe on iTunes here or Stitcher here), our boys welcomed Trevor Sikkema, Buccaneers beat reporter for the Pewter Report, for an interview. From Doug Martin and Mike Evans to Cameron Brate vs. OJ Howard, the podcasting world's grittiest superstars explored every way that the Tampa Bay Bucs could impact your fantasy league in 2017 — and it certainly didn't hurt to have a Bucs expert on the line. Is DeSean Jackson gearing up for a breakout in year one in Tampa? Will Jameis Winston be able to utilize the multitude of weapons he has?
Luckily for you, I've taken the liberty of identifying and summarizing the main points of our extremely extensive interview with Sikkema. You're obviously gonna want to listen to the whole thing for some A1 banter and whatnot, but for those short on time, here's what you should know.
1. The Bucs now possess the talent to utilize head coach Dirk Koetter's creativity and vertical tendencies
"I think they [the Buccaneers] are going to be more creative than they ever have because I think for the first time they have the personnel that they actually want."
Dirk Koetter is an offensive game planner through and through. After serving as the team's offensive coordinator in 2015 following OC stints with Atlanta and Jacksonville, Koetter took over as the Bucs head coach last season. As Tampa Bay OC in 2015 — commanding an offense led by a rookie QB in Jameis Winston — Koetter led the Bucs to a franchise-record 6,014 total yards, ranking 5th in the NFL in yards per game (375.9) and rush yards per game (135.1). The Bucs were full of weapons a season ago with names like Mike Evans and Doug Martin on the roster, but with the additions of guys like DeSean Jackson in free agency and TE O.J. Howard in the Draft, the team now has an abundance of threats for Koetter to move around like chess pieces. Many experts are predicting an offensive rebirth in Tampa Bay this year as Winston enters his third season in the league, and the pieces are certainly there at this point.
2. DeSean Jackson will be much more than just a deep threat in Tampa Bay
Check out this bit from our world-class graphics department: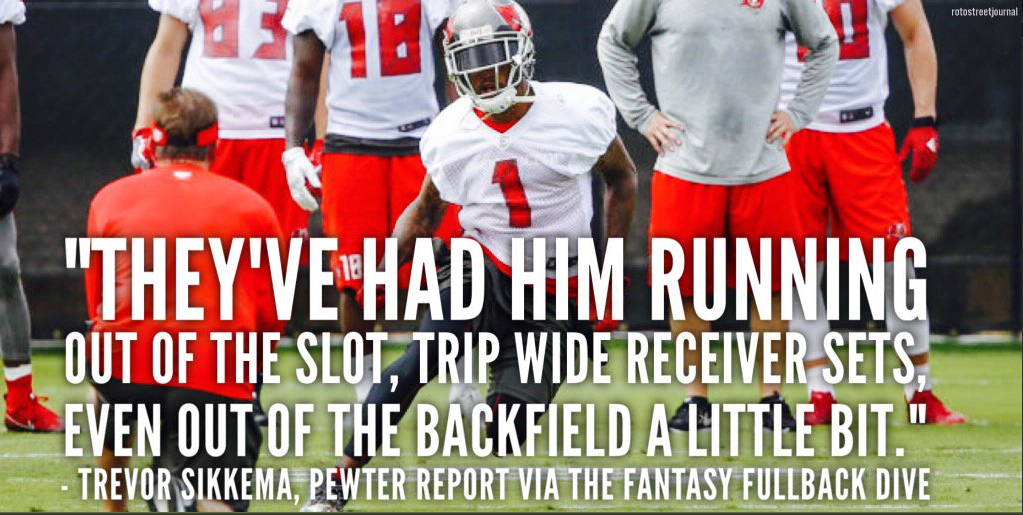 This should get your balls tingling if you're a potential DeSean Jackson fantasy owner. For years, Jackson has been one of the most electric deep threats in the game. He's fast, he's got great hands, and he's not afraid to take risks downfield — the ultimate fly route receiver, when you think about it. And it's given us a lot — A LOT — of great highlights.
But as great as he's been, it's awesome to see he's in a system that can utilize all the talent he has. I compare this a bit to this year's situation with Kansas City's Tyreek Hill — we've seen what this guy can do running back kicks/punts and being put into unconventional roles in an offense, but who says that means he can't diversify a little? Why can't Jackson use his quickness on crossing routes? Or catch a screen pass out of a trips WR set? Or maybe even take a hand off or catch a swing pass out of the backfield? He's surely got the talent, and now he's in the offensive system that'll utilize that talent.
3. Doug Martin should be treated as a potential RB1 option in 2017
Obviously, last year was a down year for Doug Martin. He missed half of last season with a nagging hamstring injury and then was suspended late in the year. In only 8 starts, he totaled just 421 yards and 3 TDs on the season. This represented a sharp decline from his All-Pro 2015 season where he racked up over 1,400 yards and started all 16 games. As a result of Martin's shortcomings, Tampa Bay ranked 24th in rushing a season ago after finishing 5th in the NFL in the same category a season prior. But according to Sikkema, Martin is a prime candidate for a turnaround.
"We really did not think that Doug Martin was going to be on this team when he was going through everything that he was going through last year. We finally got to see him on the field over the last couple weeks, and man… every time a running back's making a play, I always look up and I go, 'Who is that? It's Doug Martin.' Every time."
The "Muscle Hamster," as he is called around the nation despite his overall hatred for the nickname (also discussed in detail during the interview), may not have impressed much last season, but once his three-game suspension is up to start the 2017 season, he seems to be trending upwards. He's in great shape, has been regaining his strength in the offseason, and seems poised for a top-15 RB finish by season's end. With most experts ranking Martin around the RB32 mark, The Wolf currently has him ranked as his RB21.
4. OJ Howard is not the Tampa Bay TE to target in early rounds
With all of the electric weapons surrounding Jameis Winston on Tampa Bay's offense, one thing that would really come in handy (as is the case for all young QBs) is a big tight end to target in the red zone. Cameron Brate attempted to fill this role for the Bucs a season ago, and did so to a certain extent — he recorded 650 yards and 8 touchdowns on 57 receptions last season. The Bucs did not deem these numbers worthy of total job security, however, and grabbed O.J. Howard from Alabama with the 19th pick in this year's draft. So which guy will be getting the majority of snaps, and therefore be the TB TE that should occupy spots on fantasy rosters?
"About a month ago, I wrote 'Expect OJ Howard to be the starting tight end in Week 1.' That's wrong; he's not going to be. It's going to still be Cameron Brate."
Sikkema goes on to point out that Howard is a much better run blocker than Brate, which will ensure that Howard gets a healthy amount of time on the field as a rookie, but as far as fantasy relevance and red zone targets, Brate is still the top dog in Tampa Bay.
5. Mike Evans should be ranked ahead of Odell Beckham Jr.
And finally, we dive into possibly the most intriguing, and certainly most talented, aspect of the Bucs offensive unit: Mike Evans. Evans' reception and yardage totals have been steadily increasing over his first 3 years in the NFL, and last year he tied his career-high from his rookie season with 12 TD receptions to go along with 96 receptions and over 1,300 yards. It's because of this and a number of other factors that The Wolf has notoriously placed Evans ahead of Odell Beckham Jr. on his most recent WR Rankings, listing Evans as WR3 and OBJ right behind him at WR4. But with the additions of guys like Jackson and possible sleeper WR Chris Godwin, should Evans' stock be dropping?
"I will say that Evans is certainly going to still be the focal point of this offense." Sikkema said. "Whether they get the ball more or less than whatever you think to these other guys, Evans is still their priority number one. When they're running goal line, Evans is still their guy. When they're running the 1 minute drill, Evans is still their guy. Wherever he is on the field, he will be an integral part and really the feature part of what they're doing to move the ball on offense."
So despite a great deal of offensive additions, Mike Evans will remain the Buccaneers #1 offensive weapon, as he should. Whether he can duplicate his league-high 175 targets is a whole different question, but as far as his role in the offense, he's not going anywhere.
Did I miss anything from our interview? Do you disagree with our experts' opinions? Find me on Twitter @seankeegs16 and keep an eye out for our next interview and more fantasy-relevant takeaways as we approach the 2017 NFL season.