After leading the league in rushing his rookie season, Ezekiel Elliott will look to make a fantasy impact as a receiver in 2017.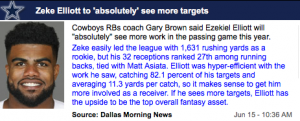 Ezekiel Elliott is currently the census fantasy football RB3 after racking up a league-best 1,631 yards on 322 carries during his rookie season. Although he's probably the most skilled runner in the league — behind the league's best offensive line — the reason he's situated behind David Johnson and Le'Veon Bell is because of his lack of targets in the passing game. Elliott finished with 32 receptions last season, which was tied for 27th among running backs. To put this in perspective, Johnson finished with 80 receptions and Bell finished with 75 receptions in only 12 games played.
Luckily for Zeke owners, the Cowboys let Lance Dunbar walk in free agency and they didn't replace him with a legitimate pass-catching back. Dunbar racked up 55 receptions the past three seasons on 69 (nice) targets. Dunbar isn't exactly an elite pass catcher, but he does open up some targets for Elliott.
At Ohio State, Elliott wasn't targeted often, but as someone who watched all of his snaps in college, I do not recall him dropping a single target — even in 2014 when he wore a cast on his wrist the entire season due to a broken wrist. Elliott recorded the majority of his 55 receptions (in his two seasons as a starter) on swing passes out of the backfield, but he occasionally lined up out wide in Urban Meyer's offense.
The reason why I thought Zeke would have early success in the NFL was due to his elite pass blocking. During his final season in Columbus, Elliott did not allow a single quarterback pressure, hit or sack in 101 pass blocking opportunities. He showed right away as a professional that he was an elite pass blocker and that skill will definitely keep him on the field for all three downs.
Tony Romo appeared to hurt his back. Great block by Zeke, but certainly not what the Cowboys want to see pic.twitter.com/21rt9cUjp2

— Jon Machota (@jonmachota) August 26, 2016
So not only does Elliott possess the skill set to stay on the field and make an impact in the passing game, but he's also entering his sophomore campaign, where he's a full season in the offense and two full offseasons to learn the intricacies of the offense in the film room.
"I think there is big room for improvement," Elliott said. "Just being more comfortable, being able to anticipate more. That's what I'm working on this offseason."
Elliott also went on to say that he "left a lot of yards on the field" in 2016, which is frightening for opposing defenses, but yet another reason why he could be the RB1 in 2017.
We are the 'Watchers on the RotoWall,' and indeed, the RotoWorld Blurbs can be dark and full of terrors (re: nonsense on backup right guards and their contract disputes). Instead, bookmark our Fantasy Football Stock Watch, and let us sift through the nonsense to bring you the blurbs that actually matter, with the in-depth analysis we're known for.  A Fantasy Wolf doesn't miss a single stock market move, so don't be a sheep.