Todd Gurley's "Usage" and "Coaching Scheme" scores gain nice boosts as HC Sean McVay plans to create mismatches by moving him around and maximizing his receiving abilities; OC Matt LaFluer is fully on board with "marrying" the running and passing games.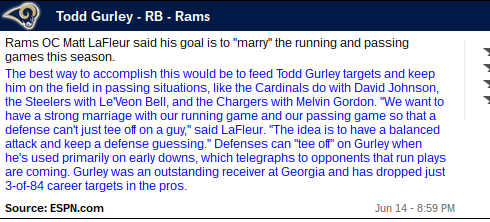 Wolf's Take
Early offseason reports projected Todd Gurley to see a diminished receiving role despite doubling his reception totals in his sophomore campaign (about the only bright spot). Newly signed Lance Dunbar was supposed to play HC Sean McVay's "Chris Thompson"role, while Gurley did the majority of his damage on the early downs.
Fortunately for Gurley's fantasy value, the on-field action suggests the complete opposite.  Early in minicamp, Gurley has reportedly been "moved around the offensive formation," as McVay appears to be "on a mission to make Gurley more difficult to locate."
This creative alignment and usage is a welcomed sight after Gurley was locked in Jeff Fisher's value-sapping torture chamber of an offense; instead of being rammed into his blockers repeatedly, Gurley's been used on swings, jet sweeps, and really all over in the passing game:
"Occasionally, he lined up wide outside two receivers. On another snap, he motioned from out wide into the backfield before running a route in the other direction. He saw a lot of targets from quarterback  Jared Goff in the passing game, often appearing to be the primary read." 
This aligns with OC Matt LaFluer's goal of having "a strong marriage with our running game and our passing game so that a defense can't just tee off on a guy. The idea is to have a balanced attack and keep a defense guessing."
Seems like the opposite of the earlier "Gurley first and second down, Dunbar is third down" type of prognosis.
As RotoWorld points out, this type of expanded and extensive usage could place Gurley in a rare category of three-down workhorse; moreover, Gurley has flashed the receiving chops to execute, as noted in this RotoViz article from two years ago:
"First, let's consider Gurley's college receiving production. Gurley had 65 career receptions for 615 receiving yards, six TDs, and 9.5 yards per reception average. Contrast that with someone like Peterson, who had only 24 receptions in his college career despite seeing 238 more carries than Gurley. When Shawn Siegele put Gurley through the RB Prospect Lab last offseason, he came out with an incredible score. One of the inputs? Final year receptions per game. Kevin Cole's RB projection model gave Gurley the most favorable prediction of any RB from the 2014 and 2015 classes. One of the inputs? Final year receptions. Given Gurley's strong raw receiving production, and his favorable projections from models that incorporate receiving, there is more than enough reason to believe he has the potential to be a heavily utilized receiving RB in the future."
While Gurley's natural talent is on par with elite workhorses like David Johnson and Le'Veon Bell, a role of similarly huge usage wouldn't likely yield equally monstrous results. Mainly, he's tied to Jared Goff, who makes me throw up a little every time I type his name. Sure, reports suggest Goff is moving "surprisingly fast" in picking the offense up and is having an "easier time" in this more creative yet simpler scheme. I don't care. Until he makes a single legitimate NFL play, I'm not sold. The stacked boxes and minimal scoring chances won't change without a major step forward, better scheme and usage withstanding.
Still, Gurley remains a major offseason "Winner."  His line has been beefed up thanks to the mauling addition of LT Andrew Whitworth, plus (somewhat) stabilizing center Jason Sullivan provides depth at their weakest position. He projects to be used far more creatively in both the running and receiving game. Additional outside weapons in Robert Woods and Cooper Kupp have been added.  If Goff can be even mildly competent, a Gurley revival seems likely. He's among the highest upside RB2s out there, and his top-five ceiling is far more real in light of his newfound role.
We are the 'Watchers on the RotoWall,' and indeed, the RotoWorld Blurbs can be dark and full of terrors (re: nonsense on backup right guards and their contract disputes). Instead, bookmark our Fantasy Football Stock Watch, and let us sift through the nonsense to bring you the blurbs that actually matter, with the in-depth analysis we're known for.  A Fantasy Wolf doesn't miss a single stock market move, so don't be a sheep.