Player Stock Ticker
Fantasy Football Stock Watch: WR Jeremy Maclin signs with Ravens, oodles of targets to ensue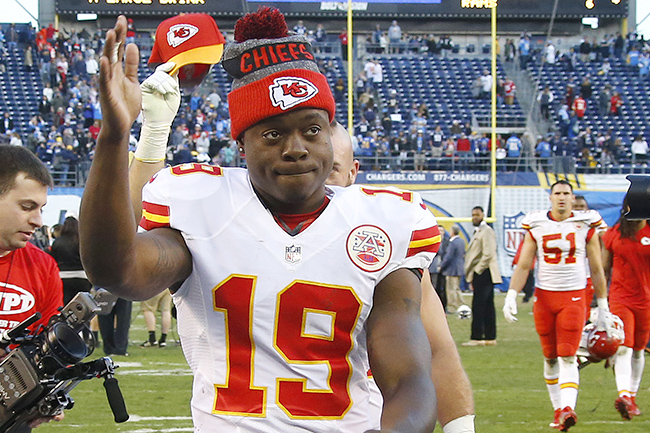 After the Kansas City Chiefs unexpectedly released WR Jeremy Maclin, the Baltimore Ravens, a team desperate for a sure-handed pass catcher, signed Maclin to a 2-year, $11 million dollar contract.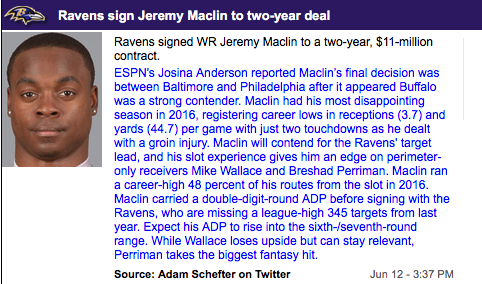 RedSocker45's Take
We all knew a signing was imminent, we just did not know who would win the Jeremy Maclin sweepstakes. It came down to the Baltimore Ravens and a potential triumphant return to the Philadelphia Eagles (the Buffalo Bills were obviously out of it because of money and poor financial management). Fortunately for the Baltimore Ravens, Maclin decided to take his talents to a new home, and he should find himself quite comfortable there.
Ravens and WR Jeremy Maclin agree to a two-year deal, per source.

— Adam Schefter (@AdamSchefter) June 12, 2017
From a fantasy football perspective, this is potentially gigantic news. The Ravens are missing a league-high 345 targets from last year as noted above. With a potential career-ending injury for Dennis Pitta, the retirement of Steve Smith Sr., no "true" running back, and no sure-handed receiver, Maclin should thrive alongside gunslinger Joe Flacco and on a team that led the NFL in pass attempts in back-to-back years. Let's take a deeper dive into the receiving core for the Ravens, shall we:
After losing his rookie season to injury, Breshad Perriman became everyone's favorite sleeper pick in the 2016 fantasy season…Only to completely bust and disappoint with a meager 499 yards on 33 receptions. While we are still hearing rumblings about Permian's potential, he does not represent a significant fantasy threat or reliable producer.
Mike Wallace enjoyed a career resurrection in 2016 amassing over 1,000 yards receiving and 14+ yards per reception. However, we all know Wallace has the long game down part but he lacks that short, intermediate passing game attack that can add crucial points to your fantasy team. While I do not think Maclin's addition kills Wallace's value, he will certainly take a hit with a more reliable, consistent performer on his team.
Danny Woodhead, Kenneth Dixon and Terrance West would make one hell of a running back if they were all one player. Unfortunately, they profile more as a three-headed approach to what seems a receiving-oriented attack out of the backfield. In a pass-happy league, I do not expect Harbaugh to rely on any of these three for consistent ground-game yardage.
Finally, the tight-end crew of Ben Watson, Crockett Gilmore and Maxx Williams really does absolutely nothing for me. The Ravens might as well be throwing to slabs of meat with stickum on them.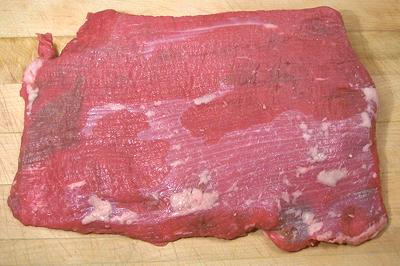 So those are the receiving "threats" to Maclin. Really, the only threat I see is Joe Flacco, who likes holding the ball and throwing it down the field to make the big play (aka, targeting Mike Wallace on fly patterns). However, Flacco really has never had a great intermediate threat and if Coach John Harbaugh can get Flacco to see the light and the usefulness of a sure-handed guy like Maclin (who has dropped 5 passes over the last 3 years, spanning 343 targets and 216 receptions), I can see Flacco exploiting his new reliable toy for 80+ receptions and 1,000+ yards. For me, Maclin's hands and reliability make him a top 100 player in half point PPR, with the upside of a WR2.5 if the Flacco/Maclin love connection really takes off.
We are the 'Watchers on the RotoWall,' and indeed, the RotoWorld Blurbs can be dark and full of terrors (re: nonsense on backup right guards and their contract disputes). Instead, bookmark our Fantasy Football Stock Watch, and let us sift through the nonsense to bring you the blurbs that actually matter, with the in-depth analysis we're known for.  A Fantasy Wolf doesn't miss a single stock market move, so don't be a sheep.
To contact me with any questions or general fantasy baseball discussion, please email me at redsocker45@gmail.com or tweet me ‪@AJGamballer‪.