Rex Burkhead's "Penny Stock" value is on the rise thanks to heavy usage early on, including red zone packages 
Meanwhile, the previously ascending James White, as well as Mike Gillislee and Dion Lewis, all fall as this backfield becomes even more difficult to project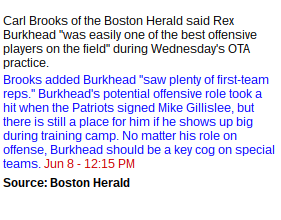 Wolf's Take
Just when you think you've got the Patriots backfield figured out… its gets Burkheaded!
The newly acquired Rex Burkhead is reportedly being heavily used and making the most of his opportunities, as he has been "easily one of the best offensive players on the field," according to the Boston Herald:
Burkhead established a strong connection with Tom Brady, catching all five passes from the quarterback during 11-on-11 drills.

Burkhead saw plenty of first-team reps, catching passes from both Brady and Jimmy Garoppolo. He pulled in passes while working from all over the field, coming out of the backfield, shifting out to the slot and lining up outside. He was even spotted on the punt coverage team, communicating well when asked to do so.
Unmentioned by the RotoWorld Blurb, yet perhaps most crucial of all, Burkhead has been receiving heavy usage in the red zone drills, and is reportedly dominating: "One area that stood out was in the red zone. Burkhead looked fluid in his footwork inside the 20-yard line and had many reps in that spot."  Sup, Gillislee?
Even just earlier this week we thought this cloudy backfield picture was finally gaining clarity: James White had reportedly "seized" the highly valuable third down back role "with authority," while Mike Gillislee is continually projected for LeGarrette Blount's vacated "big back" usage. But Burkhead is getting heavily worked into both areas,  which makes any part of this backfield a far riskier investment.  All the backs have received "Usage" and "Risk" downgrades, and been re-ranked accordingly.
Indeed, this is just another glaring reminder of how unpredictable New England's backfield can be.  Nonetheless, any smart owner will never write the group off entirely, given how explosive this offense projects to be and how many scoring chances will be up for grabs — just ask anyone who secured Blount's 18 TDs in Round 10 last year.   Around 50% of Belichick's backfields have yielded bonafide RB1s, while the other half has featured migraine-producing committees.  Yes, early signs are unfortunately pointing to the latter, but owners must still monitor this backfield closely all summer for any signs of clarity.
Right now, I still expect Gillislee to lead the team in rushing TDs and White to pace all backs in catches, yet Burkhead might be enough of a thorn to make no one predictable on a given week. One back we haven't heard anything about? Dion Lewis. Crazy to think he was the #8 RB in PPR Points Per Game just two years ago. He has to be the lowest of the New England runners as of right now, but has the talent to make this a four-headed nightmare that almost needs to be avoided. Regardless, stay tuned.
We are the 'Watchers on the RotoWall,' and indeed, the RotoWorld Blurbs can be dark and full of terrors (re: nonsense on backup right guards and their contract disputes). Instead, bookmark our Fantasy Football Stock Watch, and let us sift through the nonsense to bring you the blurbs that actually matter, with the in-depth analysis we're known for.  A Fantasy Wolf doesn't miss a single stock market move, so don't be a sheep. Follow the Stock Watch.