The DeVante Parker Hype Train continues gaining steam, as his improved habits, both on and off the field, have him set to maximize his physical gifts and become a "big play, number one receiver."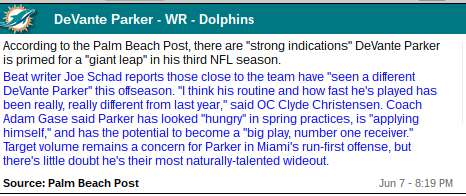 Wolf's Take
That low whistle you hear off in the distance? Yes, that is indeed the Parker hype train, which is approaching the RotoSphere at record speeds.  Already featured numerous times on our "Football Fantasies" (see above), Parker continues garnering immense praise for his vastly improved habits on and off the field. The physically imposing third year wideout has reportedly been far hungrier in practice, going hard on every rep, whereas in year's past he would reportedly take plays off and then struggle to play full speed for entire games. Additionally, Parker's improved routines extend beyond the field, where he's reportedly eating healthier, improving his sleeping, and simply approaching everything far more professionally.
The results thus far have been highly impressive. According to head coach Adam Gase, Parker is "applying himself" and that he has the physical gifts to be a "big play, number one receiver" capable of a "gigantic year." This is highly significant given Gase's history of coordinating record-shattering offenses in Denver, where he maximized Demaryius Thomas, who plays a similar game to Parker.
Similarly, other beat writers have labeled Parker as "the most improved player," citing  "multiple sources" that claim he's "been so impressive this offseason he has coaches hopeful he can finally develop into the dominant threat the Dolphins were expecting when they drafted him in the first round in 2015."
Offensive Coordinator Clyde Christensen joined in the porn party, adding he expects a "gigantic year" from Parker. "We're kinda seeing what we were hoping to see, and that's a healthy DeVante — he's running better than I've seen him run since I've been here — and a hungry DeVante Parker…He's been around a lot more than last year. He's practicing hard. He's kinda zeroed in on this thing. We are seeing what we wanted to see out of him."
And lastly, backup quarterback Matt Moore got in his orgasmic two cents, stating:
"Moving in the right direction. You can see (Parker) feels more comfortable…DeVante's kind of hitting his stride right now and everybody's seeing it. You throw the ball to him, he makes it really easy. He makes the quarterback look good a lot of the times. So he's a guy who's really hitting his stride I think, and he's continuing to learn. He'll be a big part for us this year."
Indeed, these are all the type of puff pieces that typically invades the newswires this time of year. Still, I'm a huge believer in habits being a major differentiator at the NFL Level, as everyone is physically gifted.  Many players, Parker very much included, are so used to dominating in their high school and college careers simply because they can "out-athlete" everybody, yet that rarely translates alone at the highest level.  The pros who typically ascend are those who "out work" the others and maximize their natural skillsets (think Antonio Brown), and Parker seems to have finally realized this. The results could be absolutely massive.
Yes, Ryan Tannehill still worries me, as does this offense being primarily run-first through Jay Ajayi.  But, for a discounted 8th or beyond price, Parker is well worth a look.  This nonstop tsunami of positive praise suggests Parker could truly explode like everyone predicted last season, and a 1,000 yard, 8-10 TD season is a fathomable ceiling. Make sure he's on the late round radar.
We are the 'Watchers on the RotoWall,' and indeed, the RotoWorld Blurbs can be dark and full of terrors (re: nonsense on backup right guards and their contract disputes). Instead, bookmark our Fantasy Football Stock Watch, and let us sift through the nonsense to bring you the blurbs that actually matter, with the in-depth analysis we're known for.  A Fantasy Wolf doesn't miss a single stock market move, so don't be a sheep. Follow the Stock Watch.