Amidst such a crowded backfield, Patriots RB James White's value gains clarity & rises after "seizing" the third down role "with authority." 
Meanwhile, Dion Lewis and Rex Burkhead continue falling without a clear "fit" in this offense.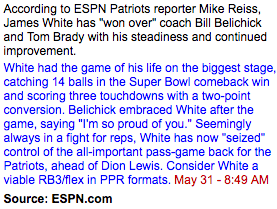 Wolf's Take
With New England brewing an offense that could threaten scoring records, this backfield remains crucial to decipher, despite being log-jammed with talent.  Thankfully, some clarity has begun to emerge.
ESPN Boston Mike Reiss, one of football's most in-tune beats, reports James White's epic Super Bowl LI performance, and consistent improvement, has secured him his teammates and coach's trust, and thus the highly-valuable third down role moving forward:
He's won over Bill Belichick, quarterback Tom Brady and Co., with his steadiness and continued improvement, elevating from a player who was inactive in Super Bowl XLIX to becoming unquestionably the Patriots' go-to guy in the all-important "passing back" role. White played 30 snaps as a rookie in 2014; upped it to 290 in 2015; and played 425 last season.

Because of how often the Patriots throw the ball, the "passing back" role is vital, with Kevin Faulk, Danny Woodhead and Shane Vereen among those who have played it well over the years. White…has now seized the spot with authority.
As Reiss wisely notes, this role has historically been crucial, and made PPR monsters out of Faulk, Woodhead, Vereen, and Lewis in 2015.  Josh McDaniel's offense is predicated on getting the ball quickly to the right matchup, and letting the pass-catcher do the work; this read is often the running back-on-linebacker mismatch.
Now, White shouldn't be expected to come close to his record-setting Super Bowl pace of 14 catches, 140 total yards, and three scores, and Lewis and Burkhead linger in case White falters. Still, any secure usage alongside Tom "Our Savior" Brady is worth a weekly flex consideration, and it sounds like this is White's job to lose.  Thus, the Super Bowl hero rises from mere "Penny Stock" consideration all the way to RB25, just behind Theo Riddick.  Meanwhile, Lewis and Burkhead continue falling down the ranks without a clear role.
We are the 'Watchers on the RotoWall,' and indeed, the RotoWorld Blurbs can be dark and full of terrors (re: nonsense on backup right guards and their contract disputes). Instead, bookmark our Fantasy Football Stock Watch, and let us sift through the nonsense to bring you the blurbs that actually matter, with the in-depth analysis we're known for.  A Fantasy Wolf doesn't miss a single stock market move, so don't be a sheep. Follow the Stock Watch.