Committee Alert: DeMarco Murray falling slightly (from RB4 to RB7) amidst news the Titans will "find ways to use both" him and Derrick Henry.

Wolf's Take
Uh oh. I don't want to overreact to early June comments, but even the slightest mention of a committee in Tennessee has to be noted.  I was so high on DeMarco as my RB4 under the belief he would again be operating as the clear workhorse and lead back, especially after head coach Mike Mularkely has repeatedly endorsed him as "the guy" this offseason: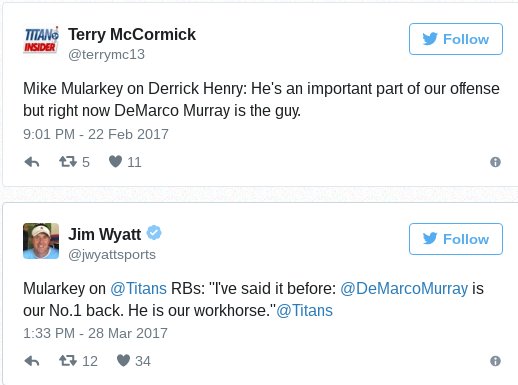 Thus, I viewed this as a clear #1 and #2 situation, where Murray would gobble up touches in the incredible "Exotic Smashmouth" scheme, while Henry served as a distant backup but incredible insurance policy. For the price of a first and 8th or 9th rounder, you'd have a surefire RB1, right?
Not if they're eating one another's cheese.  Titans Training camp will now be crucial to monitor, as Henry's exact usage remains a complete unknown as of now: are the two rotating series with the ones? Is Henry getting involved in goal line drills? Given how much we believe in Henry, any chance he gets to showcase his dominance is bad news for DeMarco. We'll have to wait-and-see, but for now, I can't pass up on the voluminous, three-down workloads of Melvin Gordon, LeSean McCoy, or Jay Ajayi for a potential committee, especially not one that could truly be a "passing-of-the-torch."
We are the Watchers on the RotoWall, and indeed, the RotoWorld Blurbs can be dark and full of terrors (re: nonsense on backup right guards and their contract disputes). Instead, bookmark our Fantasy Football Stock Watch, and let us sift through the nonsense to bring you the blurbs that actually matter, with the in-depth analysis we're known for.  A Fantasy Wolf doesn't miss a single stock market move, so don't be a sheep. Follow the Stock Watch.