Isaiah Crowell, who feels "like it's going to be a monster year," rises from RB16 to RB11 amidst news head coach Hue Jackson is more committed to the run game: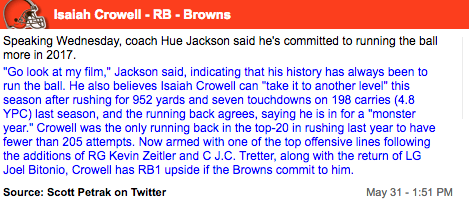 Wolf's Take:
Yes, if you're checking my running back rankings, this means I'd draft Isaiah Crowell over Todd Gurley. RotoWorld correctly sites Hue Jackson's historic success coordinating creative, ultra-productive run games; hell, he made Darren McFadden into a bonafide RB1 thanks to a system featuring traps and pulling lineman (not unlike "Exotic Smashmouth" in Tennessee).
Additionally, the newly beefed up line, thanks to the additions of mauling RG Kevin Zeitlier and stable center JC Tretter, is wisely acknowledged. Just looking at the PFF Focus grades, this has the makings of a bonafide top five or six line:

Which is exactly what Jackson needs to control the clock and protect his rookie quarterback and weak defense. He gushed over Crowell and forecasted a massive season for his bulldozing back, amidst a huge run game commitment:
"Got to run the ball more," Jackson said Wednesday after the fourth practice of organized team activities. "I'd be the first to tell you that. I beat myself up about that. I'm a coach that likes to run the ball. But I think we all recognize where we were in games last year….
"[My message to Crowell is] go take it to another level," Jackson said. "The guy had almost 1,000 yards a year ago when I didn't hand him the ball. What can he have if I do hand him the ball? … I've just got to turn around and give it to him, let him make it happen…I think Crowell is poised for a big year. I think he deserves it. He worked extremely hard a year ago…I think our running game needs to come to the forefront."
Jackson wisely recognizes Crowell's insane efficiency, who rushed 198 times for a career-high 952 yards (4.8 average) and seven touchdowns; even better, Crowell operated as a three down horse, 40 catches for 319 yards. Needless to say, the third year back is excited with his increasing usage:
"I know the type of coordinator Hue is. He likes to run the ball," Crowell said. "I feel like it's going to be a monster year."
Plus, Deshone Kizer, who's athleticism could create gaping cut back lanes, is reportedly being "fast tracked" for the starting roll. The ingredients for a high-end RB2 or even low-end RB1 season are all in place. Draft Crowell with confidence anywhere in late Round Two and beyond.
We are the 'Watchers on the RotoWall,' and indeed, the RotoWorld Blurbs can be dark and full of terrors (re: nonsense on backup right guards and their contract disputes). Instead, bookmark our Fantasy Football Stock Watch, and let us sift through the nonsense to bring you the blurbs that actually matter, with the in-depth analysis we're known for.  A Fantasy Wolf doesn't miss a single stock market move, so don't be a sheep. Follow the Stock Watch.