Player Stock Ticker
Fantasy Football Big Board 2017: Top 100 Post-Draft Edition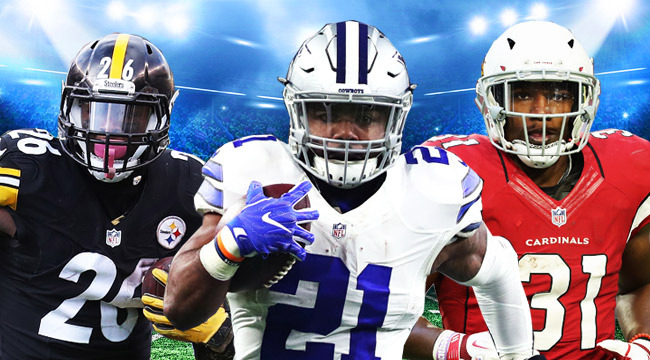 Can you feel it? No, not the asthmatic allergies that are turning you into a human pug — the football! The draft has come and gone (and Kiper's back in his cave), all major free agents have landed (finally, LeGarrette), and fantasy football values are as set as they'll be until Training Camp battles begin.  The time couldn't be riper for my third Top 100 Fantasy Football Big Board of 2017, especially with our awesome new Fantasy Stock Ticker scrolling away (and Shamus' horrendous Round One in our Fantasy Expert Mock draft suggesting guidance is needed).
With this "ball park" Big Board foundation laid, I'll be hard at work cranking out Fantasy Stock Scores for every single relevant player, providing you with the most in-depth, comprehensive, and accurate fantasy evaluations out there in this garbage-infested market. Once these scores are settled and the grades are in, I'll reevaluate this Top 100 and then update it daily  — when other "industry stalwarts" like the MMQB are throwing Joe Mixon at #13 overall (heave.vomit.puke), something needs to be done.
Scoring and Roster Settings
Scoring= 1/2 PPR, 4 pt. passing TDs and -1 interceptions
Roster Mindset: 
QB
RB
RB
WR
WR
WR
TE
Flex (W/R/TE)
K
Def
Bench x 5
The Wolf's Top 100 Big Board, Vol. 3
| Overall Rank | Name (Team) | Positional Rank | Movement |
| --- | --- | --- | --- |
| Tier One - The Big Three | | | |
| 1 | David Johnson (ARI) | RB1 | |
| 2 | Le'Veon Bell (PIT) | RB2 | |
| 3 | Ezekiel Elliott (DAL) | RB3 | Lance Dunbar's departure could allow Zeke to flash his exceptional three-down skill set, and the increased "Opportunity" makes Zeke a sneaky bet to lead all 2017 RBs. Plus, he's working on improving his already high-end second level running. At minimum, he's in the conversation for #2, especially for floor-seekers. |
| Tier Two - High-end WR1 and RB1s | | | |
| 4 | Antonio Brown (PIT) | WR1 | |
| 5 | Julio Jones (ATL) | WR2 | |
| 6 | Mike Evans (TB) | WR3 | |
| 7 | Odell Beckham JR. (NYG) | WR4 | |
| 8 | DeMarco Murray (TEN) | RB4 | With his coach's endorsement as "the guy" in this RB "Exotic Smashmouth" dreamboat, more receiving work reportedly on the way, and the best handcuff situation in all of football, Murray should be the first back taken after the Big Three |
| 9 | Melvin Gordon (LAC) | RB5 | Melvin Gordon's "Usage" becomes a perfect 10 with no competition for backfield targets added despite the loss of Woodhead; adding more perimeter weapons and beefing up the line via the draft also improve his already high "Surrounding Talent" score, and, when all combined with new HC Anthony Lynn's brilliant run scheming, Gordon jumps ahead of Shady. |
| 10 | LeSean McCoy (BUF) | RB6 | Shady is bound for a TD spike after Mike Gillislee departed, but scheme fit questions and injury risk keep his stock slightly below the elite, despite his massive 2016. |
| 11 | Jay Ajayi (MIA) | RB7 | All this chatter of his receiving game improving "200 percent" has me horny, and Ajayi's increasing "Usage" score cements his first round worth even further. |
| 12 | AJ Green (CIN) | WR5 | |
| 13 | Jordy Nelson (GB) | WR6 | |
| 14 | Michael Thomas (NO) | WR7 | |
| 15 | Dez Bryant (DAL) | WR8 | |
| 16 | Devonta Freeman (ATL) | RB8 | Freeman's "Coaching Scheme" score has to take a slight hit with the departure of Kyle Shanahan and his brilliant zone blocking scheme; however, Steve Sarkisian has said he'll keep the outside zone game a staple, as well as the overall aggressiveness of this offense, which keeps Freeman firmly on the RB1 radar. |
| Tier 3 - Lower-end RB1 and WR1s, elite second options | | | |
| 17 | Lamar Miller (HOU) | RB9 | Miller's "Surrounding Talent" scoretakes a jump and sends him rising, as he will benefit greatly from Deshaun Watson's addition. First, Watson's mobility will open up the read-option game and keep weakside defenders honest, ultimately creating gaping cut back lanes that mesh with Miller's style. Additionally, the team projects to be in the red zone far more frequently, opening up more scoring chances for Miller. He's one of my favorite post-hype bounce back targets. |
| 18 | DeAndre Hopkins (HOU) | WR9 | Deshaun Watson's addition sends Hopkins soaring. Watson's main criticism is his tendency to ignore his reads and lock onto his number one, which is news to Hopkins' investors ears. Moreover, Watson's athleticism will allow him to extend plays and give Hopkins more time to shake free from his heavy coverage. |
| 19 | TY Hilton (IND) | WR10 | |
| 20 | Leonard Fournette (JAX) | RB10 | Physicality has been the motto under new VP Tom Coughlin and HC Doug Marrone; what better way to establish this than feeding a complete bulldozer 20-25 times a game? Fournette could rise into RB1 territory as high as #8 if he flashes well in camp and this offense shows signs of bouncing back. Despite the addition of Cam Robinson, who many considered this drafts top tackle, this line remains highly suspect, which keeps Fournette in the high-end RB2 range... for now. At minimum, the Talent and Usage are there. |
| 21 | Rob Gronkowski (NE) | TE1 | |
| 22 | Brandin Cooks (NE) | WR11 | (+10) Sure, this offense is crowded and never just funnels targets to one guy; nonetheless, Cooks will be a matchup nightmare, and should bust a big play more often than not, in addition to a bevy of short yardage plays. Belichick will utilize him more similarly to his short, "rack up the YAC" college role instead of a primarily deep threat. |
| 23 | Demaryius Thomas. (DEN) | WR12 | (+12) Reuniting with new OC Mike McCoy seriously boosts Thomas' value, who had 94 catches, 1434 yards, and 10 TDs the last time McCoy called the shots (many thanks to a bevy of screens and racked up YAC). Of course, Thomas was playing with a HOF QB, and still has Trevor Siemian tossing the rock, but new coach Vance Joseph is already speaking on how the time wants Thomas "to be a dominant player all the time" and "become a leader..."I want him to be a guy. I want him to step out and be a guy. It's time. He can take over a game, but I want his mindset every game to be every game we play to walk on the field and take over the game." I'm digging his chances of returning to WR1 form |
| 24 | Jordan Reed (WAS) | TE2 | With DeSean Jackson and Pierre Garcon removed, head coach Jay Gruden has already stated the offense will "run through Reed." With even more guaranteed usage than Gronk, Reed's ceiling might be the sneaky highest of all tight ends. The health risk is substantial, however. |
| 25 | Doug Baldwin (SEA) | WR13 | |
| 26 | Amari Cooper (OAK) | WR14 | |
| Tier 3.5 | | | |
| 27 | Todd Gurley (LAR) | RB11 | |
| 28 | Carlos Hyde (SF) | RB12 | (-7) Though the offseason signing of Kyle Shanahan was dreamy, all the news so far has been gross. Most glaring are reports Shanahan's hand-picked rookie Joe Williams has a real chance to "usurp" Hyde. The upside is enormous in this scheme, but the risk has grown even more frightening. |
| 29 | Christian McCaffrey (CAR) | RB13 | As noted by CBS Senior Draft Analyst Dane Brugler on our Podcast, McCaffrey has the skillset to redefine what a "workhorse" back is. While he won't be shoved up the tackles for 20-25 carries, he should see 10-15 weekly totes in addition to 6-8 targets in the passing game each week, amounting to a steady, consistent workload for a highly talented player -- no, I'm not worried that no team has targeted RBs fewer over since Cam arrive, they've never had a receiving talent like this. Combined with some creative playcalling from Mike Shula and a strong supporting cast (if this line can stay healthy, that is), and McCaffrey is set to make a massive fantasy impact as a rookie. Love that he was praised by the GM for his "between the tackles vision," suggesting McCaffrey is in line for far more usage than just in the passing game. The only real question is his usage near the stripe, and how many TDs will be up for grabs. |
| 30 | Jordan Howard (CHI) | RB14 | Our "Stock Formula" reveals Jordan Howard to be among 2017's most overrated RBs. He profiles very similarly to 2016 Todd Gurley, where horrendous surrounding talent could anchor his value, despite high talent and usage. |
| 31 | Marshawn Lynch (OAK) | RB15 | I reserve the right to send Lynch soaring into my top-10 if he looks rejuvenated and is projected for a heavy workload. WIth a top-three line and explosive surrounding skill talent, this "Surrounding Talent" situation couldn't be more ripe -- the Raiders rank top-eight in running back yards, running back touchdowns, and running back fantasy points over the last two seasons. It's just a matter of whether Lynch will get the work and if he's in the proper shape to maximize it. |
| 32 | Davante Adams (GB) | WR15 | |
| 33 | Alshon Jeffery (PHI) | WR16 | As the likely alpha WR1 with a burgeoning young QB, Alshon will have every opportunity to reconstruct his WR1 appeal... if he can actually stay on the field |
| 34 | Isaiah Crowell (CLE) | RB16 | Crowell rockets up the rankings in the wake of Cleveland's massive line upgrades. The mauling Kevin Zietler at right guard and sturdy JC Tretter at center join an already beefy front cast to create one of the top-five lines in football. Dating back to the days where he made a bonafide RB1 out of Darren McFadden, HC Hue Jackson schemes brilliant run games, and now he finally has the big boys to execute. Crowell also managed to dodge some draft-day bullets, and if Deshone Kizer ends up earning the starting nod (he's reportedly on the fast track for it), his mobile threat could open up even wider lanes for Crowell to plow through. |
| 35 | Tyreek Hill (KC) | WR17 | Even more receiving work out of the backfield should be up for grabs w/ Jamaal Charles gone, and this guy is a threat to score every time he touches the rock. Reid has promised more involvement, and while his efficiency is bound to drop, Hill should continue feasting with more usage |
| 36 | Keenan Allen (LAC) | WR18 | |
| 37 | Spencer Ware (KC) | RB17 | Though he's been dubbed the "expected featured back," Ware will have talented third round rookie Kareem Hunt breathing down his neck all year, which lowers Ware's "Risk" score tremendously. You'll get sturdy RB2 production while Ware's starting, as Andy Reid typically utilizes a workhorse, but be sure Hunt's on your bench, as it's when, not if, he takes over. |
| Tier 4 - Elite QBs, Solid #2 RBs + WRs, Upside TE1s | | | |
| 38 | Bilal Powell (NYJ) | RB18 | |
| 39 | Tom Brady (NE) | QB1 | |
| 40 | Sammy Watkins | WR19 | Watkins has tremendous chemistry with Tyrod Taylor, so the QBs return is important. Plus, Robert Woods and Marquise Goodwin depart, and OC Rick Dennison's Shanahan-esque scheme was already going to warrant target showers. He'll be a WR1 when on the field... a huge question mark, however. |
| 41 | Aaron Rodgers (GB) | QB2 | |
| 42 | Travis Kielce (KC) | TE3 | |
| 43 | Terrelle Pryor (WAS) | WR20 | |
| 44 | Allen Robinson (JAC) | WR21 | Though a physical, clock-control, and run-minded coach and system, plus Fournette's addition, would initially appear a detriment, Robinson could actually benefit from the opened-up play-action game and less defensive attention |
| 44 | Mike Gillislee (NE) | RB19 | Despite being in a crowded backfield, Gillislee's "Opportunity" score ranks so high because he's projected for the incredibly valuable "LeGarrette Blount" goalline and early down work. |
| 45 | Mark Ingram (NO) | RB20 | AP's addition sends Ingram's stock (especially around the red zone) plummeting; still, Ingram and his newfound pass-catching prowess allows him to reap the "Coaching Scheme" and "Surrounding Talent" benefits more readily, thus making him the more attractive back. |
| 46 | Golden Tate (DET) | WR22 | |
| 47 | Jamison Crowder (WAS) | WR23 | |
| 48 | Greg Olsen (CAR) | TE4 | |
| 48 | Tevin Coleman (ATL) | RB21 | |
| 49 | Willie Snead (NO) | WR24 | |
| 50 | Doug Martin (TB) | RB22 | According to our "Fantasy Stock Formula," Doug Martin is among fantasies greatest values right now. Yes, the three game suspension sucks (and contributes to his low risk score), but Martin is reportedly "the most impressive" player in OTAs and in tremendous physical shape; really, his conditioning and motivation have really been the only barriers between him and monster RB1 fantasy campaigns, and both appear fully intact for a bounceback 2017. Remeber, the Muscle Hamster is just a year removed from the second most rushing yards in the league thanks to Dirk Koetter's fantastic rushing scheme. Upon his return, he'll be joining an even more explosive cast following the additions of DeSean Jackson and OJ Howard, leaving running lanes more open and the scoring chances more plentiful. Assuming Martin maintains his shape all summer and the market doesn't adjust, he'll be a bonafide steal -- assuming you spend the late round pick on Charles Sims or Jacquizz Rodgers to soften the early season blow. |
| 51 | Michael Crabtree (OAK) | WR25 | |
| 52 | Brandon Marshal (NYG) | WR26 | |
| 53 | Julian Edelman (NE) | WR27 | |
| 54 | Donte Moncrief (IND) | WR28 | |
| 55 | Drew Brees (NO) | QB3 | |
| 56 | Ameer Abdullah (DET) | RB23 | |
| 57 | Jimmy Graham (SEA) | TE5 | |
| 58 | Tyler Eifert (CIN) | TE6 | |
| 59 | Martavis Bryant (PIT) | WR29 | Bryant, who added 25 pounds of muscle and is training harder than ever before, has officially been reinstated. Now, it's all about earning back his team's trust and remaining on the field. Should he do so, Bryant will shoot up into the Top-20 receivers, but these hurdles still need to be climbed. |
| Tier 5 - Last Startable WRs and RBs + TE1 Candidates | | | |
| 60 | Pierre Garcon (SF) | WR30 | |
| 61 | Eric Decker (NYJ) | WR31 | |
| 62 | Jarvis Landry (MIA) | WR32 | |
| 63 | Larry Fitzgerald (ARI) | WR33 | |
| 64 | Samaje Perine (WAS) | RB24 | The powerful, big-bodied Perine landed in the perfect spot to maximize his goalline prowess. Of course, he still needs to unseat the plodding Rob Kelley, but this rank assumes Perine, who does everything Kelley does at a higher level, should have no trouble doing just that. His score projects to rise if this happens, but could plummet if Kelley holds strong. |
| 65 | Joe Mixon (CIN) | RB25 | |
| 66 | CJ Anderson (DEN) | RB26 | Our "Fantasy Stock Formula" reveals CJ Anderson to be one of 2017s most overrated RBs. Of course I love this bowling ball's versatility, hard-nosed running style and strong vision, but facts remain facts: his head coach has opened the starting spot up for competition and already endorsed committees either way; Mike McCoy, though a strong passing game coordinator, has had minimal success with run games; the line will be improved, but should still be among the bottom half of the league + Trevor Siemian isn't stressing out defenses; plus Anderson himself has never stayed healthy for a season, thus coming with huge risk. Stir in Jamaal Charles to muddy the waters and Anderson is a must-avoid at his current price. |
| 67 | Matt Ryan (ATL) | QB4 | |
| 68 | Stefon Diggs (MIN) | WR33 | |
| 69 | Emmanuel Sanders (DEN) | WR34 | |
| 70 | Ty Montgomery (GB) | RB27 | Though Ty Montgomery has been endorsed as the lead back, the drafting of THREE backs (late rounders withstanding) suggests otherwise. As explored earlier, Mike McCarthy has facilitated some massive RB1 seasons, but only when provided the right workhorse. After Montgomery topped double digit carries just once in 2016, this role will be unlikely, and the talented pass-catcher is looking more and more like a third down specialist. The upside is still enormous if Montgomery can grab a stranglehold on the gig, but he has three bodies to stave off now. |
| 71 | Hunter Henry (LAC) | TE7 | |
| 72 | Corey Davis (TEN) | WR35 | Regarded as the most "NFL-Ready" in regards to route running, Davis is often profiled as a more explosive Mike Thomas; though he won't be joining nearly as explosive of an aerial attack, Exotic Smashmouth quietly yielded WR1 numbers out of the lesser Rishard Matthews for 10 of the last 12 weeks. Davis will have every opportunity for a massive splash, and will rocket up these rankings with a strong camp showing. |
| 73 | Adrian Peterson (NO) | RB28 | |
| 74 | Kelvin Benjamin (CAR) | WR36 | |
| 75 | Delanie Walker | TE8 | |
| 76 | Paul Perkins (NYG) | RB29 | I hate between-the-20s guys in pass-heavy offenses, so Perkins "nominal" starter title isn't doing much for me. I'll adjust big time, however, signs point to him getting goalline looks, but right now Vereen and Gallman appear primed to gobble up the most valuable touches. |
| 77 | CJ Prosise (SEA) | RB30 | |
| 78 | Eddie Lacy (SEA) | RB31 | |
| 79 | Dalvin Cook (MIN) | RB32 | Cook landed in arguably the worst spot possible with Minnesota. Indeed, the talent is there, but that's about all he has working in his favor. The team dished out oodles of money for Latavius Murray, who will undoubtedly be involved, especially near the stripe. Additionally, the line is among the worst in football, and there's little else really threatening defenses or creating TD opportunities. Throw in a bland, vanilla scheme, and Cook will be relying on his own high-end abilities to produce any fantasy value in 2017. |
| 80 | Theo Riddick (DET) | RB33 | |
| 81 | Frank Gore (IND) | RB34 | |
| 82 | Cameron Meredith (CHI) | WR38 | |
| 83 | Mike Wallace (BAL) | WR39 | Despite a gaping hole at WR, the Ravens chose to add nobody, giving Wallace a juicy stock up arrow; he feasted in games Steve Smith missed, and is now in line for similar work all season (unless Breshad Perriman makes a sudden leap...lol) |
| 84 | DeSean Jackson (TB) | WR40 | |
| 85 | Martellus Bennett (GB) | TE9 | |
| TIer 7 - Upside QB1s and Top WR and RB Lottery Tickets | | | |
| 86 | Andrew Luck (IND) | QB5 | |
| 87 | Derek Carr (OAK) | QB6 | |
| 88 | Kirk Cousins (WAS) | QB7 | |
| 89 | Marcus Mariota (TEN) | QB8 | The addition of explosive, NFL-ready rookie WR Corey Davis + positive health reports that he'll be running within a week have Mariota rifling upwards |
| 90 | Philip Rivers (LAC) | QB9 | Not only did LA avoid adding another QB to groom, but instead gave Rivers the big-bodied, physically dominant Mike Williams and strong lineman additions. They're all in on riding him out, and you should be too. |
| 91 | Ben Roethlisberger | QB10 | Martavis Bryant is officially reinstated, and while Big Ben says he'll need to regain trust, that shouldn't be too hard at 6'4" with blazing speed and fantastic ball skills -- their past success is irrefutable: in 22 games when both he and Bryant are on the field together, Roethlisberger has thrown for 7,287 yards (331 avg) and 43 TDs (1.95 avg). Additionally, Roethlisberger had a passer rating of 126.5 when targeting Bryant, along with a 11:1 touchdown to interception ratio. A 16 game pace would yield 5,299 yards and 31 TDs… a shoe-in top-three campaign. Please stay on the field. |
| 92 | Dak Prescott (DAL) | QB11 | |
| 93 | Jameis Winston (TB) | QB12 | First DeSean Jackson, and now OJ Howard?! Dirk Koetter loves getting vertical, and now has two new weapons to absolutely bombard teams with. After putting up solid numbers with Adam Humphries and Cameron Brate as his secondary options, Winston is set to explode, and could easily outscore anyone else in this tier. |
| 94 | Joe Williams (SF) | RB35 | RBs handpicked by Kyle Shanahan always need to be accounted for, even on teams as horrendous as San Fran. This is especially true after reports have circled that Williams has a legitimate chance to "usurp" Carlos Hyde for the starting role. Monitor this name VERY closely. |
| 95 | Derrick Henry (TEN) | RB36 | |
| 96 | Kareem Hunt (KC) | RB37 | Only the uninspiring Spencer Ware lies between the talented Hunt and Andy Reid's RB dreamboat scheme. |
| 97 | Jamaal Williams (GB) | RB38 | Williams is far from a sure thing, but he profiles as the most natural "running back" in this crowded stable, and could emerge to some insane value in this explosive offense should he take over |
| 98 | Davante Parker (MIA) | WR41 | Parker has reportedly improved in every facet of his preparation, which may finally lead him to maximize on his insane physical skillset and have the WR breakout season everyone was predicting... at only half the price. A great Penny Stock. |
| 99 | Josh Doctson (WAS) | WR42 | Local Redskins reporters suggest the coaching staff view Doctson very highly, despite his injury-ruined rookie campaign. He was drafted with an "AJ Green, perennial Pro Bowler" type of vision, and though competition for targets appears fierce, Docston is a sneaky bet to claim the main role. Huge upside this late. |
| 100 | Ted Ginn (NO) | WR43 | Love the fit with New Orleans and Drew Brees (second most deep ball yardage last season). Sean Payton reportedly has an "exact vision" for Ginn, which assuredly involves maximizing his game-changing speed, perhaps in a poor-man Cooks role. As we learn more about his involvement, Ginn could sky rocket. |
Dropped Out: 
Running Back:  Rob Kelley (WAS); Rex Burkhead (NE); Latavius Murray (MIN); Jeremy Hill (CIN); DeAndre Washington (OAK)
Wide Receiver:  Rishard Matthews (TEN)
Next Up: 
Quarterback:  Cam Newton (CAR); Russell Wilson (SEA); Eli Manning (NYG); Tyrod Taylor (BUF)
Running Back:  Danny Woodhead (BAL); Jonathan Stewart (CAR); LeGarrette Blount (PHI – waiting to see if Ryan Mathews is released); Terrance West (BAL – Waiting to see if Ryan Mathews is added)
**Note – All these names have more "startable" quality than some of the rookies above, but at those 90-100 picks I'm generally searching for game-changing "Penny Stocks."
Wide Receiver: Rishard Matthews (TEN); Quincy Enunwa (NYJ); Corey Coleman (CLE); Breshad Perriman (BAL) JJ Nelson (ARI), Will Fuller (HOU),  Kevin White (CHI), Robert Woods (LAR)
Tight End: Jack Doyle (IND); Kyle Rudolph (MIN); Zach Ertz (PHI); Jared Cook (OAK); OJ Howard (TB); Eric Ebron (DET)
Sound off now! Who is The Wolf psychotically high or low on?  Is Doug Martin over CJ Anderson the stuff of morons?  Is someone missing that deserves ranking over unproven rookies? 
For any specific fantasy questions that go well-beyond the Big Board, be sure to Submit a Question now! Make sure to stay up to date and never miss a game-changing article by liking our Facebook Page, and following us on Twitter and Instagram. For audio based learners or those with long commutes, make sure to subscribe (and rate us 5 stars) and tune into the Fantasy Fullback Dive on iTunes or Stitcher.