Even though the majority of the big-name wide receivers and tight ends came off the board in free agency, there are still multiple prizes to be had in the 2017 NFL Draft. Highlighted by Mike Williams (Clemson), Corey Davis (Western Michigan), John Ross (Washington), O.J. Howard (Alabama) and David Njoku (Miami), there is also adequate depth at both positions with Curtis Samuel (WR/RB, Ohio State), Zay Jones (WR, East Carolina), Cooper Kupp (WR, Eastern Washington), ArDarius Stewart (WR, Alabama), Evan Engram (TE/WR, Ole Miss), Bucky Hodges (TE/WR, Virginia Tech) and more. Since this is a fantasy-based site, let's talk about the ideal fantasy football rookie wide receiver and tight end fits for the guys who will likely be a factor in year one:
Mike Williams, WR, Clemson
Projected Round: First Round
NFL Scouts Say: "Reminds me of Mike Evans," another scout said. "He's really good in traffic. He is talented, big. Thing that worries me, I don't see him separating from people."
Most Realistic Scenario: Arizona Cardinals, first round, pick No. 13
Fantasy-Dream Scenario: Buffalo Bills, first round, pick No. 10
Other Fits: Baltimore Ravens, Cincinnati Bengals, Tennessee Titans
If you only paid attention to Clemson's biggest games in 2016, Mike Williams is the receiver who made acrobatic, contested catches on the regular. Standing at 6-foot-4, 218 lbs, Williams uses his body like a low-post basketball player, boxing out his poor defensive back in jump ball situations to bring down the football. Whenever Deshaun Watson saw single coverage, he felt confident in throwing the ball up to his huge wideout.
It's hard to disagree with the scouts when they compare the former Tiger to our current WR3 Mike Evans, as they both use their size, hands and wingspan to "Moss" smaller defensive backs. The only real issue with Williams though, is his potential inability to separate against elite corners in the NFL. Is he a product of his beastly size vs smaller college corners? Or will he do the same thing in the NFL? That's the question that NFL GM's will have to answer on Thursday.
You'll see below with Corey Davis that the two teams that need a receiver in a realistic spot where these two receivers could/will be drafted are the Bills at pick No. 10 and the Cardinals at No. 13, so those are two teams that will likely land the Clemson wideout.
Both teams lack size on the perimeter, but do the Bills see Williams or Davis fitting best alongside the oft-injured Sammy Watkins? If the Bills feel they need to add speed after losing Marquise Goodwin and Robert Woods, then they'll probably roll with Davis. If they want to add a big-bodied receiver across from Watkins, then they'll add Williams.
From a fantasy perspective, Williams would be the better fit in Buffalo and Davis would be the better fit in Arizona, as Davis is more in the mold of the soon to be departing Larry Fitzgerald.
As you'll see, Davis is the safer of the two picks, but GM's could fall in love with Williams' highlight plays on college football's biggest stage.
Corey Davis, WR, Western Michigan
Projected Round: First Round
NFL Scouts Say: "He's more fluid than Michael Irvin was," said one scout. "Works hard. Loves football. Smart (31 on the Wonderlic intelligence test). Attacks the football. Concentrates in traffic. Got vertical tracking skills."
Most Realistic Scenario: Buffalo Bills, first round, pick No. 10
Fantasy-Dream Scenario:  Arizona Cardinals, first round, pick No. 13
Other Fits: Tennessee Titans, Baltimore Ravens, Carolina Panthers
Since undergoing ankle surgery in the off-season, Corey Davis has been MIA throughout the pre-draft process. Although Davis was unable to compete at the NFL Combine and Western Michigan's pro-day, the tape doesn't lie with this guy. Sure, he faced sub-par defenses in the MAC, but his combination of precise route-running, athleticism and ball skills make him the most NFL-ready wideout in this class.
A player like Davis can fit anywhere, but it looks like he will be the first or second receiver taken and should fall somewhere in the 10-18 pick range. With the Bills and Cardinals both desperately needing a playmaker on the perimeter, it shouldn't surprise anyone if both Williams and Davis are off the board by the time the Eagles pick at No. 14.
With Larry Fitzgerald about to hang up his cleats, Davis is the more complete receiver than Williams, as he can run just about every route on the tree and he can make plays from both the outside and in the slot. Since the Cards' cut Michael Floyd and John Brown is consistently injured, Davis will have a greater fantasy impact in Arizona than in Buffalo. Also, it doesn't hurt to have the primer professional in Larry Fitz to help teach Davis the ropes before Fitz calls it quits.
There is definitely a chance that Buffalo would target Davis, but his skill set would be better used in Arizona. If the Cardinals happen to draft Carson Palmer's successor, then he could drop to the Ravens at 16, or the Titans at 18 — both of which would be an excellent fit for Davis.
Don't sleep on Corey Davis just because he's from a smaller school — the dude can ball and should be your first rookie receiver that you should target in fantasy football.
John Ross, WR, Washington
Projected Round: First Round
NFL Scouts Say:  "He'll be in that DeSean Jackson mold," said one scout. "He's a burner but he's also skilled. He is extremely explosive and he's got very good body control through the route."
"The speed is wonderful but I do have doubts," a third scout said. "Is he fragile is the question. He's very clean off the field. Injuries are a concern." Played at Jordan High in Long Beach, Calif. "If you want that speed element, more of a playmaker, he's the guy,"
Most Realistic Scenario: Baltimore Ravens, first round, pick No. 16
Fantasy-Dream Scenario: Baltimore Ravens, first round, pick No. 16
Other Fits: Los Angeles Chargers, Tampa Bay Buccaneers, Carolina Panthers, Pittsburgh Steelers
If John Ross' statistics didn't make you a believer (81 rec, 1,150 yds and 17 TD in 2016), then his blazing 40 time should. Ross broke Chris Johnson's NFL Combine record time with a 4.22 mark of his own. Ross' speed, quickness and ability to make defenders miss is what the former Husky does best. Ross will slide into the slot in the NFL and make plays immediately.  He runs precise routes, can beat man coverage and find soft spots in zones — which will make his future quarterback very happy.
The only true flags on John Ross are his size and his durability. He missed the entire 2015 season due to a tearing his ACL in the same knee that he previously had microfracture surgery on. Ross also underwent labrum shoulder surgery in mid-March. Slot receivers take a beating in the NFL, so his durability will be a question mark.
The speedster needs to go to a team that is lacking his special skill set and one that does not possess a slot receiver. The Baltimore Ravens fit the bill perfectly. With a depth chart at receiver that features Mike Wallace, Michael Campanaro and the invisible Breshad Perriman, Ross would instantly be the best route runner and playmaker for Joe Flacco. Ross would be a great vertical option for Flacco, while carving up the middle of the field.
If he can stay on the field, John Ross will instantly make plays for your fantasy squad.
Curtis Samuel, WR/RB, Ohio State
Projected Round: Second- Third Round
NFL Scouts Say: "He's Percy Harvin," said one scout. "Urban (Meyer) ran him from the tailback spot more than he ran Percy Harvin but that's because the game has changed. Every time he touches the ball it's a potential touchdown." Described as a faster Randall Cobb by a second scout. "Unique player," he said. "Physically tough. Playmaking ability."
Most Realistic Scenario: Tampa Bay Buccaneers, second round, pick No. 50
Fantasy-Dream Scenario: Tampa Bay Buccaneers, second round, pick No. 50
Other Fits: Philadelphia Eagles, Buffalo Bills, Tennessee Titans, New Orleans Saints, Los Angeles Rams
Curtis Samuel is a playmaker. During his tenure at Ohio State, Samuel began his career as a running back behind Ezekiel Elliott, then as a sophomore he moved to a hybrid RB/WR role before settling in at H-Back, aka the "Percy Harvin position" in Urban Meyer's offense. In that H-Back role, all Samuel did was put up 771 yards and 8 touchdowns on 97 carries, and 865 yards and 7 touchdowns on a team-leading 74 receptions. As a junior, the Brooklyn native was the ultimate Swiss-Army Knife for Meyer.
If you listened to our podcast with CBS Sports draft guru Dane Brugler, we brought up that he was one of the few members of the media to rank Samuel as a running back. Brugler argued his point on the podcast by telling us to look at his career yards per carry mark, which was an outstanding 7.5 ypc. Having personally watched every single one of Samuel's games at Ohio State, although I do agree with Brugler's point, I have to disagree with running back being Samuel's primary position in the NFL. Sure, he's a natural running back as he was a highly touted four-star recruit coming out of high school and he looked very natural as a true freshman tailback behind Elliott, but he wasn't allowed to shoulder the load at running back and should be utilized in a Tyreek Hill-esque role. Samuel possesses the speed, quickness and talent to carry the ball 3-5 times as a change of pace, but he should be a slot receiver in the league.
When it comes to Samuel, the offensive philosophy is going to be very important. Samuel isn't a typical outside receiver who can plug-and-play anywhere. He needs to go to a team that utilizes a slot receiver and an offensive coordinator that possesses creativity.
As of now, it looks like Samuel will be selected in the mid-second round and he has a few potential suitors around that area. First, the Bills would be a very good and positive fit for Samuel. They just lost Robert Woods and speedster Marquise Goodwin in free agency and if Brugler is correct, he would also be a good fit in the future at running back if they decide to move on from LeSean McCoy's contract next season. But, if they choose Davis or Williams in the first round, it would be tough to see them pick receivers in the first two rounds.
The best and most realistic fantasy option would be the Buccaneers. With Mike Evans and DeSean Jackson on the perimeter, Samuel would fit nicely as Jameis Winston's underneath and middle of the field option in the slot. With Jackson taking the top off of the defense, and Evans demanding double teams, Samuel would be able to feast on single coverage. Not to mention he would be able to get some carries at running back with the possible departure of Doug Martin.
With the ball in his hands, Samuel brings playmaking and a level of excitement to the offense. If he lands in the right spot, he could develop into a decent fantasy option in 2017.
Other wide receivers to keep a fantasy eye on: Zay Jones (East Carolina), Carlos Henderson (LA Tech), JuJu Smith-Schuster (USC), Chris Godwin (Penn State), Taywan Taylor (Western Kentucky), ArDarius Stewart (Alabama), Cooper Kupp (Eastern Washington), Isaiah Ford (Virginia Tech), K.D. Cannon (Baylor)
O.J. Howard, TE, Alabama
Projected Round: First Round
NFL Scouts Say:  "Nothing wrong with him at all," said one scout. "Big-time basketball player in high school. Just a country boy. Big, fast, athletic. Receiving tight end or every down."
Most Realistic Scenario: Cleveland Browns, first round, pick No. 12
Fantasy-Dream Scenario: Indianapolis Colts, first round, pick No. 15
Other Fits: Buffalo Bills, Arizona Cardinals, New York Jets
O.J. Howard was vastly underutilized during his tenure at Alabama, but he is a bonafide three-down tight end who is going to be a day one starter in the league. Standing at 6-foot-5, 251 lbs, Howard ran an insane 4.51 and is going to cause serious trouble for opposing defenses in the NFL. Even though he was held back by the incompetent Lane Kiffin, he was able to shine in Alabama's biggest games, specifically against Clemson in the 2015 title game where he put up 208 yards and two touchdowns. Also, according to Pro Football Focus, Howard dropped only six of his 106 targets at Alabama.
Howard is projected to be selected around the 10-15ish area of the first round, and is the clear-cut No.1 tight end in this draft. With Howard's all-around skill set, he's the type of player who can plug-and-play anywhere in the league. If you look from picks 10-20, he would be able to start and make an impact on every single team — besides the Redskins at pick No. 17.
From a realistic standpoint, Howard will likely go to Buffalo at No. 10 or Cleveland at No. 12 (barring a Jimmy Garoppolo trade). Outside of Sammy Watkins, Tyrod Taylor has zero receiving options and he would be an instant upgrade in the passing game and in the running game. If he falls past Buffalo, then Cleveland would be the second most logical option, as they'll take their EDGE rusher of the future at No. 1 and then they can address the offense with their second selection. Even though I think they should trade that pick for Garoppolo, it looks like it's not going to happen. They've been into Mitch Trubisky (I'll never call him Mitchell), so the signal caller could also be an option if he falls down to No. 12 — which looks unlikely right now.
The Cardinals would be a very intriguing option at No. 13, but as seen above, I think they'll look to draft a young receiver to mold into  Larry Fitzgerald's future replacement. That leaves the Eagles, who seem content with  Zach Ertz, and then Howard's best fantasy option (that's also realistic) at No. 15 with the Indianapolis Colts. Sure, this means that our guy Jack "The Beanstalk" Doyle would be fantasy irrelevant, but Howard would give Andrew Luck a legitimate receiving option at tight end and would effectively replace Dwayne Allen's blocking ability. Let's put our beanstalks away for a minute and get realistic: Doyle is not overly talented, nor athletic, so he should never block the Colts from getting better at that position. The thought of Howard, Doyle, Donte Moncrief and T.Y. Hilton in the red zone is borderline erotic.
As one can see, Howard is the type of special talent that would fit in anywhere, so wherever he is drafted, he has immediate fantasy TE1 potential.
David Njoku, TE, Miami
Projected Round: First-Second Round
NFL Scouts Say:  "Everybody just seems to like the guy," one scout said. "But he is raw as can be. He's a backup for them. I don't know how you take an unproductive backup guy from an average team and take him in the first or second round … he's a track guy but as far as a football player, he is a long ways away."
"Lot of wow plays," said a second scout. "An athletic freak." Said a third scout: "Gonna be a star. He's better RAC (run after the catch) than O.J. Howard. O.J.'s better, but this kid has up side."
Most Realistic Scenario: Detroit Lions, first round, pick No. 21
Fantasy-Dream Scenario: Atlanta Falcons, first round, pick No. 31
Other Fits: Jacksonville Jaguars, Denver Broncos, Tennessee Titans, New York Jets, Pittsburgh Steelers
It seems like every draft there's an incredible athlete who didn't do much in college, but he's so damn athletic that he gets mocked in the first round. David Njoku out of the U is just that for the 2017 NFL Draft.
Sure, Njoku had a productive final season at Miami (the only season he started), where he found the end zone 8 times on 43 receptions, but he was a rather unknown before the 2016 season. Miami has been an average football program since Nevin Shapiro stopped writing checks and until last season, Njoku barely stood out.
The 6-foot-4, 246 lb tight end is an athletic freak, which has left NFL scouts and GMs with tents in their respective pants.  At the combine, Njoku recorded a 37.5 inch vertical, a 133 inch broad jump and a 6.97 sec 3-cone drill — all top performances at the tight end competition. At the Miami pro day, the freak ran a 4.49 40-yard dash.
Potential first-round pick TE David Njoku 40-yard dash. #proday @CanesFootball #hatsoff523 pic.twitter.com/2mzLiQfB02

— Isaiah Kim-Martinez (@isaiah_km) March 29, 2017
Personally, if i were a GM I would want no part of him unless I'm picking at the end of the second round where I could afford a high-risk, high-upside dice roll, but if I'm a middle-of-the-road team or if I'm on the hot seat, I'm not putting my first round eggs in the Njoku basket.
Nonetheless, he's being projected to go in the mid-first round to a team like the Titans or the Lions. His potential upside makes sense for a team like the Titans who have two first round picks and the Lions did make the playoffs last season, so I wouldn't be faux-outraged about the selection. Delanie Walker is signed through 2018, but him and Njoku would have the potential to create major matchup problems in the red zone. They can draft secondary with their first selection, then help out Marcus Mariota with their second first round selection. From the Lions point of view, we all know GM Bob Quinn (coming from New England) would love to pair Eric Ebron up with a more athletic tight end, plus Ebron is set to hit free agency after 2017.
If Njoku were to fall past the Lions, the Atlanta Falcons would be the perfect (fantasy) fit for the tight end. Imagine Njoku in the red zone with the defense worrying about Julio Jones, Mohamed Sanu, and the two-headed monster at running back? Njoku is an instant athletic upgrade over Austin Hooper and would give Matt Ryan another tall, athletic target in the end zone. The Falcons have other holes to fill on defense, but they've drafted defense early the prior few seasons and people forget that they made the Super Bowl last season without their top corner, Desmond Trufant. They have seven players on their starting defense who were selected within the first two rounds of recent drafts, so even though they put up points, Njoku would be a potential positional upgrade on an already explosive offense. It also doesn't hurt that this is one of the deeper secondary and EDGE drafts in recent memory, so the Falcons could address those issues later on.
All in all, the former Hurricane is worth the gamble if the team can afford to gamble.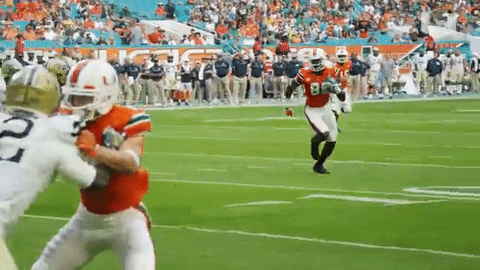 Other tight ends to keep a fantasy eye on: Evan Engram (Ole Miss), Bucky Hodges (Virginia Tech), Gerald Everett (South Alabama), Adam Shaheen (Ashland), Jake Butt (Michigan)
A handful of wide receivers and tight ends in the 2017 NFL Draft class will make an impact, but these six guys should make the greatest fantasy impact during their rookie seasons. If you haven't already, subscribe and tune into our NFL Draft preview podcast with Dane Brugler of CBS.