Player Stock Ticker
The Patriots 2017 Schedule Features the Chiefs, Falcons, Raiders and Steelers
The Patriots 2017 schedule will kick off with their fifth Super Bowl banner ceremony on Thursday, September 7th at Gillette Stadium versus the Kansas City Chiefs. The Patriots' new look offense will be tested early against Justin Houston, Marcus Peters and the rest of the tough Chiefs' defense. While Stephon Gilmore and the Patriots' defense will square off against Travis Kelce, Tyreek Hill and Kansas City's tough running game.
The Patriots then have a few extra days of rest before traveling down to Bourbon Street to play the Saints in New Orleans, they then square off against two more exciting NFC South quarterbacks in Cam Newton and Jameis Winston. The most hyped game on the schedule will be the Super Bowl LI rematch on October 22nd at home against the Atlanta Falcons.
Things get tough after the bye week when the have to travel to Denver — where the Patriots have historically struggled — then to Mexico City to play the Oakland Raiders. With both venues situated at high altitudes, it'll be a big test for the Patriots' conditioning and health, not to mention the Broncos and Raiders are two of the toughest teams in the AFC.
After a quick trip home, they then head on the road for three straight, with the road finale coming against the Steelers. The Patriots then wrap up their season with back-to-back-to-back bye weeks against the Bills and Jets, before their annual week off during Wildcard Weekend.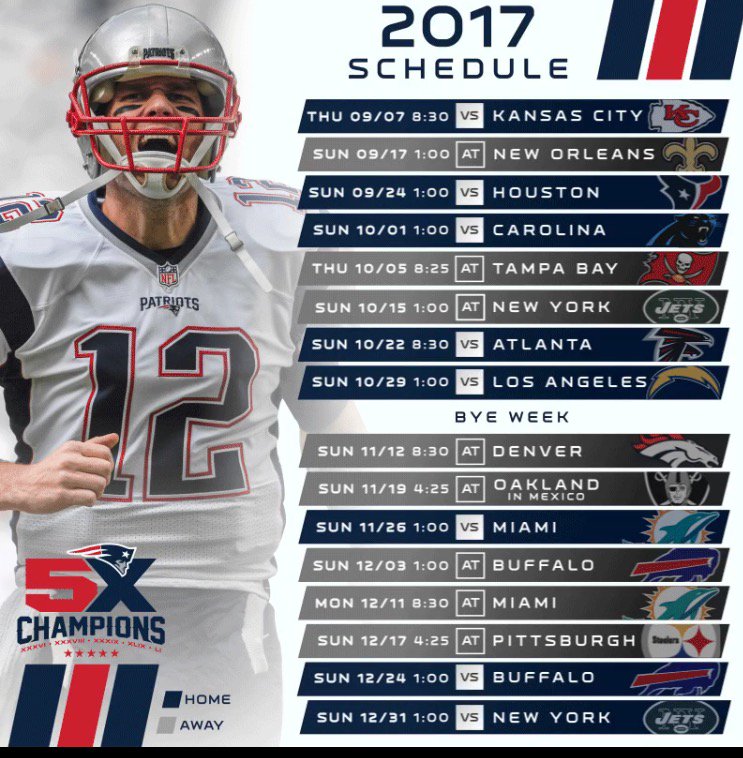 Will the Patriots repeat as Super Bowl champions? What's their toughest stretch? Is there a game you're especially looking forward to? Hit us up in the comments with your thoughts and predictions.