Even though there are a couple of big names at the running back position who are still available in free agency, the real backfield prizes of this off-season will come by the way of the 2017 NFL Draft. Highlighted by the big five of Leonard Fournette, Dalvin Cook, Christian McCaffrey, Joe Mixon and Alvin Kamara, there is also adequate depth at this position with D'Onta Foreman (Texas), Marlon Mack (South Florida), Jeremy McNichols (Boise St.) and Samaje Perine (Oklahoma), just to name a few. Since this is a fantasy-based site, let's talk about the ideal fantasy football rookie running back fits for the guys who will likely be a factor in year one:
Leonard Fournette
Projected Round: First Round
NFL Scouts Say: "There's similar things to Bo [Jackson]: size, twitch, explosion, burst, power," said a second scout. "I could have written his report as a freshman. It didn't take long to see he was a different bird. He's not normal. Last year he had some of the most dynamic 2-yard gains you will ever see."
Most Realistic Scenario: Jacksonville Jaguars
Fantasy-Dream Scenario: Oakland Raiders
Other Fits: Green Bay Packers, San Francisco 49ers, New York Giants, Detroit Lions, Carolina Panthers
I was personally set on Leonard Fournette falling to No. 9 to the Carolina Panthers, which would have been a match made in fantasy heaven before they extended old-man Jonathan Stewart through the next two seasons for a decent chunk of change. The thought of Cam Newton and Fournette on the goal line would be terrifying for opposing defenses, but it looks like they are set with riding Stewart until his body officially breaks down.
This is where the Jacksonville Jaguars come in. It didn't cross my mind until the initial wave of free agency ended, where the Jags shored up their defense across the board. With what should be a pretty good defense on paper, combined with talented perimeter options on offense, their one major hole on offense that would be able to be filled at pick No. 4 (down year for offensive linemen in this draft) would be the running back position. We all know how dreadful TJ Yeldon was as the lead back last season (3.6 ypc, 1 TD on 130 carries), and how meh Chris Ivory was (3.8 ypc on 117 carries), so enter the most physically dominant rusher from the nation's most physical conference — not to mention Fournette will put asses in the seats in a place that struggles to sell tickets.
Although there's a very, very slim chance that Fournette falls out of the top 10 or 12, can we dream for a second?
Say Ezekiel Elliott didn't dominate the league as the No. 4 overall pick in last year's draft and this was still a league where teams shy away from taking a running back inside the top 10. Imagine the former Tiger dawning the silver and black behind one of the league's best offensive lines? Being the every-down back in an offense surrounded by Derek Carr, Amari Cooper, Michael Crabtree and two pass-catching running backs, Fournette would be considered a first round prospect in non-PPR leagues if the Oakland Las Vegas Raiders somehow snagged the 6-foot, 240 lb beast. Also, due to Mike McCarthy's ability to churn out RB1s and the lack of legitimate RB talent on the team, Fournette would also flourish in Green Bay.
Okay, okay. Back to reality. After a solid combine where his 240 lb freight train of a body ran a 4.51 40 (if you kept your eyes shut during his 28.5 inch white guy vertical), don't expect him to fall past the Panthers at No. 9.
Dalvin Cook
Projected Round: First Round
NFL Scouts Say: "He reminds me of Marshall Faulk so much because he can catch the ball," said one scout. "Fast, explosive runner," another scout said. "Boy, he would add something to our offense. He's a back who can go for 60 (yards) every now and then. He's everything."
Most Realistic Scenario: Philadelphia Eagles
Fantasy-Dream Scenario: Philadelphia Eagles/Indianapolis Colts
Other Fits: Green Bay Packers, New Orleans Saints, Denver Broncos, Cleveland Browns, Baltimore Ravens
The shit is starting to hit the fan for my favorite running back prospect. Dalvin Cook, out of Free Shoes University  is arguably the most complete back out of all of these prospects, but he also comes with a bunch of baggage that is currently under the microscope.
For the positives, Cook ran a 4.49 40 at the combine and shattered Warrick Dunn's career Seminole rushing record in only three seasons. He's faster in pads and on tape than his 4.49 40-yard dash showed, plus he can catch the ball out of the backfield. Cook will be a future three-down PPR monster in the right situation.
Now on to the bad stuff. On the field, Cook has had trouble with ball security — putting the ball on the ground 14 (!) times in three seasons — and had an underwhelming NFL Combine where he only had a 30.5 inch vertical (weighing 40 lbs less than Fournette) and registered a very slow 7.27 three-cone. What's also discouraging are his chronic shoulder issues, which he's been forced to go under the knife three times.
Off the field, he's endured multiple arrests and is borderline in the Joe Mixon category in terms of baggage. An NFL area scout had this to say to Bleacher Report's Matt Miller, "Cook is drafted after Leonard Fournette and Christian McCaffrey. Listen, this is the time of year when we're digging hard into the character of these guys. His past scares the s–t out of us. That, plus all the injuries and all the fumbles is just a lot to sign off on."
Anyways, back to football. Cook is a perfect fit in Doug Pederson's offense, as he possesses similar traits to Jamaal Charles— who flourished with Pederson in Kansas City. With Ryan Mathews made of glass, Darren Sproles getting up there in age, and Wendell Smallwood being a cute little scatback, the Eagles are in desperate need of a legit RB1 — and Cook would bring just that to Philly.
From a fantasy standpoint, although Cook would fit seamlessly in Philly, he would have to fight a little longer to be a three-down back given the Eagles crowded backfield. Conversely, he'd potentially walk right into a dreamboat if he landed in Indianapolis. Sure Cook would lose some goal line carries to the 33-year old Frank Gore, but he would insert some instant youth and game-breaking ability to the Colts' backfield.
Either way, the former 'Nole would succeed in either landing spot, it simply boils down to where he becomes "the guy" quicker.  Nonetheless, Cook would yield weekly RB1 numbers in either offense once he claims the job.
Christian McCaffrey
Projected Round: First Round
NFL Scouts Say: "He's a jack-of-all-trades guy," another scout said. "He can be your returner and give you 15 snaps a game (at RB). Once he tests and runs 4.38 (he ran 4.49) guys will fall in love with his personality and his genetics."
Most Realistic Scenario: Tampa Bay Buccaneers
Fantasy-Dream Scenario: New Orleans Saints
Other Fits: Green Bay Packers, Denver Broncos, New York Giants, Philadelphia Eagles, Indianapolis Colts, New England Patriots
If placed into the correct offense, Ed McCaffrey's son has the potential to be the best day-one PPR fantasy back on this list. McCaffrey lit up the combine by weighing in at a sturdy/surprising 202 lbs, running a 4.48 40 and a positional best 6.57 3-cone, to go along with a 37.5-inch vertical and overall fluidity in the receiving drills that was head and shoulders above the pack. Then, at Stanford's Pro Day, he continued flashing his third-down worth by lining up at both running back and receiver and showing consistent hands and precise route running. Don't underestimate McCaffrey. He's the total package and more than your average pass-catching back. He's a three-down back with plus-catching ability, who can amass 15-20 touches per game in the NFL.
This is a Shady McCoy type cutback here–McCaffrey is a bad dude. pic.twitter.com/ZGPaYQelvR

— Daniel Jeremiah (@MoveTheSticks) March 28, 2017
With Cook possibly falling due to the on and off-field issues we talked about, there is a chance that McCaffrey could be the second running back taken, so it's tough to gauge his most realistic draft slot. With the former Cardinal possessing a similar'ish skill-set as Cook, it shouldn't surprise anyone if he goes as high as pick No. 14 to Philly, or if he falls all the way to the end of the first round to Green Bay (No. 29) or New Orleans (No. 32). I rolled with Tampa Bay as his most likely destination, due to the fact that Doug Martin voided his guaranteed money by testing positive for PEDs, allowing the Bucs to easily cut him if they find a valid replacement.
For the dream scenario, what would be more fun than watching McCaffrey tear it up in the old Sproles' role in New Orleans' offense until he eventually took over for the oft-injured Mark Ingram. If the Saints are able to complete the trade to acquire Malcolm Butler (for pick No. 32), then they could reach for McCaffrey at No. 11, while also technically filling their secondary need with No. 32. Butler and McCaffrey in the same draft? Sounds good to me.
Behind the Saints, the Packers would be another dreamboat fantasy scenario. As mentioned above, McCarthy is able to maximize talented running backs to their potential, which would definitely favor a player like McCaffrey. He would eat with 15-18 touches per game in that offense.
If Christian McCaffrey lands in either New Orleans or Green Bay, he's the first rookie RB taken off the board in a PPR draft.
Joe Mixon
Projected Round: Second to Fourth Round
Louis Riddick Said: "He's a hell of a talent," Riddick said. "And that's why right now it's kind of like; 'Yeah, well, he was young and he learned his lesson, but damn … Did you see how fast he is? Did you see how big he is? Do you see that he's such a three-down guy?"
Most Realistic Scenario: Detroit Lions
Fantasy-Dream Scenario: Oakland Raiders
Other Fits: Kansas City Chiefs, Jacksonville Jaguars, Denver Broncos, New York Giants, Tampa Bay Buccaneers
We all know Joe Mixon's story by now, so there's no need to keep hammering the point. He's a scumbag, but if you're talented and young, you will get a second or third chance in this league. Will a team take a chance on him in the first round? Some think so. Personally, I think he will be selected in day two, just so his money comes down a bit, which saves a little face for the GM who takes him.
The reason why I believe the Lions are the most likely scenario to land the troubled, budding superstar is because of GM Bob Quinn. Not only did the Lions have a private meeting with him before the Sooners' Pro Day, but Quinn has been on record saying the "door is open" on drafting Mixon and he was unhappy about Mixon not being invited to the combine.
"I think it's really disappointing that Joe is not here," Quinn said. "Him not being here because of those issues, personally, I don't think that's really fair because we have a lot of investigation that we want to do on him and to get him in one spot for all the teams would have been great. I'm not part of those decisions how those guys are chosen, but I do think it's a disappointment that guys like him, and there are a few others that you could put in that category, that we're going to be chasing around in the months of March and April."
With Ameer Abdullah unable to get out of the trainer's room, and Theo Riddick handling the pass-catching duties, Mixon would be a solid fit in the Motor City. Mixon tested better (and bigger) than Ezekiel Elliott, and has better hands than the 2016 NFL leading rusher.
Like Elliott, Mixon is a fit almost anywhere — off-field issues aside. The team that could and should make a run at the running back is the Oakland Raiders. We touched on the Raiders' juicy situation with Fournette, and the same goes for the former Sooner. Our man The Wolf had this to say about the Raiders, "Run heavy scheme? Check. Beefy, mauling line? Check. Explosive overall offense for plenty of scoring chances? Big Check.  All the bricks are laid for a monster RB season if the talent is right." And boy is the talent right with Joe Mixon.
If this kid can keep his hands to only footballs, he arguably has the most overall potential in this class. Will the Raiders make a splash and take him at No. 24? Or will a team like the Lions or Chiefs roll the dice on day two? It's the story of the draft.
Alvin Kamara
Projected Round: Late-First to Second Round
NFL Scouts Say: "When Jalen [Hurd] went down (in 2016) he had a chance to step up and be that guy and you just never saw it," another scout said. "He's not really a between-the-tackles, wear-you-down, take-the-bull-by-the-horns guy. He needs to get out in space. He can be a good player in a niche role."
Most Realistic Scenario: Green Bay Packers
Fantasy-Dream Scenario: Tampa Bay Buccaneers/ Green Bay Packers/ Kansas City Chiefs
Other Fits: Minnesota Vikings, Indianapolis Colts, Philadelphia Eagles, New York Giants
Alvin Kamara is the annual prospect who didn't do much on the field in college, but is projected to make a greater impact in the NFL. He finished third on his team in carries (103) and only finished five carries ahead of the player who had the fourth most carries. Throughout his two year career at Tennessee, he surprisingly never had over 20 carries in a game. But what separates him from the pack and what makes NFL scouts believe in him: his ability to catch the ball. In his two seasons he recorded 74 receptions for 683 yards and 7 touchdowns. Kamara is often compared to former Chiefs' star Jamaal Charles.
Like the players above who are plus-receivers, Kamara is linked to teams with that need. There has been some first round buzz surrounding him, but I can't see a runner who is such a niche player go in the first round. I expect to see him go in the mid-second as the fourth or fifth running back selected (depending how far Mixon falls). The former Vol will most likely never be a lead back in the league, but he will definitely be used as a third down and change-of-pace back — with returning ability.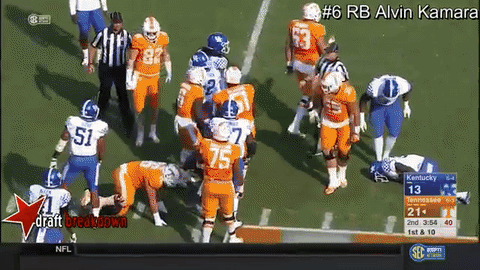 Like McCaffrey, he would fit well in Tampa, but only if Martin stays in the picture to handle early down duties. Green Bay could be in contention at the end of the first round since they have both Ty Montgomery and Christine Michael to tote the rock. Kamara would also fit well as a change-of-pace back with Eddie Lacy in Minnesota or as Charles' replacement with Spencer Ware in KC. There are a handful of teams that can use a legit pass-catching back to add some offensive firepower to their arsenal.
Kamara won't be one to make an immediate impact in the fantasy world, but he could have a CJ Prosise-like late season surge when defenses start to wear down. If he gets into the right system with a legitimate quarterback who utilizes his backs in the passing game, Kamara could be a viable stash or key mid-season acquisition in PPR leagues.
A handful of running backs in the 2017 NFL Draft class will make an impact, but these five guys should make the greatest fantasy impact during their rookie seasons. Check back later in the week for our top fantasy fits for rookie wide receivers and tight ends.