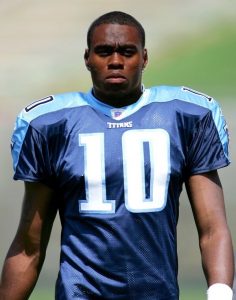 If you follow any of our social media pages, you know that Brandin Cooks may be on the move. The three teams mentioned as possible destinations are the Titans, Patriots and the Eagles. With this possible transaction, there is no player who takes a hit to their fantasy stock. First year standout Michael Thomas takes the largest rise to his stock, becoming the primary receiver for Drew Brees, while Willie Snead and others would also get bumps due to Brandin Cooks' triple digit targets that will have to be filled.
3/6 Update:
It's not a matter of if Cooks is getting traded at this point, it's a matter of when. There is now word that the Titans are the front runners for Cooks, which would make sense given that they own the No. 5 and No. 18 picks in the upcoming draft. Cooks would fit perfectly with Marcus Mariota, giving up a legit option underneath and in the slot to open things up for Delanie Walker and Rishard Matthews. All four players would get a bump from a fantasy perspective.
https://twitter.com/CharlesRobinson/status/838808861075210240?ref_src=twsrc%5Etfw
However, the most interesting landing spot for the wideout would be New England. Cooks could find himself as a risky early round fantasy pick if he lands in New England, because the chemistry with Brady always seems to be hit-or-miss for a first-year Patriots' player.
Now don't go jumping off a cliff when you read this next sentence, but sometimes reports are fake. Teams commonly use each other to jack up the price on their own player, i.e. telling the rest of the league the Patriots' pick No. 32 is not enough for Cooks.
Patriots reportedly offered No. 32 pick for Saints WR Brandin Cooks https://t.co/MpmStIzKL2

— ProFootballTalk (@ProFootballTalk) March 5, 2017
But if this rumor was true, Cooks' fantasy stock will not rise drastically, even in New England, and here is why:
Cooks would be leaving a future Hall of Famer for another future Hall of Famer. Sure, there is a distance between Brees and Brady in terms of legacy; however in terms of fantasy, Brees is the better option.
The list of options that Tom Brady already has to throw to is insane. With wideouts such as Malcolm Mitchell, Julian Edelman, Chris Hogan and Danny Amendola, it's tough to see Cooks get as many targets as he was used to in New Orleans. Oh yeah and the Patriots have the greatest –and the most injury prone — tight end to play the game in Sir. #69, who is sure to have over 6 targets a game. Pair that up with two pass catching backs such as Dion Lewis and James White… you get where I'm going here.
Bill Belichick already got his VII Rings boat updated, which means that he will do anything to win a football game. This means that when the annual Colts game comes up, otherwise known as "START LEGARRETTE BLOUNT NOW" game, Belichick has no problem with only letting Brady throw the ball 20 times. This is a drastic change from the Saints, where whenever Brees isn't throwing over 40 times a game, he isn't playing.
Finally, it looks like Cooks has an issue with not being the top-dog in New Orleans anymore — with the emergence of Mike Thomas. If Cooks has an issue by only getting targeted 117 times in 2016, then he will be extremely unhappy in New England. Cooks will have to leave his arrogance in New Orleans before stepping onto 1 Patriots Place.
Per usual, follow us on Twitter, Instagram and Facebook throughout free agency for instant fantasy reaction and breaking news. Also,  follow me at @InternRSJ. I'm up to 7 followers, NBD, kind of a big deal.